Location: Halton Region N 43 31.476 W 080 02.201
On the southwest corner of Guelph Line and 15th Sideroad.
Erected by the Township of Nassagaweya in 1921, this beautiful memorial features a WWI infantry soldier standing at ease atop a granite shaft, with the names of those who died from this area, and the battles in which they perished. The names of those lost in WWII and Korea were added later.
Marker text:
Front:
1914 - 1918
1939-1945
TO THE GLORIOUS MEMORY OF
OUR MEN WHO MADE THE SUPREME SACRIFICE
IN THE GREAT WAR
1914 - 1918
PTE. STANLEY R. ADAMSON 91ST
PTE. ARTHUR HADLEY 5TH
PTE. EDWARD HARRISON 10TH
CAPT. CHARLES M. CARBERT, M.C. 20TH A.F.C.
PTE. ORVILLE FLETCHER 38TH
PTE. EDWARD HAMMAN 5TH
PTE. WILLIEM TREMBLETT 38TH
PTE. JAMES MILNE 34TH
PTE. CLARENCE CARTON 74TH
CORP. JOHN H. BLAIR P.P.C.L.I.
PTE. WILLIAM GRAHAME 76TH
PTE. WILLIAM POLLOCK 3RD
DVR. MARK McINTYRE R.F.A.
PTE. L.J. KINGSBURY 164TH
PTE. HARVEY ELLIOT 164TH
PTE. WESLEY ROBERTS 164TH
PTE. H.C. ELSLEY 10TH A.M.C.
PTE. FRED HILSON 164TH
PTE. JOSEPH FRYER 1ST
PTE. ALLAN READING 159TH
PTE. HOWARD C. ROBINSON 159TH
PTE. WILLIAM ROBERTS 164TH
PTE. MELVIN DONAS
"THEIR NAME LIVETH FOR EVERMORE"
1939 - 1945
P.O. ELSLEY, CLARENCE R.C.A.F.
FLT. SGT. McLAREN G. PETER R.C.A.F.
SGT. PLT. TAYLOR, CLAYTON R.C.A.F
PTE. WILSON, CECIL R. C.A.S.F.
SGT. WILSON, MARSHALL C.A.S.F.
KOREA 1950-1953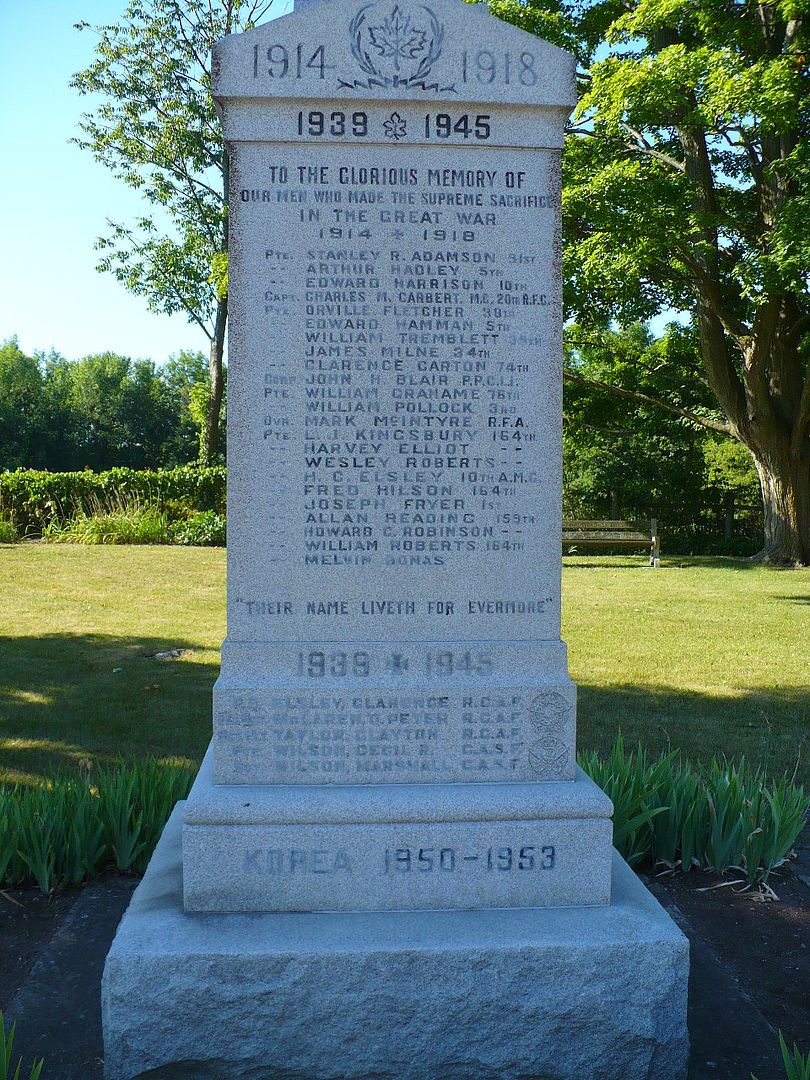 Left:
1914 - 1918
1939-1945
YPRES
SANCTUARY WOOD
SOMME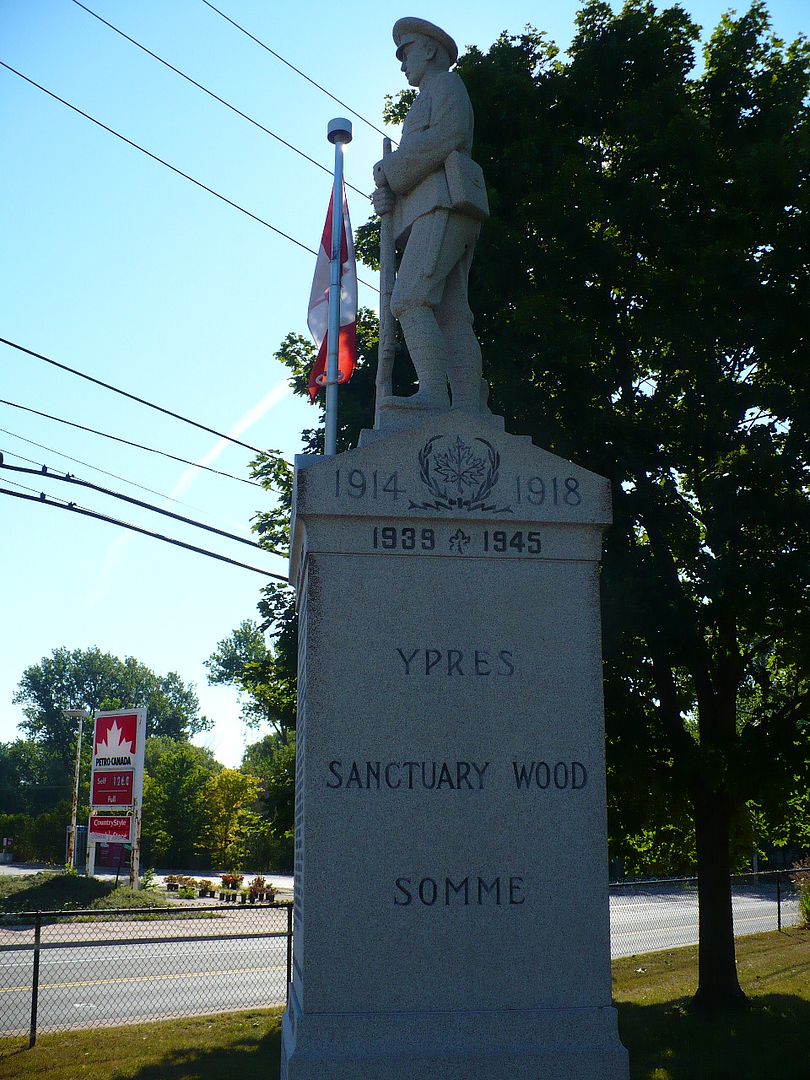 Rear:
1914 - 1918
1939-1945
VIMY RIDGE
PASSCHENDAELE
AMIENS
ERECTED BY TOWNSHIP OF NASSAGAWEYA
1921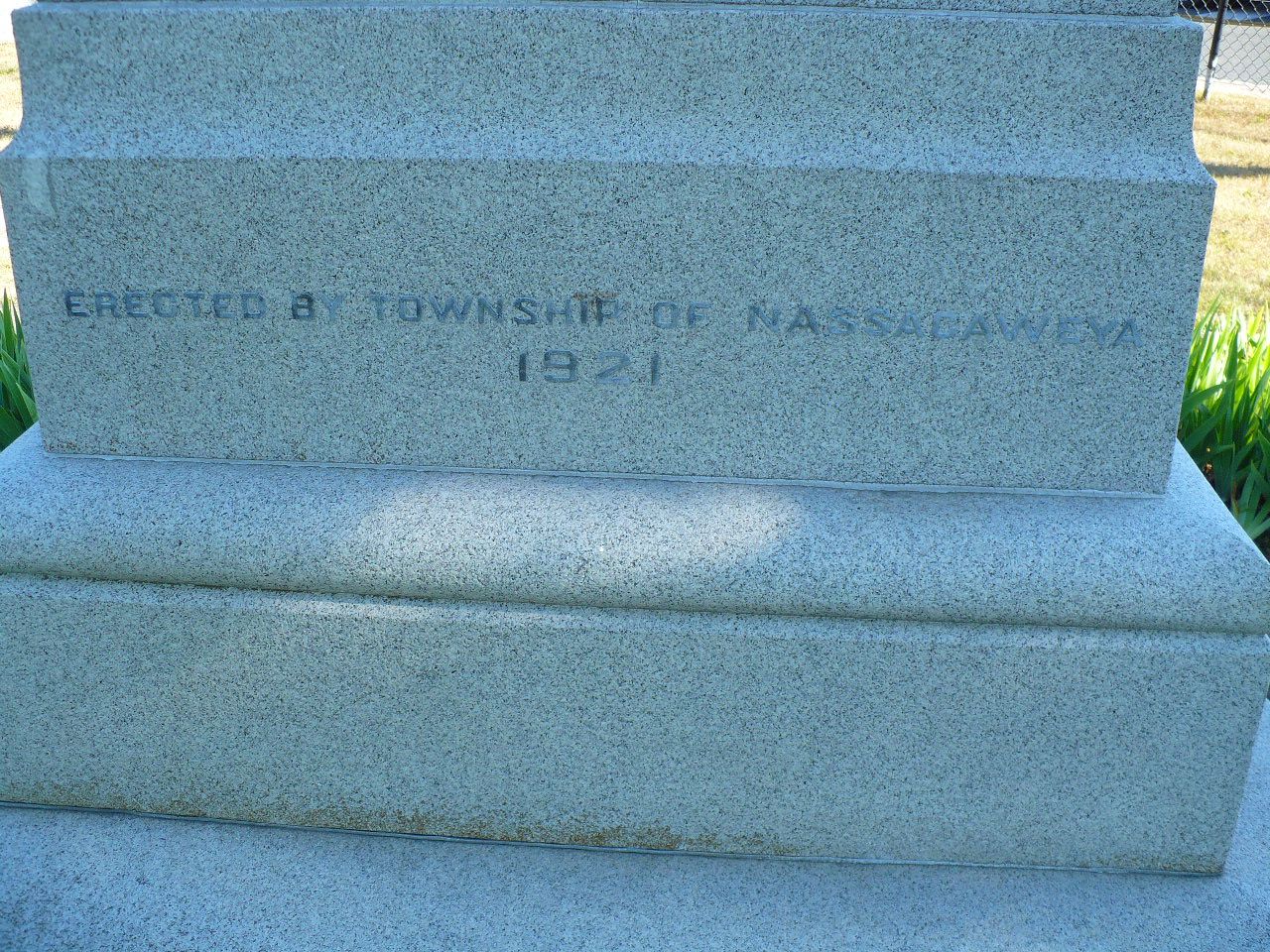 Right:
1914 - 1918
1939-1945
BOURLON WOOD
CAMBRAI
MONS