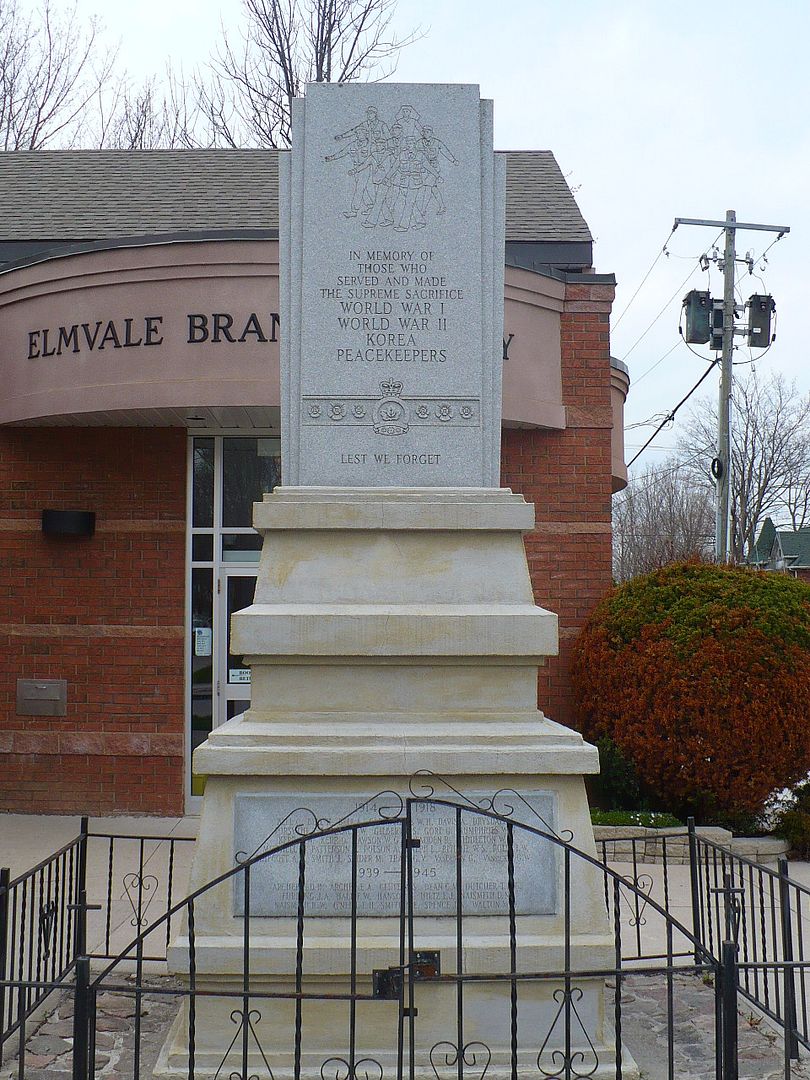 Location: Simcoe County N 44 34.960 W 79 52.122
In front of the public library, at the corner of Queens Street W (County Road 92) and Maria Street.
This memorial appears to a refurbished version of a previous memorial. The top part of the monument is certainly of a recent vintage, while at the base is a plaque from part of a much older memorial. I have found no information regarding the original memorial, I can only assume it was in need of a major update.
The names of the men lost in the World Wars appear carved in granite on a lower section of the cenotaph. The newer section shows the crest of the Royal Canadian Legion, which no doubt played a huge roll in preserving the memory of the names engraved on this memorial, as well as all who served. Branch 262 is the local legion in Elmvale.
Marker text:
Upper section:
IN MEMORY OF
THOSE WHO
SERVED AND MADE
THE SUPREME SACRIFICE
WORLD WAR I
WORLD WAR II
KOREA
PEACEKEEPERS
LEST WE FORGET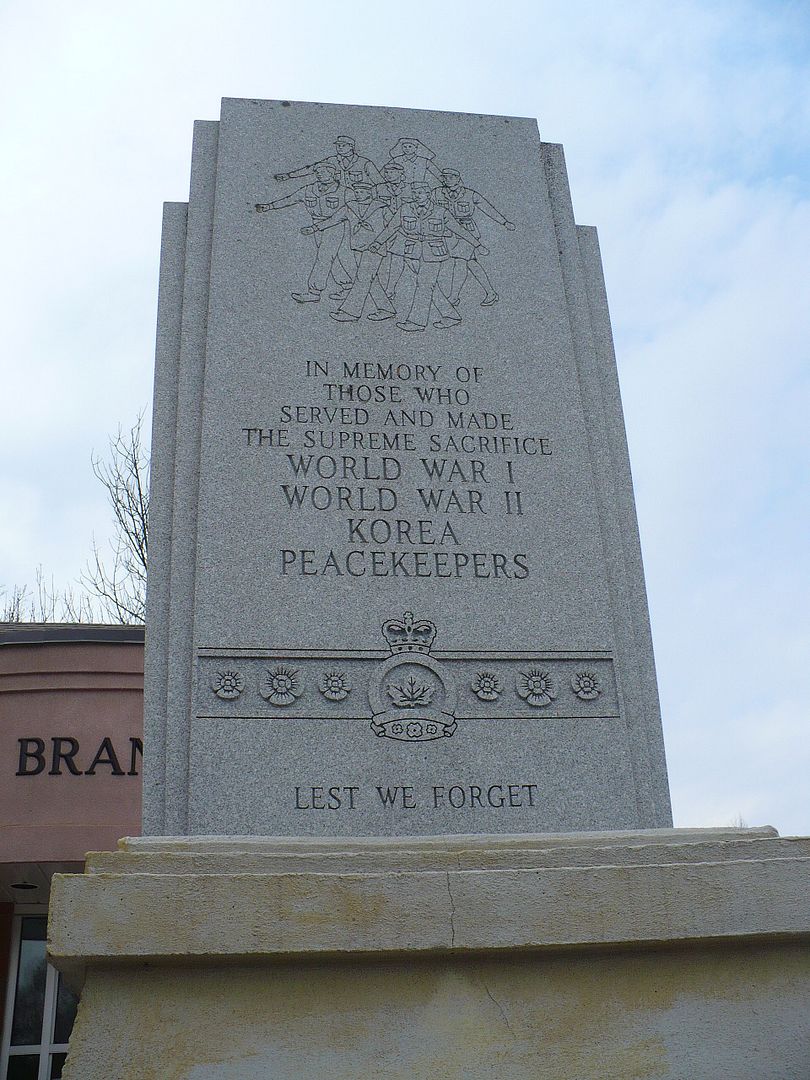 Lower section:
1914--1918
BELL C. BELL H. BELL L. CARRUTHERS W.H. DAVIS A. DRYSDALE J.
FORSYTHE T.J. FRENCH W. GILBERT O.S. GORE G. HUMPHRIES W.G.
KER D.W. KERR O. LAWSON W.G. McFADDEN R. MIDDLETON W.L.
MITCHELL P. PATTERSON J. POLSON A. RALPH L. RITCHIE W.S. ROLFE I.W.
SHIPCOTT A.R. SMITH J. SNIDER M. TRAIN G.V. VAN BUREN G. VANSICKLE G.W.
1939--1945
ARCHER C.D.H. ARCHER E.A. CLUTE W.S. DEAN C.M. DUTCHER T.H.C.
FURLONG J.A. HALL F.W. HANSON H. HILTZ E.J. NAISMITH D.N.
NAISMITH R.W. O'NEILL E.H. SMITH O.E. SPENCE J.A. WALTON W.D.
Base:
LEST WE FORGET
TO THE GLORY OF GOD
AND IN HONOUR OF THE
MEN OF THIS COMMUNITY
WHO MADE THE SUPREME
SACRIFICE IN TWO WORLD
WARS
1914 - 1918
1939 - 1945