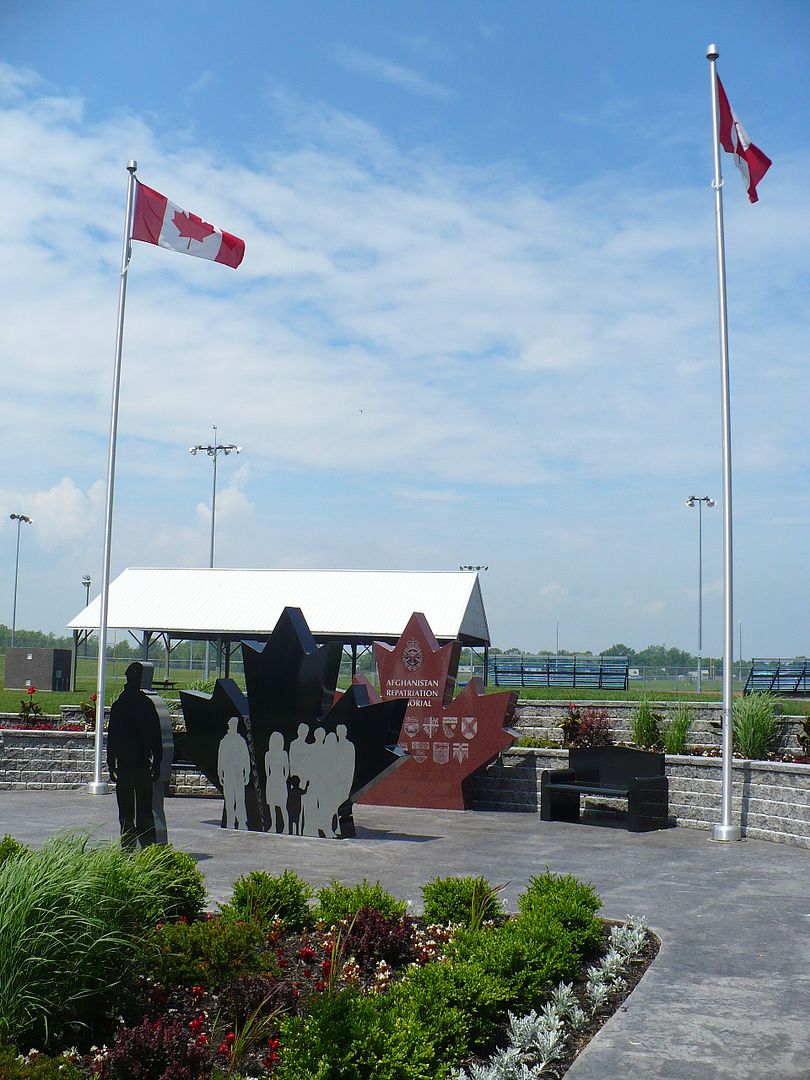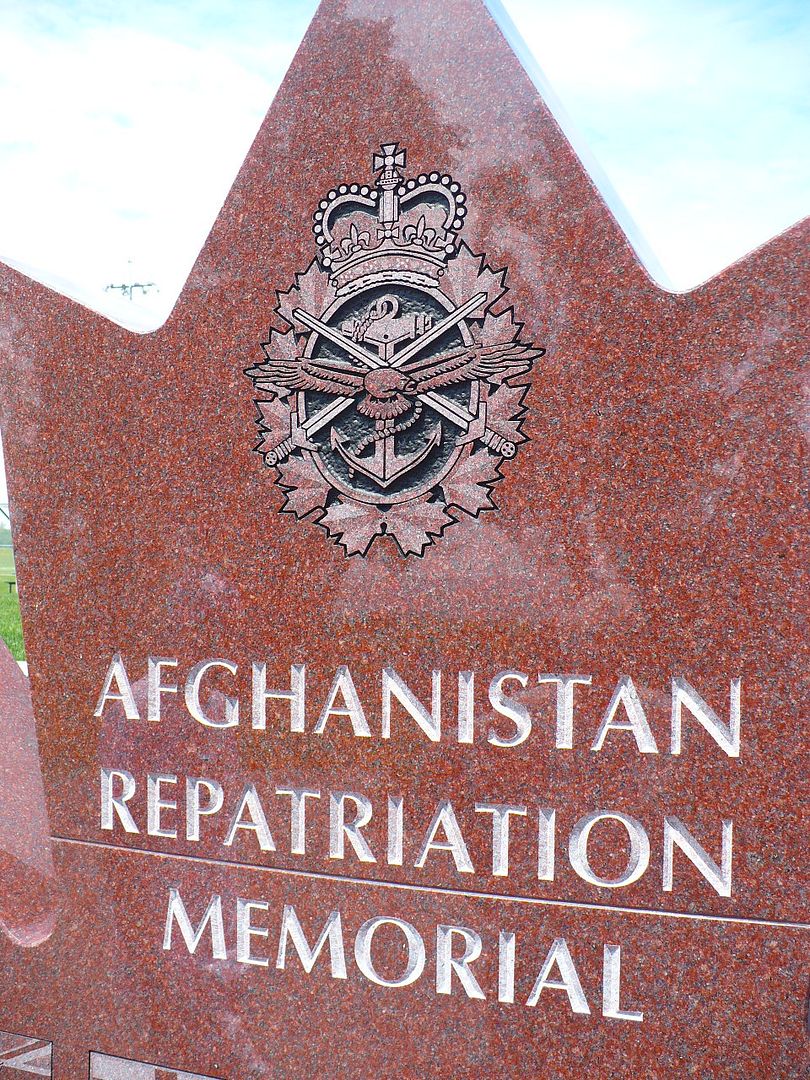 Location: Hastings County N 44 06.243 W 077 32.901
Found in Bain Park, at the south end of RCAF Road.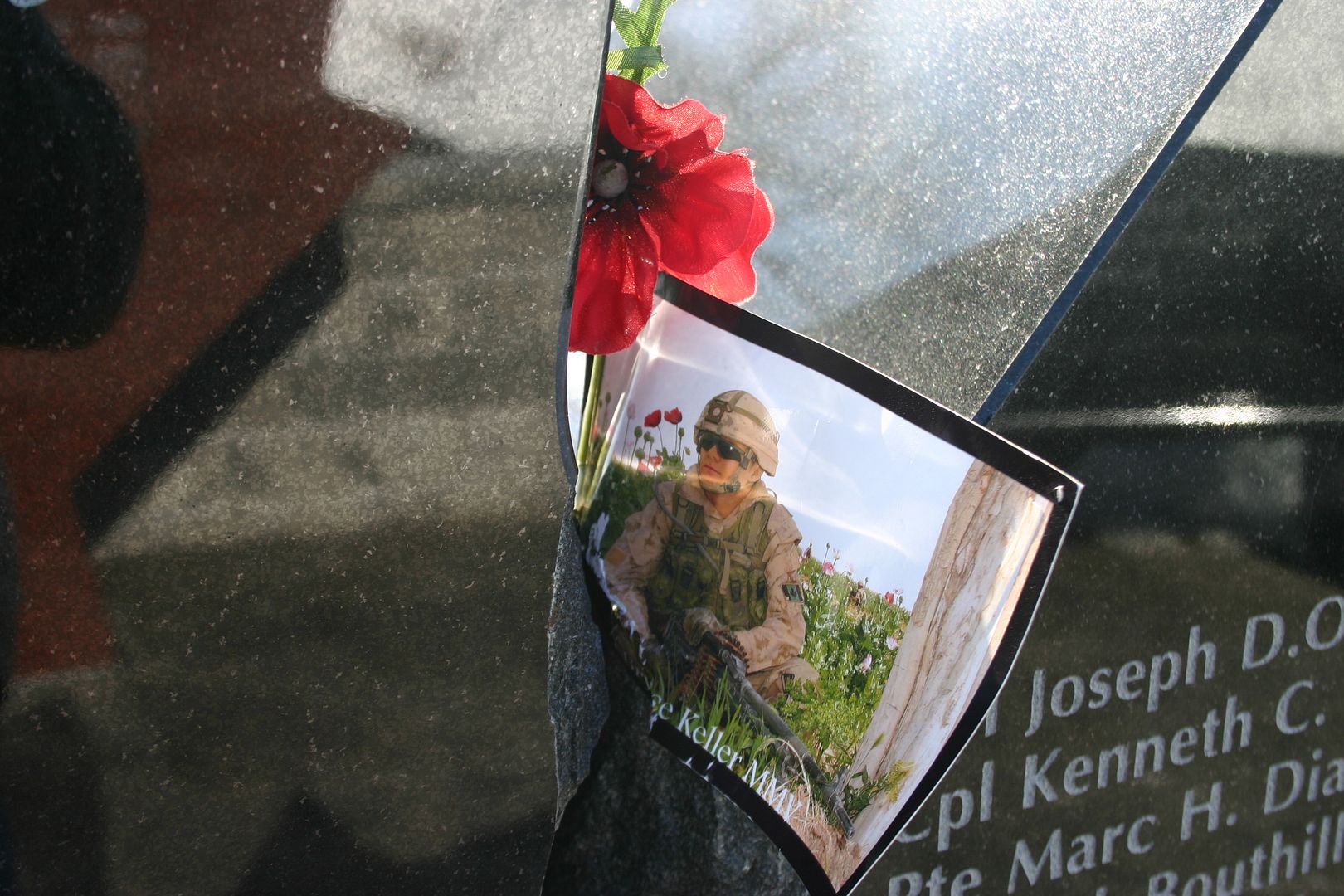 May 9th, 2014 has been declared as a National Day of Honour, to remember and honour those who served and died in the war in Afghanistan. I thought it fitting at this time to include our latest memorial, dedicated to the men and women who gave so much to protect freedom and rights, in the fight against terrorism, human rights and oppression.
This touching memorial was unveiled on November 10th, 2012. Located in a peaceful park outside of CFB Trenton, the first place in Canada that the bodies of our soldiers touched down. The following words are taken from a plaque located on the walkway before the memorial, and explain the unique concept and design of the Afghanistan Repatriation Memorial.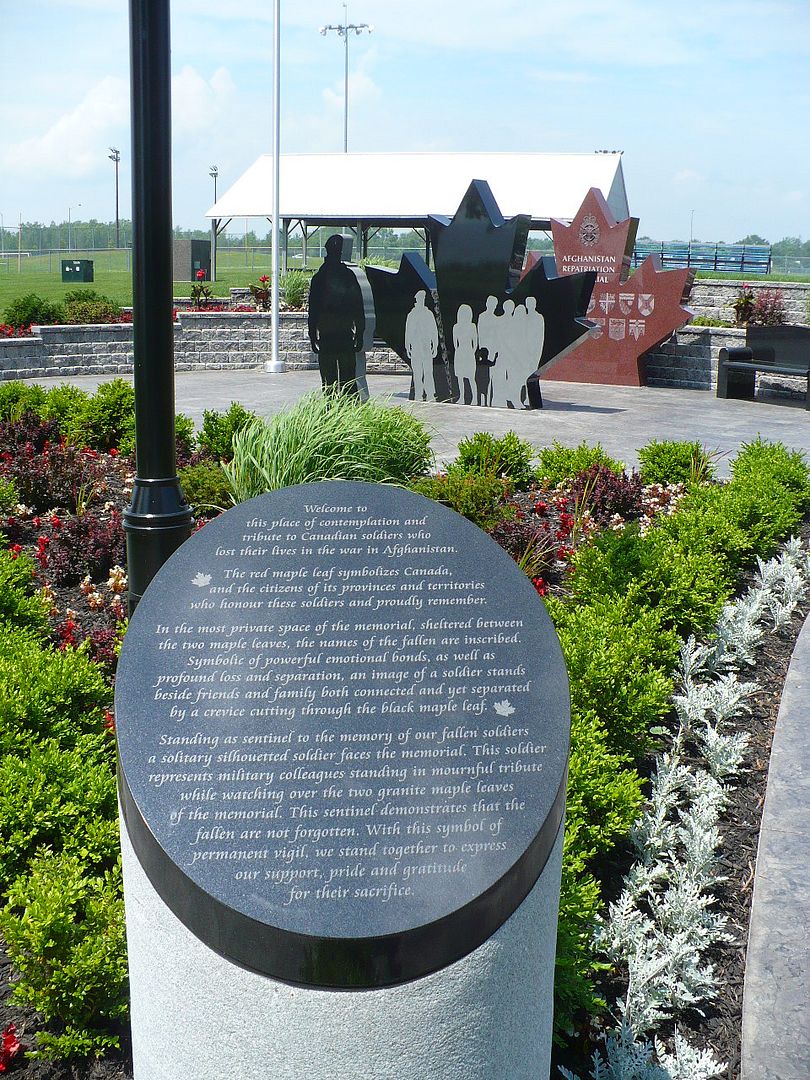 "Welcome to the this place of contemplation and tribute to Canadian soldiers who lost their lives in the war in Afghanistan.
The red maple leaf symbolizes Canada, and the citizens of its provinces and territories who honour these soldiers and proudly remember.
In the most private space of the memorial, shelter between the two maple leaves, the names of the fallen are inscribed. Symbolic of powerful emotional bonds, as well as profound loss and separation, an image of a soldiers stands beside friends and family both connected and yet separated by a crevice cutting through the black maple leaf.
Standing as a sentinel to the memory of our fallen soldiers a solitary silhouetted soldier faces the memorial. This soldier represents military colleagues standing in mournful tribute while watching over the two granite maple leaves of the memorial. This sentinel demonstrates that the fallen are not forgotten. With this symbol of permanent vigil, we stand together to express our support, pride and gratitude for their sacrifice."
Marker text:
In
Memory of
the Brave Members
of the Canadian Forces
Who Lost Their
Lives in the
Afghanistan Conflict
Cpl Ainsworth Dyer
Pte Richard A. Green
Sgt Marc d. Leger
Pte Nathan L. Smith
Cpl Robbie C. Beerenfenger
Sgt Robert A Short
Cpl Jamie B. Murphy
Pte Braun S. Woodfield
Cpl Paul J. Davis
MCpl Timothy J. Wilson
Pte Robert H. Costall
Cpl Matthew D.J. Dinning
Cpl Myles S.J. Mansell
Cpl Randy J. Payne
Lt William M. Turner
Capt Nichola K.S. Goddard
Cpl Anthony J. Boneca
Cpl Francisco O. Gomez
Cpl Jason P. Warren
Pte Kevin Y.R. Dallaire
Sgt Vaughan Ingram
Cpl Bryce J. Keller
Cpl Christopher J. Reid
MCpl Raymond F. Arndt
MCpl Jeffrey S. Walsh
Cpl Andrew J. Eykelenboom
Cpl David R.W. Braun
Pte William J.J. Cushley
WO Frank R. Mellish
WO Richard F. Nolan
Sgt Shane H. Stachnik
Pte Mark A. Graham
Cpl Glen H. Arnold
Pte David R.J. Byers
Cpl Shane P. Keating
Cpl Keith I. Morley
Pte Joshua J. Klukie
Sgt Craig P. Gillam
Cpl Robert T.J. Mitchell
Pte Mark A. Wilson
Sgt Darcy S. Tedford
Pte Blake N. Williamson
CWO Robert M.J. Girouard
Cpl Albert H. Storm
Cpl Ronald K. Megeney
Pte David R. Greenslade
Pte Kevin V. Kennedy
Sgt Donald J. Lucas
Cpl Brent D. Poland
MCpl Christopher P. Stannix
Cpl Aaron E. Williams
Pte Patrick J. Pentland
MCpl Allan M.J. Stewart
MCpl Anthony M. Klumpenhouwer
Cpl Matthew J. McCully
MCpl Darrell J. Priede
Pte Darryl J. Caswell
Cpl Stephen F. Bouzane
Sgt Christos Karigiannis
Pte Joel V. Wiebe
Cpl Jordan J. Anderson
Cpl Cole D. Bartsch
MCpl Colin S.F. Bason
Capt Matthew J. Dawe
Capt Jefferson C. Francis
Pte Lane W.T. Watkins
Pte Simon M.S. Longtin
MCpl Christian J.T.A. Duchesne
MWO Mario M.C. Mercier
Maj Raymond M. Ruckpaul
Cpl Nathan Hornburg
Cpl Nicholas R. Beauchamp
Pte Michel R. Levesque
Pte Jonathan J.J. Dion
Cpl Eric Labbe
WO Hani Massouh
Cpl Richard Renaud
Cpl Etienne Gonthier
Pte Michael Y. Hayakaze
Cpl Jeremie Ouellet
Sgt Jason J. Boyes
Pte Terry J. Street
Cpl Michael G. Starker
Capt Richard S. Leary
Capt Jonathan S. Snyder
Cpl Brendan A. Downey
Pte Colin W. Wilmot
Cpl James H. Arnal
MCpl Joshua B. Roberts
MCpl Erin M. Doyle
Sgt Shawn A. Eades
Pte Stephan J. Stock
Cpl Dustin R.R.J. Wasden
Cpl Andrew P. Grenon
Pte Chadwick J. Horn
Cpl Michael J.A. Seggie
Sgt Prescott Shipway
Pte Demetrios Diplaros
Cpl Mark R. McLaren
WO Robert J. Wilson
Pte John M.R. Curwin
Cpl Thomas J. Hamilton
Pte Justin P. Jones
Pte Michael B. Freeman
Sgt Gregory J. Kruse
WO Gaetan Roberge
Pte Brian R. Good
Pte Sean D. Greenfield
WO Dennis R. Brown
Cpl Joseph D.O. Fortin
Cpl Kenneth C. O'Quinn
Pte Marc H. Diab
Pte Jack Bouthillier
Cpl Tyler Crooks
Pte Corey J. Hayes
MCpl Scott F. Vernelli
Cpl Karine M.N. Blais
Maj Michelle L. Mendes
Pte Alexandre Peloquin
Cpl Joseph R.M. Dube
Cpl Nicholas A. Bulger
MCpl Charles-Philippe Michaud
MCpl Patrice Y. Audet
Cpl Martin Joannette
Pte Sebastien J.G.O. Courcy
Pte Matthieu J.P.G. Allard
Cpl Christian Bobbitt
Cpl Jean-Francois Drouin
Maj Joseph Y.F.S Pepin
Cpl Patrick J. Lormand
Cpl Jonathan J.S. Couturier
Lt Justin Boyes
Pte Steven H. Marshall
Lt. Andrew R. Nuttall
Pte Garrett W. Chidley
Cpl Zachery W. McCormack
Sgt George R. Moik
Sgt Kirk G. Taylor
Sgt John W. Faught
Capt Francis C. Paul
Cpl Joshua C. Baker
Cpl Darren J. Fitzpatrick
Pte Tyler W. Todd
PO2 Douglas C. Blake
Pte Kevin T. McKay
Col Geoffrey S. Parker
Pte Larry J. Rudd
Sgt Martin R. Goudreault
Sgt James P. MacNeil
MCpl Kristal L.-A. Giesenbrecht
Pte Andrew C.A. Miller
Pte Brian J. Collier
Cpl Brian N.C. Pinksen
Cpl Steve J.L. Martin
Cpl Yannick Scherrer
Cpl Karl Manning
MCpl Francis R. Roy
MCpl Byron G. Greff