Location: Grey County N 44 09.130 W 81 01.578
In front of the library, at 341 10th Street.
Erected in 1922, to honour those who fell in the Great War. This memorial was sponsored by the International Order of the Daughters of the Empire (I.O.D.E.), who worked in co-operation with the town and the library board to oversee the construction. The names of those brave men from Hanover that died in the Great War are engraved in stone, on the sides of the memorial.
After the Second World War, a plaque was added to the back of the memorial, to honour the dead from WWII, and yet later, the Korean War was recognized as well.
The statue of a soldier at the top of the memorial, the landscaping, colourful flags and downtown location make this a stunning small-town cenotaph, certainly one which the town and citizens are proud of.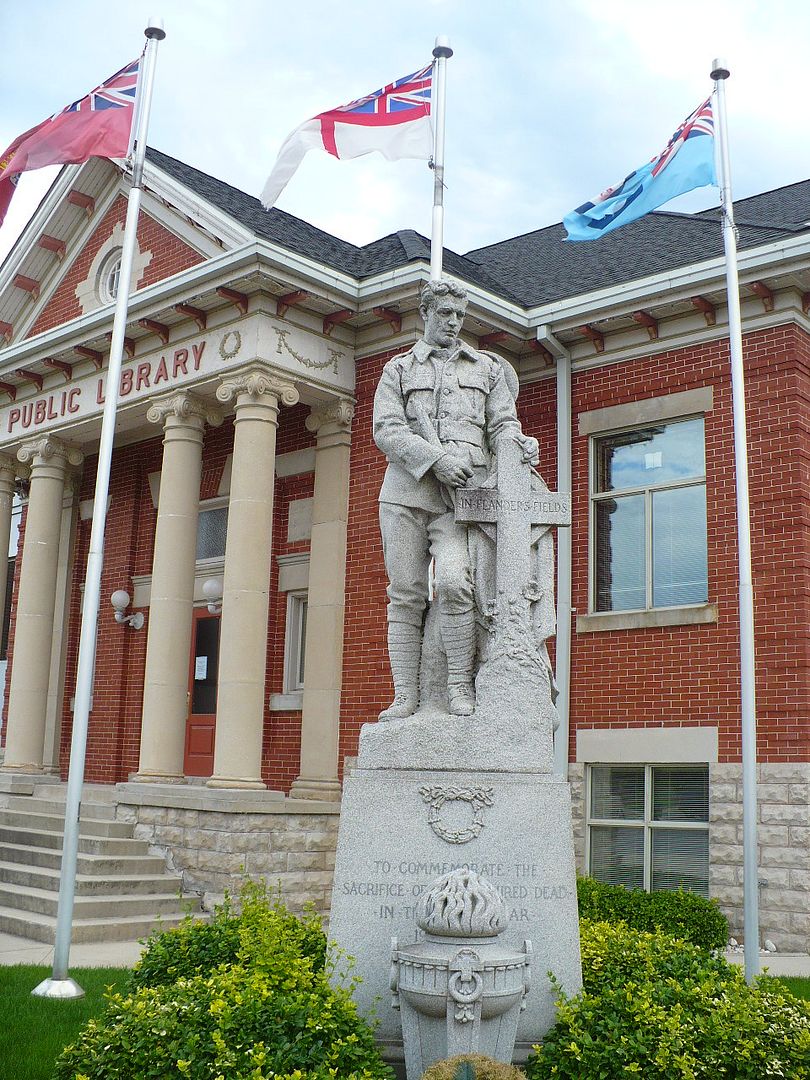 Marker text:
Front:
IN FLANDERS FIELDS
TO COMMEMORATE THE
SACRIFICE OF OUR HONOURED DEAD
IN THE GREAT WAR
1914 - 1918
??...SAUGEEN CHAPTER I.O.D.E.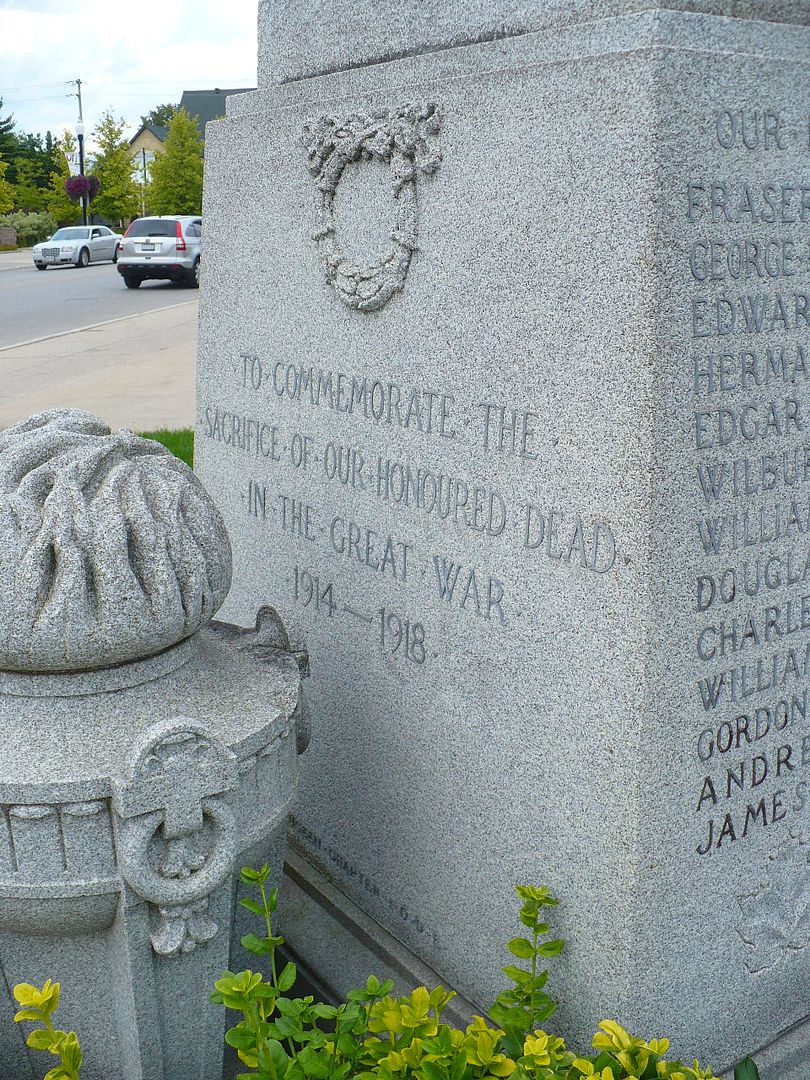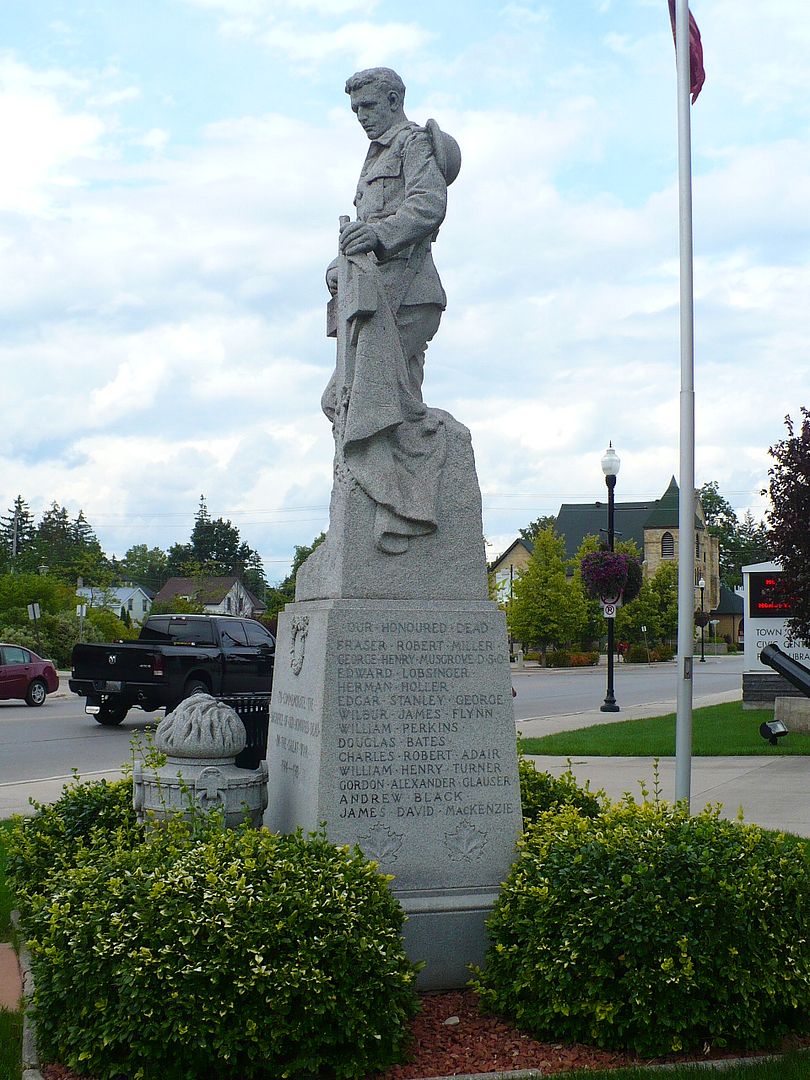 Left side:
OUR HONOURED DEAD
FRASER ROBERT MILLER
GEORGE HENRY MUSGROVE D.S.O.
EDWARD LOBSINGER
HERMAN HOLLER
EDGAR STANLEY GEORGE
WILBUR JAMES FLYNN
WILLIAM PERKINS
DOUGLAS BATES
CHARLES ROBERT ADAIR
WILLIAM HENRY TURNER
GORDON ALEXANDER GLAUSER
ANDREW BLACK
JAMES DAVID MacKENZIE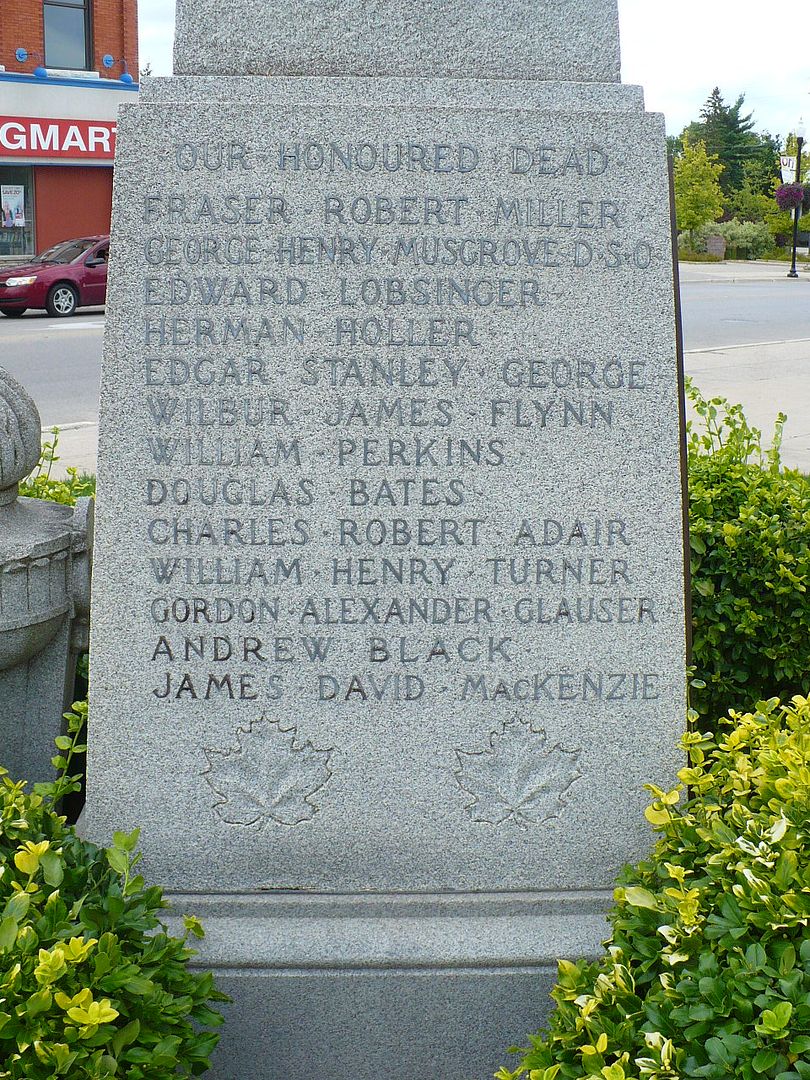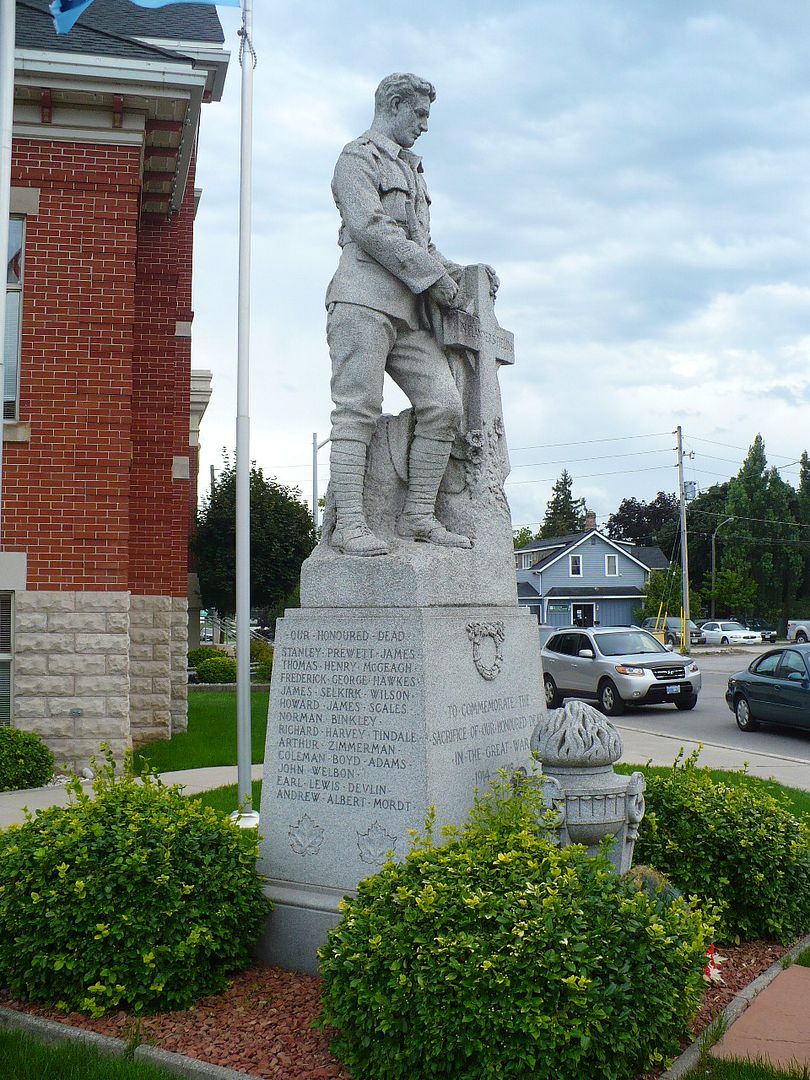 Right side:
OUR HONOURED DEAD
STANLEY PREWETT JAMES
THOMAS HENRY McGEAGH
FREDERICK GEORGE HAWKES
JAMES SELKIRK WILSON
HOWARD JAMES SCALES
NORMAN BINKLEY
RICHARD HARVEY TINDALE
ARTHUR ZIMMERMAN
COLEMAN BOYD ADAMS
JOHN WELBON
EARL LEWIS DEVLIN
ANDREW ALBERT MORDT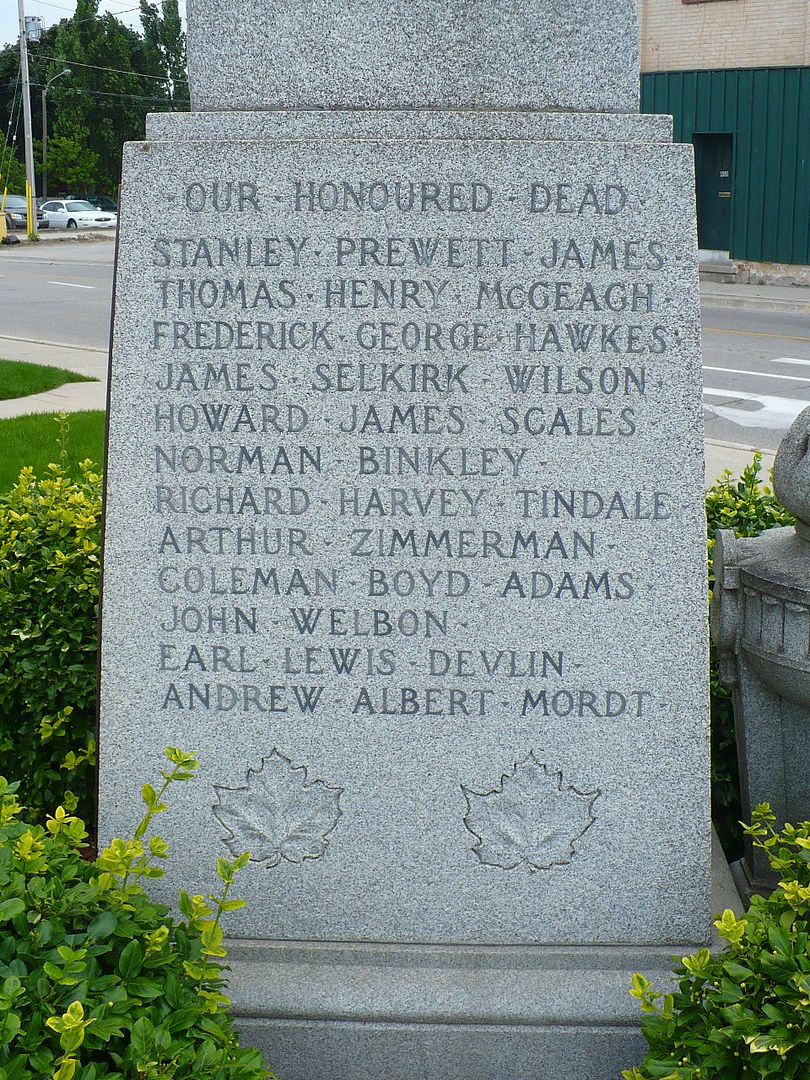 Rear:
KOREA
1950-1953
1939 - 1945
OUR HONOURED DEAD
ROSCOE D. BRUBAKER
RAYMOND G. BRUEGEMAN
JOHN A. CASKANETTE
VINCENT CRAWFORD
CLEMENT J. ESBAUGH
RAYMOND A. GARDINER D.S.C.
GRAHAM S. BLAKE
LEO J. BOHNERT
JACK E. BAILEY
HUGH A. COONEY
HENRY J. HAHN
JOHN F. HARVEY
MORRIS C. JONES
EDWARD L. KUTZ
JOHN B. LANCASTER
GRANT A. LORENZ
JOHN D. MILLER
WILLIAM W. REEVE
NELSON H. WAGNER
JOHN I. WALLNER
MAURICE F. HUNSPERGER
GERALD R. MACHESNEY
ROBERT G. PICKERING
KENNETH G. SCHAEFER
ROBERT H. SCHAEFER
STEWART WHITEHEAD