Location: Kawartha Lakes N 44 40.780 W 79 05.788
In front of the cemetery, on Lake Dalrymple Road, north of Alvar Road.
The memorial is part of the gates to the Lake Dalrymple Cemetery. It was constructed in 1986, and pays tribute to the veterans buried in this small rural cemetery. An accompanying stone bench also pays honour to one of the local men buried in Mount Pleasant Cemetery in Toronto. Those responsible for the inscription also marked two names with "*", to indicate they were killed in action and buried overseas. So nice to see a small village remembering the sacrifice made by their veterans.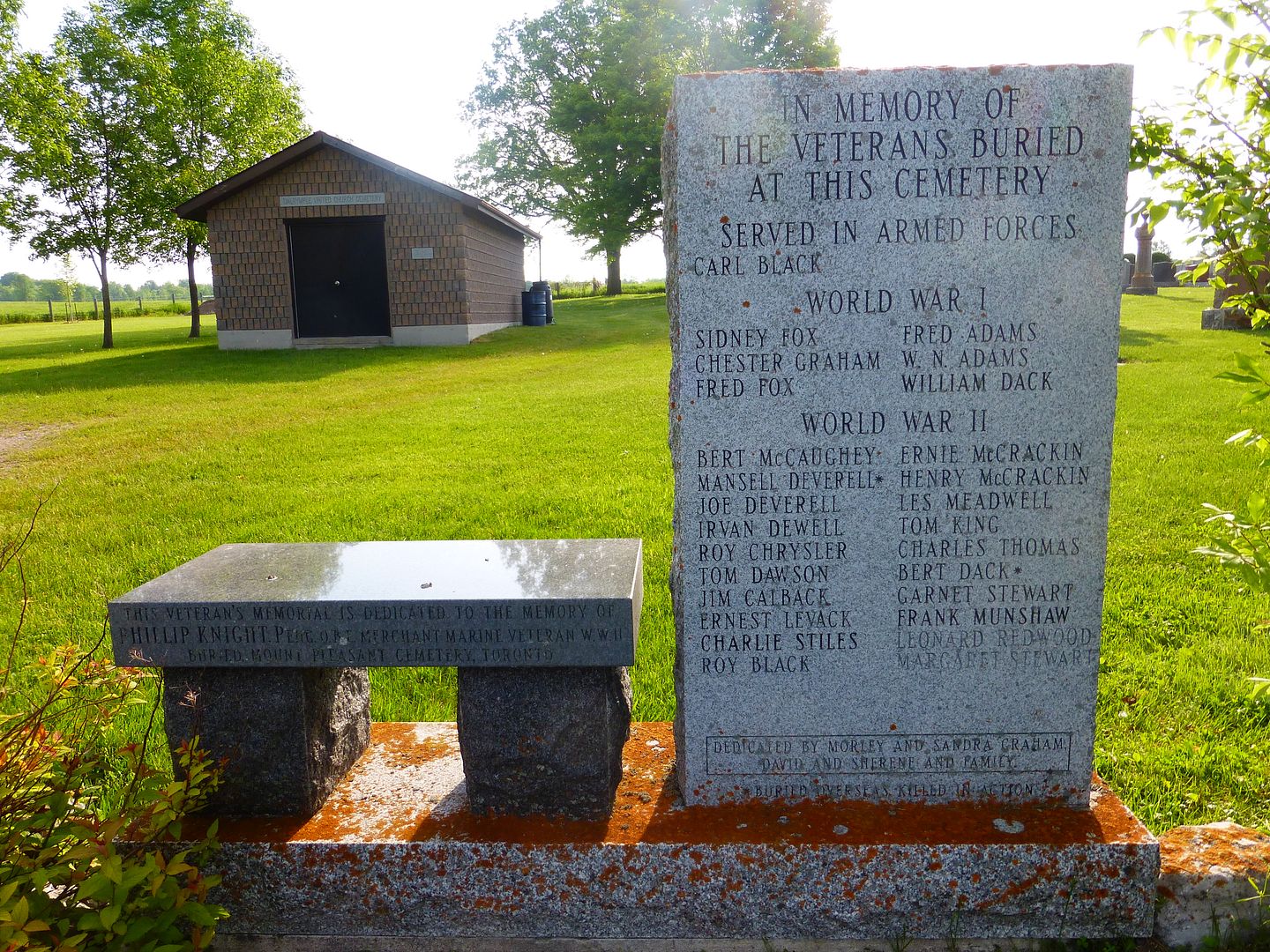 Marker text:
Main stone:
IN MEMORY OF
THE VETERANS BURIED
AT THIS CEMETERY
SERVED IN ARMED FORCES
CARL BLACK
WORLD WAR I
SIDNEY FOX
CHESTER GRAHAM
FRED FOX
FRED ADAMS
W.N. ADAMS
WILLIAM DACK
WORLD WAR II
BERT McCAUGHEY
MANSELL DEVERELL*
JOE DEVERELL
IRVAN DEVERELL
ROY CHRYSLER
TOM DAWSON
JIM CALBACK
ERNEST LEVACK
CHARLIE STILES
ROY BLACK
ERNIE McCRACKIN
HENRY McCRACKIN
LES MEADWELL
TOM KING
CHARLES THOMAS
BERT DACK*
GARNET STEWART
FRANK MUNSHAW
LEONARD REDWOOD
MARGARET STEWART
DEDICATED BY MORLEY AND SANDRA GRAHAM
DAVID AND SHERENE AND FAMILY
*BURIED OVERSEAS KILLED IN ACTION
Bench:
THIS VETERAN'S MEMORIAL IS DEDICATED TO THE MEMORY OF
PHILLIP KNIGHT. PENG. O.B.E. MERCHANT MARINE VETERAN W.W.II
BURIED MOUNT PLEASANT CEMETERY, TORONTO