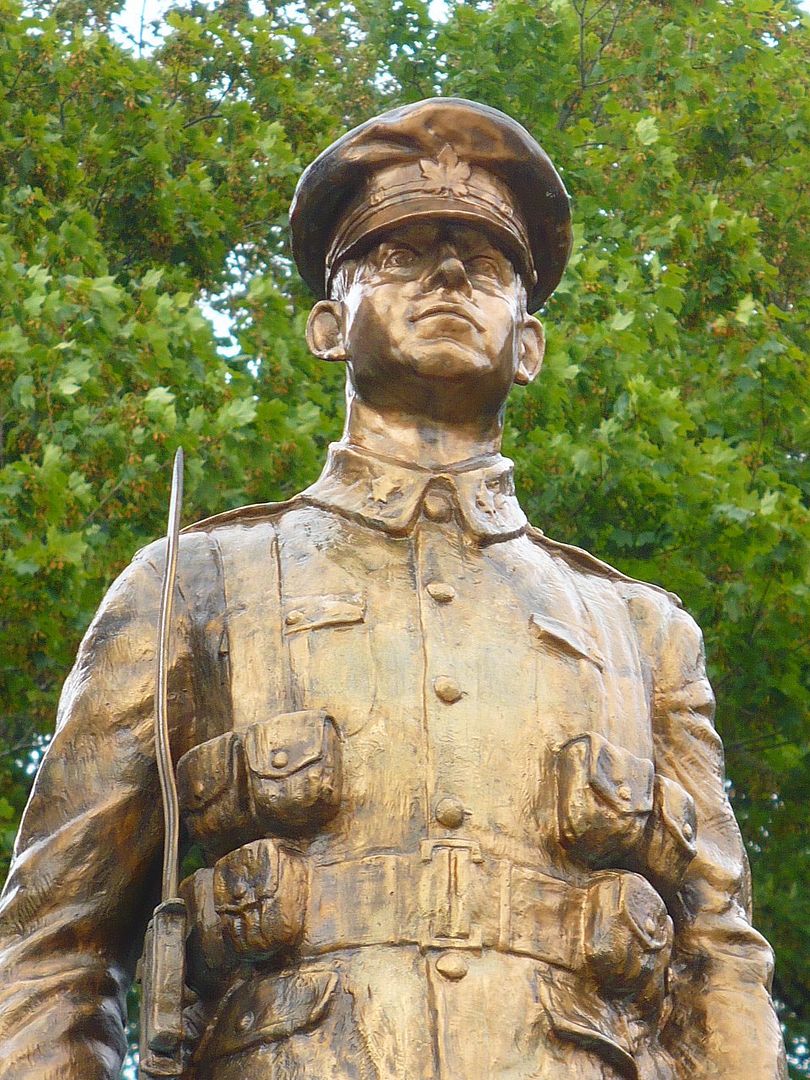 Location: Grey County N 44 10.626 W 80 49.078
On the north side of Mill Street, at the corner of Albert Street North.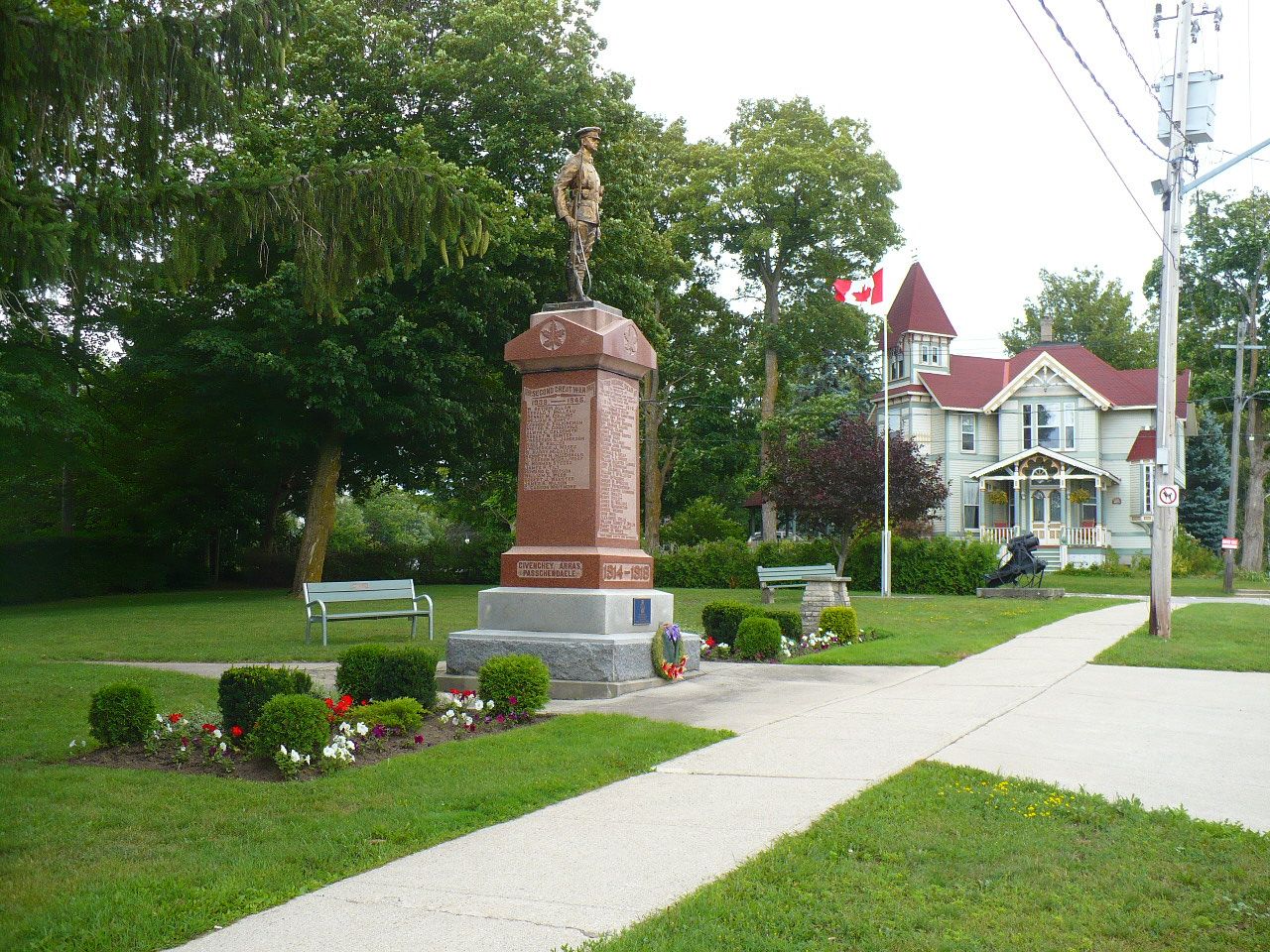 This is a beautiful memorial to the men of this village, who died overseas fighting for freedom and glory. The statue that stands tall on top of this cenotaph is the same one we have seen on many other memorials, however this proud soldier is gilded in a gold colour, stunning to the eye. The memorial, like most others in Ontario, was first erected to honour those lost in the Great War, with their names engraved in the red granite. At a later date, more names were added after the Second World War and Korea.
A small garden beside the cenotaph was dedicated in 1970, to mark the 25th anniversary of the liberation of Holland. Also found in the memorial park is wheeled German trench mortar, in fine condition given its age and the exposure to the elements. The property is maintained by Branch 308 of the Royal Canadian Legion.
The majority of cenotaphs and memorials in this part of Ontario are very well done, reminders of the sacrifices made by the men and the families of these small farming communities.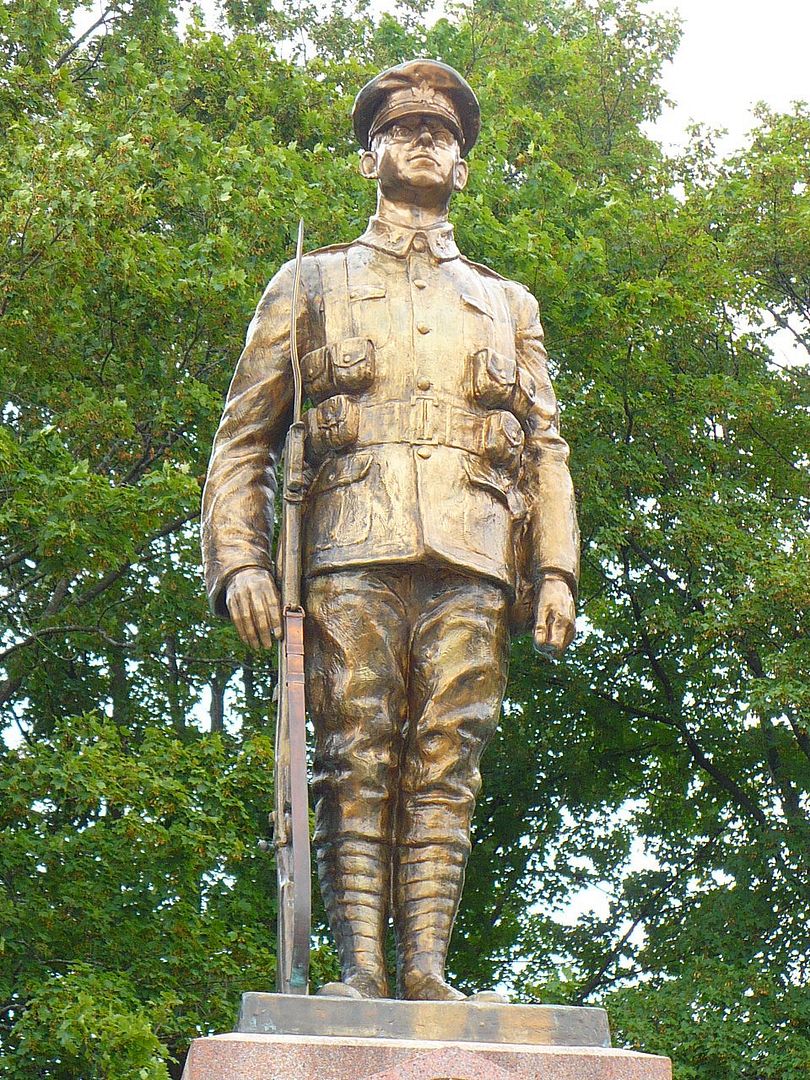 Marker text:
Front:
OUR HEROIC DEAD
IN MEMORY OF
THE MEN OF DURHAM AND VICINITY
WHO GAVE THEIR LIVES FOR HUMANITY
IN THE GREAT WAR
1914 - 1918
LIEUT. THOMAS A. ALLAN
WILLIAM ROBERT ARMSTRONG
PERCY ROY BYRON
ROBERT WILLIAM BURGESS
ROY GRAHAM CALDER
CAMPBELL CLARK
JAMES GORDON COUTTS
WILLIAM GADD
GEORGE HALLADAY
WILLIAM JOHN HOPKINS
JESSE HUGHES
REGINALD A. KELLY
MAJOR E.L. KNIGHT
WILLIAM ALLISTER LAUDER
JOHN M. LEDINGHAM
SERGT. CALDWELL MARSHALL
WILLIAM T. McALLISTER
PERCY McKECHNIE
ROBERT W. McMEEKIN
ROBERT PUTHERBOUGH
JAMES FOSTER SAUNDERS
EARLE VOLLETT
HARRY VOLLETT
JAMES W. WALLACE
JAMES WARMINGTON
GEORGE WEBBER
JOHN WEIR
ALEXANDER WELLS
WILLIAM GEORGE P. WILLIS
HARRY STANLEY WILLIS
ESDON M. WOLFE
THEIR NAME LIVETH FOR EVERMORE.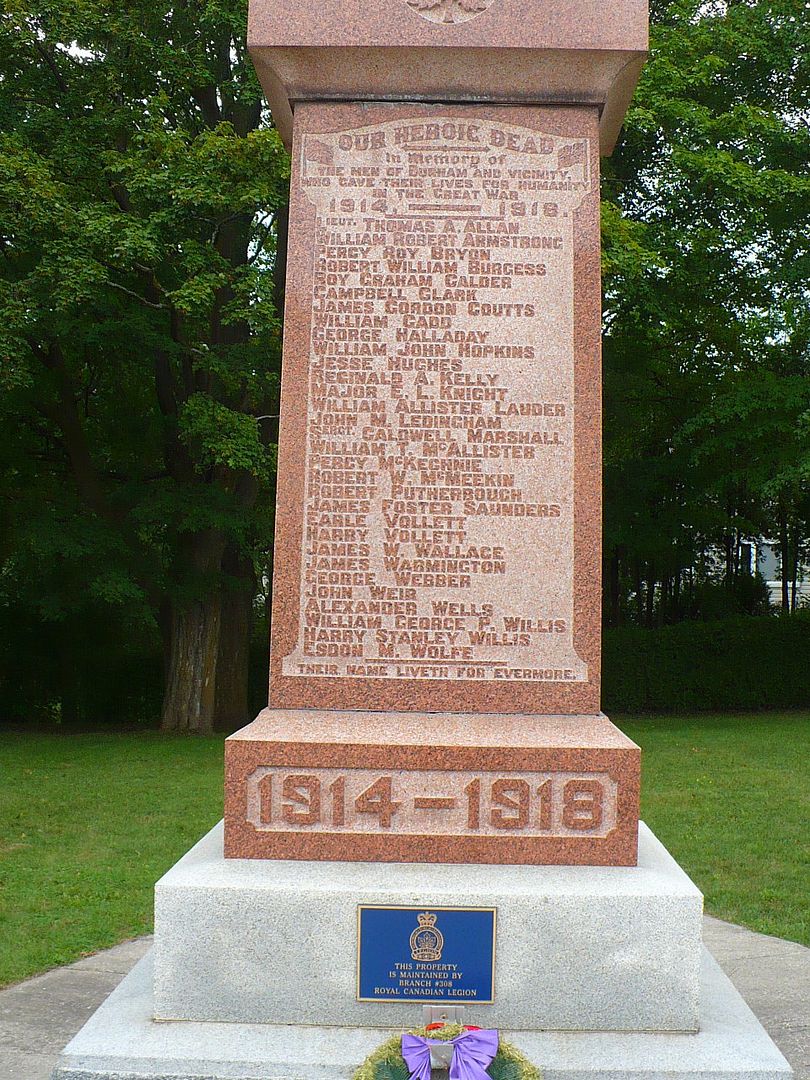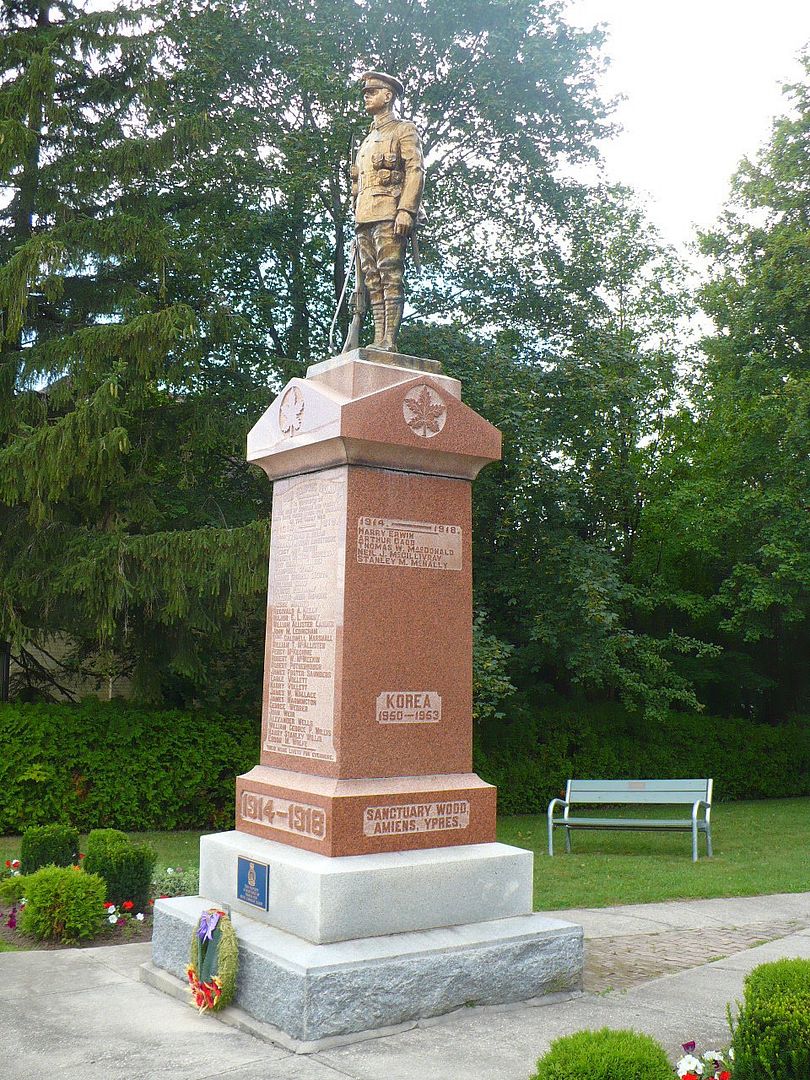 Left side:
1914 - 1918
HARRY ERWIN
ARTHUR GADD
THOMAS W. MacDONALD
NEIL J. McGILLIVRAY
STANLEY M. McNALLY
KOREA
1950-1953
SANCTUARY WOOD
AMIENS, YPRES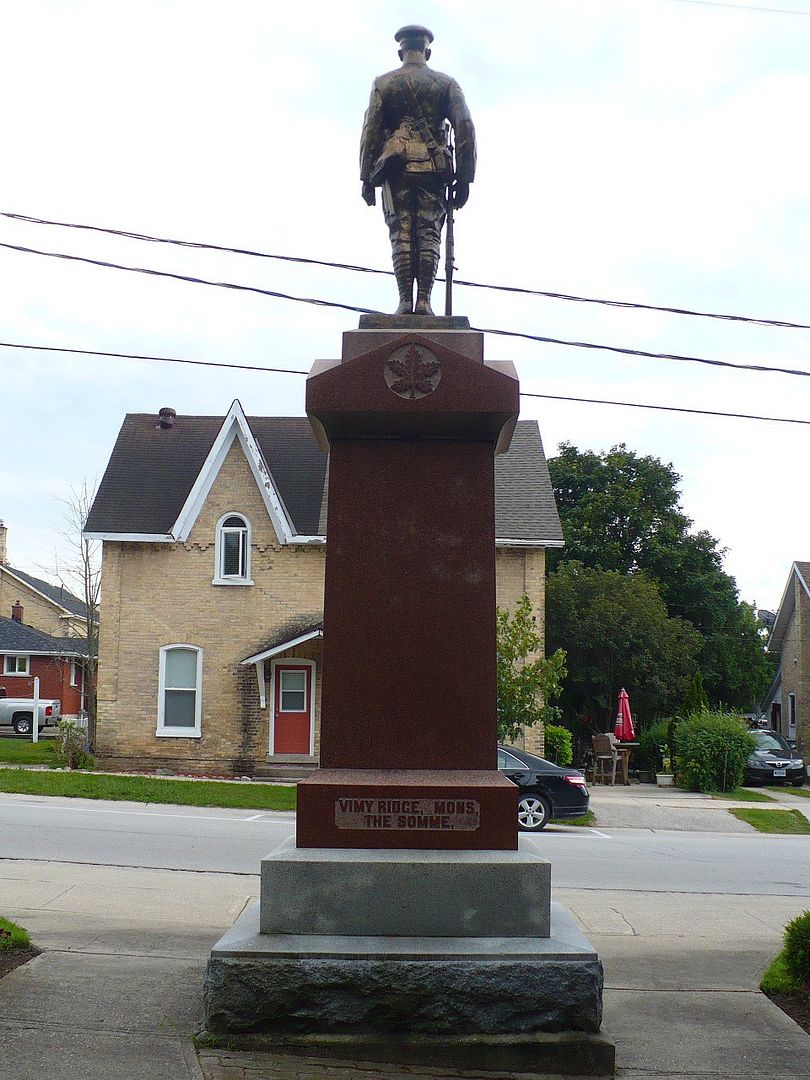 Rear:
VIMY RIDGE, MONS,
THE SOMME,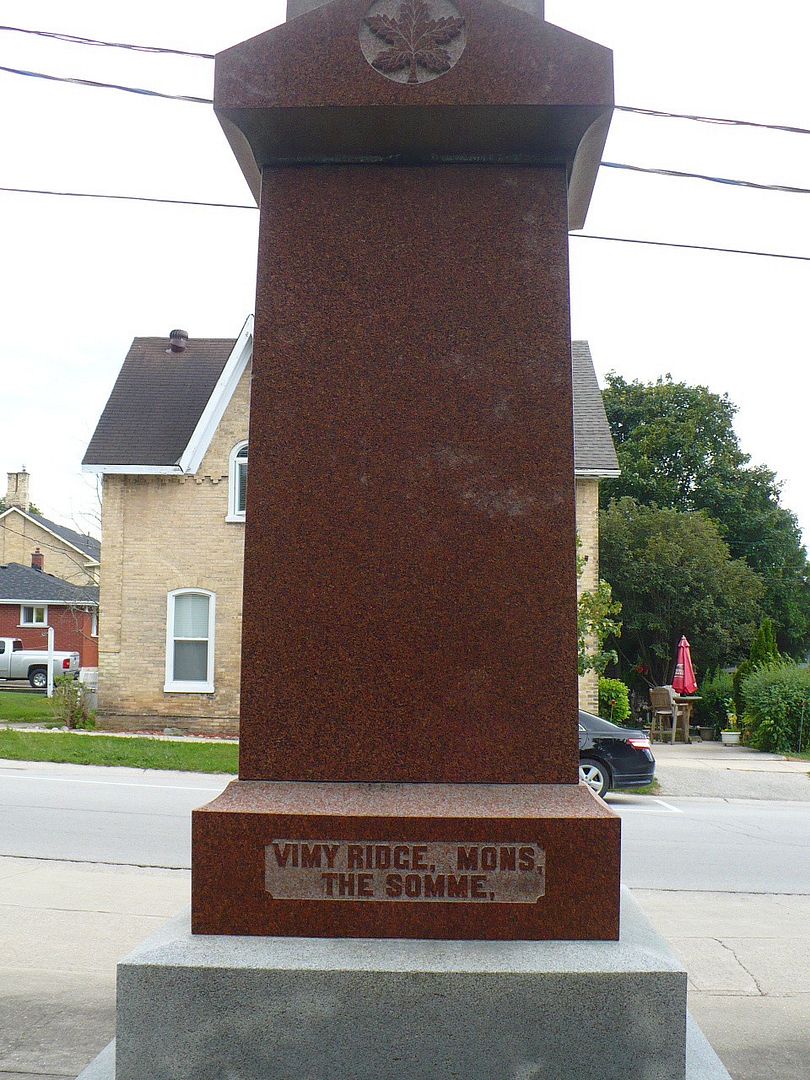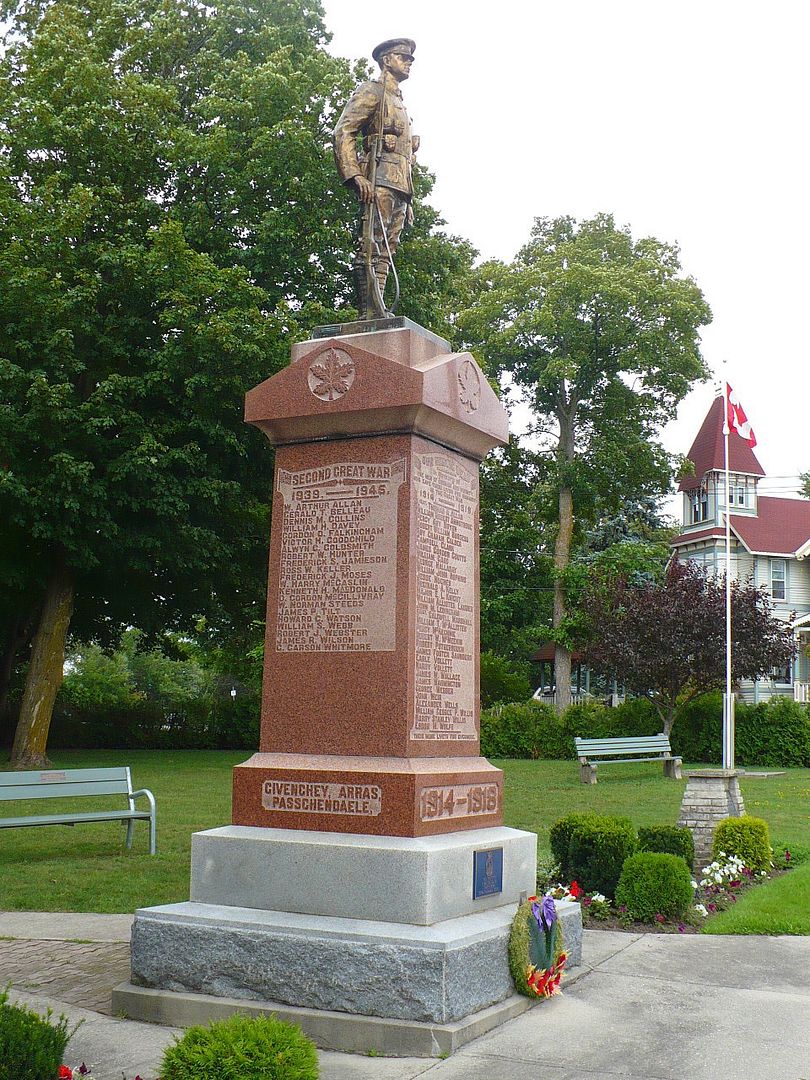 Right side:
SECOND GREAT WAR
1939 - 1945
W. ARTHUR ALLAN
GERALD T. BELLEAU
DENNIS M. COLLINS
WILLIAM H. DAVEY
GORDON O. FALKINGHAM
VICTOR H. GOODCHILD
ALWYN G. GOLDSMITH
ROBERT W. HUNTER
FREDERICK S. JAMIESON
ROSS W. KELLER
FREDERICK J. MOSES
W. HARRY McCASLIN
KENNETH H. MacDONALD
D. GORDON McGILLIVRAY
W. NORMAN STEEDS
JAMES P. TILT
HOWARD C. WATSON
WILLIAM S. WEBB
ROBERT J. WEBSTER
JAMES R. WILSON
G. CARSON WHITMORE
GIVENCHEY, ARRAS
PASSCHENDAELE