Location: Waterloo Region N 43 21.542 W 80 19.100
On Queen's Square North, just off Grand Avenue North.
This memorial is a tribute to the Wren's, the Women's branch of the Royal Canadian Navy. It was first unveiled in 1972, then re-dedicated again in 2010, on the 100th anniversary of the Navy. The memorial features a Wren in uniform, and two small plaques recognizing their contribution.
Galt, now part of Cambridge was the main training base for the Wrens, designated as H.M.C.S. Conestoga. The Navy was the last of the major branches of the armed forces to include women, they having played a key role in the medical field during World War I. The Army and Air Force each established a Women's branch in 1941, the Navy finally adding women in 1942, taking the assistance offered from the British Royal Navy.
A much more detailed and inclusive history can be found in the following links:
https://legionmagazine.com/en/2012/12/the-navy-e2-80-99s-women-e2-80-9470th-anniversary-of-the-wrens-navy-part-54/
http://www.thewrens.com/history/canada/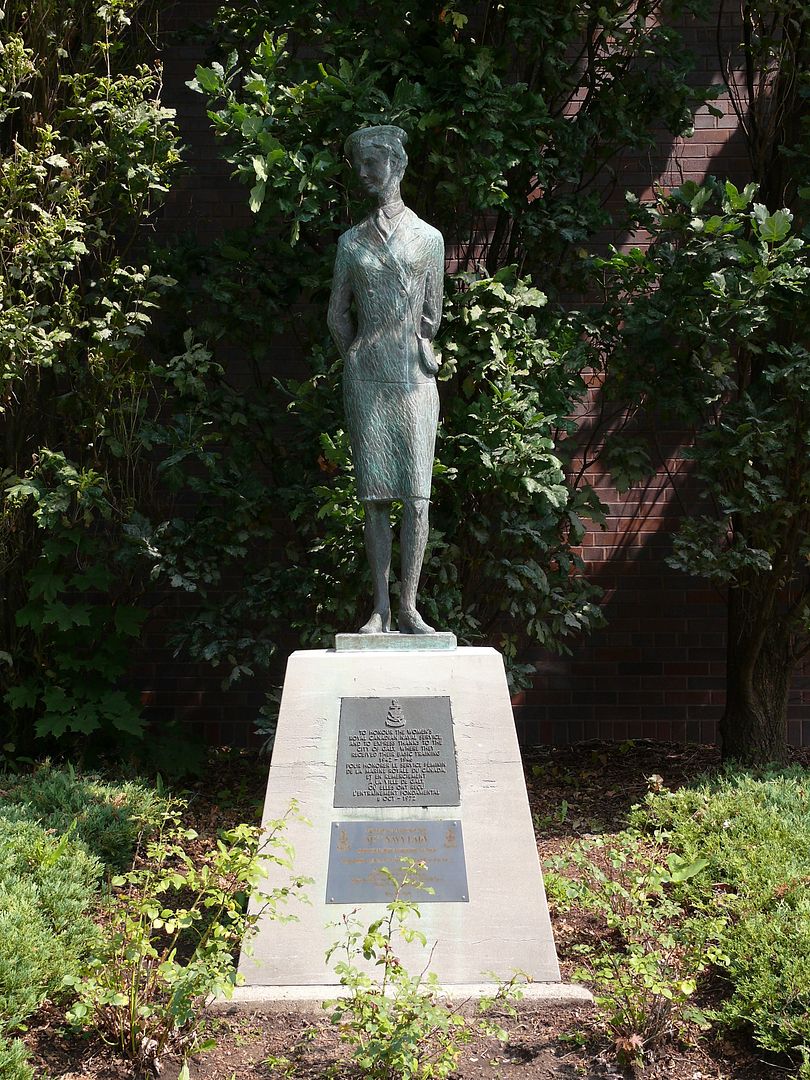 Marker text:
Top plaque:
TO HONOUR THE WOMEN'S
ROYAL CANADIAN NAVAL SERVICE,
AND TO EXPRESS THANKS TO THE
CITY OF GALT, WHERE THEY
RECEIVED THEIR BASIC TRAINING
1942-1946
(repeated in Fench)
8 0CT - 1972
Lower plaque:
Canadian Naval Centennial Rose
AC NAVY LADY
Sponsored by the Wren Associations in Canada
In recognition of the 100th Anniversary of the Canadian Navy
A tribute to our shipmates
All the gallant men and women
who served at sea and ashore in the Canadian Navy
Past, Present and Future
May 16, 2010