Location: Durham Region N 43 51.411 W 079 03.425
Found on the west side of Church Street North, in Memorial Park.
According to the current map, this location is technically found in Ajax, although at the time when it was first erected, this was part of Pickering. The Town of Ajax was created in 1941, and later the town lines where modified in 1974 due to the creation of Durham Region.
Here you will find two cobblestone cairns, in memory of those who served and died in the Great War. The first cairn was dedicated by the citizens of South Pickering, the second by the International Order of Odd Fellows. Today these memorials cairns sit quietly in Memorial Park, which also hosts an arena and sports fields. The brass plaques mounted on these cairns pays homage to the names of those who made the ultimate sacrifice for their King and country.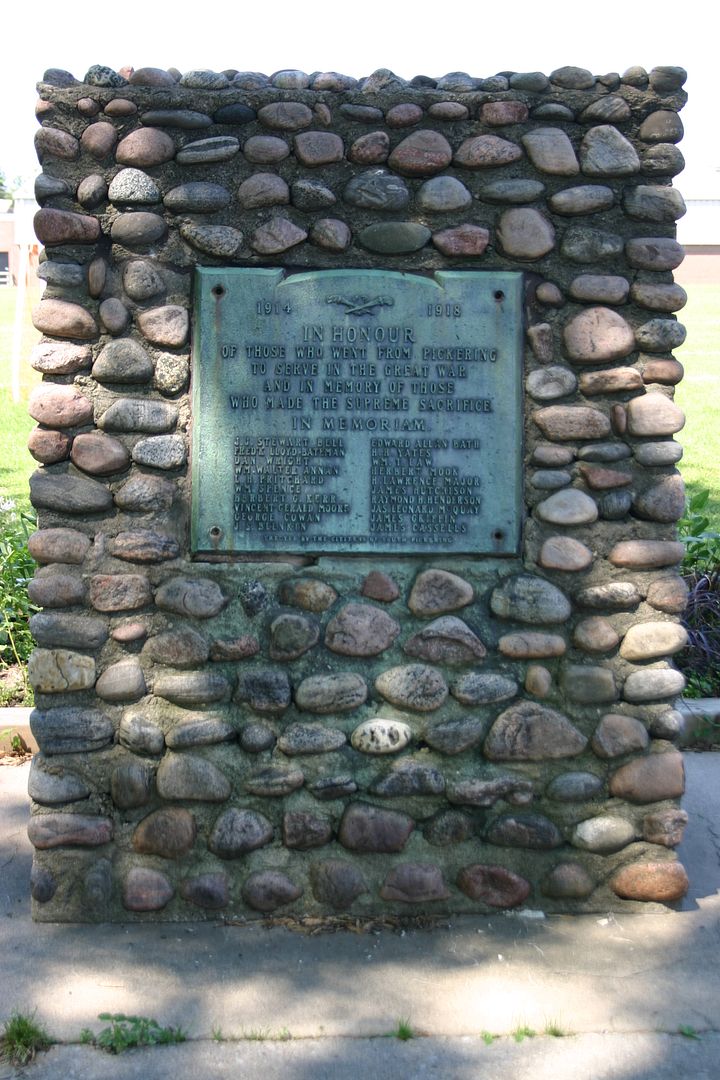 Marker text:
First marker:
1914 - 1918
IN HONOUR
OF THOSE WHO WENT FROM PICKERING
TO SERVE IN THE GREAT WAR
AND IN MEMORY OF THOSE
WHO MADE THE SUPREME SACRIFICE
IN MEMORIAM
J.J. STEWART BELL
FRED'K LLOYD-BATEMAN
DAN WRIGHT
WM. WALTER ANNAN
L.H. PRITCHARD
WM. SPENCE
HERBERT G. KERR
VINCENT GERALD MOORE
GEORGE COWAN
J.S. BLENKIN
EDWARD ALLAN BATH
H.H. YATES
WM. T. LAW
HERBERT MOOK
H. LAWRENCE MAJOR
JAMES HUTCHINSON
RAYMOND H. HENDERSON
JAS. LEONARD McQUAY
JAMES GRIFFIN
JAMES CASSELLS
ERECTED BY THE CITIZENS OF SOUTH PICKERING
Second Marker:
ONTARIO LODGE 324 I.O.O.F.
TO THE MEMORY OF OUR
BROTHERS
WHO GAVE THEIR LIVES FOR US IN
THE GREAT WAR
1914 - 1918