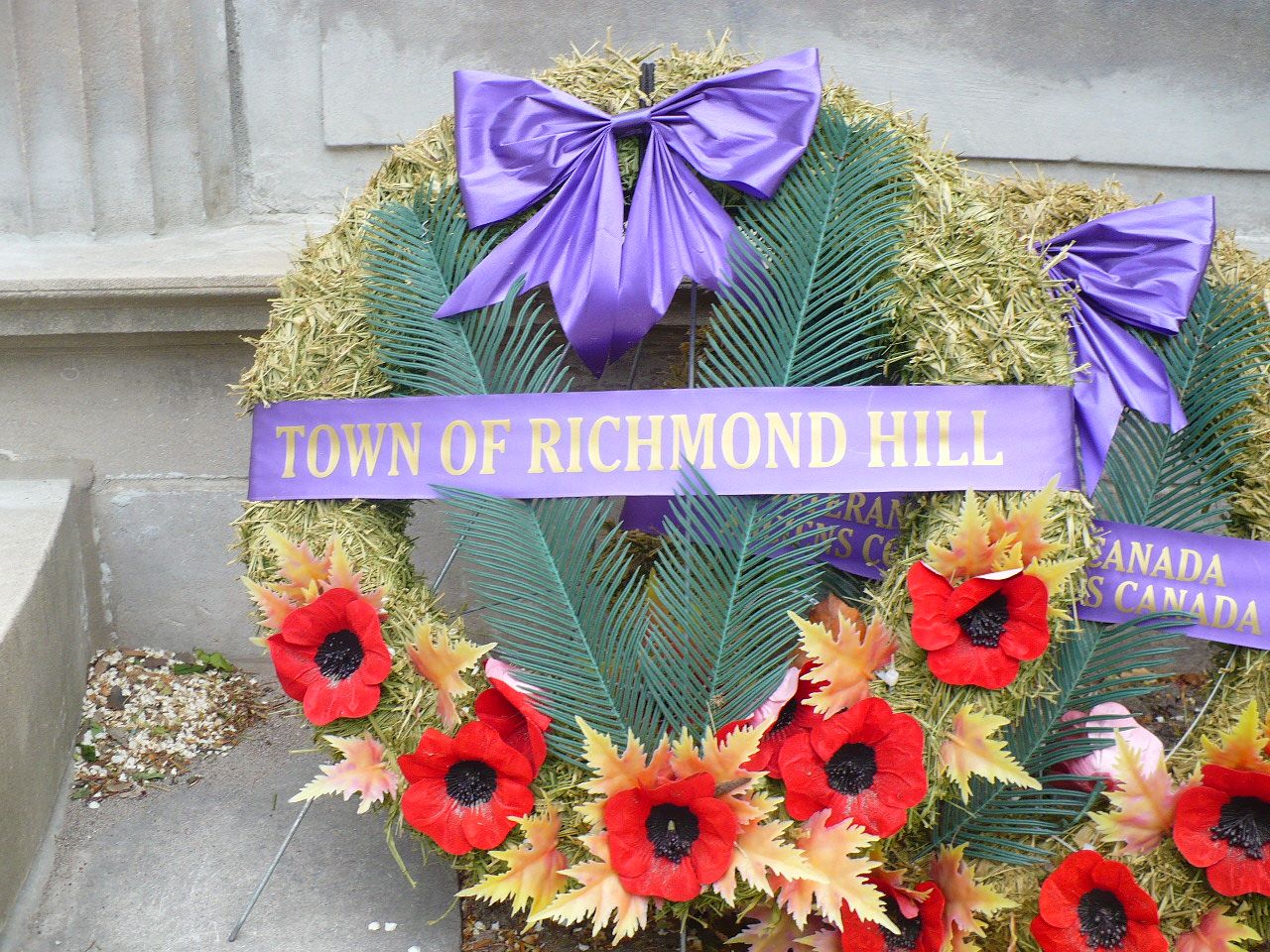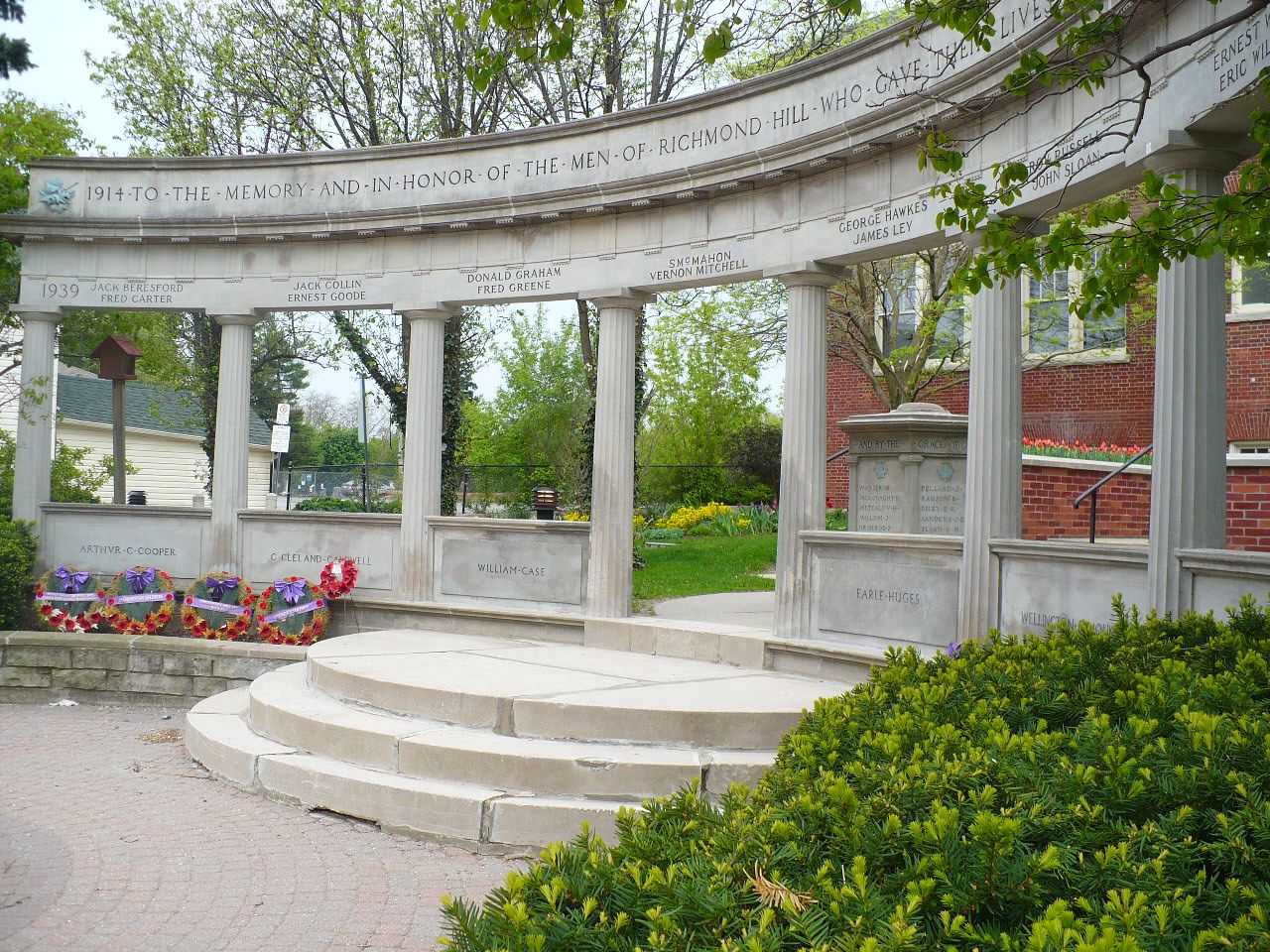 Location: York Region N 43 52.421 W 079 26.260
On the west side of Yonge Street, south of Arnold Crescent. In front of the old Richmond Hill Public School.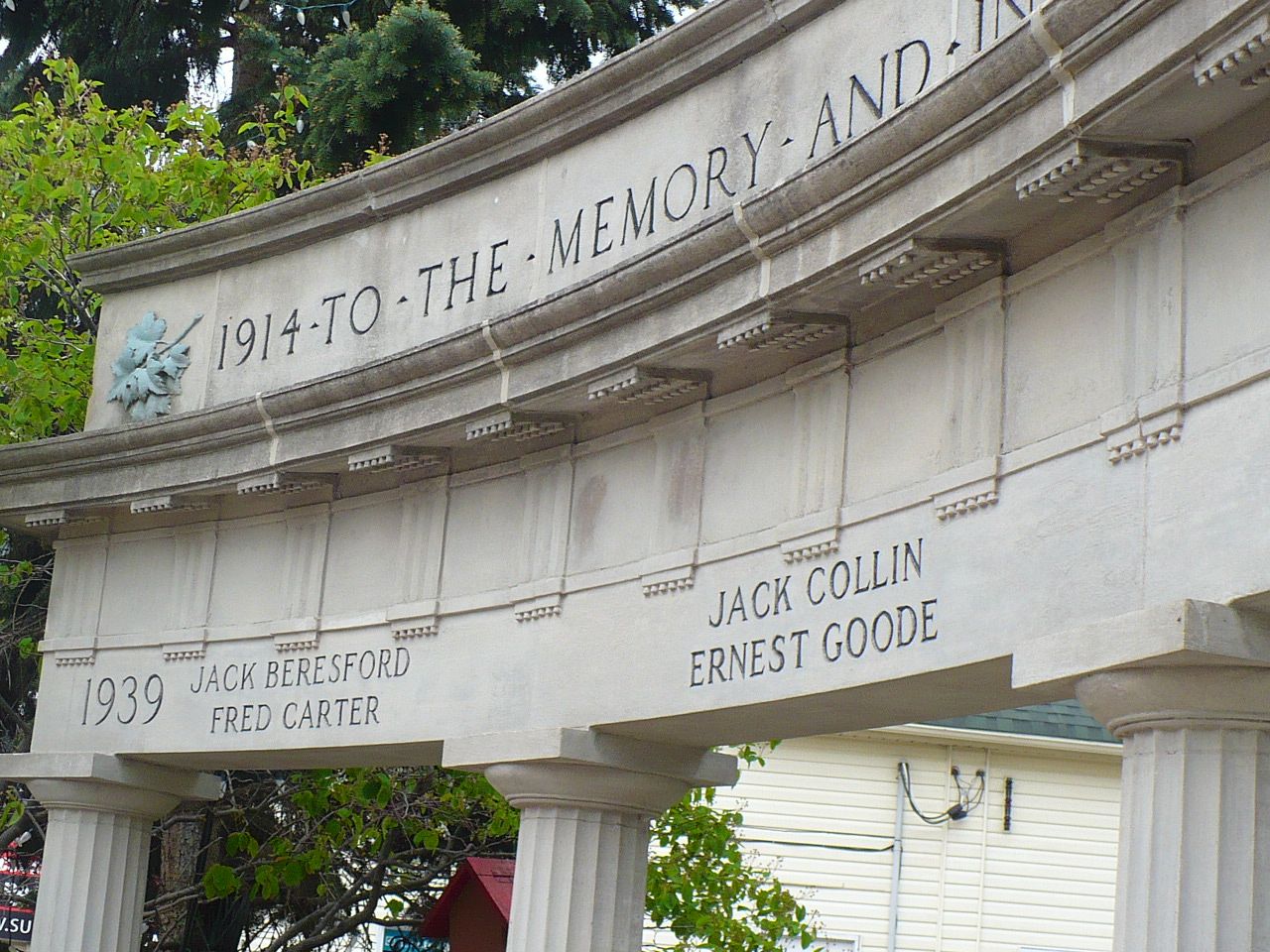 The village of Richmond Hill first erected this impressive memorial in 1923, in honour of those who died and served in the Great War. It was later expanded to include those lost in the Second World War, and once again restored in 1994. The main part of the memorial is a large colonnade with the inscriptions of those lost, the second part is a pentagonal shaft with the names of those who fought and returned. A garden of tulips is found immediately behind the memorial, which adds a colourful beauty to this already outstanding cenotaph of remembrance.
Marker text:
Colonade:
1914 TO THE MEMORY AND IN HONOR OF THE MEN OF RICHMOND HILL WHO GAVE THEIR LIVES IN THE GREAT WAR 1918
JACK BERESFORD
FRED CARTER
JACK COLLIN
ERNEST GOODE
DONALD GRAHAM
FRED GREENE
S. McMAHON
VERNON MITCHELL
GEORGE HAWKES
JAMES LEY
ROY RUSSELL
JOHN SLOAN
ERNEST WHITE
ERIC WILSON
ARTHUR C. COOPER
C. CLELAND CALDWELL
WILLIAM CASE
EARLE HUGHES
WELLINGTON C. MONKMAN
HAROLD ROWLEY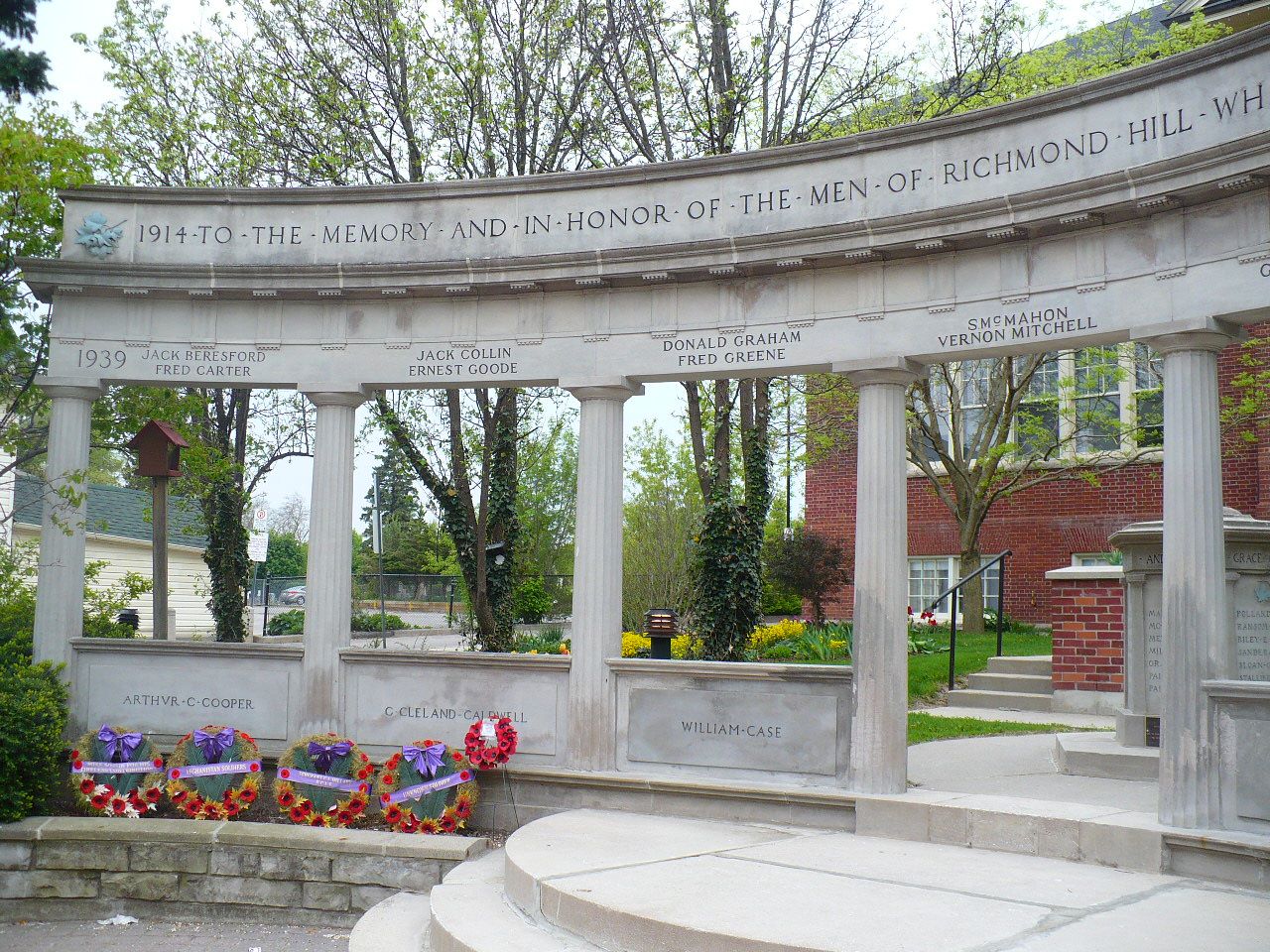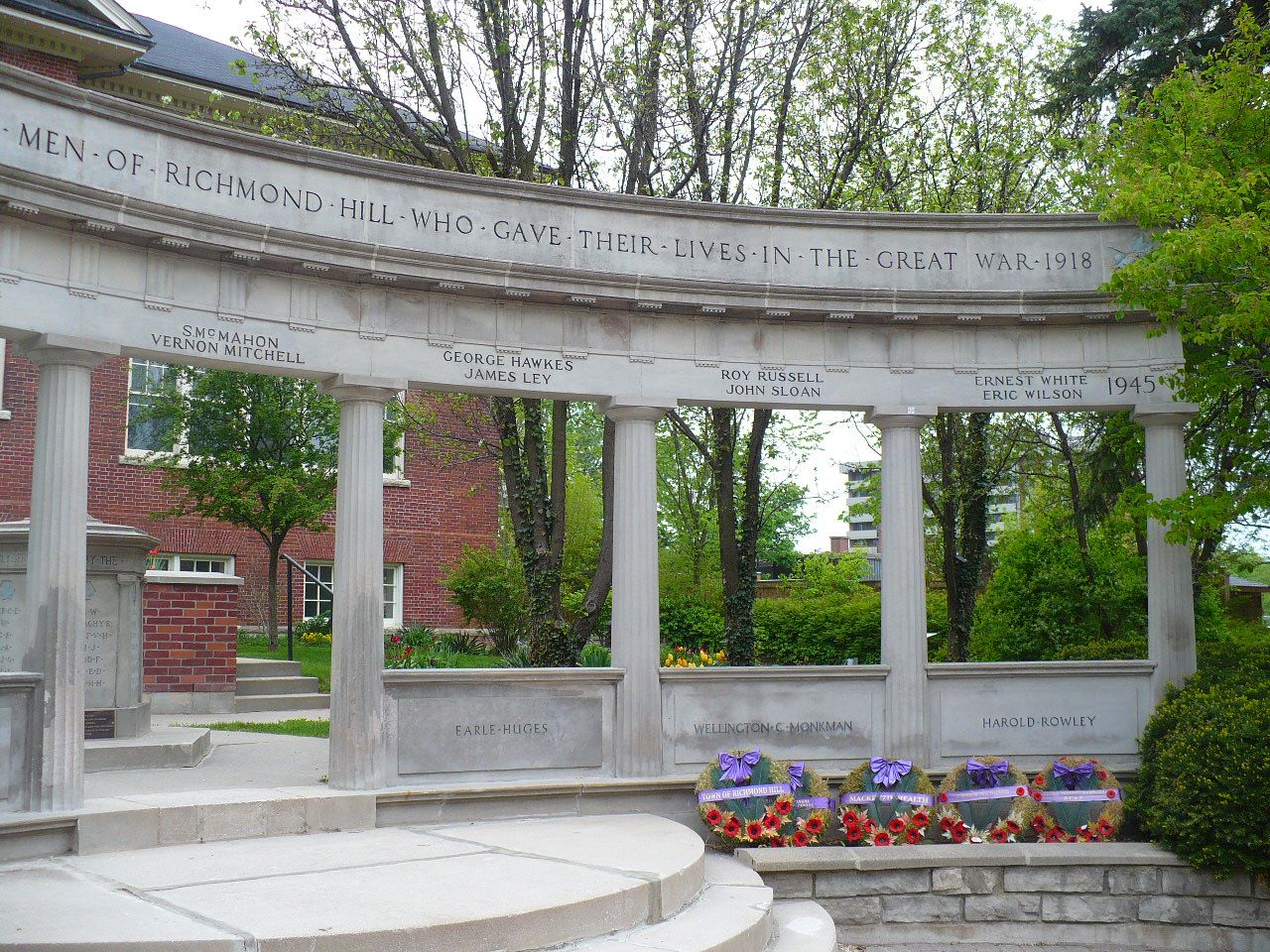 Shaft:
TO THE MEN WHO NOBLY SERVED AND BY THE GRACE OF GOD WHOSE LIVES WERE SPARED
THESE MEMORIALS
ERECTED BY THE
CITIZENS OF
RICHMOND HILL
IN THE YEAR
AD. 1923
CHAS. McWILLMOT
ARCHITECT
TORONTO
ATKINSON W.D.
ATKINSON R.W.
AIKENHEAD J.A.
BASSETT W.
COWIE C.H.
FISHER W.
FROUD F.
DUNLOP F.M.
GLOVER C.E.
HALL W.
HILL C.E.
HILL L.A.
HUNT J.G.
HUNT L.S.
MAFFEY A.W.
MANSER W.
McCONAGHY R.
METCALF V.H.
MILLS H.J.
ORMEROD F.
PALMER E.D.
PALMER H.H.
POLLARD J.
RANSOM B.
RILEY E.R.
SANDERS S.J.D.
SLOAN G.H.
STALLIBRASS J.
TEETZEL L.B.
TRACY Y.B.
VANDERBURGH W.A.
WALDER L.C.
WELLWOOD M.B.
WELLWOOD G.R.
WILEY G.A.
WRIGHT C.V.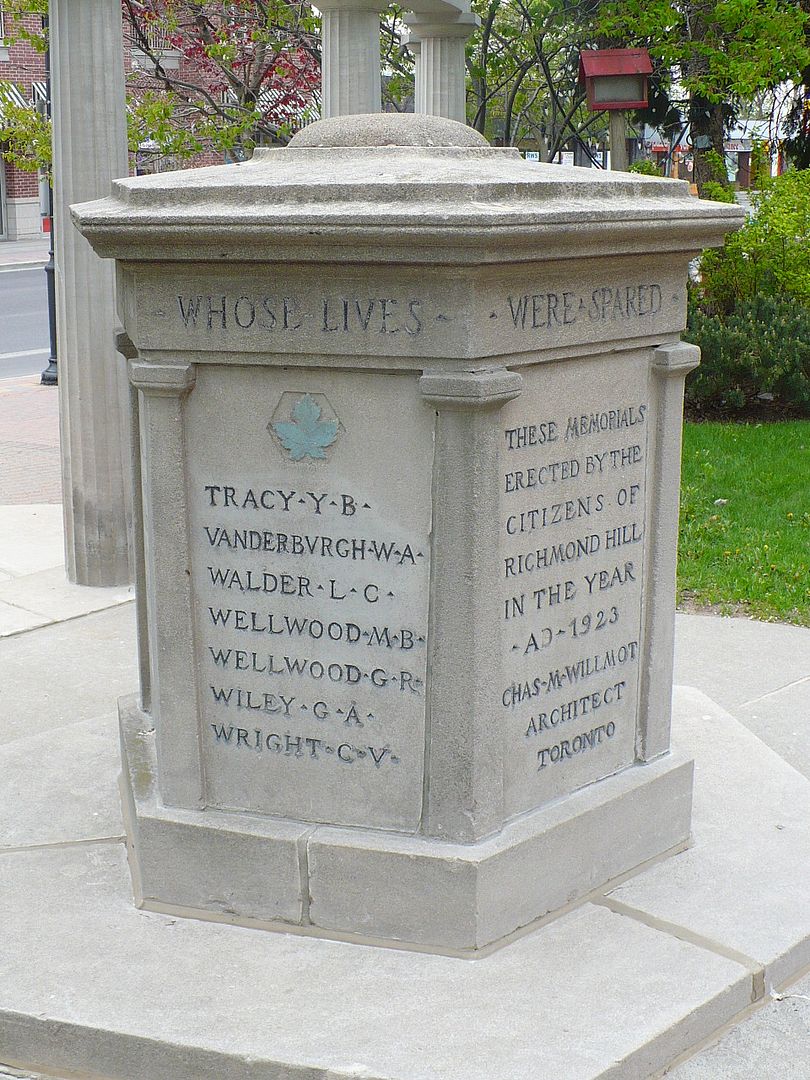 Brass plaque:
AUGUST 9, 1998
TO COMMEMORATE THE 75TH ANNIVERSARY
OF THE CENOTAPH
AND TO HONOUR THOSE WHO GAVE THEIR LIVES DURING
THE KOREAN WAR AND VARIOUS PEACEKEEPING
ACTIVITIES