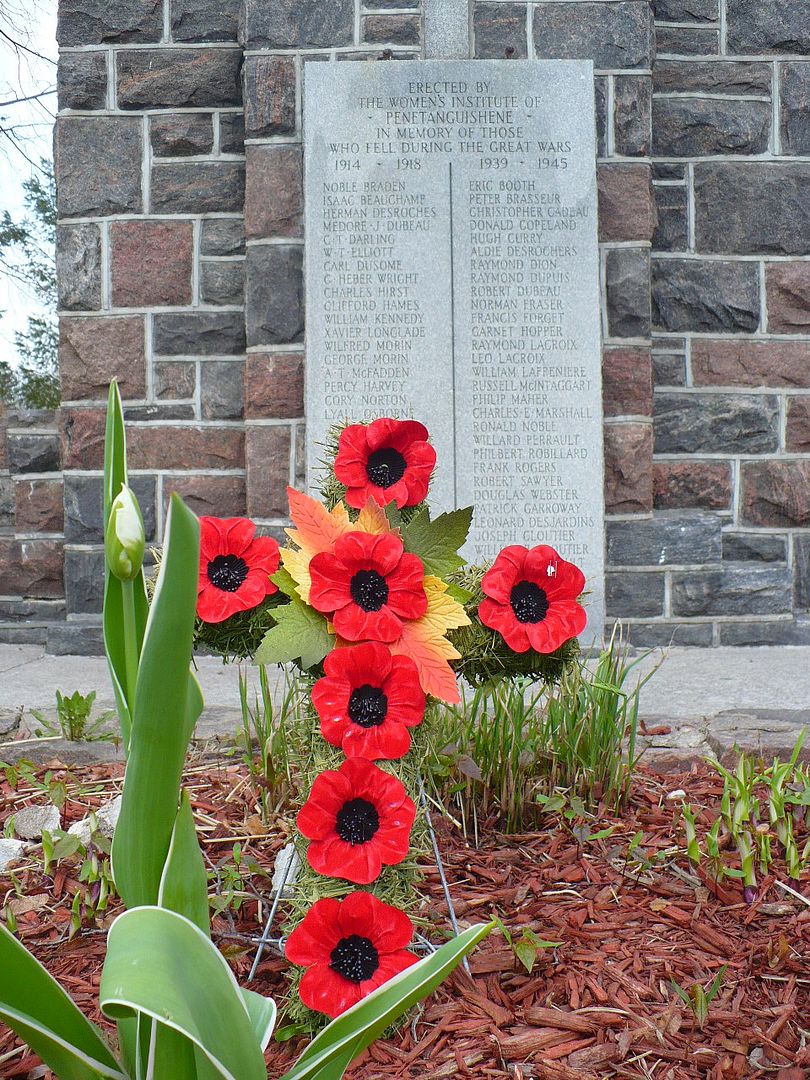 Location: Simcoe County N 44 46.063 W 079 55.974
On the east side of Main Street, in Memorial Park.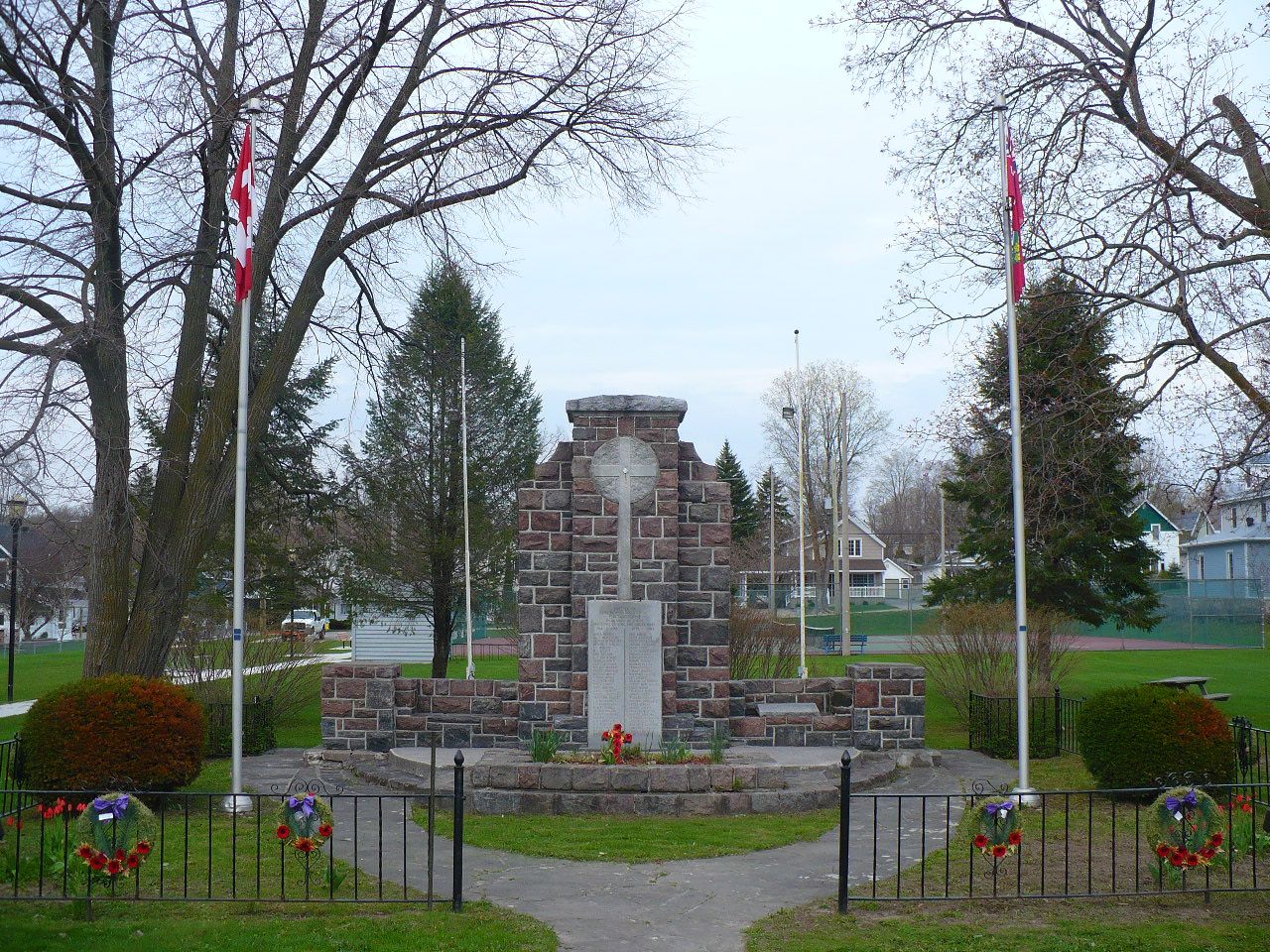 A very nice memorial, made of large bricks, dedicated to those who fell during the two Great Wars. A smaller plaque was added later to recognize those lost in the Korean War. Penetanguishene has been the home of a military presence since before the days of the War of 1812, providing a valuable port and link between the Great Lakes. During the Great Wars, the men of this area continued their valuable contribution by serving gallantly overseas, and giving their lives when called upon.
Marker text:
main plaque:
ERECTED BY
THE WOMEN'S INSTITUTE OF
- PENETANGUISHENE -
IN MEMORY OF THOSE
WHO FELL DURING THE GREAT WARS
[left column/colonne de gauche]
1914 - 1918
NOBLE BRADEN
ISAAC BEAUCHAMP
HERMAN DESROCHES
MEDORE J DUBEAU
C. T. DARLING
W. T. ELLIOTT
CARL DUSOME
C. HERBER WRIGHT
CHARLES HIRST
CLIFFORD HAMES
WILLIAM KENNEDY
XAVIER LONGLADE
WILFRED MORIN
GEORGE MORIN
A. T. McFADDEN
PERCY HARVEY
CORY NORTON
LYALL OSBORNE
JOHN L. PEACOCK
NAPOLEAN PICOTTE
E. F. RICHARDSON
F. J. RICHARDSON
ROBERT RUMBLE
GEORGE DOSOME
GEORGE SIMMONS
HAROLD SPROULE
A. H. THOMPSON
A. L. WEBSTER
A. P. VASSEUR
J. VAILLANCOURT
[right column/colonne de droite]
1939 - 1945
ERIC BOOTH
PETER BRASSEUR
CHRISTOPHER CADEAU
DONALD COPELAND
HUGH CURRY
ALDIE DESROCHERS
RAYMOND DION
RAYMOND DUPUIS
ROBERT DUBEAU
NORMAN FRASER
FRANCIS FORGET
GARNET HOPPER
RAYMOND LACROIX
LEO LACROIX
WILLIAM LAFRENIERE
RUSSELL McINTAGGART
PHILIP MAHER
CHARLES E. MARSHALL
RONALD NOBLE
WILLARD PERREAULT
PHILBERT ROBILLARD
FRANK ROGERS
ROBERT SAWYER
DOUGLAS WEBSTER
PATRICK GARROWAY
LEONARD DESJARDINS
JOSEPH CLOUTHIER
WILLIAM B. CLOUTHIER
LAWRENCE LEGAULT
LIONEL LEROUX
JAMES LEELAND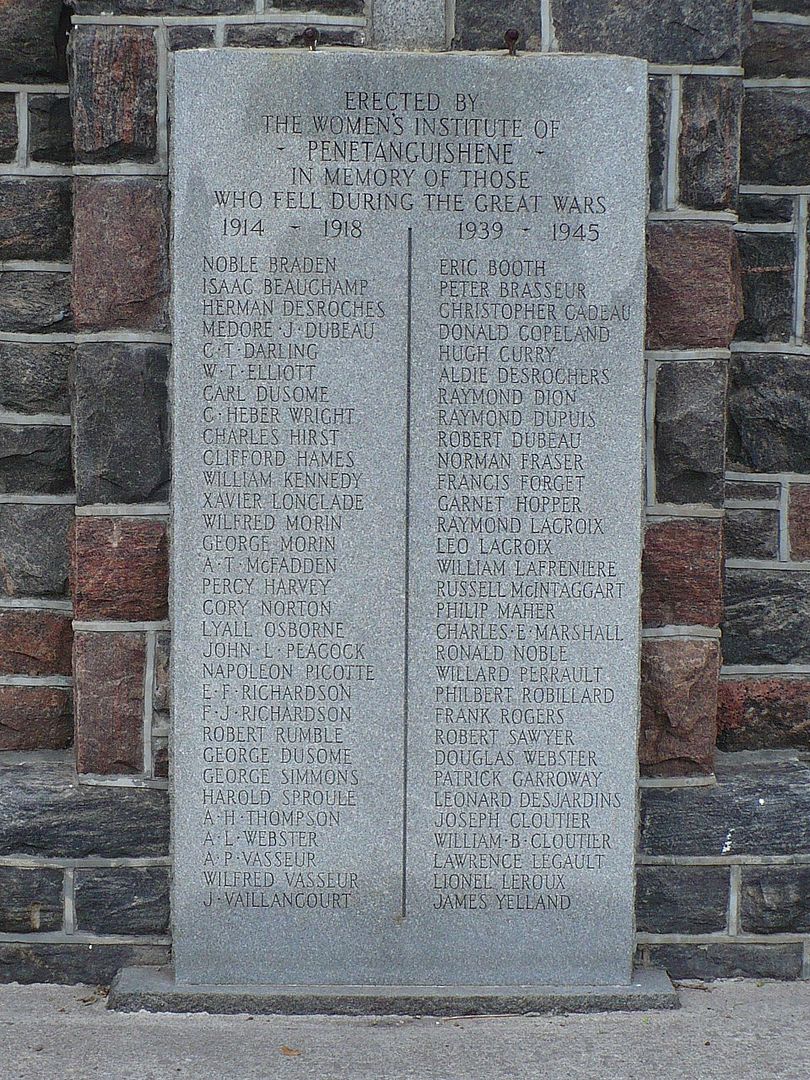 small plaque:
IN MEMORY OF
THOSE WHO FELL DURING
THE KOREAN WAR
1950 - 1953
K. R. MONAGUE
H. J. MOREAU
M. J. MOREAU