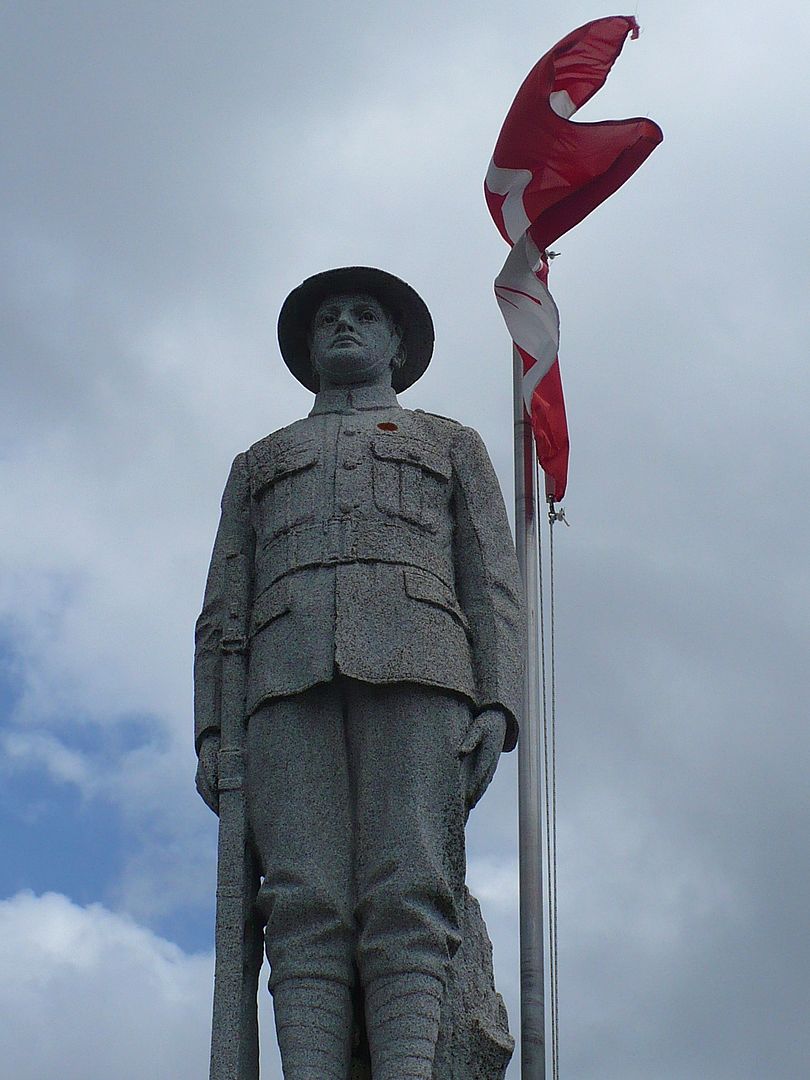 Location: Peterborough County N 44 25.817 W 078 08.231
On the east side of the corner of Mill and Water Streets.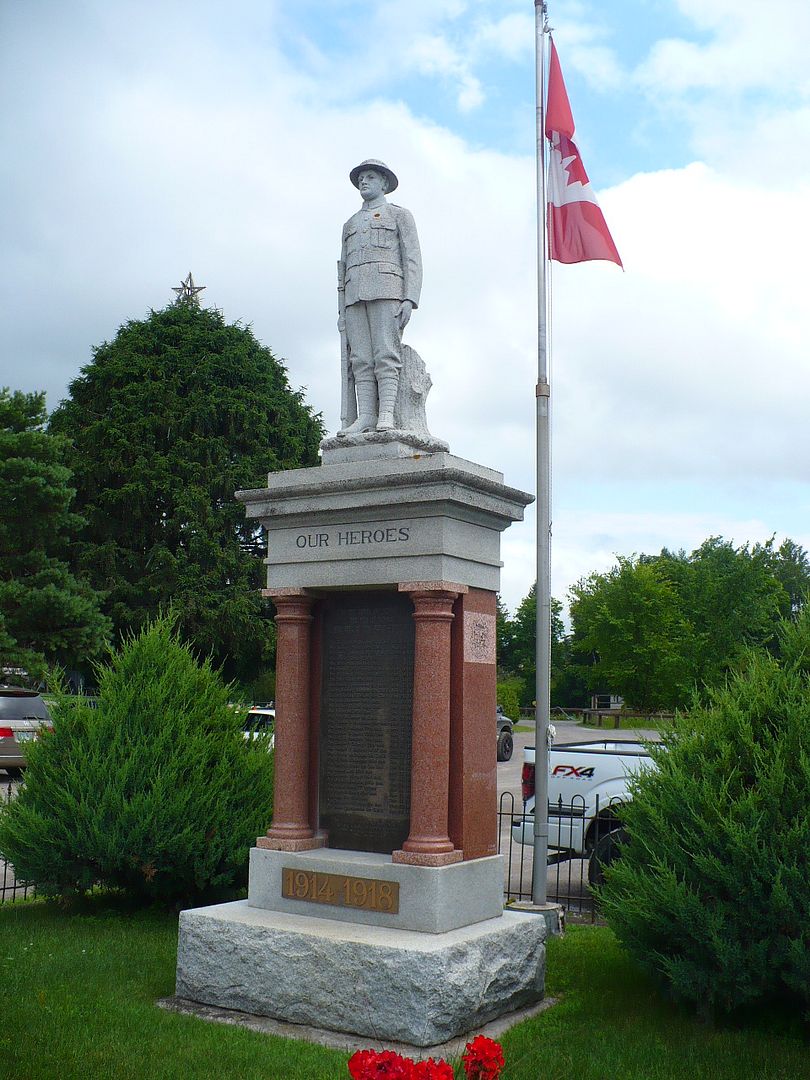 This memorial is dedicated to those brave men of Dummer Township who gave their lives in the First World War. Erected in 1921, by the local memorial committee. A stone soldier stands at attention at the top of the memorial, while below him inscribed in the stone are the words 'OUR HEROES'. A brass plaque lists the names and dates of death of these local heroes. Seeing the dates of the day they fell, gives a sad feel to the loss of a small community, as indeed the last days of the Great War were the most devastating.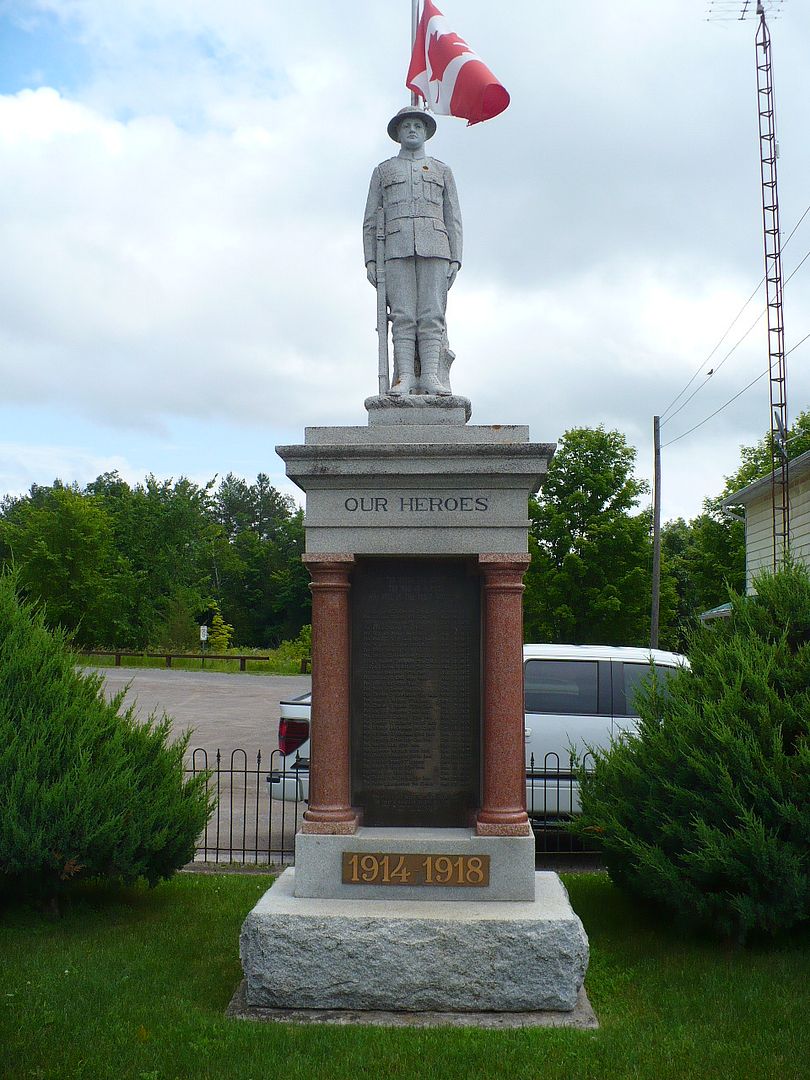 Marker text:
OUR HEROES
TO THE HONOR AND MEMORY OF
THE MEN OF DUMMER
WHO FELL IN THE GREAT WAR
Pte. Gordon H.D. Carveth 5th C.M.R. Apr. 24, 1916
Pte. Norman Darling 8th C.M.R. May 14, 1916
Pte. Henry Joseph Kelly 5th C.M.R. June 6, 1916
Pte. Edward Grout 52nd Batt. Jan.16, 1917
Pte. William Batten 96th Batt. Apr. 9, 1917
Pte. Percy T.W. Cooper 93rd Batt. Apr. 9, 1917
Pte. William R. Forbes 10th Batt. Apr. 9, 1917
Pte. Percy Brew 102nd Batt. May 14, 1917
Pte. Francis E. Armstrong 51st Batt. June 3, 1917
L. Cpt. Stanley Thompson 5th C.M.R. June 12, 1917
L. Cpt. Clayton R. Selkirk 5th C.M.R. June 23, 1917
Pte. Isaac Hampton 195th Batt. Aug. 16, 1917
Pte. Hilliard C. Kidd 46th Batt. Aug. 21, 1917
Pte. Ernest Bell 93rd Batt. Oct. 4, 1917
Pte. Percy M. Lemay 5th C.M.R. Oct. 28, 1917
Pte. Thomas O. Hawthorne 51st Batt. Nov. 10, 1917
Pte. Henry J. Murphy 77th Batt. Sept. 15, 1916
Pte. Charles E. Rogers 235th Batt. Jan. 7, 1918
Pte. Ira T.R. Snelgrove 54th Batt. Aug. 8, 1918
Pte. Gordon F. Calberry 25th Batt. Aug. 18, 1918
Pte. Herbert V. Calberry 1st DP Batt. Sept. 30, 1918
Pte. Wilburt McCracken 9th C.M.R. Oct. 10, 1918
Pte. William J. Newman 93rd Batt. Oct. 11, 1918
Pte. Percy H. Drain 6th Can. Res. Oct. 28, 1918
Pte. Stanley Kidd 93rd Batt. Nov. 17, 1918
Pte. Lawrence Murtach 93rd Batt. Apr. 4, 1917
Pte. Oswald Alexander 187th Batt. June 25, 1917
Pte. Stanley James "C" Battery June 16, 1916
Pte. Robert E. Emery 93rd Batt. June 11, 1920
Cpl. Allen Ray 52nd Batt. Oct. 11, 1920
Pte. Thomas A. Walbridge 21st Batt. Nov. 17, 1917
Pte. Jacob Quackenbush 5th C.M.R. Sept. 27, 1918
1914 - 1918