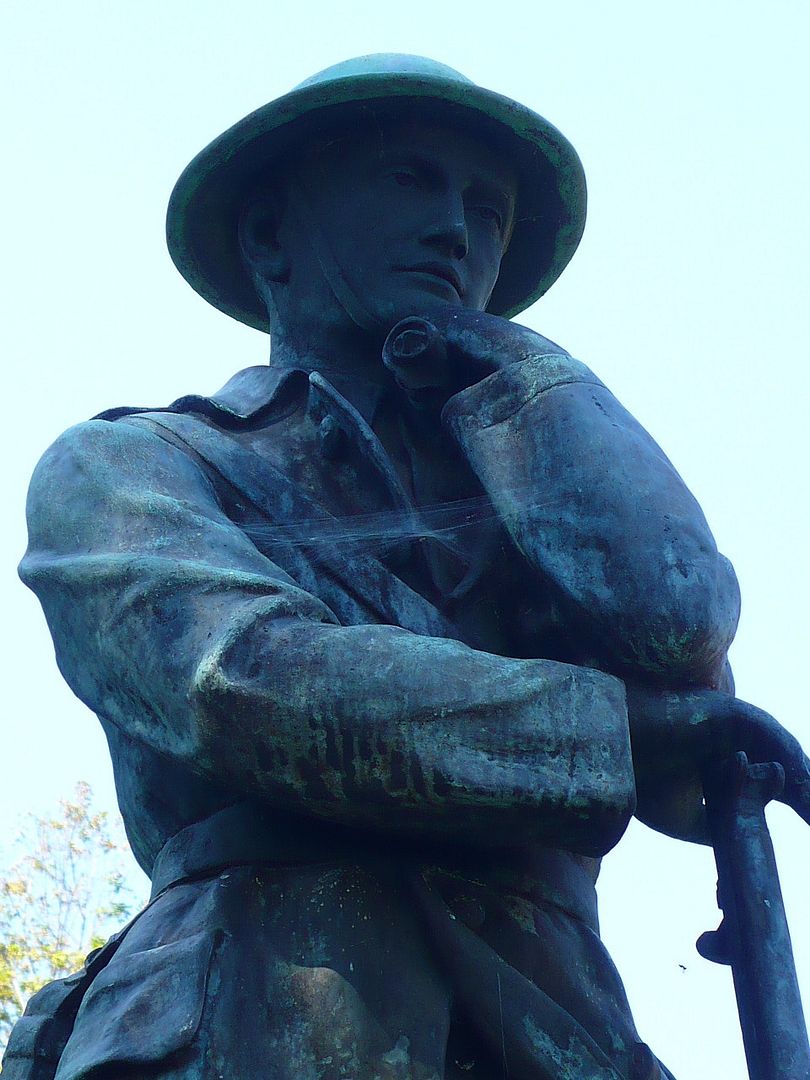 Location: Huron County N 43 52.193 W 81 01.864
On the west side of Patrick Street, just north of Water Street.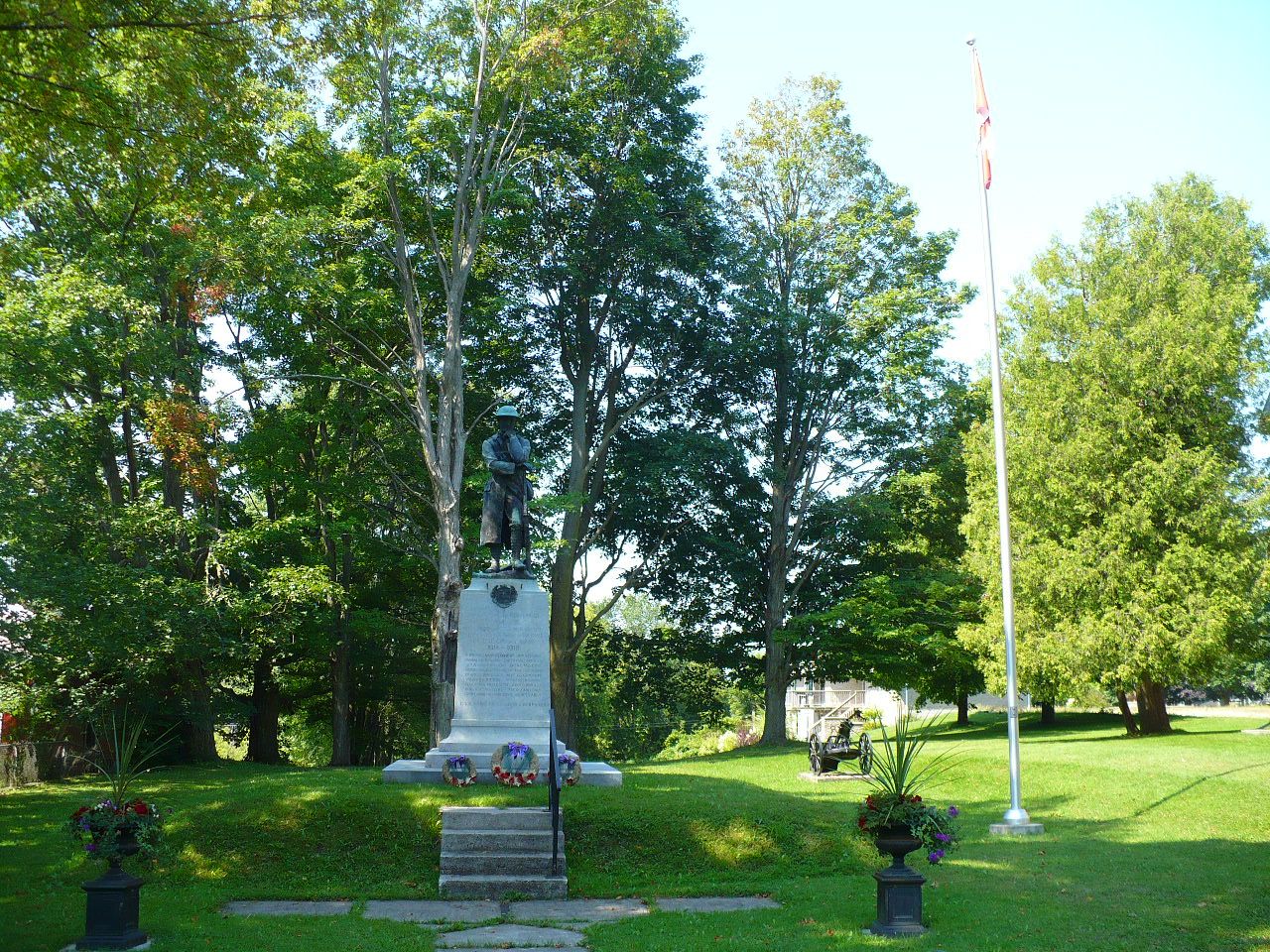 This one of many small towns in Ontario I had never heard of before tackling this project, and one of the many pleasant surprises I have found in my journey. The memorial here in Fordwich represents the Township of Howich, and the men from this area who died in the Great War. It was the sacrifices made by thousands of men from similar small villages across the country that gave Canada it great victories in the Great War. The grateful citizens that remained, honoured these brave souls with beautiful statues and cenotaphs, carving their names in the stone to be remembered for ever more. Brass plaques where later added to remember the names of those lost in the Second World War. A WWI German trench mortar rests behind the memorial.
This cenotaph, so typical of those found in many small villages throughout Ontario, stands proudly today as a stark reminder of the sacrifices made by so many.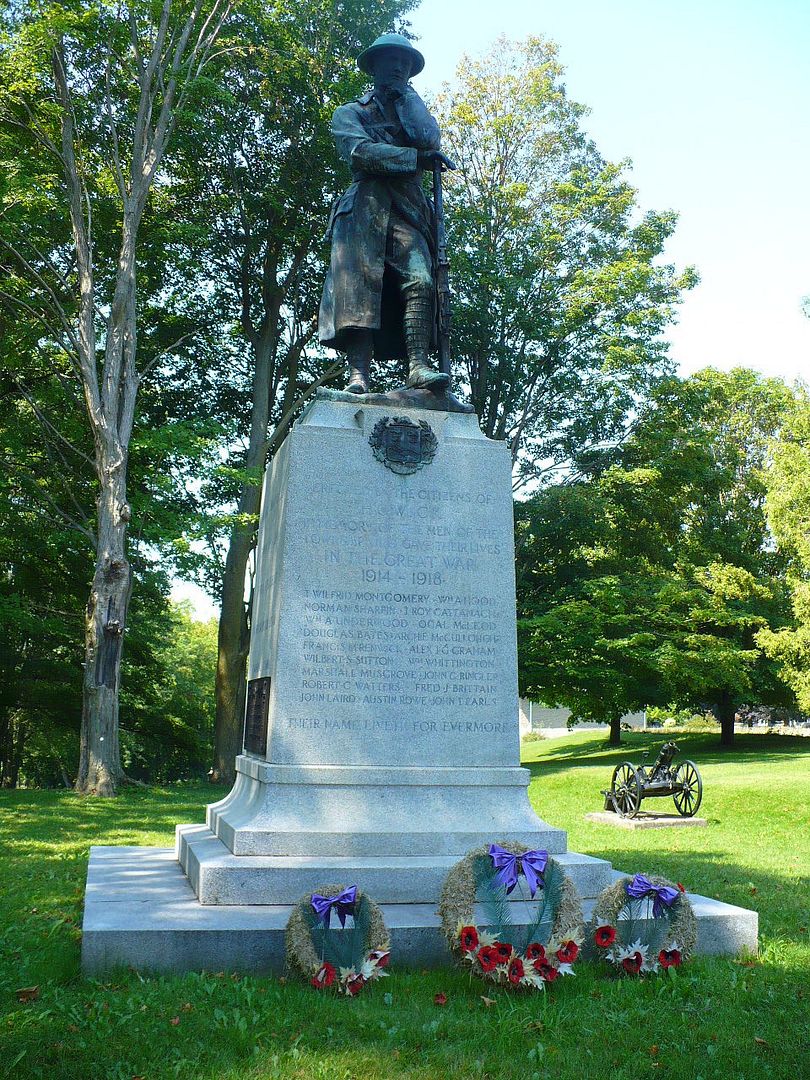 Marker text:
Front.
ERECTED BY THE CITIZENS OF
HOWICK
IN MEMORY OF THE MEN OF THE
TOWNSHIP WHO GAVE THEIR LIVES
IN THE GREAT WAR
1914 - 1918
T. WILFRID MONTGOMERY
Wm. A. HOOD
NORMAN SHARPIN
J. ROY CATTANAGH
Wm. A. UNDERWOOD
OGAL McLEOD
DOUGLAS BATES
ARCHIE McCULLOUGH
FRANCIS M. RENWICK
ALEX J.G. GRAHAM
WILBERT S. SUTTON
Wm. WHITTINGTON
MARSHALL MUSGROVE
JOHN C. RINGLER
ROBERT C. WATTERS
FRED J. BRITTAIN
JOHN LAIRD
AUSTIN ROWE
JOHN I. EARLS
THEIR NAME LIVETH FOR EVERMORE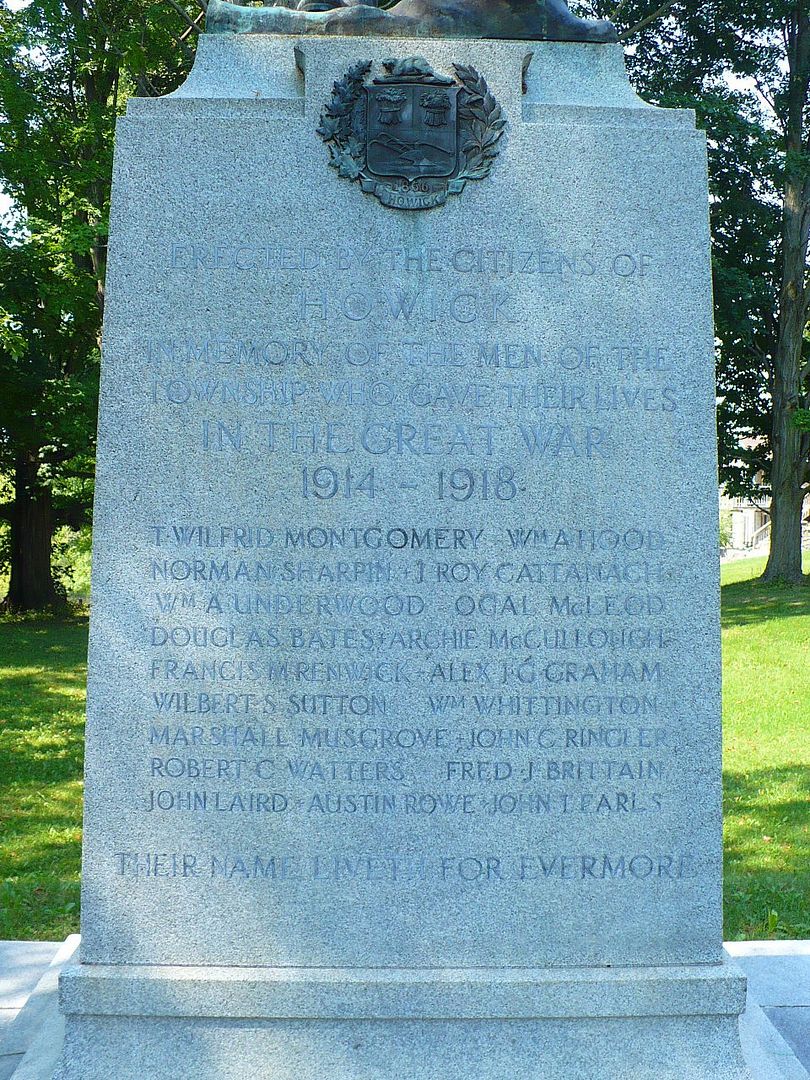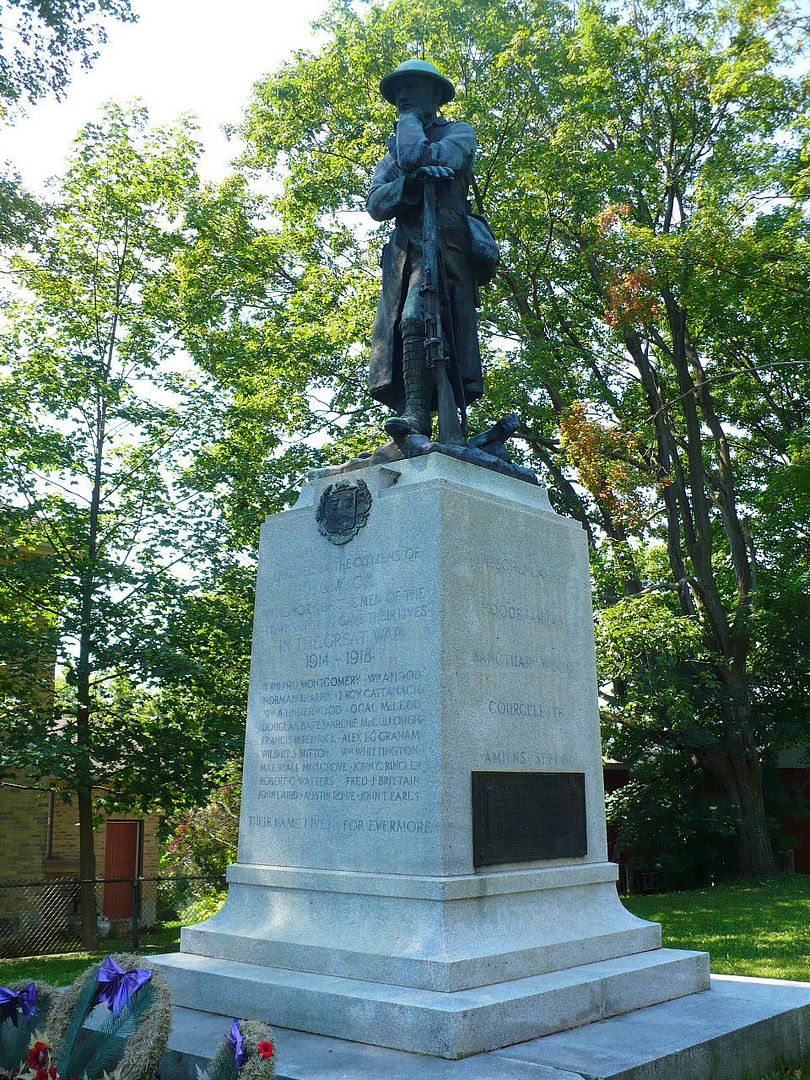 Right side:
PASSCHENDAELE
HOOGE ARRAS
SANCTUARY WOOD
COURCELETTE
AMIENS ST. ELOI
IN GRATEFUL TRIBUTE
1939 - 1945
MONTY H. BROTHERS
WILLIAM COWAN
HARVEY A. DUNN
MILTON E. EVERS
WILLIAM HABERELE
JOHN HORSBURGH
JACK NEWTON
ARNOLD STINSON
GORDON TOPHAM
JOHN WEIR
J. FRANK WARRELL
KEITH WILLIAMSON
WILMONT A. WALLACE
"WE SHALL REMEMBER THEM"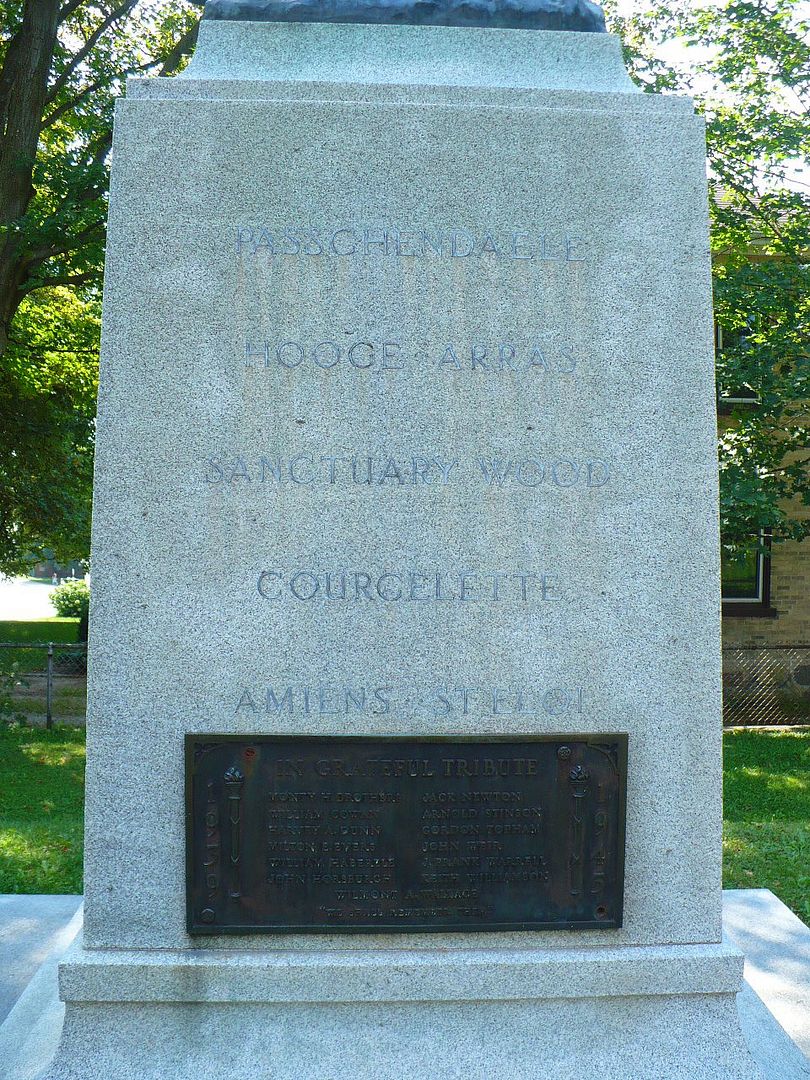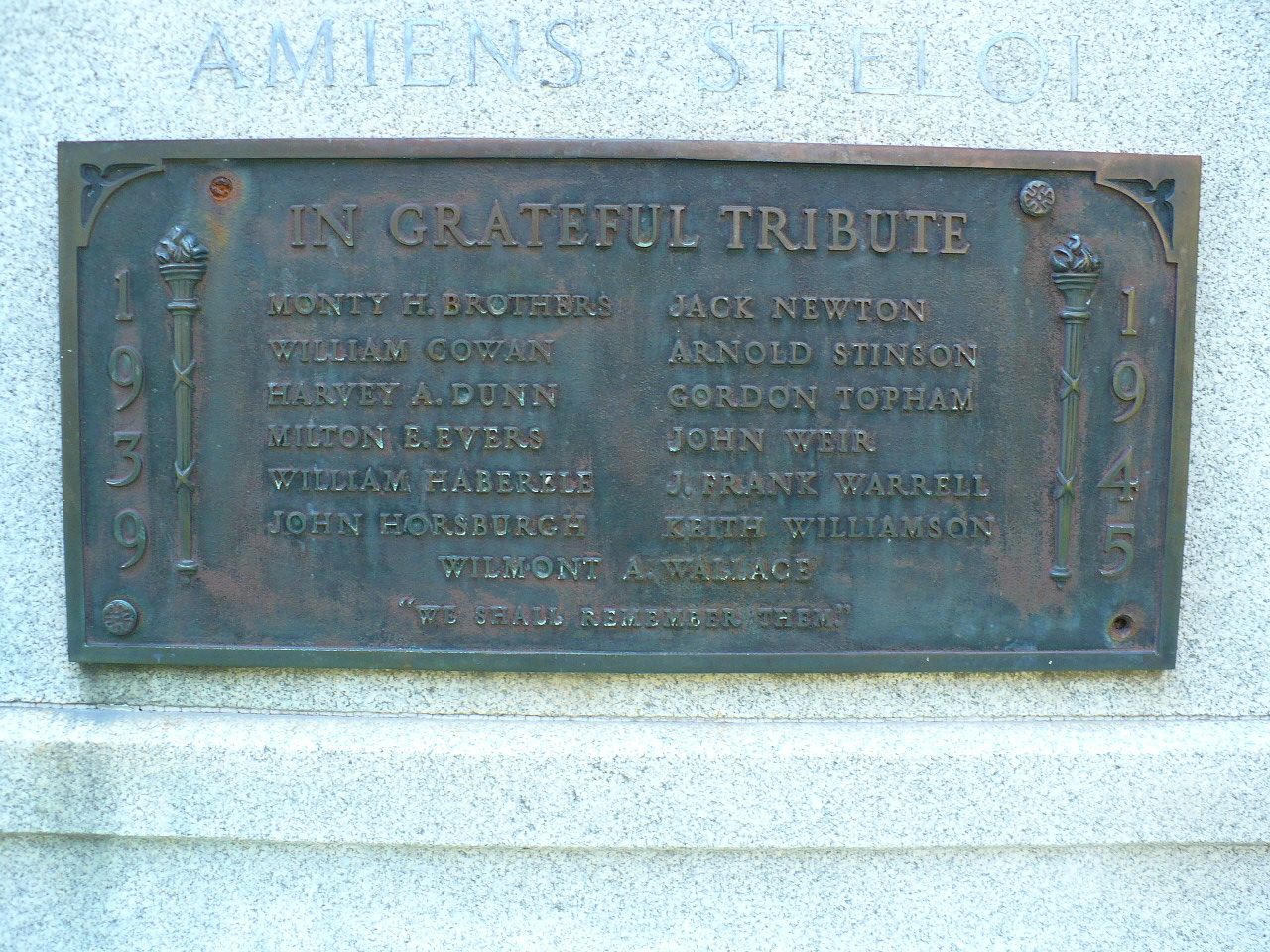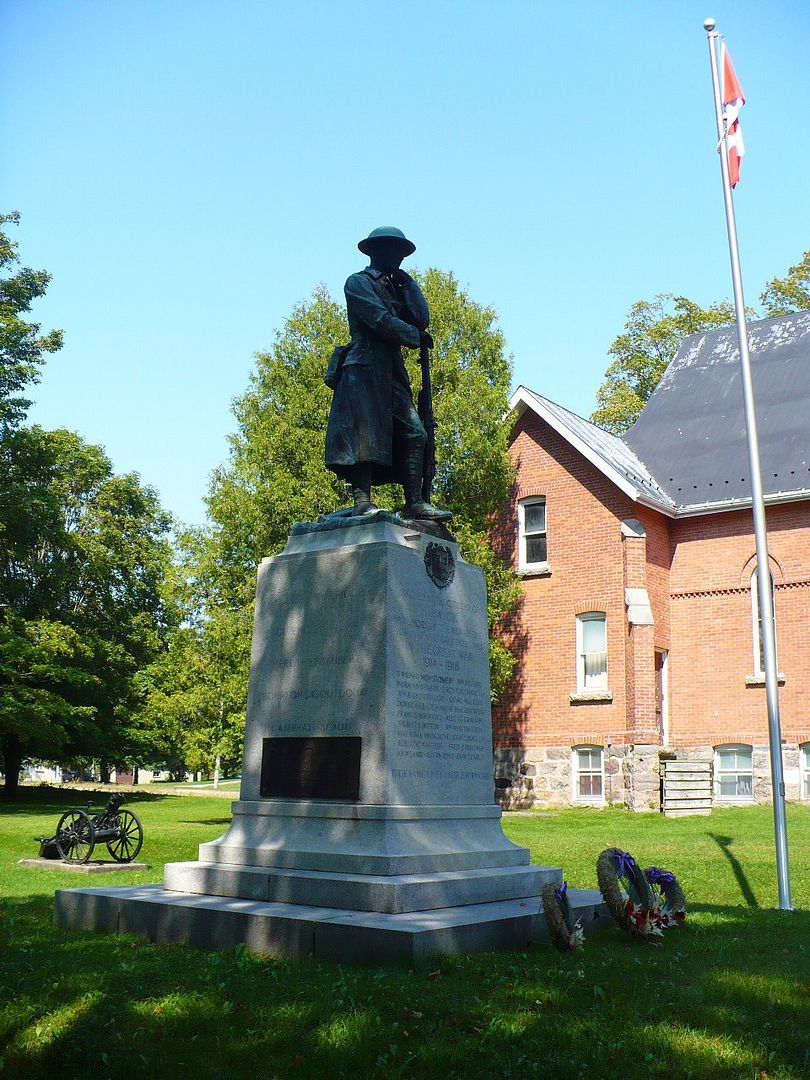 Left side:
MONS VIMY RIDGE
GIVENCHY LENS
YPRES FESTUBERT
BOURLON WOOD DOUAI
CAMBRAI SOMME
1939-1945
BATTLE OF BRITAIN,
HONG KONG, DIEPPE,
ITALIAN CAMPAIGN,
NORTH WEST EUROPE