Location: Wellington County N 43 54.705 W 80 52.132
At the corner of Elora Street S. and Mill Street, in front of the public library.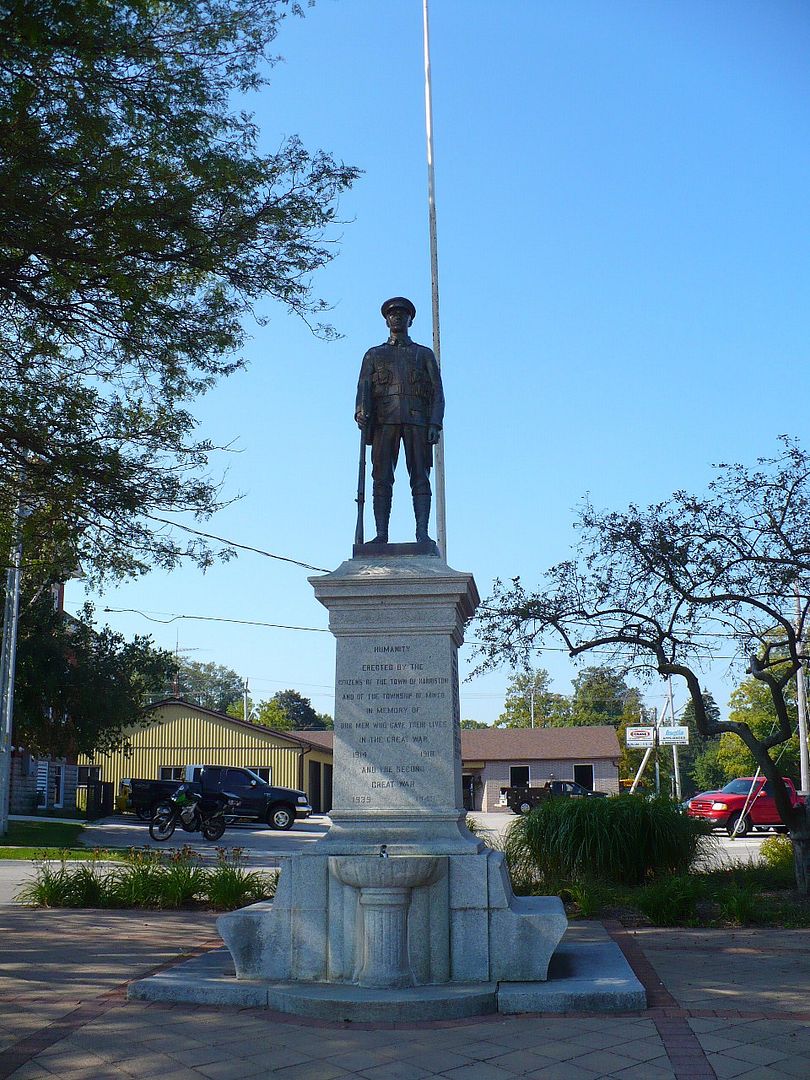 A beautiful small town memorial with statue, erected in June 1921. The memorial features the names of the men from the town of Harriston and Minto Township, who died during the World Wars. The small parkette also features an Ontario Historical Plaque to tell the story of the founding of Harriston. The names listed feature no ranks, as all men are equal in death. So nice to see the memorial so well maintained, and the names still readable after so many years.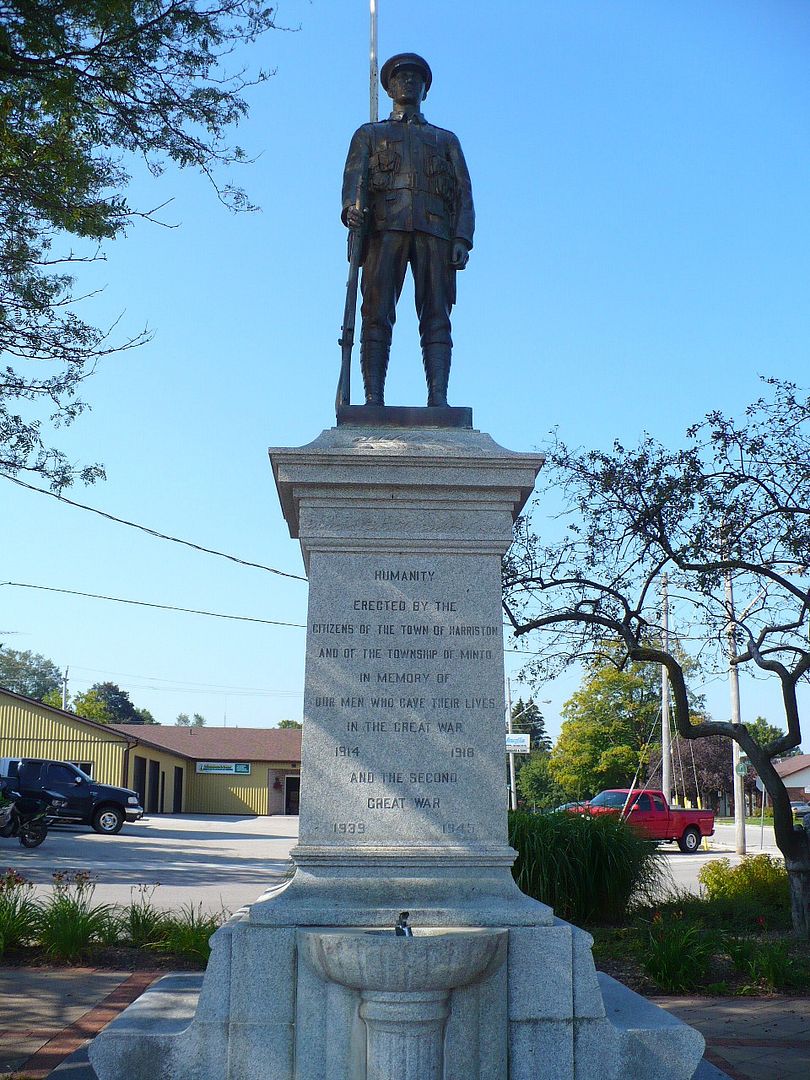 Marker text:
Front:
HUMANITY
ERECTED BY THE
CITIZENS OF THE TOWN OF HARRISTON
AND THE TOWNSHIP OF MINTO,
IN MEMORY OF
OUR MEN WHO GAVE THEIR LIVES
IN THE GREAT WAR
1914 1918
AND THE SECOND
GREAT WAR
1939 1945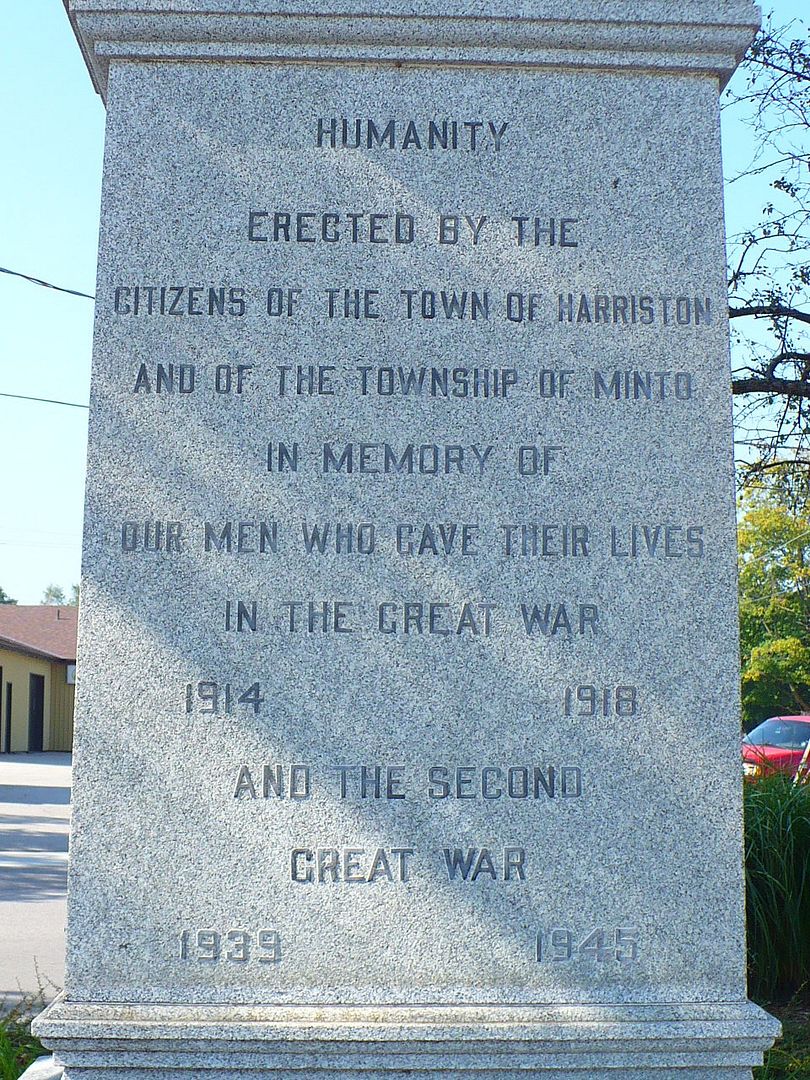 Left side:
ENDURANCE
HARRISTON
THOMAS BROWN
JAMES CORCORAN
J. GARFIELD CLEAVE
GORDON COBURN
NEIL CAMPBELL
GERALD D. EEDY
ROY HENRY
ROBT. ALEX. HOOD
ROBERT D. JORDAN
THOMAS P. JOHNSON
IRWIN KETT
FRANK NEIL
RAYMOND P. PRITCHARD
HUGH M. SMITH
THOMAS SUTHERLAND
FRED ZIEGLER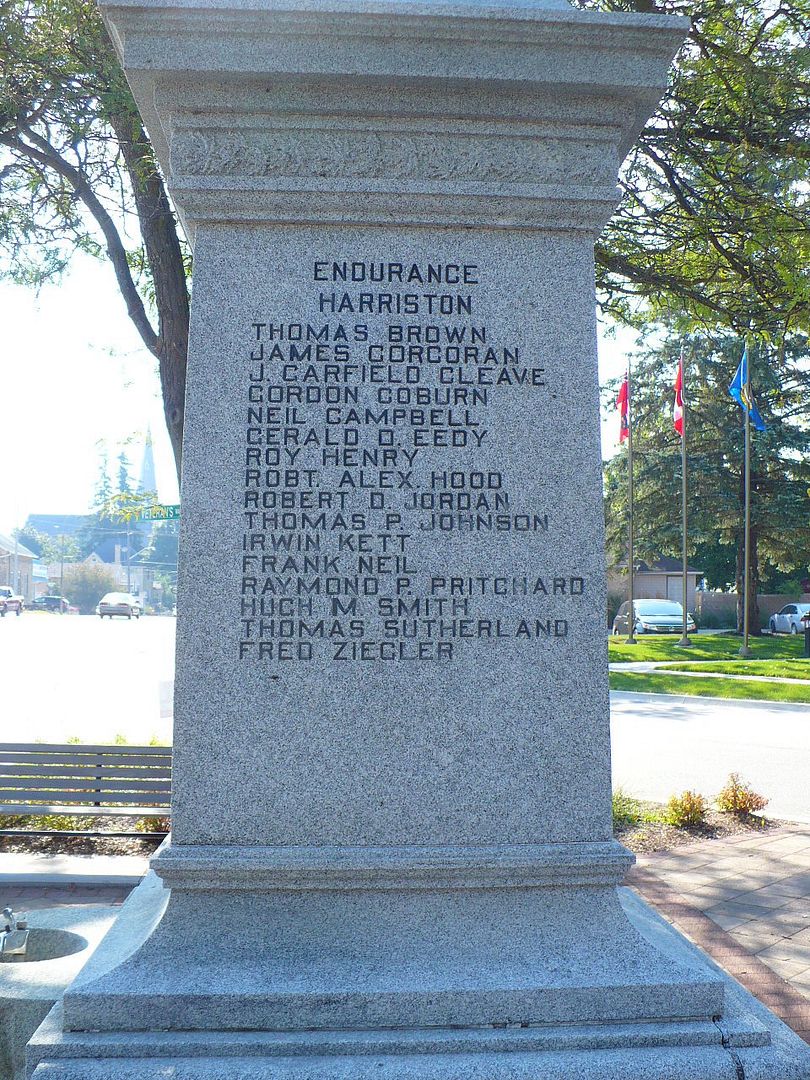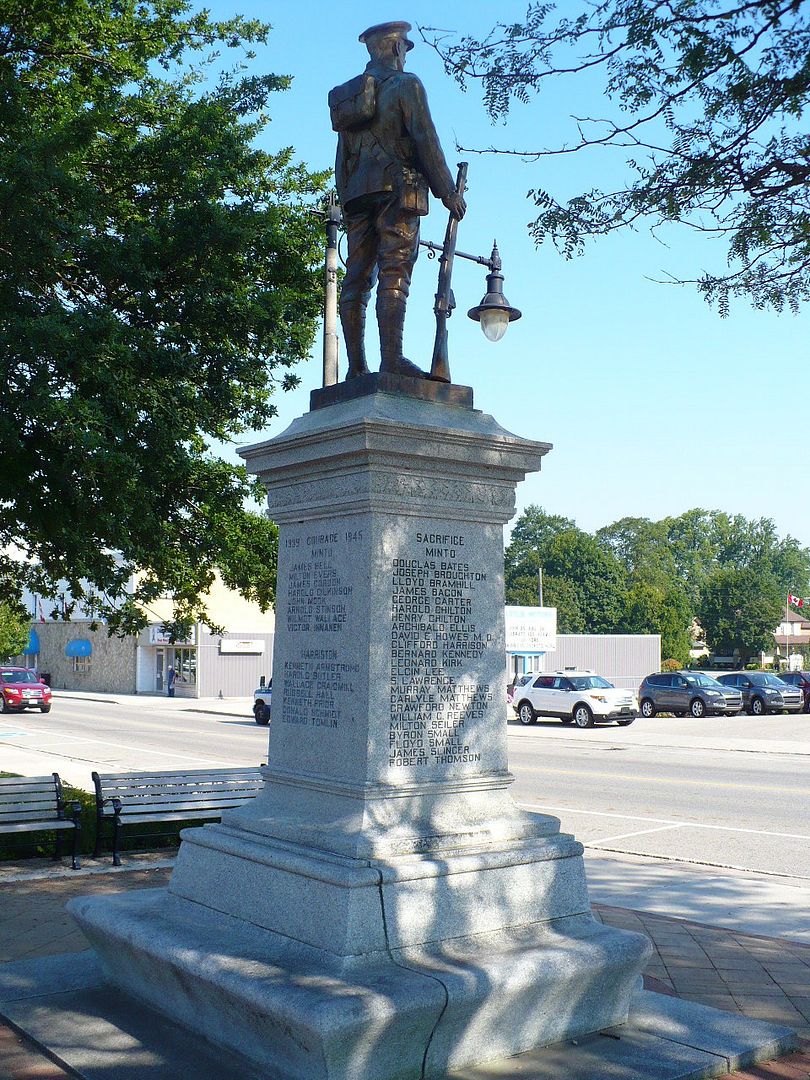 Right side:
SACRIFICE
MINTO
DOUGLAS BATES
JOSEPH BROUGHTON
LLOYD BRAMHILL
JAMES BACON
GEORGE CARTER
HAROLD CHILTON
HENRY CHILTON
ARCHIBALD ELLIS
DAVID E. HOWES M.D.
CLIFFORD HARRISON
BERNARD KENNEDY
LEONARD KIRK
ELGIN LEE
S. LAWRENCE
MURRAY MATTHEWS
CARLYLE MATTHEWS
CRAWFORD NEWTON
WILLIAM C. REEVES
MILTON SEILER
BYRON SMALL
FLOYD SMALL
JAMES SLINGER
ROBERT THOMSON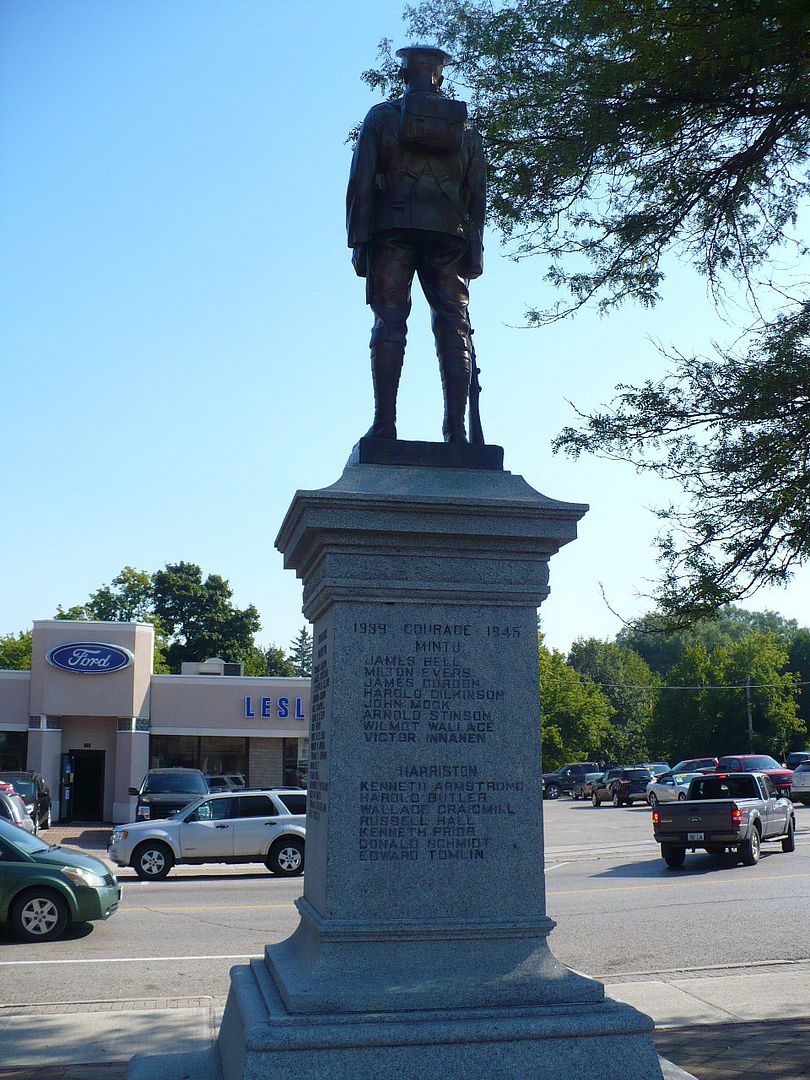 Back:
1939 COURAGE 1945
MINTO
JAMES BELL
MILTON EVERS
JAMES GORDON
HAROLD GILKINSON
JOHN MOCK
ARNOLD STINSON
WILMOT WALLACE
VICTOR INNANEN
HARRISTON
KENNETH ARMSTRONG
HAROLD BUTLER
WALLACE CRAIGMILL
RUSSELL HALL
KENNETH PRIOR
DONALD SCHMIDT
EDWARD TOMLIN