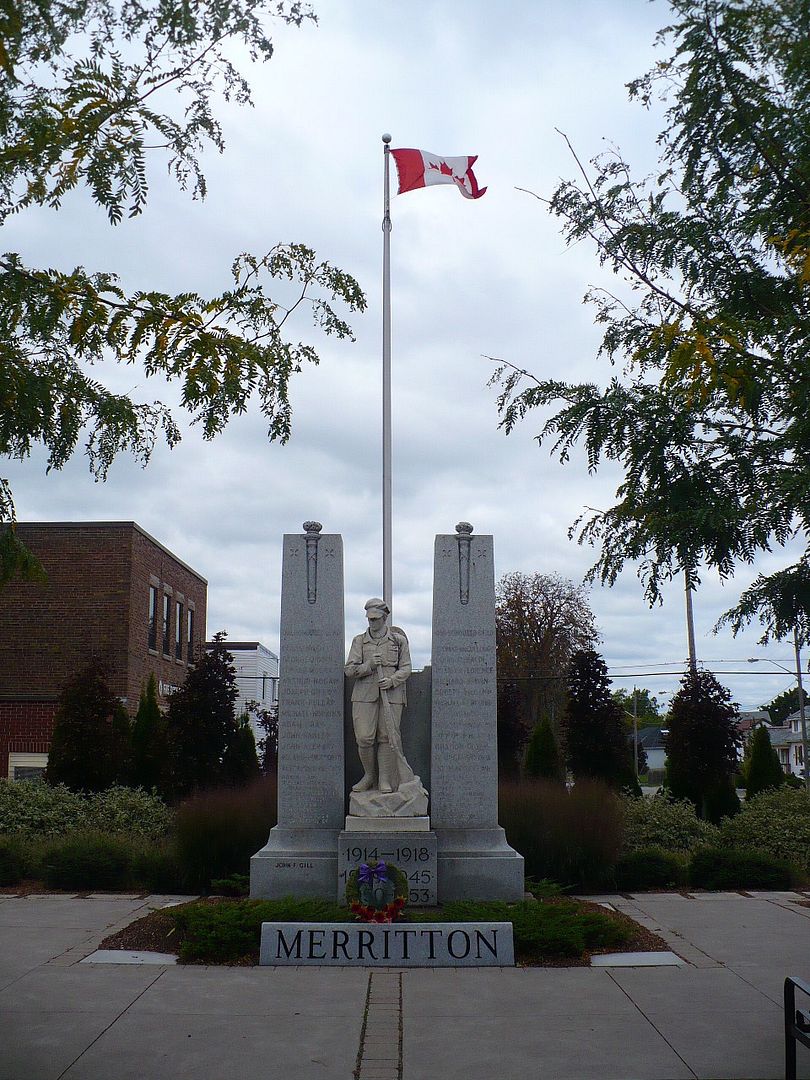 Location: Niagara Region N 43 08.416 W 79 12.850
On the west side of Merritt Street, at the corner of Walnut Street, beside the old Town Hall.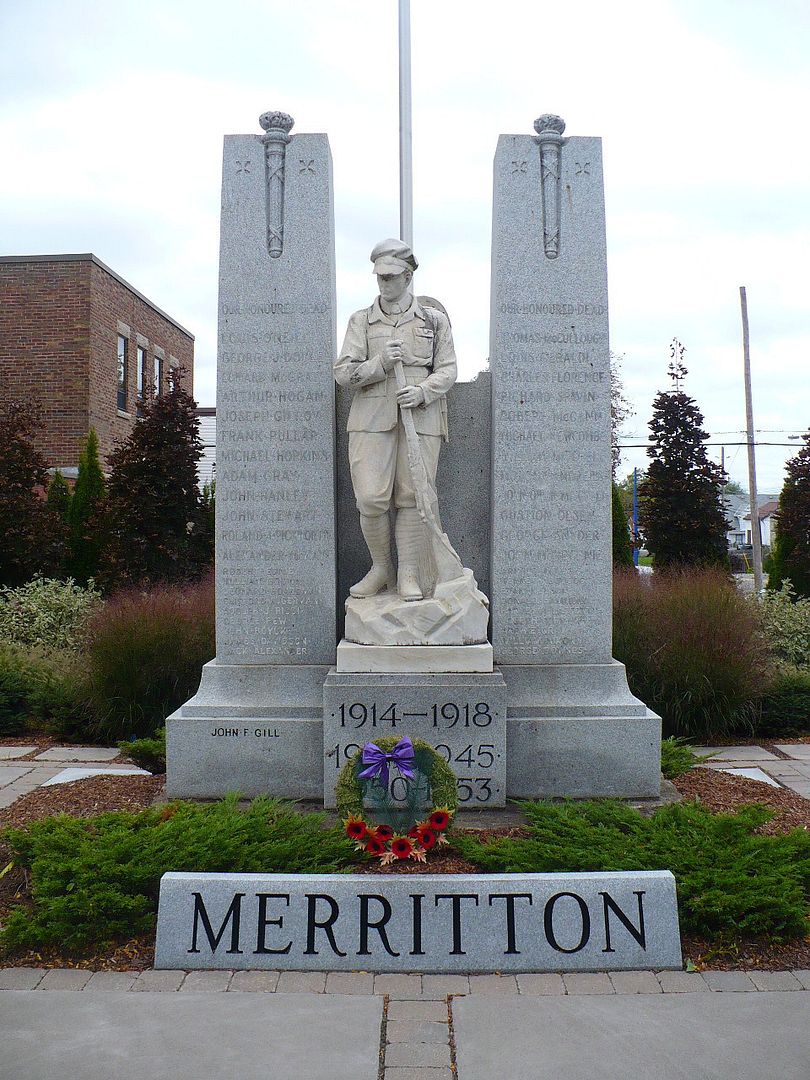 The former village of Merritton is now encompassed within the St. Catherines city limits. The village has a vast and proud history, including sending men from this area into the fight of the Great Wars.
The memorial here is found beside the beautiful Town Hall. The attractive cenotaph consists of a statue of a WWI soldier resting between two granite columns with the names of those who died for King and country. The Korean War has also been acknowledged, although no names are listed from that conflict. The memorial was originally erected and dedicated on July 31st, 1921.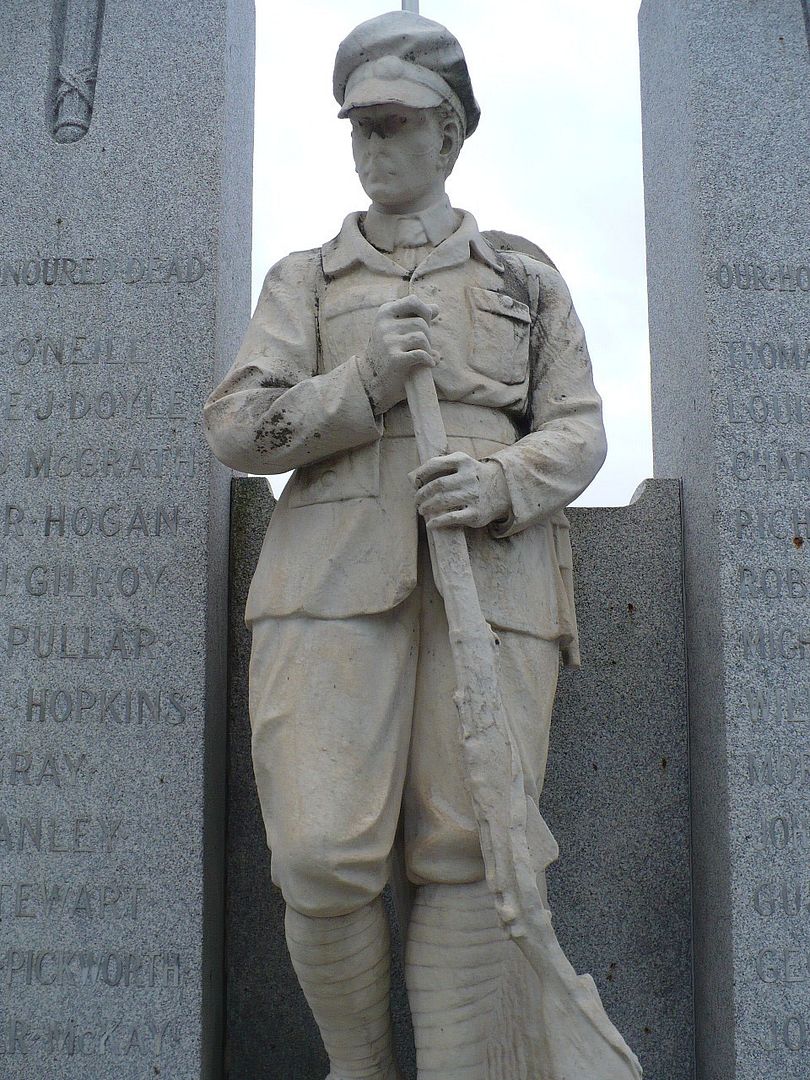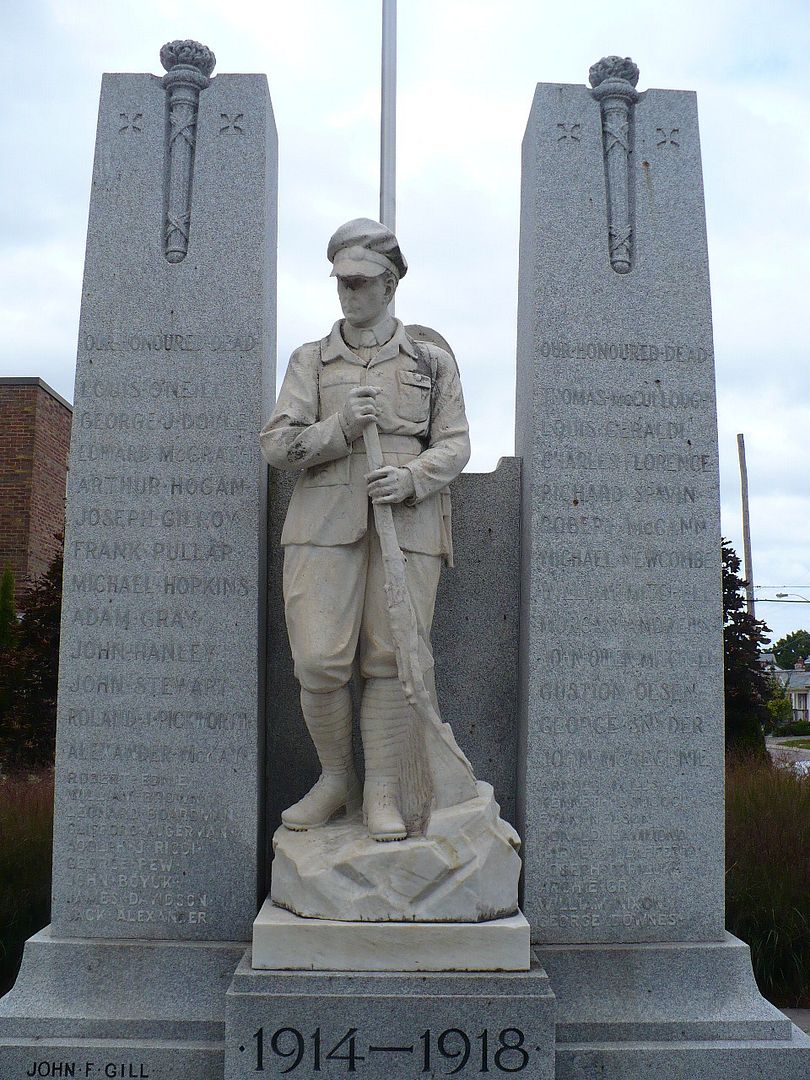 Marker text:
Front centre:
1914-1918
1939-1945
1950-1953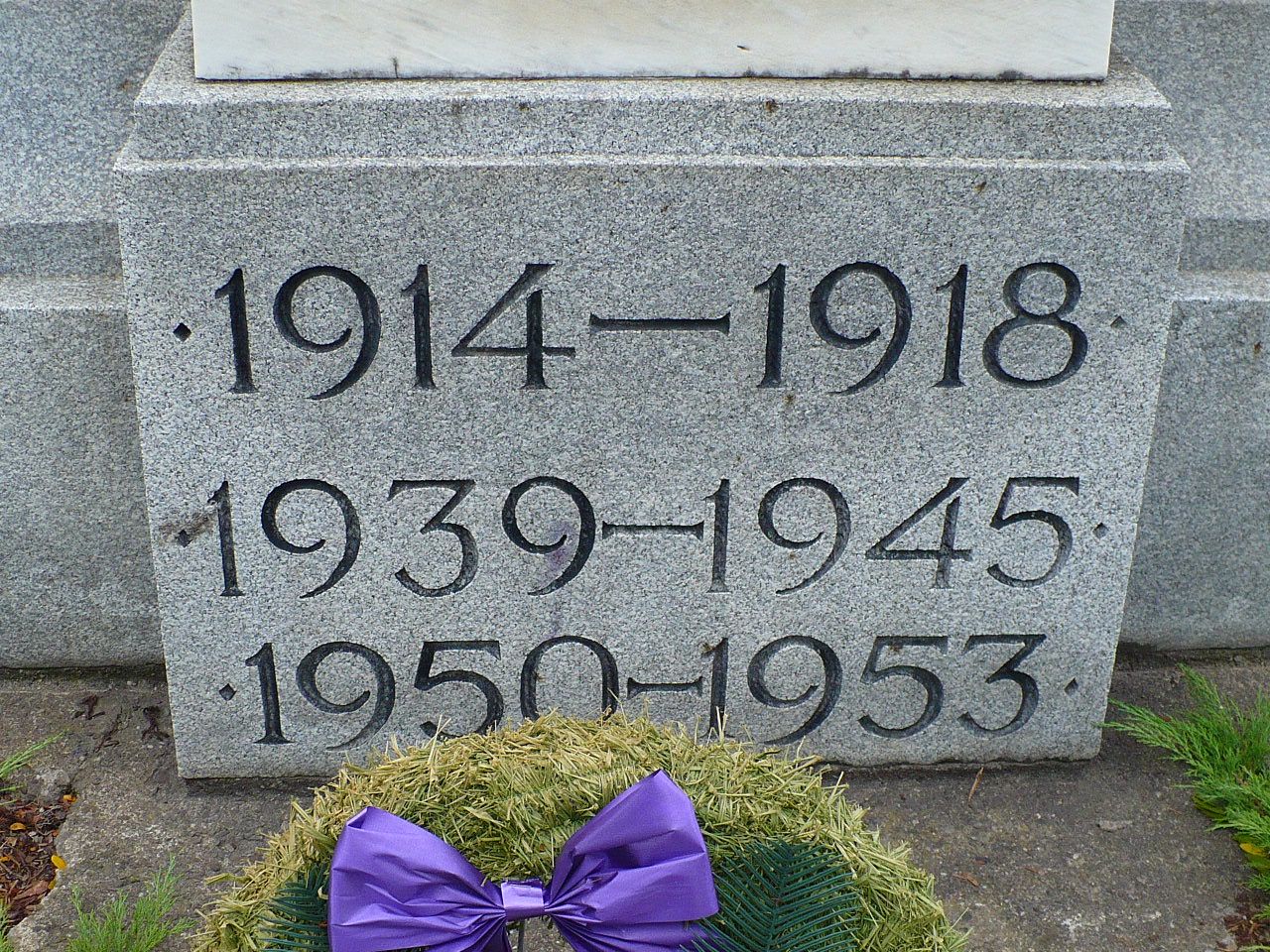 Front Left:
OUR HONOURED DEAD
LOUIS O'NEILL
GEORGE J. DOYLE
EDWARD McGRATH
ARTHUR HOGAN
JOSEPH GILROY
FRANK PULLAR
MICHAEL HOPKINS
ADAM GRAY
JOHN HANLEY
JOHN STEWART
ROLAND J. PICKWORTH
ALEXANDER McKAY
ROBERT EDNIE
WILLIAM BROWN
LEONARD BOARDMAN
CLIFFORD AUGERMAN
ADOLPH RICCI
GEORGE PEW
JOHN BOYUK
JAMES DAVIDSON
JACK ALEXANDER
JOHN F. GILL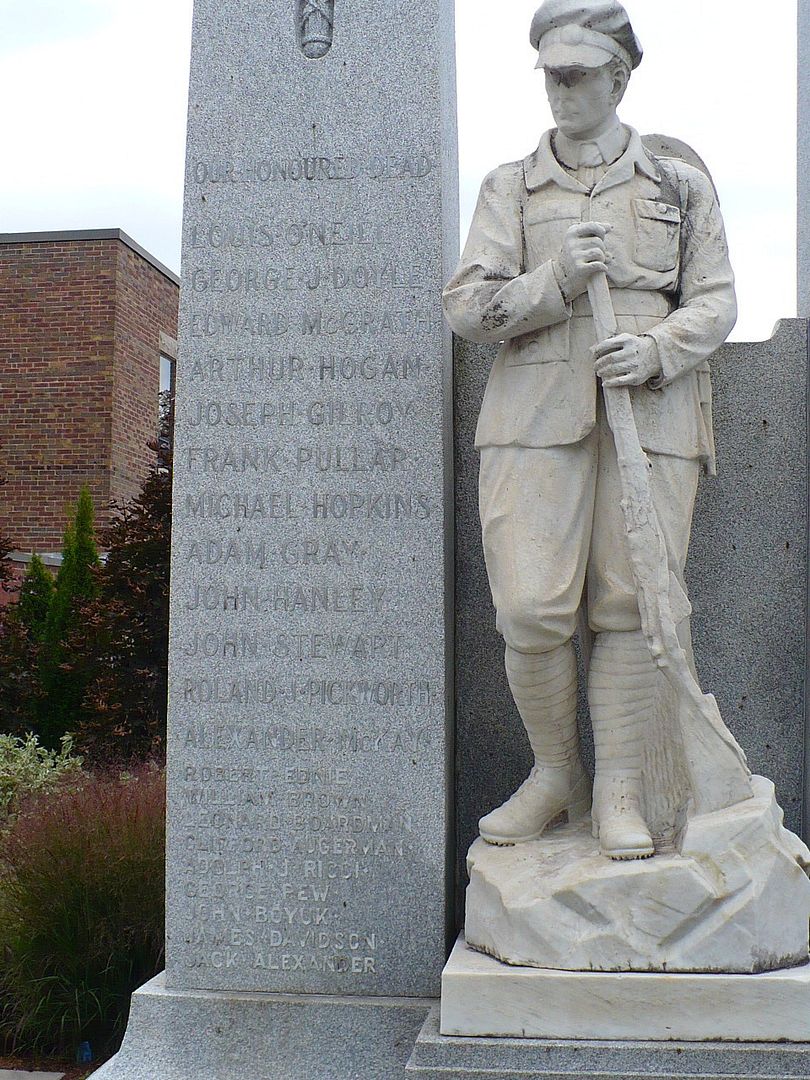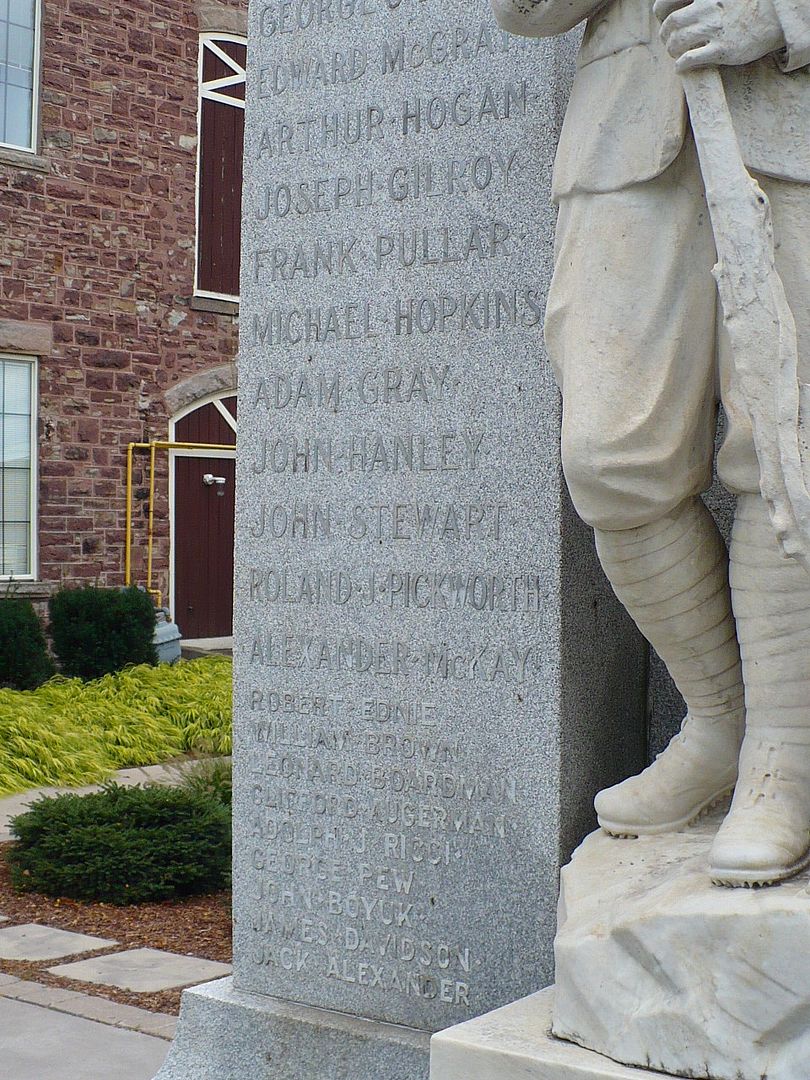 Front Right:
OUR HONOURED DEAD
THOMAS McCULLOUGH
LOUIS GERALDI
CHARLES FLORENCE
RICHARD SPAVIN
ROBERT McCANN
MICHAEL NEWCOMBE
WILLIAM MITCHELL
MORGAN ANDREWS
JOHN OWEN MITCHELL
GUSTION OLSEN
GEORGE SNYDER
JOHN McKECHNIE
ARNOLD MILLS
KENNETH BOUCOCK
EVAN NELSON
DONALD HAMMOND
HARVEY R. LAFFERTY
JOSEPH POPILUK
ARCHIE GRAY
WILLIAM NIXON
GEORGE DOWNES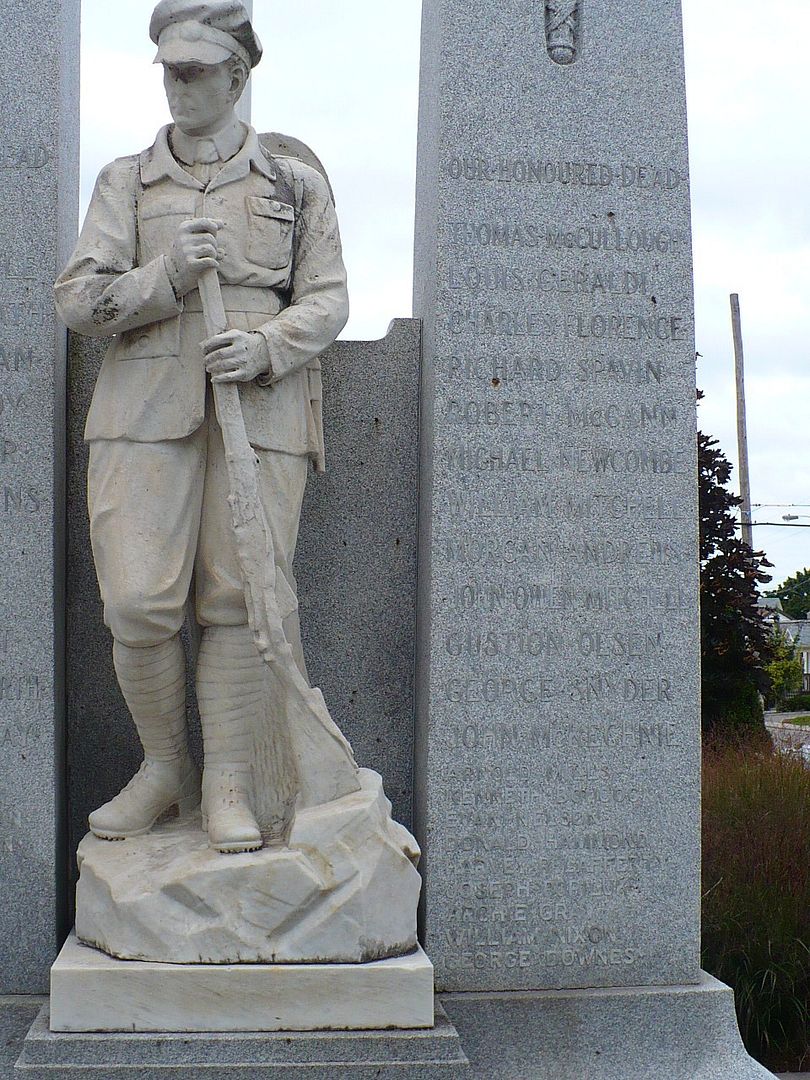 Left side:
BOURLON-WOOD
CAMBRAI
LE CATEAU
VALENCIENNES
MONS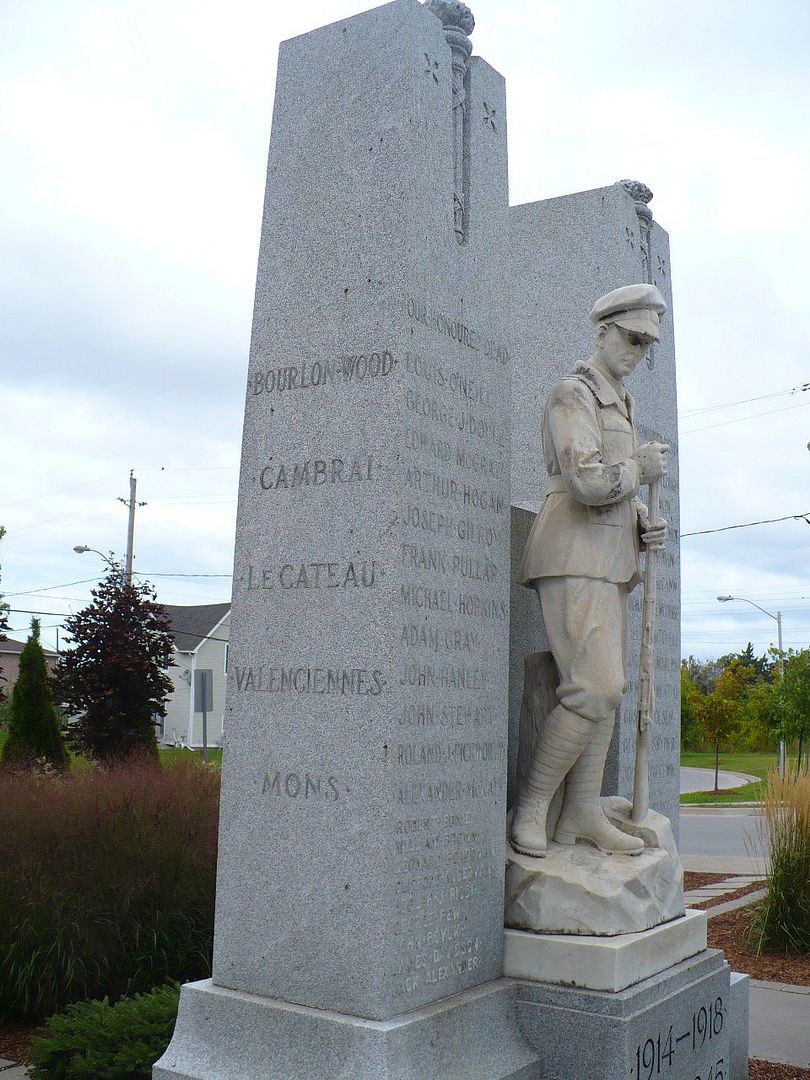 Right side:
YPRES
FESTUBERT
GIVENCHY
ST-ELOI
SANCTUARY-WOOD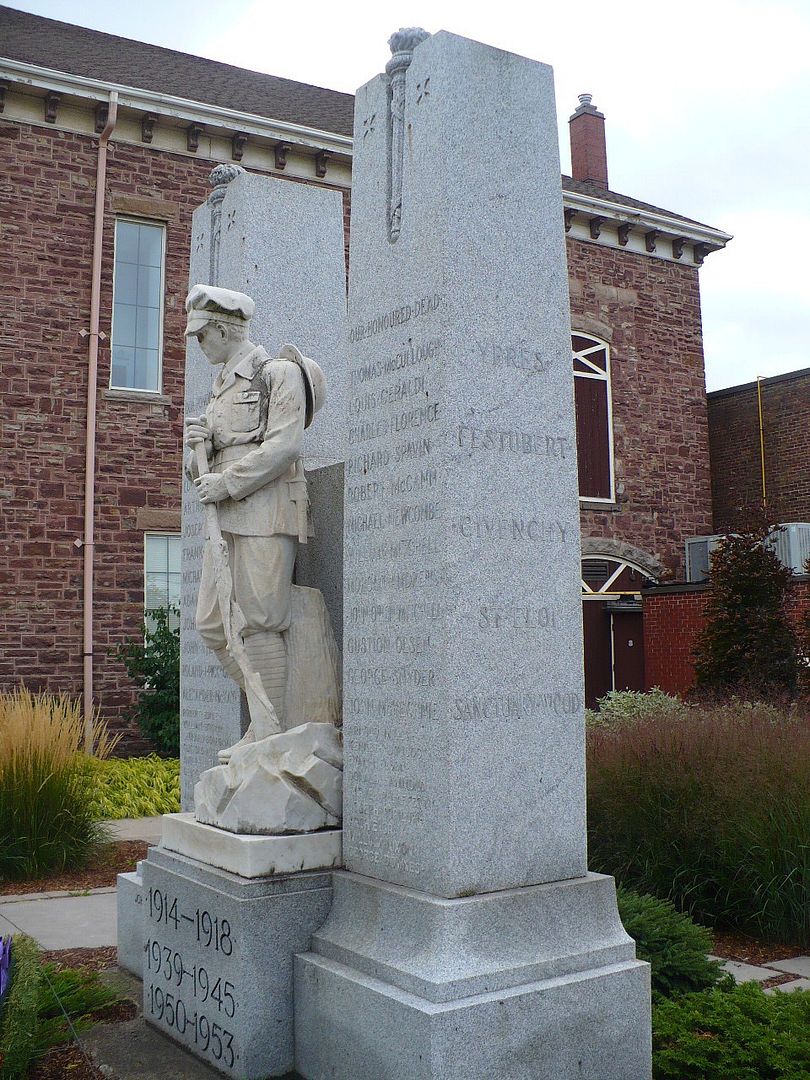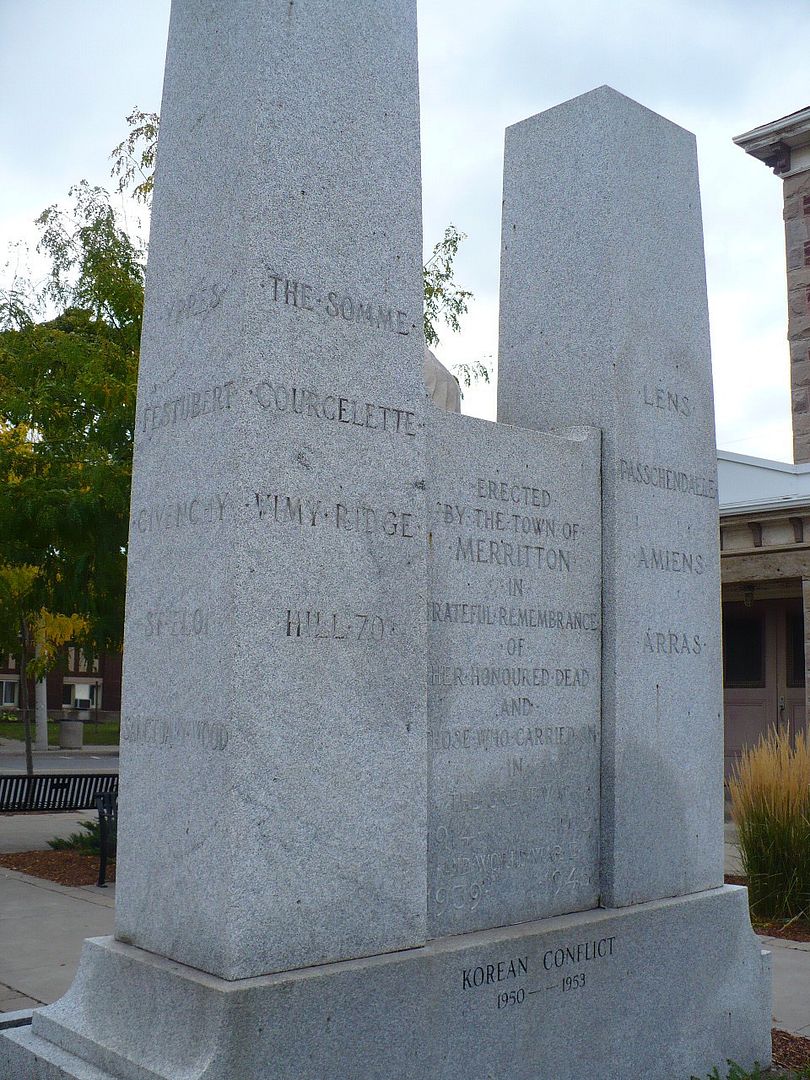 Rear Centre:
ERECTED
BY THE TOWN OF
MERRITTON
IN
GRATEFUL REMEMBRANCE
OF
HER HONOURED DEAD
AND
THOSE WHO CARRIED ON
IN
THE GREAT WAR
1914-1918
AND WORLD WAR II
1939-1945
KOREAN CONFLICT
1950-1953
Rear Left:
LENS
PASSCHENDAELE
AMIENS
ARRAS
Rear Right:
THE SOMME
COURCELETTE
VIMY RIDGE
HILL 70