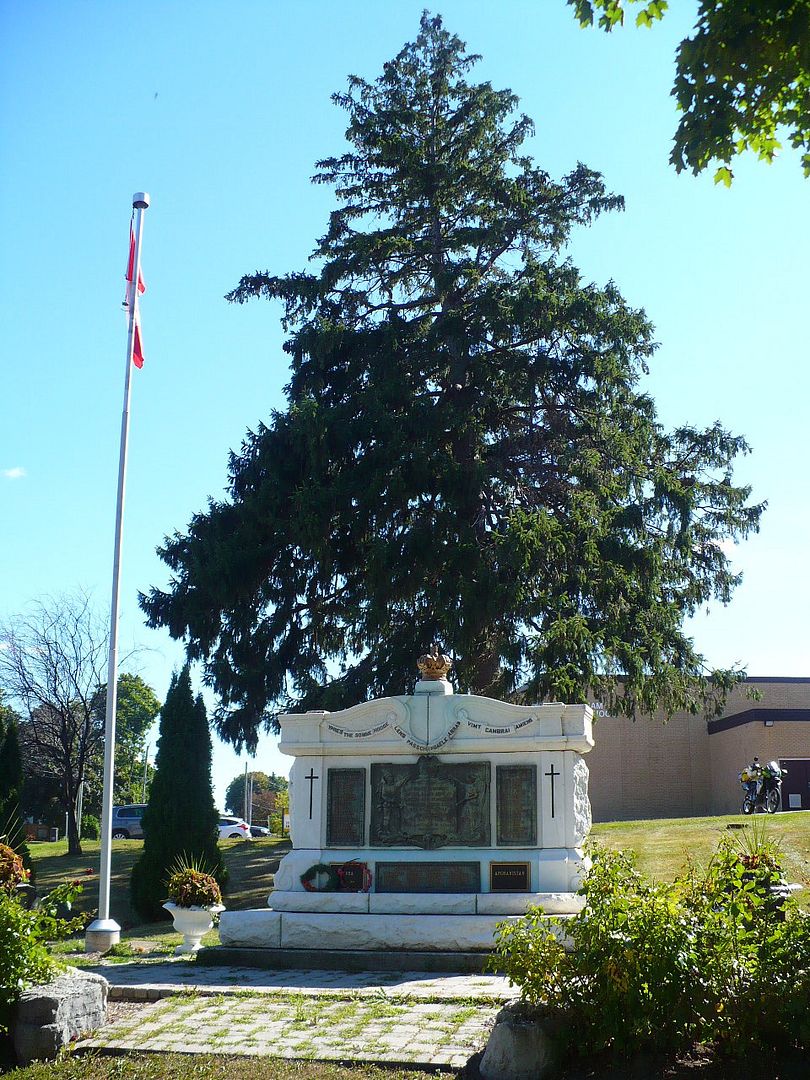 Location: Niagara Region N 43 09.978 W 79 28.737
Corner of King Street and William Street, in front of Jacob Beam Public School.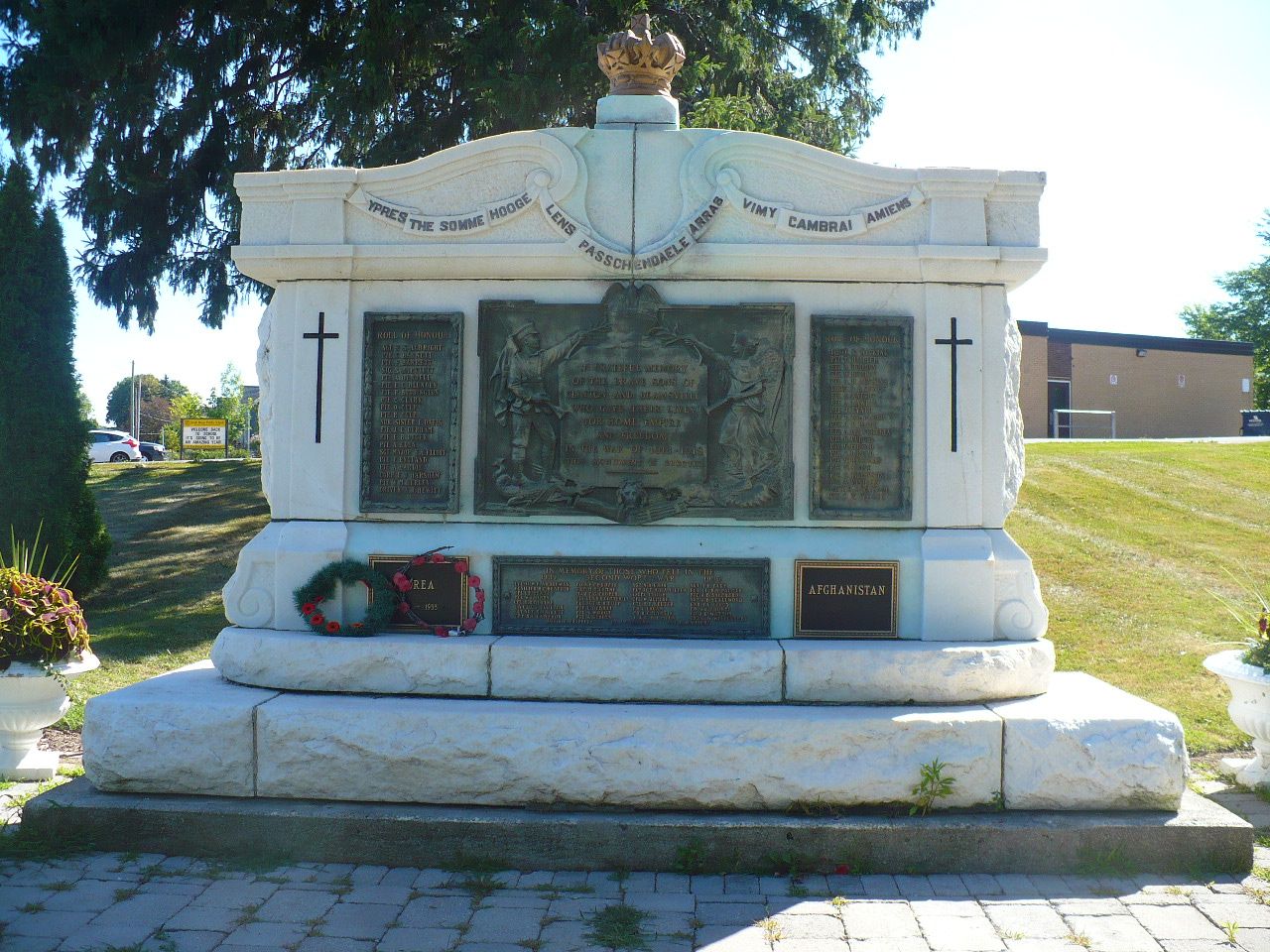 A very elegant memorial in a small park in front of the public school. The memorial was erected with the help of Royal Canadian Legion Branch 397. Originally it paid tribute to the men and women lost in the Great War, their names presented on brass plaques attached to the front of a white stone wall. Later other plaques were added with names of those lost in World War II, and also to recognize the wars in Korea and Afghanistan.
At the sides of the memorial can be found a WWI German Spandau machine gun, and an M114 155mm Howitzer from WWII. Topping the beautiful memorial is a golden-coloured crown to honour all those who fought for Home, Empire and Freedom.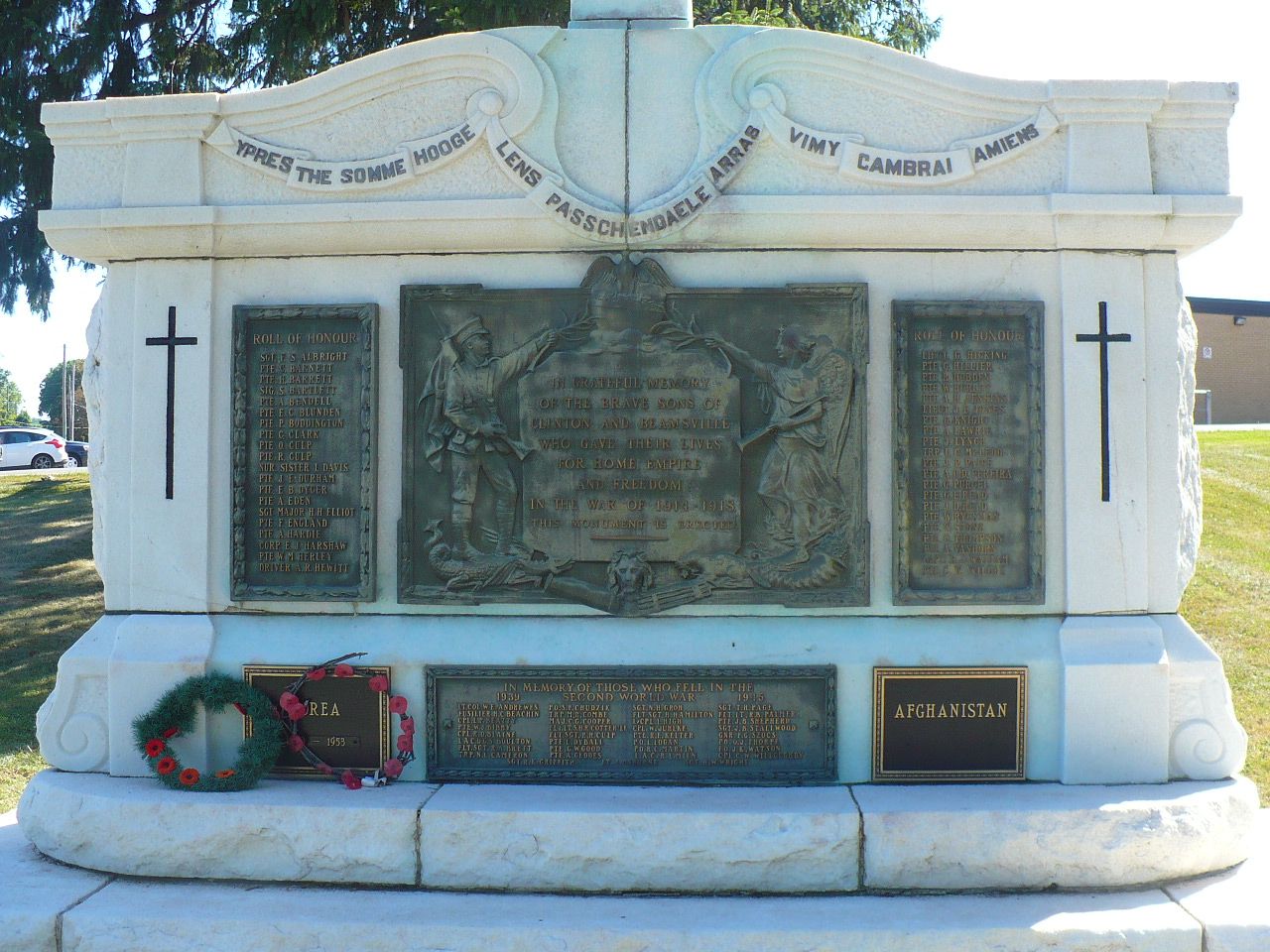 Marker text:
Front decoration:
YPRES
THE SOMME
HOOGE
LENS
PASSCHENDAELE
ARRAS
VIMY
CAMBRAI
AMIENS
Front centre:
IN GRATEFUL MEMORY
OF THE BRAVE SONS OF
CLINTON AND BEAMSVILLE
WHO GAVE THEIR LIVES
FOR HOME, EMPIRE
AND FREEDOM
IN THE WAR OF 1914 - 1918
THIS MONUMENT IS ERECTED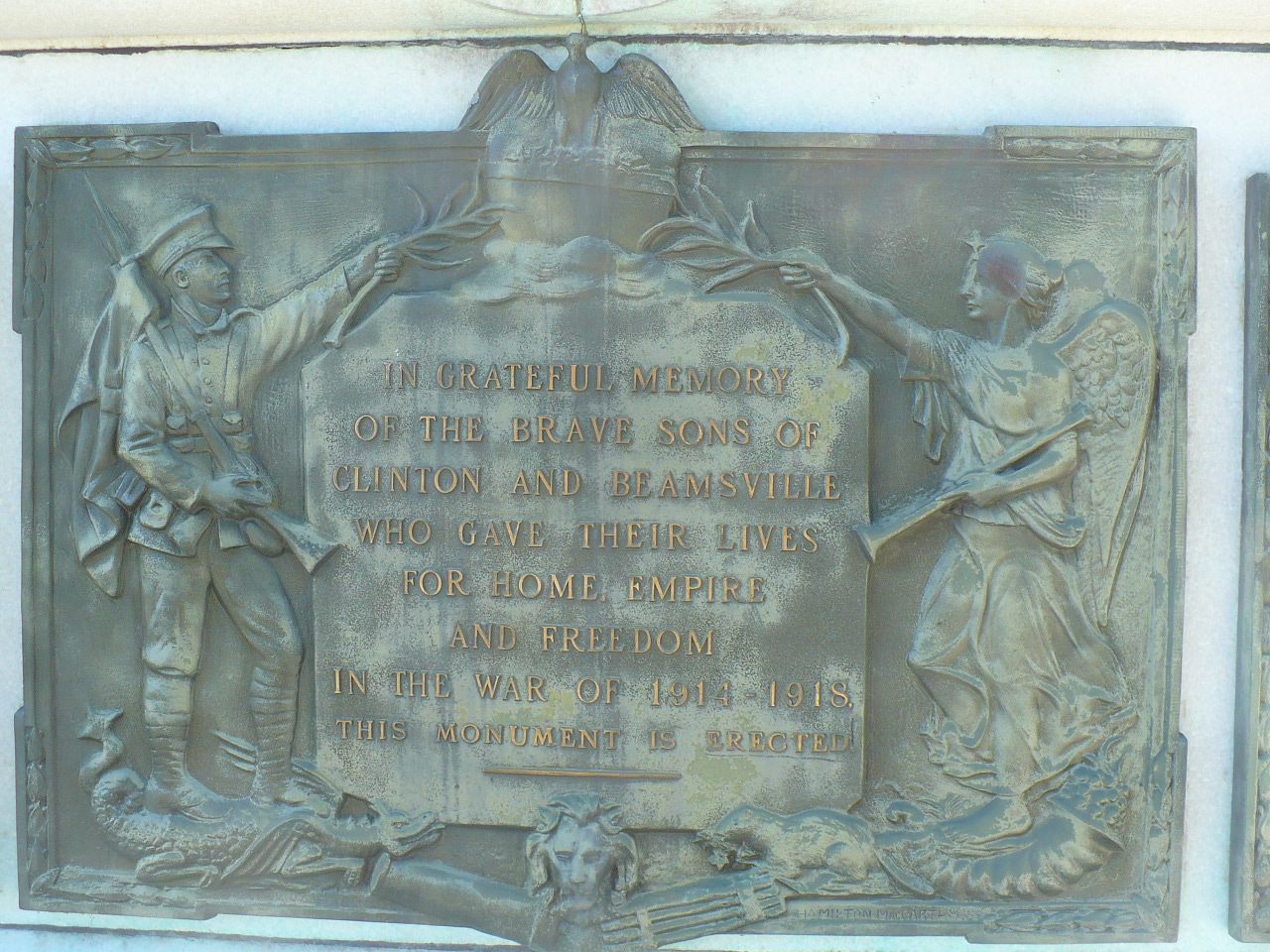 Left Honour Roll:
ROLL OF HONOUR
SGT. F.S. ALBRIGHT
PTE. C. BARNETT
PTE. H. BARNETT
SIG S. BARNETT
PTE. A. BENDELL
PTE. E.C. BLUNDEN
PTE. P. BODDINGTON
PTE. C. CLARK
PTE. O. CULP
PTE. R. CULP
NUR. SISTER L. DAVIS
PTE. J.E. DURHAM
PTE. E.B. DYCER
PTE. A. EDEN
SGT. MAJOR H.H. ELLIOT
PTE. F. ENGLAND
PT.E A. HARDIE
CORP. E.J. HARSHAW
PTE. W.M. HERLEY
DRIVER A.R. HEWITT
Right Honour Roll:
LIEUT. G. HICKLING
PTE. G. HILLIER
PTE. R. HOBDEN
PTE. W. HURLEY
PTE. A.H. JENKINS
LIEUT. J.E. JONES
PTE. G. KNIGHT
PTE. A. LAWRIE
PTE. J. LYNCH
TRP. L.C. McLEOD
PTE. J.P. PAIGE
PTE. A.O.D. FEREIRA
PTE. G. PURCELL
PTE. G.E. READ
PTE. J.D. REID
PTE. W. RYCKMAN
PTE. W. STONE
PTE. C. THOMPSON
PTE. A. VANHORN
CAPT. R.J. WATTAM
PTE. C.W. WILCOX
Centre lower:
IN MEMORY OF THOSE WHO FELL IN THE
1939 SECOND WORLD WAR 1945
LT.COL. W.E. ANDREWES
FUSILIER H.C. BEACHIN
CPL. L.P. BEATTY
PTE. W.J. BIBBY
CPL. R.D. BLAINE
LA C.D.G.S. BOULTON
FLT.SGT. R.A. BRETT
TRP. N.L. CAMERON
PO. S.F. CHUDZIK
TRP. M.R. COMBE
MAJ. C.G. COOPER
FLT.LT. S.H.R. COTTERILL
FLT.SGT. R.H. CULP
PTE. E. DYBALL
PTE. G.W. GOOD
PTE. A. GEDDES
SGT. N.H. GROH
FLT.SGT. H. HAMILTON
L/CPL. L. HIGH
CPL. W. JUHLKE
PTE. R.E. KELTER
PO. L. LOGAN
PO. R.C. MARTIN
L.A.C. R.L. MILN
SGT. T.H. PAGE
FLT.LT. R.B. PALMER
PTE. J.B. SHEPHERD
SGT. J.B. STALLWOOD
GNR. F.G. SZOCS
PO. O.J. THORPE
FO. J.K. WATSON
CPL. C.W. WILLOUGHBY
SGT. R.K. GRIFFITH
LT. J.D. OSBORNE
SGT. H.W. WRIGHT
Lower Left:
KOREA
1950 - 1953
Lower Right:
AFGHANISTAN