Location: Bruce County N 44 26.230 W 81 23.229
On Mill Street, east of Goderich Street.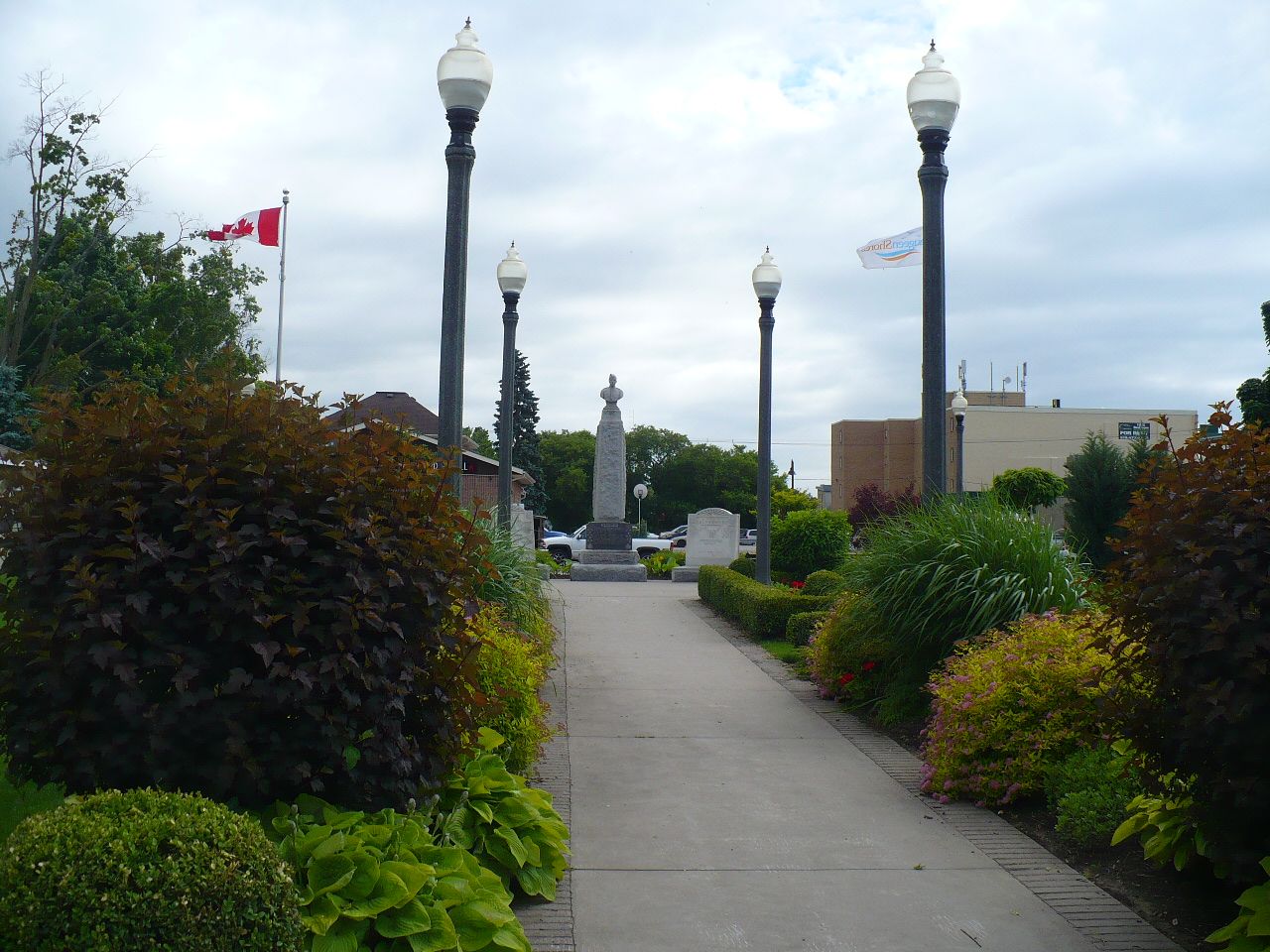 This beautiful memorial is found in Cenotaph Park, the memorial gardens and trees are planted in honour of our veterans. This monument was originally erected in 1903, to honour the loss of Trooper Gordon Cummings, killed on his 25th birthday in the Boer War in South Africa.
In 1924, the citizens of Port Elgin and Saugeen Township erected matching cenotaphs at the site of Gordon's monument, to honour those lost in the Great War. In 1962, the stones were re-carved to add the names of those lost in the Second World War. Additional carving in 1986 commemorated the Korean War. The Cenotaph Park was officially opened in September of 2006, with help of local councils and Branch 340 of the Royal Canadian Legion. A plaque at the entrance to the park gives more history of the land and the park.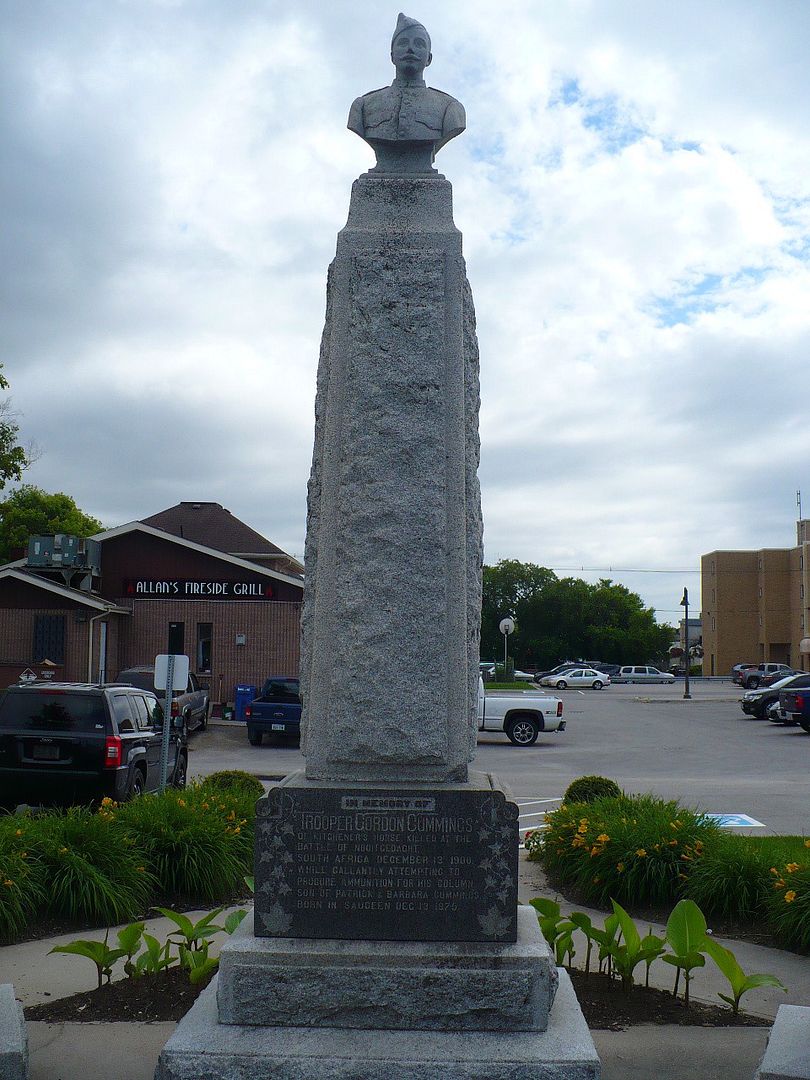 Marker Text:
Centre monument:
IN MEMORY OF
TROOPER GORDON CUMMINGS
OF KITCHENER'S HORSE, KILLED AT THE
BATTLE OF NOOITGEDACHT,
SOUTH AFRICA DECEMBER 13, 1900;
WHILE GALLANTLY ATTEMPTING TO
PROCURE AMMUNITION FOR HIS COLUMN.
SON OF PATRICK AND BARBARA CUMMINGS.
BORN IN SAUGEEN, DEC. 13, 1875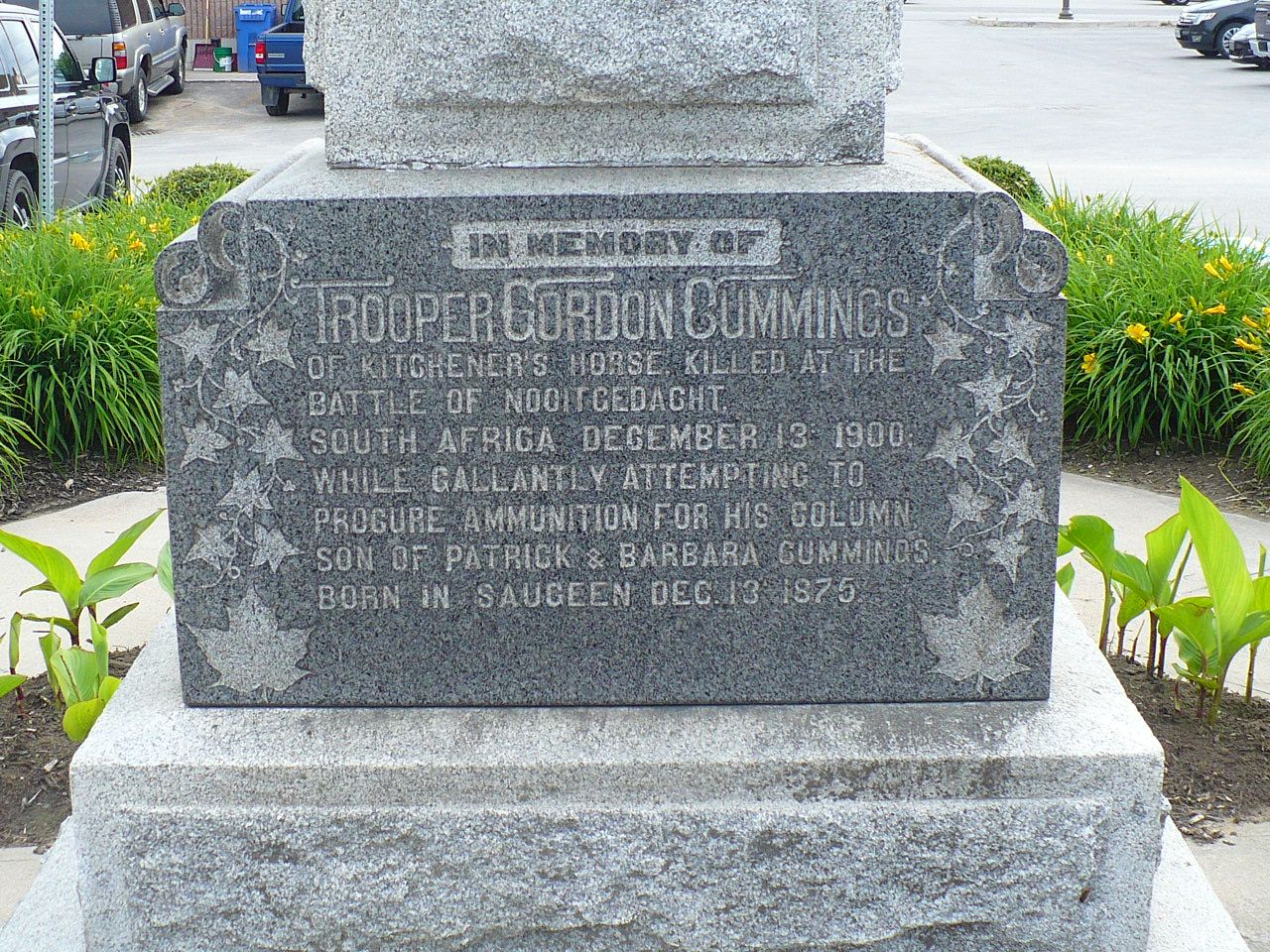 Right stone:
OUR HONOURED FALLEN
SAUGEEN TOWNSHIP
1914 - 1918
CAPT. L. TRANTER
LIEUT. J. GEDDES
PTE. T. BULGER
G. MUIR
O. CHRISTIE
R. GOWANLOCK
H. LEEDER
E. REINHART
J. MILLER
R. REANY
C. NICKLE
W. LYNESS
G. SWITZER
L. SCHELL
W. SWITZER
1939 - 1945
SPR. R. BLACK
1950 KOREA 1953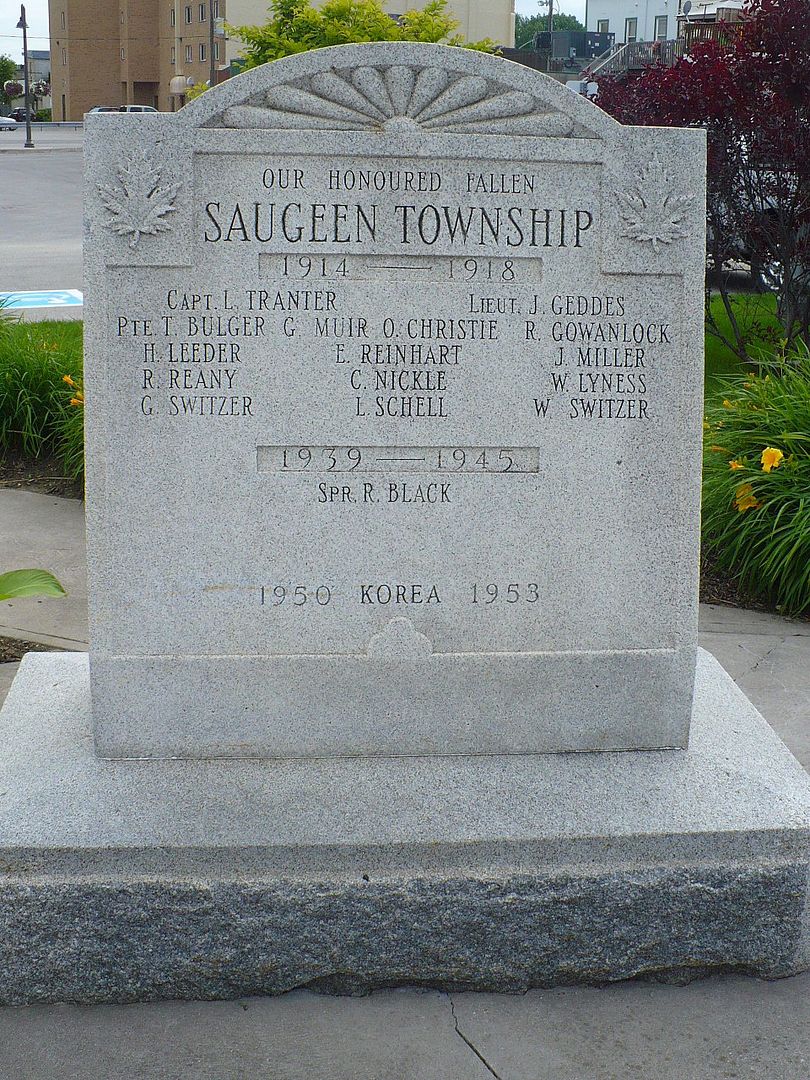 Left stone:
OUR HONOURED FALLEN
PORT ELGIN
1914 - 1918
CAPT. SMITH
LIEUT. R. THOMPSON
SGT.MAJ. A. CHRISTIAN
PTE. R. ATKINSON
C. CROSSWELL
M. GILBERT
J. NUNN
S. HARMAN
J. GREGG
T. JACKSON
D. McGILLIVRAY
H. McARTHUR
D. McINTYRE
W. WILLOUGHBY
C. SPARLING
M. MOULTON
J. SALEMAN
1939 - 1945
MAJ J.A. HOWE
CAPT. GEO. EATON
F/O L. ERNST
F. VAUPEL
R. VAUPEL
J. MUIR
F/SGT. N. HETTRICK
SGT. J. STURGEON
L/BDR. J. JONES
PTE. D. STODDART
1950 KOREA 1953