Location: Wellington County N 43 47.467 W 80 19.341
On the corner of Queen Street and 5th Street North.
This memorial was erected in 1919 by the Township of West Garafraxa, in honour of the men from this region that gave their lives in WWI. It was later re-dedicated in 1946, with the additional names of those lost in WWII.
" From the Wellington County Museum and Archives; Tweedsmuir History, page 277: "Plans were underway for the erection of a Cenotaph soon after the close of the First World War. On Feb 22, 1919, the "Daughters of the Flag" appeared before Township Council, asking permission to use the north corner of Market Square for the Cenotaph. At the April meeting, the Recreation Committee ask for $500, so they could give the returning soldiers a ten-dollar gold piece each. Jack Milne said he came home on the train to Belwood, on Monday July 7, 1919. The reception and unveiling of the Cenotaph were held Wednesday, July 9th; and the 12th of July was held in Arthur on Saturday. Jack said, 'it was a busy week!'"
**taken from: http://www.cmp-cpm.forces.gc.ca/dhh-dhp/nic-inm/sm-rm/mdsr-rdr-eng.asp?PID=7061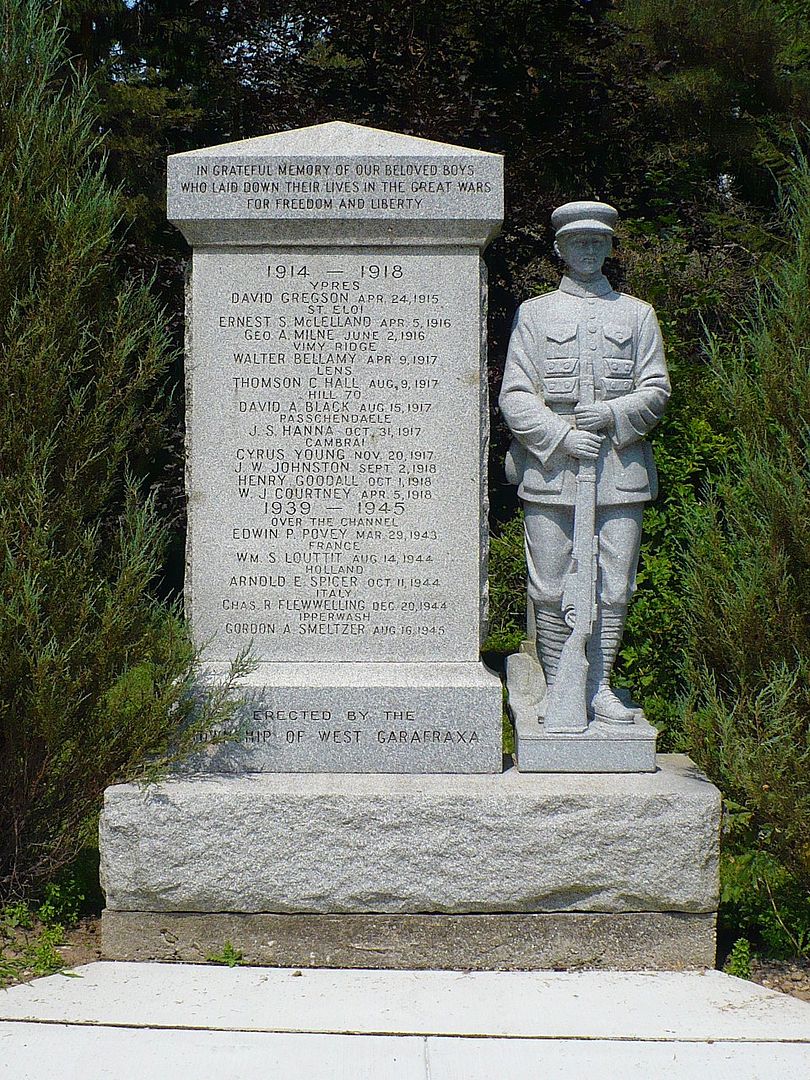 Marker text:
Front:
IN GRATEFUL MEMORY OF OUR BOYS
WHO LAID DOWN THEIR LIVES IN THE GREAT WARS
FOR FREEDOM AND LIBERTY
1914 - 1918
YPRES
DAVID GREGSON APR. 24, 1915
ST. ELOI
ERNEST S. McLLELAND APR. 5, 1916
GEO. A. MILNE JUNE 2, 1916
VIMY RIDGE
WALTER BELLAMY APR. 9, 1917
LENS
THOMSON C. HALL AUG. 9, 1917
HILL 70
DAVID A. BLACK AUG. 15, 1917
PASSCHENDAELE
J. S. HANNA OCT. 31, 1917
CAMBRAI
CYRUS YOUNG NOV. 20, 1917
J. W. JOHNSTON SEPT. 2, 1918
HENRY GOODALL OCT. 1, 1918
W. J. COURTNEY APR. 5, 1918
1939 - 1945
OVER THE CHANNEL
EDWIN P. PVEY MAR. 29, 1943
FRANCE
WM. S. LOUTTIT AUG. 14, 1944
HOLLAND
ARNOLD E. SPICER OCT. 11, 1944
ITALY
CHAS. R. FLEWWELLING DEC. 20, 1944
IPPERWASH
GORDON A. SMELTZER AUG. 16, 1945
ERECTED BY THE
TOWNSHIP OF WEST GARAFRAXA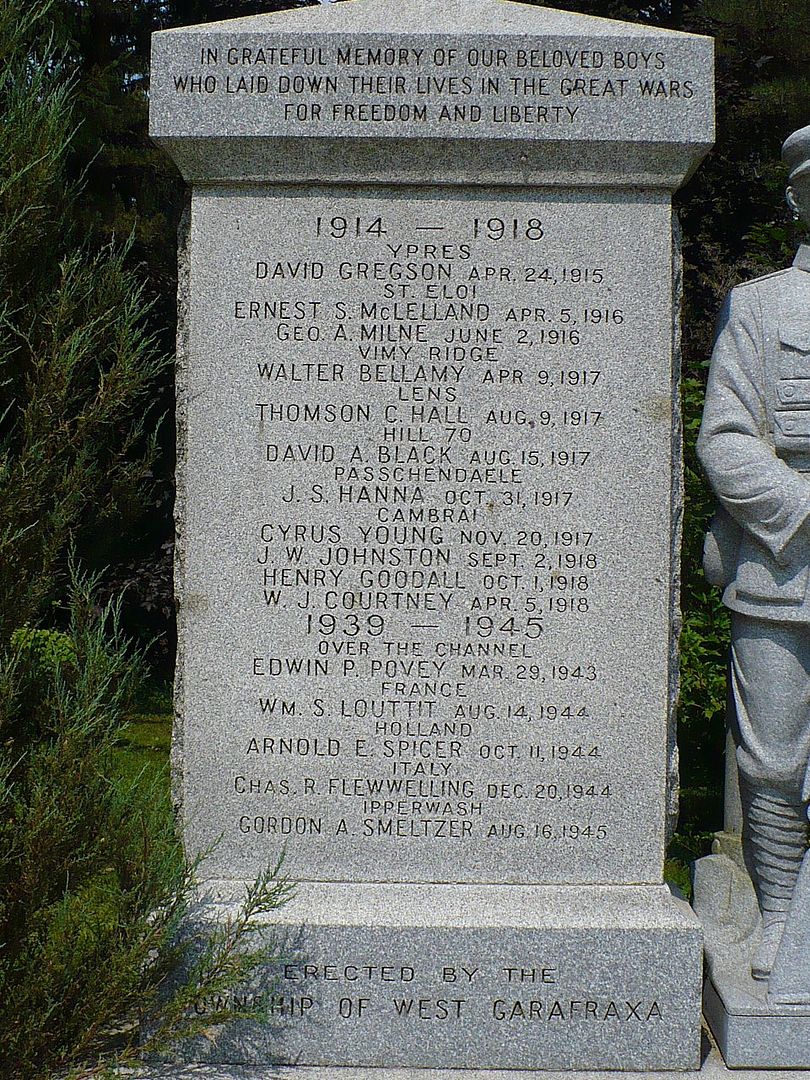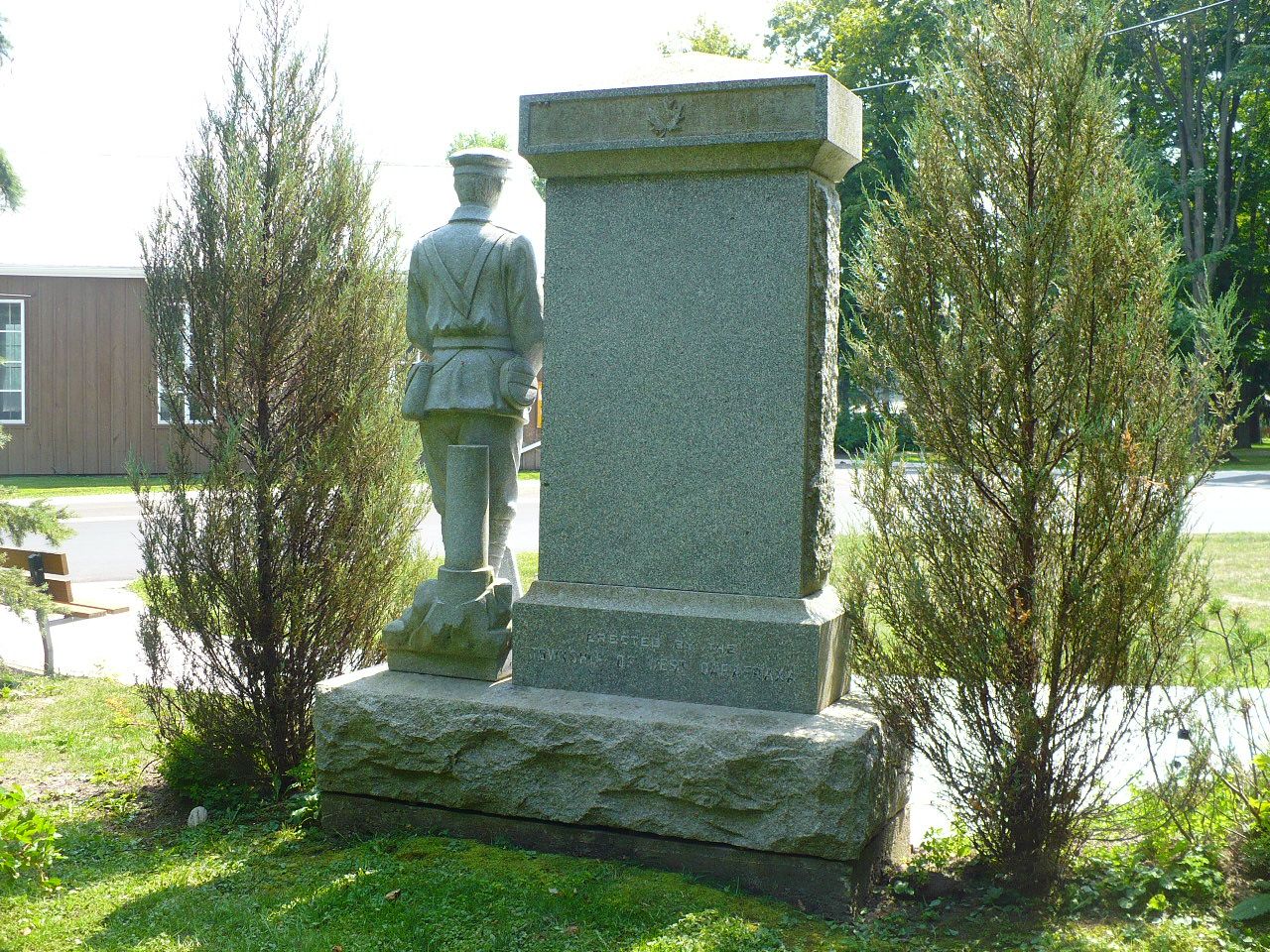 Back:
ERECTED BY THE
TOWNSHIP OF WEST GARAFRAXA