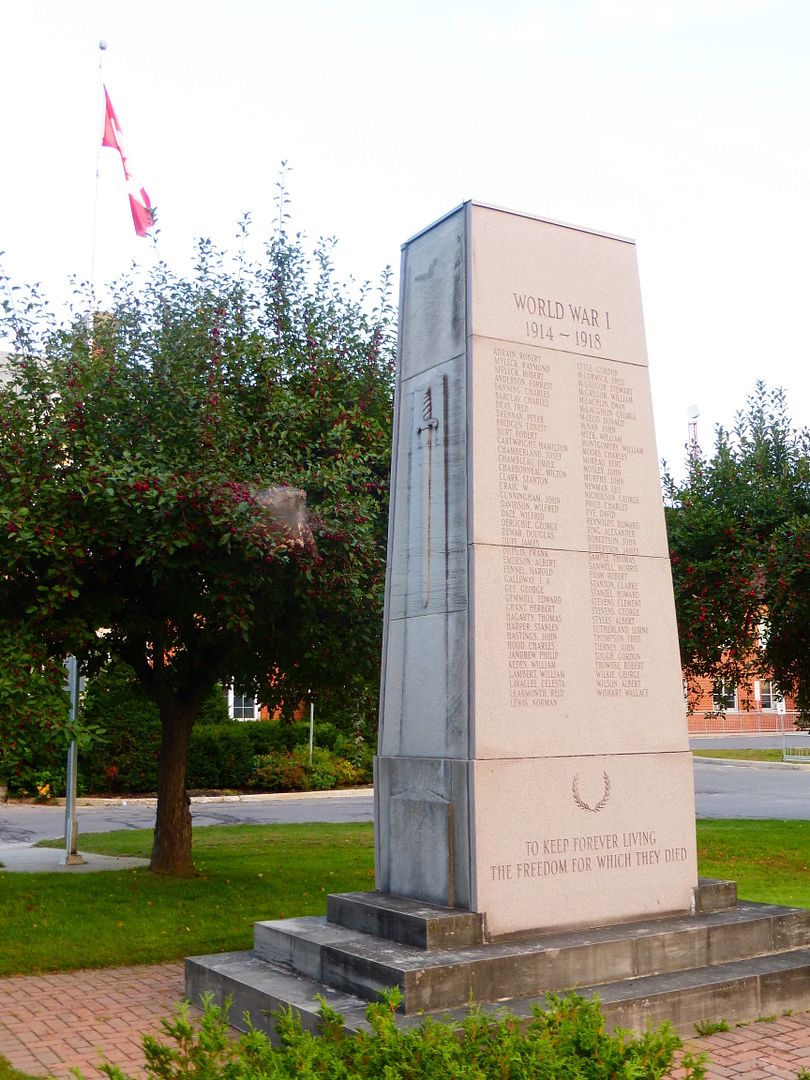 Location: Renfrew County N 45 26.464 W 76 21.144
On the west side of John Street N, in front of the hospital.
This article is copied from www.insideottawavalley.com website, recounting a newspaper article from the Arprior Chronicle Guide, November8, 2012, marking the 60th Anniversary of the Arnprior Cenotaph.
" Arnprior Chronicle-Guide
It was B. V. Bedore who first wrote about the need for a cenotaph in a guest editorial published in the Nov. 29, 1951 Arnprior Chronicle.
Bernie Bedore, who had served in the Royal Navy Fleet Air Arm during World War II, pointed out that Pembroke and Renfrew had already erected a memorial to the fallen where veterans could properly honour their comrades on Remembrance Day.
Lest We Forget
He lamented that "perhaps next year Arnprior will have her cenotaph, her symbol of remembrance which will say to her citizens and all who pass, 'Lest We Forget'."
The idea must have resonated with many people in the town, as only two months later the Arnprior Chronicle reported that "definite action toward the establishment of a Memorial Monument for Arnprior and District men who gave their lives in two world wars has been taken by the Arnprior Branch of the Canadian Legion."
A committee led by J. J. Greene D.F.C. soon got to work with the help of Mayor Robert Simpson and reeves of the surrounding townships.
Discussion as to what type of monument, the cost and the most suitable location took place around town and an extensive door-to-door fundraising campaign was undertaken by the committee members.
Representing World War II were Ian Malloch, Orme Belvins, Howard Patterson, and Gerald Stokes.
World War I representatives consisted of J. Clarence Irving, Harold Short and Dr. J. H. Box. Other members were J. A. Gillies O.B.E., J. C. Metcalf, James Cherry, J.W.C. Tierney, F. R. Convey, and Stewart Carmichael.
Support plentiful
Support for this community project was widespread and immediate. By May of 1952 over $1,000 had been raised by canvassing organizations such as the local Women's Institutes and private citizens.
A Tag Day held in conjunction with the annual regatta raised over $400 in donations for the Cenotaph Fund.
Most debate around the new cenotaph centred around where it should be located. Many people wanted it in the park, while others felt it should be situated at Town Hall or on other property owned by the Town.
There was also discussion about whether we needed a cenotaph at all. Some people felt that the Arnprior and District Memorial Hospital had already been built as a memorial for the same purpose.
Chairman J. J. Greene acknowledged that the hospital had been financed by contributions of a memorial nature but pointed out that the new cenotaph would be a suitable place of remembrance and worship for Remembrance Day services.
Stores in Arnprior closed from 10 a.m. to 1 p.m. on Tuesday, Nov. 11, 1952, so that all staff could attend the first memorial service at the new Arnprior and District Cenotaph located in front of the Arnprior and District Memorial Hospital.
A large parade formed up at the Legion Hall on Daniel Street where the Ladies Auxiliary of the Legion, Arnprior Boy Scouts and Cubs, Girl Guides and Brownies, and the Royal Canadian Legion band marched along with the veterans to the new cenotaph where Remembrance Day services were held.
This was a proud occasion for the Arnprior Legion Branch 174 and all those who had contributed to the erection of the cenotaph as a symbol and testament of sacrifice of the men whose names were inscribed upon it.
The cenotaph was completed only one week before the ceremony.
140 NAMES
The grey, limestone structure contained the names of 60 Arnprior and District men who died in World War I and 80 men who died in World War II.
In July 1953, a special unveiling ceremony took place to officially dedicate the memorial.
The Arnprior Legion formed a committee to repair and update the cenotaph in 1998. A large crack in the base of the monument was fixed and a new granite slab was installed over the deteriorated limestone face.
Volunteers from the Arnprior & District Archives (later the Arnprior McNab-Braeside Archives) worked with the Legion to carry out historical research associated with updating the cenotaph by adding names previously missed.
Today, the cenotaph remains the historic gathering place for this community to come together each year to honour those who died in World War I, World War II and the Korean conflict"
Marker text:
Front:
WORLD WAR I
1914 - 1918
ADRAIN, ROBERT
AFFLECK, RAYMOND
AFFLECK, ROBERT
ANDERSON, FORREST
BANNING, CHARLES
BARCLAY, CHARLES
BRAY, FRED
BRENNAN, PETER
BRIDGEN, EARNEST
BURT, ROBERT
CARTWRIGHT, HAMILTON
CHAMBERLAND, JOSEF
CHAMBLEAU, EMILE
CHARBONNEAU, MILTON
CLARK, STANTON
CRAIG, W.
CUNNINGHAM, JOHN
DAVIDSON, WILFRED
DAZE, WILFRED
DEROCHIE, GEORGE
DEWAR, DOUGLAS
DUFF, JAMES
DUPUIS, FRANK
EMERSON, ALBERT
FENNEL, HAROLD
GALLOWAY, J.A.
GEE, GEORGE
GEMMELL, EDWARD
GRANT, HERBERT
HAGARTY, THOMAS
HARPER, STANLEY
HASTINGS, JOHN
HOOD, CHARLES
JANDREW, PHILIP
KEDEY, WILLIAM
LAMBERT, WILLIAM
LAVALLEE, CELESTA
LEARMONTH, REID
LEWIS, NORMAN
LYTLE, GORDON
McCORMICK, FRED
McGREGOR, STEWART
McGREGOR, WILLIAM
McLACHLIN, EWAN
McLAUGHLIN, GEORGE
McLEOD, DONALD
McNAB, JOHN
MEEK, WILLIAM
MONTGOMERY, WILLIAM
MOORS, CHARLES
MOREAU, BERT
MOSLEY, JOHN
MURPHY, JOHN
NEWMAN, LEO
NICHOLSON, GEORGE
PRICE, CHARLES
PYE, DAVID
REYNOLDS, HOWARD
RING, ALEXANDER
ROBERTSON, JOHN
ROBERTSON, JAMES
SAMPLE, THOMAS
SAMWELL, MORRIS
SHAW, ROBERT
STANTON, CLARKE
STANZEL, HOWARD
STEVENS, CLEMENT
STEVENS, GEORGE
STYLES, ALBERT
SUTHERLAND, LORNE
THOMPSON, FRED
TIERNEY, JOHN
TOUGH, GORDON
TROWSSE, ROBERT
WILKIE, GEORGE
WILSON, ALBERT
WISHART, WALLACE
TO KEEP FOREVER LIVING
THE FREEDOM FOR WHICH THEY DIED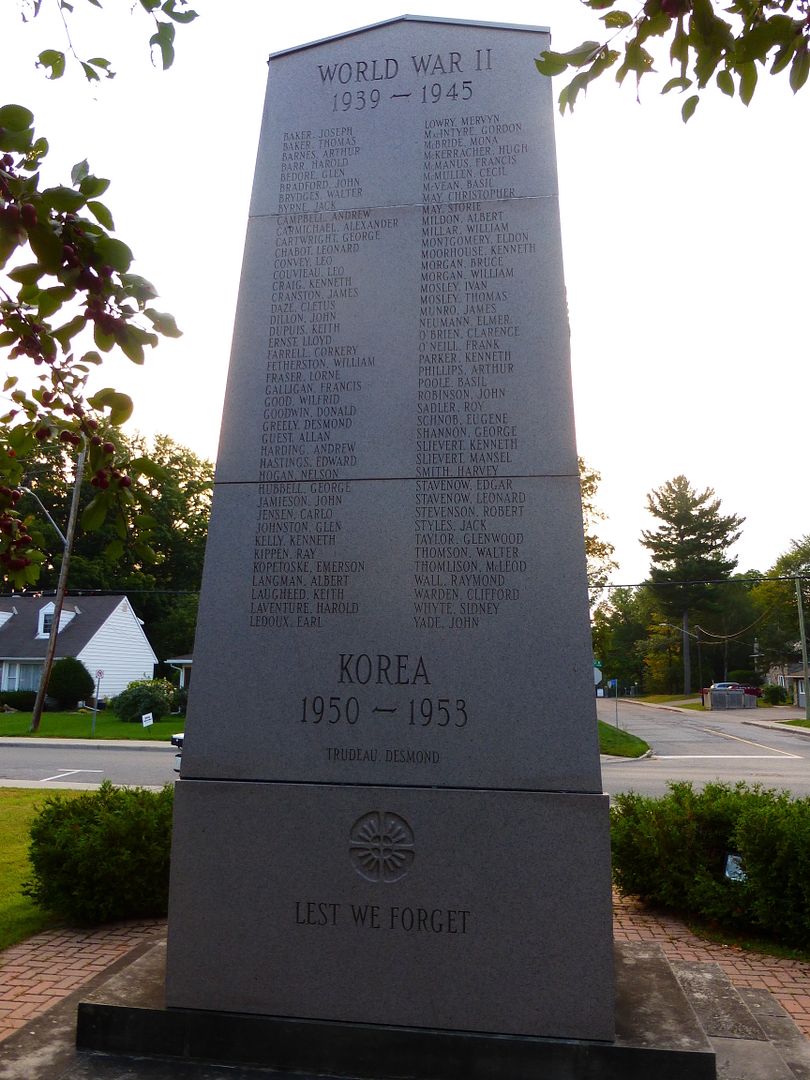 Back:
WORLD WAR II
1939 - 1945
BAKER, JOSEPH,
BAKER, THOMAS
BARNES, ARTHUR
BARR, HAROLD
BEDORE, GLEN
BRADFORD, JOHN
BRYDGES, WALTER
BYRNE, JACK
CAMPBELL, ANDREW
CARMICHAEL, ALEXANDER
CARTWRIGHT, GEORGE
CHABOT, LEONARD
CONVEY, LEO
COUVIEAU, LEO
CRAIG, KENNETH
CRANSTON, JAMES
DAZE, CLETUS
DILLON, JOHN
DUPUIS, KEITH
ERNST, LLOYD
FARRELL, CORKERY
FETHERSTON, WILLIAM
FRASER, LORNE
GALLIGAN, FRANCIS
GOOD, WILFRID
GOODWIN, DONALD
GREELY, DESMOND
GUEST, ALLAN
HARDING, ANDREW
HASTINGS, EDWARD
HOGAN, NELSON
HUBBELL, GEORGE
JAMIESON, JOHN
JENSEN, CARLO
JOHNSTON, GLEN
KELLY, KENNETH
KIPPEN, RAY
KOPETOSKE, EMERSON
LANGMAN, ALBERT
LAUGHEED, KEITH
LAVENTURE, HAROLD
LEDOUX. EARL
LOWRY, MERVYN
MacINTYRE, GORDON
McBRIDE, MONA
McKERRACHER, HUGH
McMANUS, FRANCIS
McMULLEN, CECIL
McVEAN, BASIL
MAY, CHRISTOPHER
MAY, STORIE
MILDON, ALBERT
MILLAR, WILLIAM
MONTGOMERY, ELDON
MOORHOUSE, KENNETH
MORGAN, BRUCE
MORGAN, WILLIAM
MOSLEY, IVAN
MOSLEY, THOMAS
MUNRO, JAMES
NEUMANN, ELMER
O'BRIEN, CLARENCE
O'NEILL, FRANK
PARKER, KENNETH
PHILLIPS, ARTHUR
POOLE, BASIL
ROBINSON, JOHN
SADLER, ROY
SCHNOB, EUGENE
SHANNON, GEORGE
SLIEVERT, KENNETH
SLIEVERT, MANSEL
SMITH, HARVEY
STAVENOW, EDGAR
STAVENOW, LEONARD
STEVENSON, ROBERT
STYLES, JACK
TAYLOR, GLENWOOD
THOMSON, WALTER
THOMLINSON, McLEOD
WALL, RAYMOND
WARDEN, CLIFFORD
WHYTE, SIDNEY
YADE, JOHN
KOREA
1950 - 1953
TRUDEAU, DESMOND
LEST WE FORGET