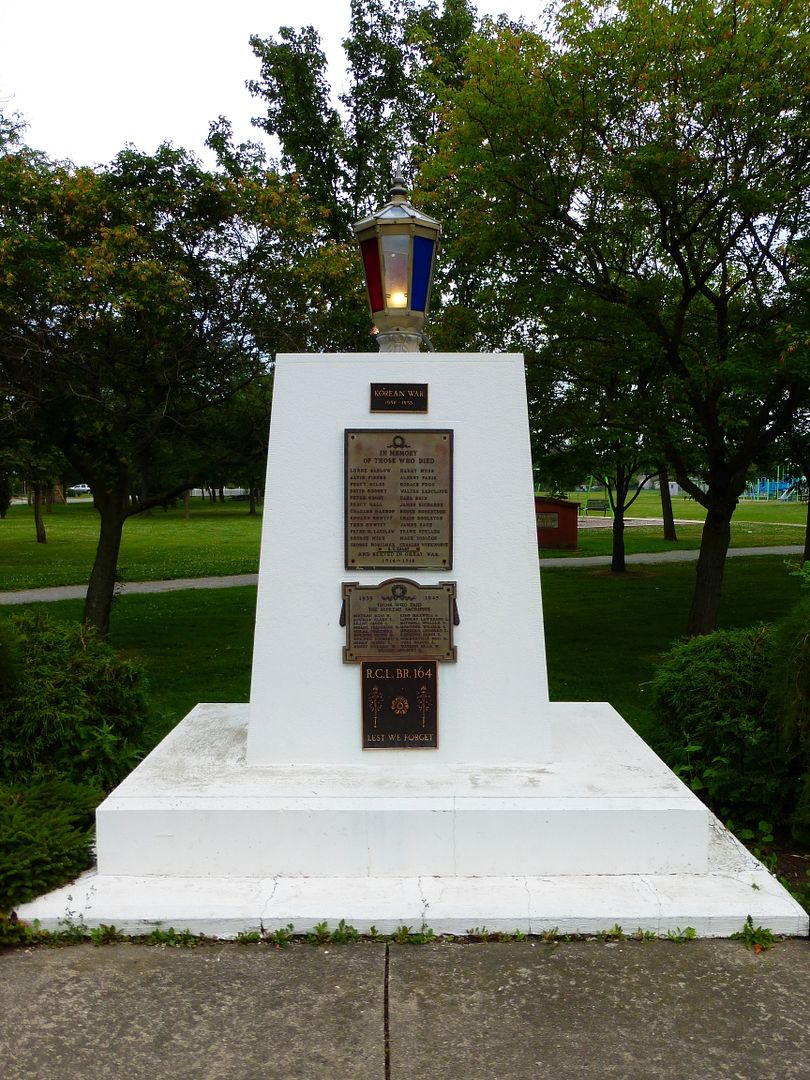 Location: Haldimand County N 42 57.566 W 80 03.134
In the park on Alma Street S, near the corner of Church Street.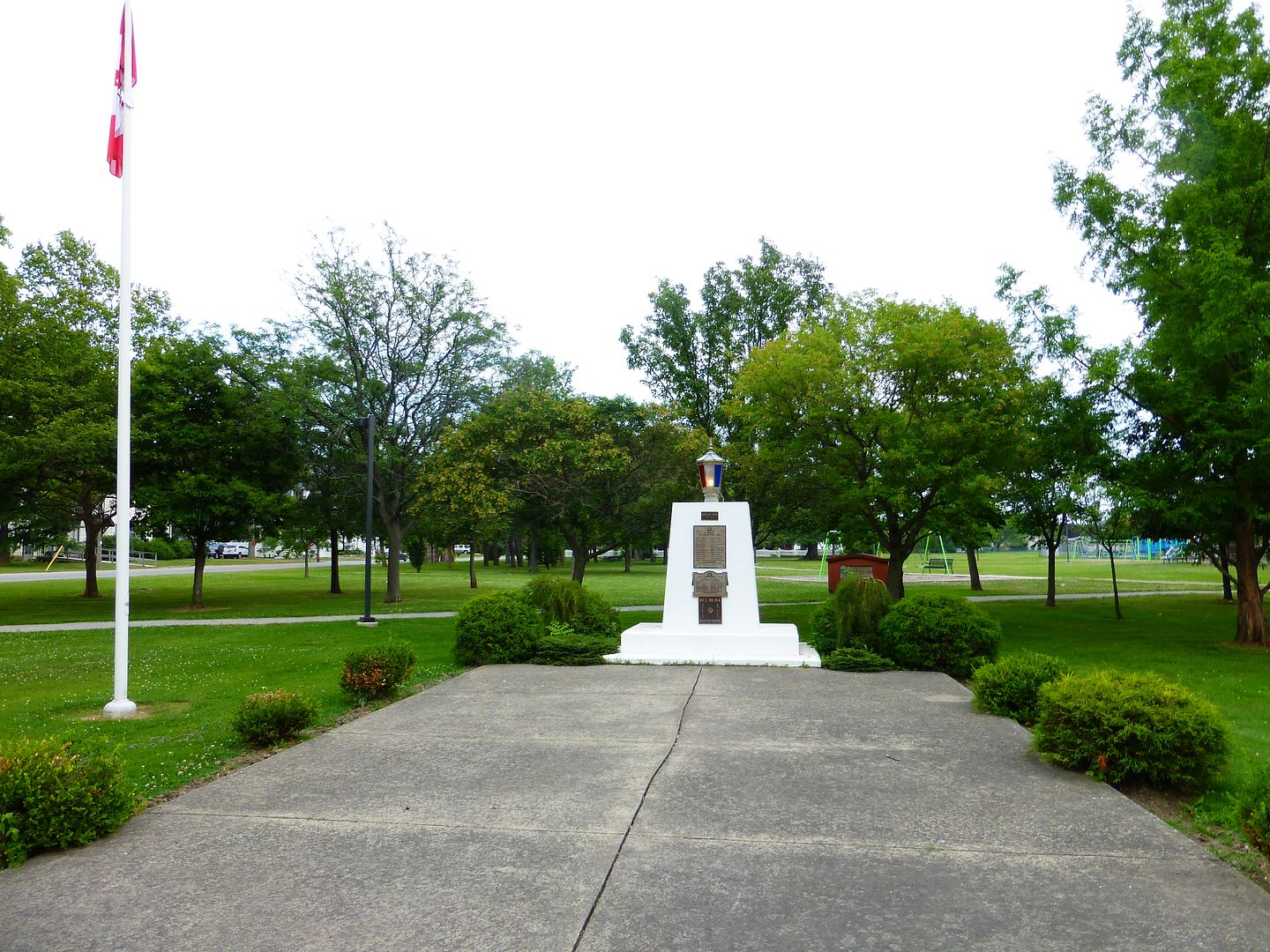 This memorial was originally established after the First World War, with later plaques added to commemorate those lost in the Second World War and Korea. This section of the park is now known as the Memorial Arboretum, but was once home to Hagersville Public School, which was located directly beside this memorial. I have included a photo of a postcard which shows the cenotaph beside the beautiful old school.
The memorial itself has an eternal light on the top of the stone, to remind of us our promise to never forget the sacrifice of those who gave their lives for our freedom. The Royal Canadian Legion Branch 164 looks after the cenotaph and ensuring that the words Lest We Forget are not forgotten.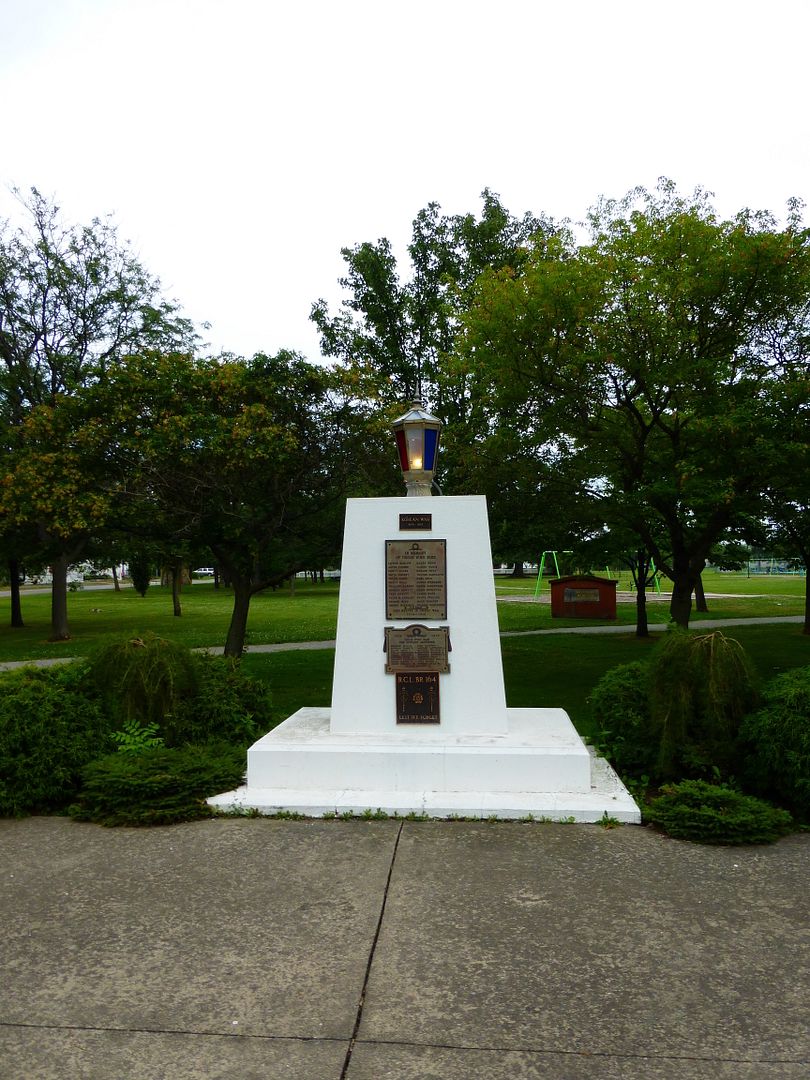 Marker text:
Top plaque:
KOREAN WAR
1950 - 1953
Second plaque:
IN MEMORY
OF THOSE WHO DIED
LORNE BARLOW
ALVIN FISHER
PERCY GILES
DAVID GOOSEY
PETER GROAT
PERCY HALL
CHARLES HARROP
EDWARD HEWITT
FRED HEWITT
PETER M. LAIDLAW
GEORGE MIKE
GEORGE MORTIMER
HARRY MOSS
ALBERT PARIS
HORACE PEGG
WALTER RADCLIFFE
EARL REID
JAMES RICHARDS
BRUCE ROBERTSON
CRAIG ROULSTON
JAMES SAGE
FRANK SPELLER
MACK TOBICOE
CHARLES WINKWORTH
E.T. KELLY
AND SERVED IN THE GREAT WAR
1914 - 1918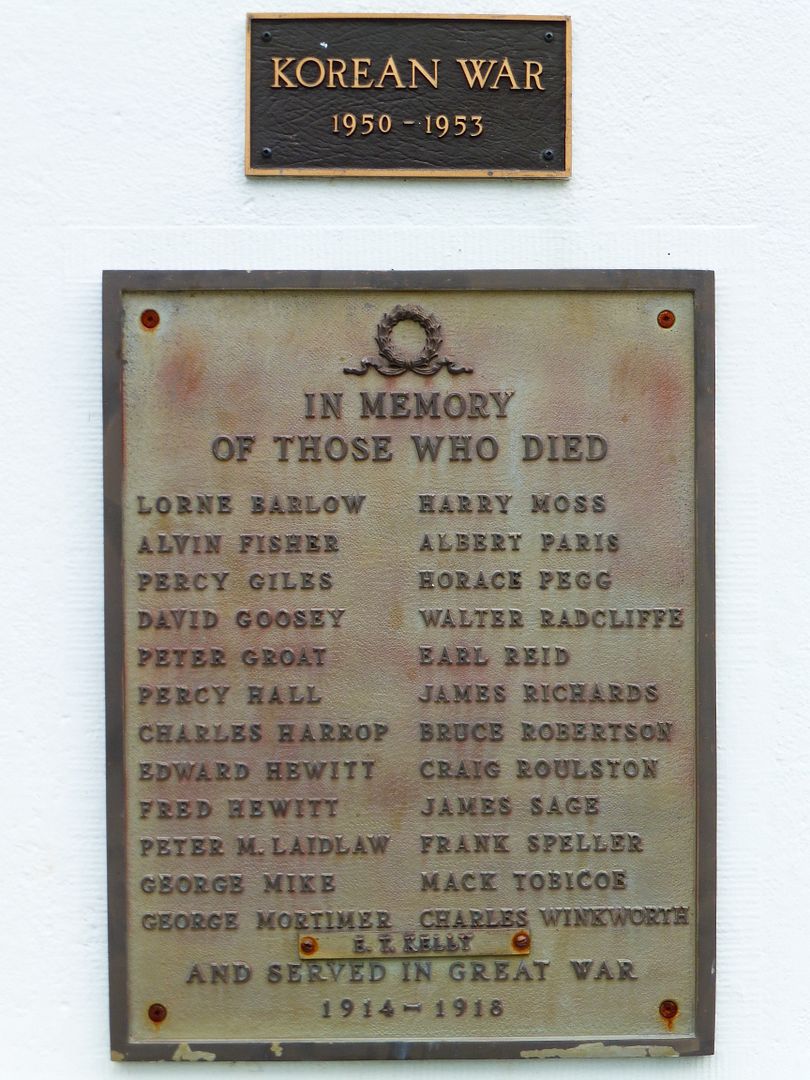 Third plaque:
1939 1945
THOSE WHO PAID
THE SUPREME SACRIFICE
BERTRAN ROSS H.
BOWMAN CLARE E.
BRANT JACOB S.
EUBANK FREDERICK H.
GORAK THEODORE
GORDON BRUCE M.
GORDON RICHARD L.
HENRY JOSEPH E.
HENRY NORMAN W.
KING MAXWELL J.
LaFORME LAWRENCE A.
MITCHELL WILLIAM F.
MONTOUR WILLIAM E.
MUMFORD LEONARD K.
REBBETOY JAMES R.
SOMMERVILLE NEIL R.
VERI DANIEL A.
WATKINS BRAM W.
WRIGHT HERBERT H.
Lower plaque:
R.C.L. BR. 164
LEST WE FORGET