Location: Parry Sound District N 46 04.901 W 79 21.660
At the corner of Main Street and Memorial Park Drive.
A beautiful memorial in a nicely adorned park at the centre of town. The memorial was erected in June 1927, by the local members of the I.O.D.E., proudly carved in stone the names of the men from Powassan and vicinity who died in the Great War. A later plaque was added with the names of the men lost in the Second World War, and a second plaque with more names was added on the back. The Korean War and Peacekeeping efforts are also recgonized, as a local soldier was lost in Croatia.
A very nice and well maintained memorial. Thank you to the citizens of this small village for your sacrifice.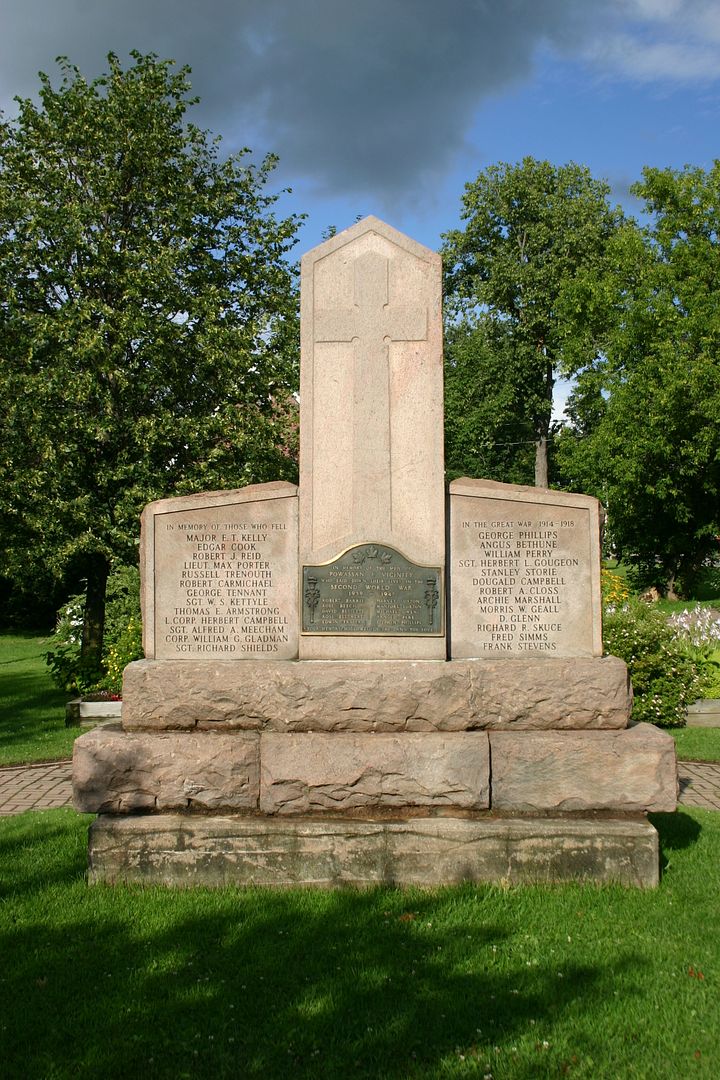 Marker text:
Front in stone:
IN MEMORY OF THOSE WHO FELL IN THE GREAT WAR 1914 - 1918
MAJOR E.T. KELLY
EDGAR COOK
ROBERT J. REID
LIEUT. MAX PORTER
RUSSELL TRENOUTH
ROBERT CARMICHAEL
GEORGE TENNANT
SGT. W.S. KETTYLE
THOMAS E. ARMSTRONG
L.CORP. HERBERT CAMPBELL
SGT. ALFRED A. MEECHAM
CORP. WILLIAM G. GLADMAN
SGT. RICHARD SHIELDS
GEORGE PHILLIPS
ANGUS BETHUNE
WILLIAM PERRY
SGT. HERBERT L. GOUGEON
STANLEY STORIE
DOUGALD CAMPBELL
ROBERT A. CLOSS
ARCHIE MARSHALL
MORRIS W. GEALL
D. GLENN
RICHARD R. SKUCE
FRED SIMMS
FRANK STEVENS
Front on plaque:
IN MEMORY OF THE MEN OF
POWASSAN & VICINITY
WHO LAID DOWN THEIR LIVES IN THE
SECOND WORLD WAR
1939 - 1945
ROBERT BARRIE
ROSS BEECH
DAVID BESSETTE
ROSS ELLSMERE
EDWIN FRASER
HARVEY LOXTON
MANFORD LOXTON
MICHAEL OWENS
ARNOLD PARK
STEPHEN PHILLIPS
YOUR MEMORY HALLOWED IN THE LAND YOU LOVED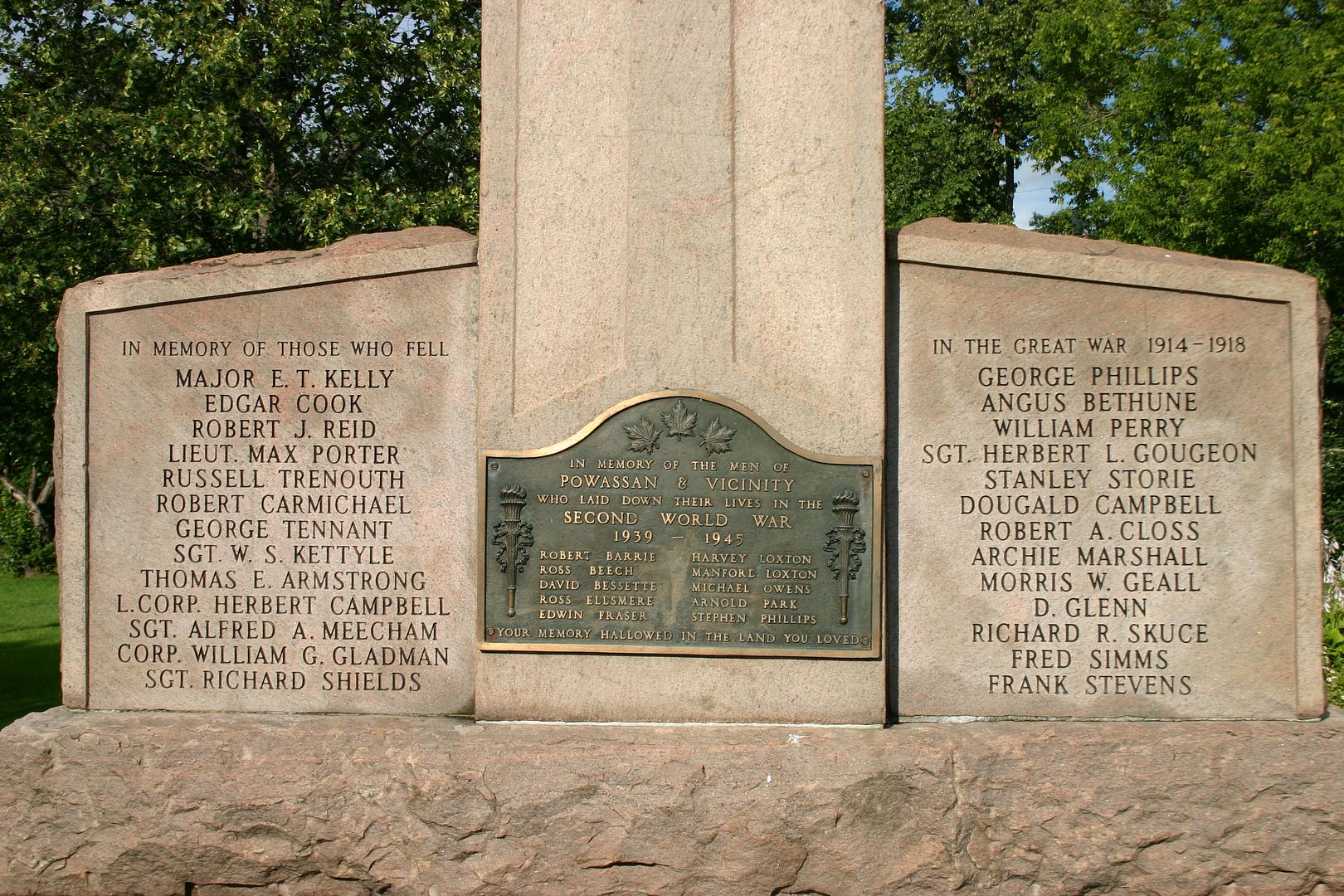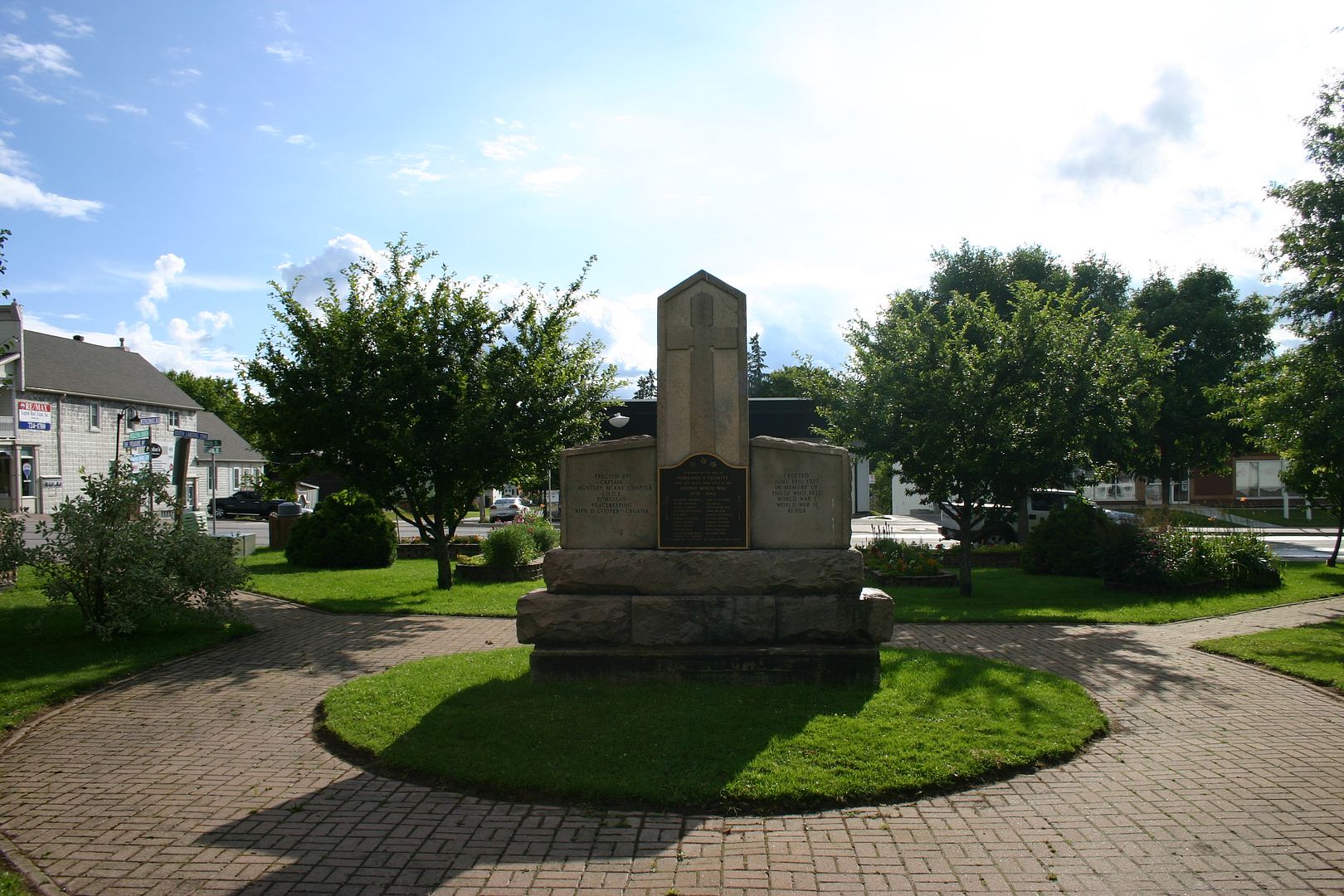 Rear in stone:
ERECTED BY
CAPTAIN
HUNTLEY McKAY CHAPTER
I.O.D.E
POWASSAN
PEACEKEEPING
KIRK D. COOPER - CROATIA
ERECTED
JUNE 19TH, 1927
IN MEMORY OF
THOSE WHO FELL
WORLD WAR I
WORLD WAR II
KOREA
Rear on plaque:
IN MEMORY OF THE MEN OF
POWASSAN & VICINITY
WHO LAID DOWN THEIR LIVES IN THE
SECOND WORLD WAR
1939 - 1945
KENNETH ARTHURS
RALPH ARTHURS
HARRY C. BROTT
ARTHUR BUCHANAN
F.A. DUFF
ALLAN R. ELLIOTT
JOHN FISCHER
JOHN GLENN
DAN GOOLEY
BRUCE GRAWBARGER
THOMAS A. ROGERS
CARL O. GUTJAHR
JOE KELLY
DOUGALD MacRAE
JAMIE MacRAE
HAROLD ODROWSKI
VICTOR PEEVER
HARVEY SCHADE
DON SHAPTER
BERNARD TRUE
YOUR MEMORY HALLOWED IN THE LAND YOU LOVED