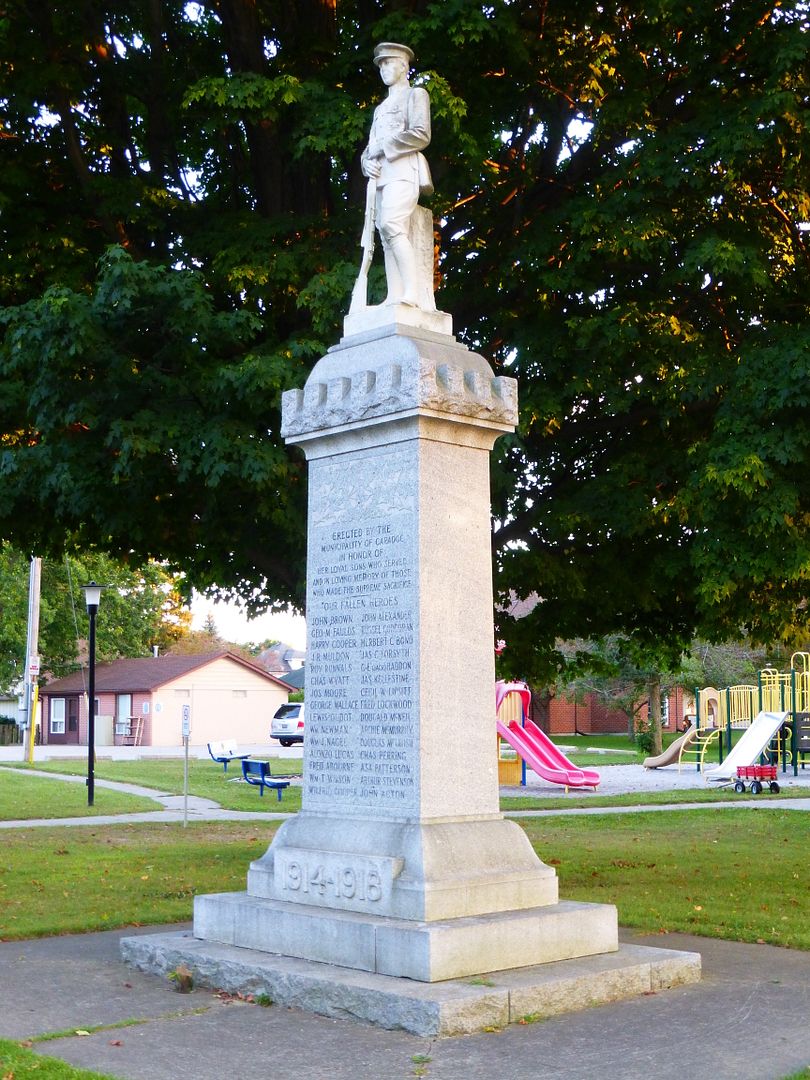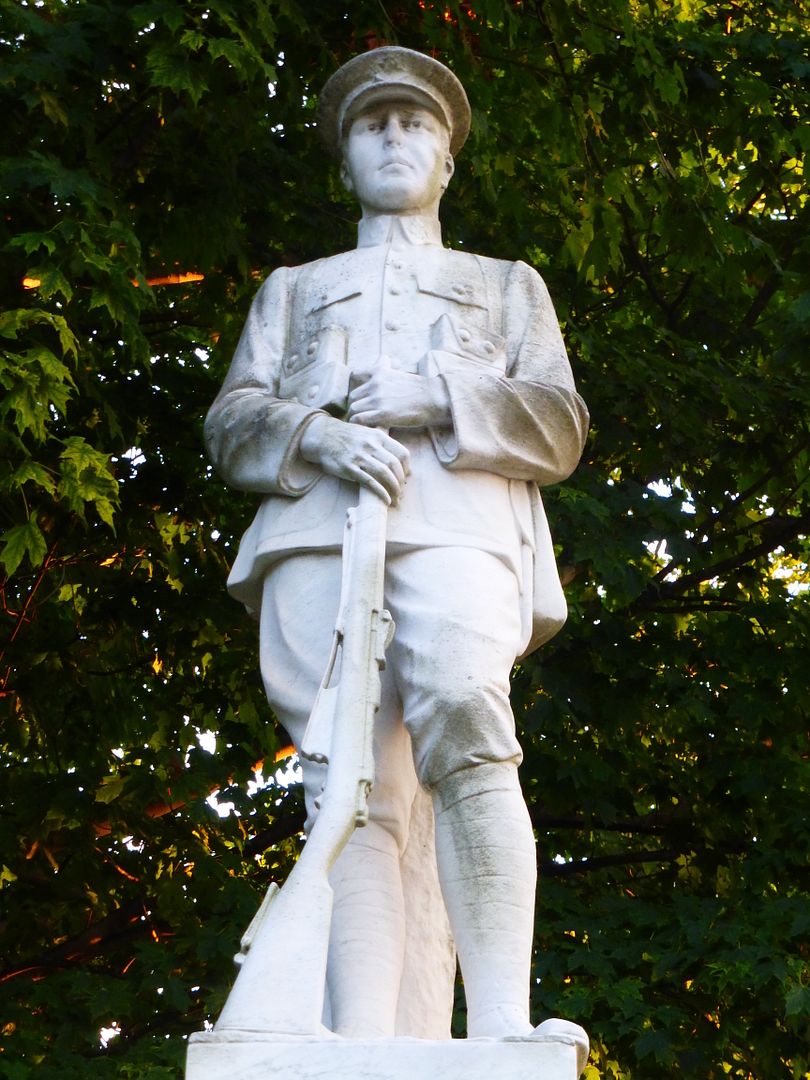 Location: Middlesex County N 42 54.539 W 81 29.693
In the park on Adelaide Road at the corner of Helen Street.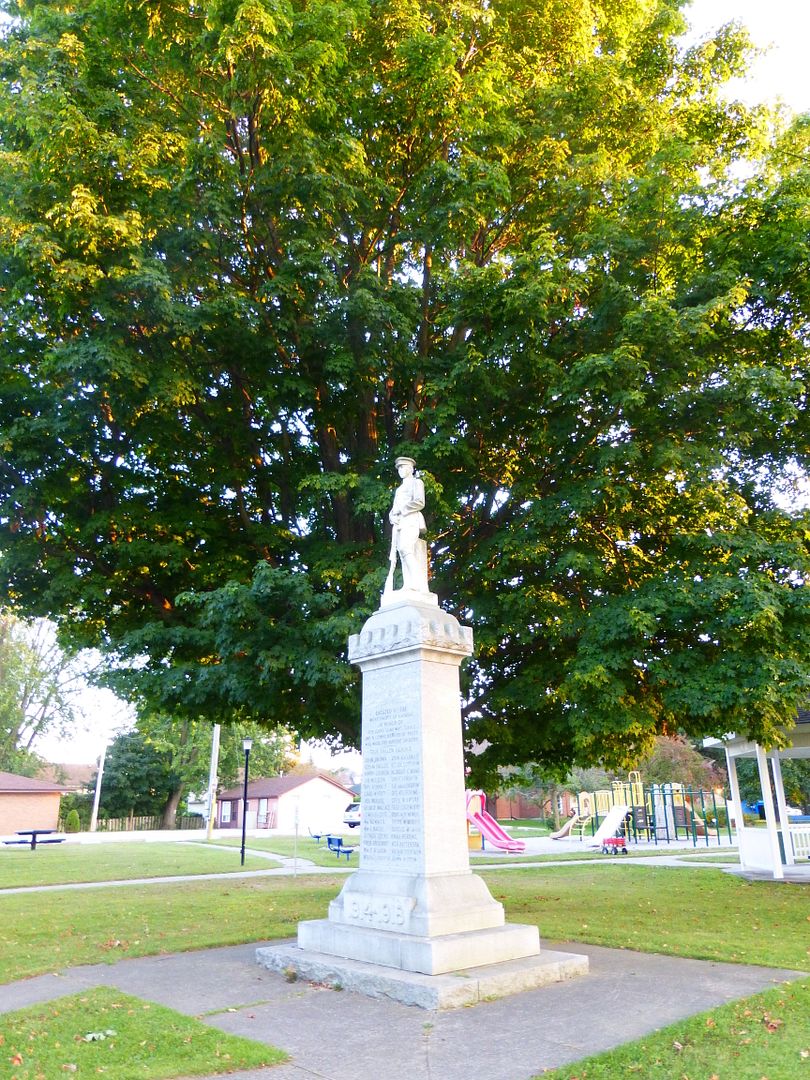 This traditional memorial represents the Township of Caradoc, and honours the men of the area who made the supreme sacrifice in World War I. A statue stands tall at the top of this beautiful memorial. The front lists the names of the dead, and the back of the memorial lists those lost in the Second World War and Korea.
I was surprised at how tall this grand cenotaph stands above the park, the children playing nearby in peace in the park's playground.
Further history can be found at the following website, from the Strathroy-Caradoc Museum:
http://www.strathroymuseum.ca/en/exhibits/Mount-Brydges-Cenotaph.asp
Each of the names listed on the cenotaph is given a detailed history on the museum website. Very well done.
Marker text:
Front:
ERECTED BY THE
MUNICIPALITY OF CARADOC
IN HONOR OF
HER LOYAL SONS WHO SERVED
AND IN LOVING MEMORY OF THOSE
WHO MADE THE SUPREME SACRIFICE
"OUR FALLEN HEROES"
JOHN BROWN
GEO. M. FAULDS
HARRY COOPER
J.R. MULDON
ROY RUNNALS
CHAS. WYATT
JOS. MOORE
GEORGE WALLACE
LEWIS OUDOT
WM. NEWMAN
WM. J. NAGEL
ALONZO LUCAS
FRED ABOURNE
WM. T. WILSON
WILFRID COOPER
JOHN ALEXANDER
RUSSEL CORCORAN
HERBERT C. BOND
JAS. C. FORSYTH
C.E. (JACK) HADDON
JAS. KELLESTINE
CECIL W. LIPSITT
FRED LOCKWOOD
DOUGALD McNEIL
ARCHIE McMURPHY
DOUGLAS McTAVISH
CHAS. PERRING
ASA PATTERSON
ARTHUR STEVENSON
JOHN ACTON
1914 - 1918
Back:
1939 - 1945
S.W. ANDERSON
JOHN BUTCHER
JOHN BRODIE
JAMES DRAKE
CHAS. EVERETT
WM. C. DOAN
ELI LaFAIVE
KENNETH RUSHBY
ROBERT TULL
ALBERT WILLIS
JOHN WILLIAMSON
WARREN E. KELLESTINE
KOREAN WAR
1950 - 1953