Location: County of Stormont, Dundas and Glengarry
N 44 53.934 W 075 11.140
Found on Fifth Street, in front of the South Dundas Justice Building.
This beautiful monument stands nineteen feet tall, with a ten foot high bronze statue of a soldier celebrating the declaration of peace. This main monument is dedicated solely to the First World War, and flanked by two cannons of the period. Erected in September of 1923, by The Morrisburg Soldiers' Monument Association, to a crowd of over 5,000 people.
A second stone, across the walkway to the courthouse, is in honour of those who died in World War Two. This stone was erected by the Royal Canadian Legion Branch 48, and the Ladies Auxiliary.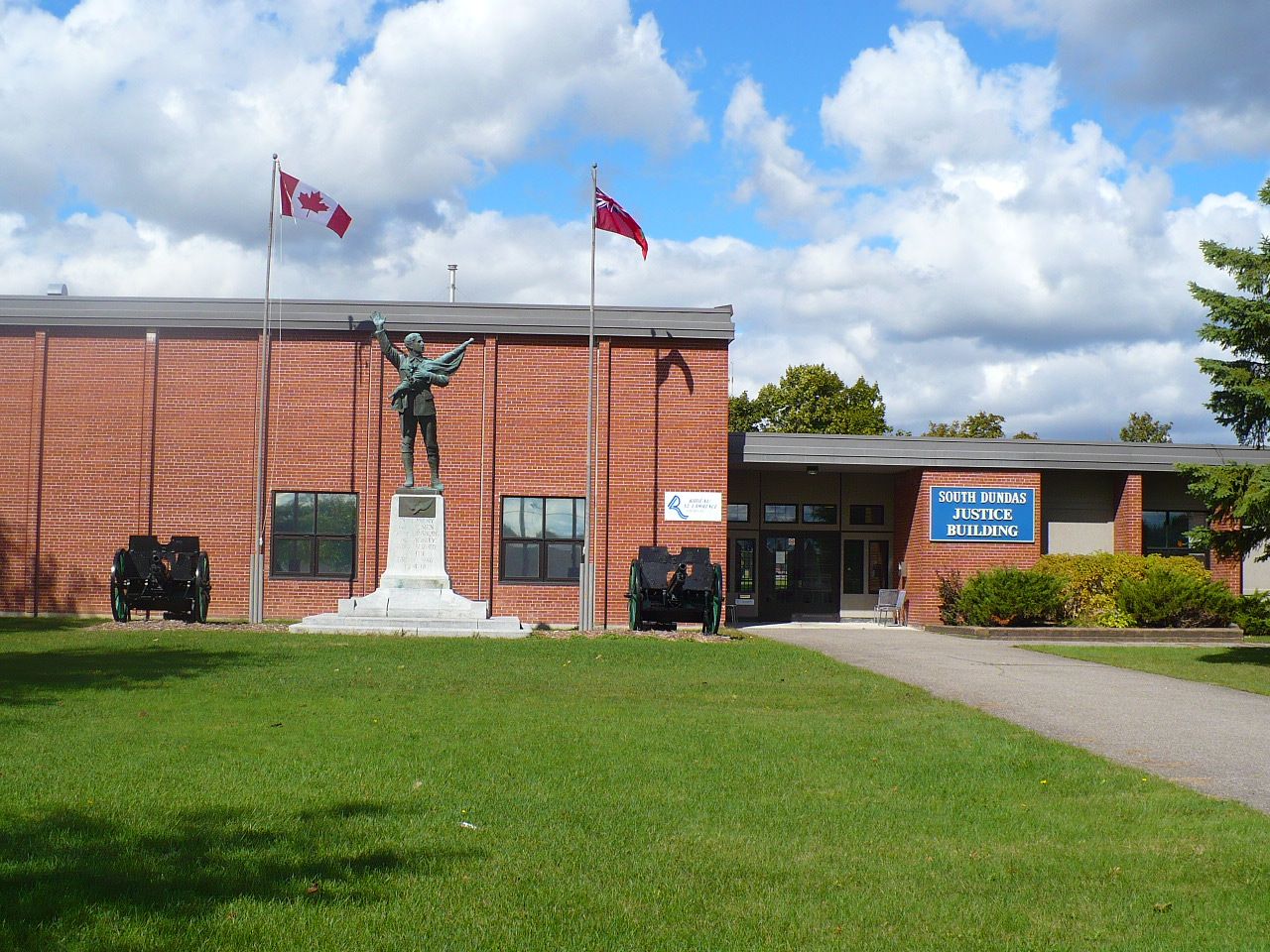 Marker text:
WWI Monument:
Front:
IN MEMORY
OF THE MEN
OF MORRISBURG
AND VICINITY
WHO SERVED
IN THE
GREAT WAR
1914-18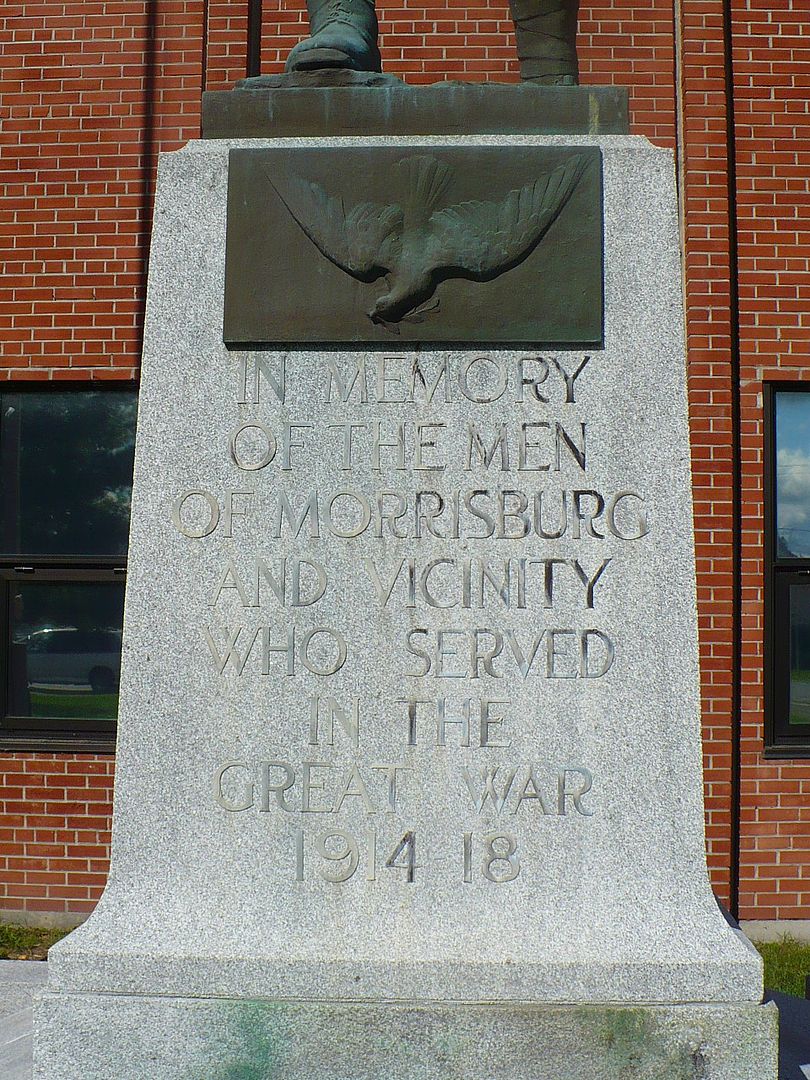 Left:
GNR. DONALD BRADFIELD
C.O., G.M.S., C.H. GILLESPIE
SIGNR. GARNET E. LEWIS
SERGT. GERALD MEIKLE
CORP. ORLIN MERKLEY
N. SISTER F. MUNROE
SIGNR. DONALD PRUNER
LANCE CORP. E.R. STEEN
LIEUT. IVAN TINKESS
LIEUT. HUME WINGARD
Rear:
THEIR BODIES
ARE BURIED IN PEACE,
BUT THEIR NAME
LIVETH FOREVERMORE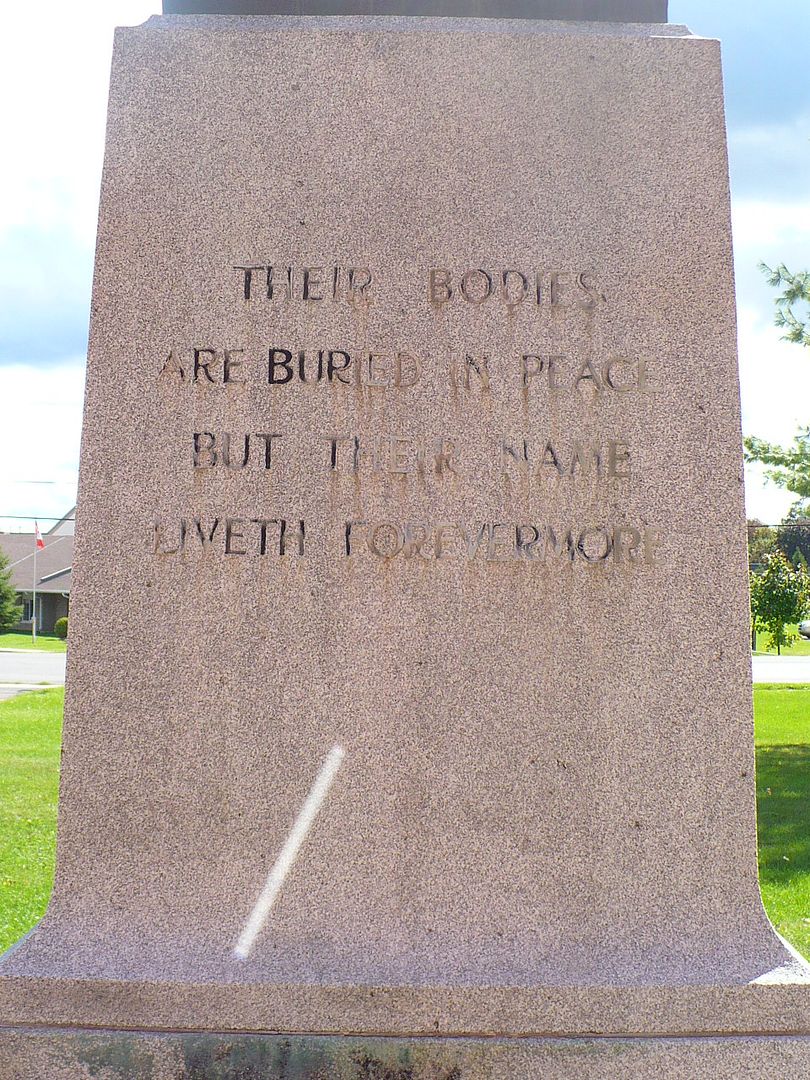 Right:
PTE. JOHN FROATS
PTE. CHAS. LEWIS
PTE. FREEN RICE
PTE. KARL STATA
PTE. HARRY WELLS
PTE. OLIVER WOODS
PTE. JOHN WYATT
PTE. F. QUICKFALL
PTE. D. ROBERTSON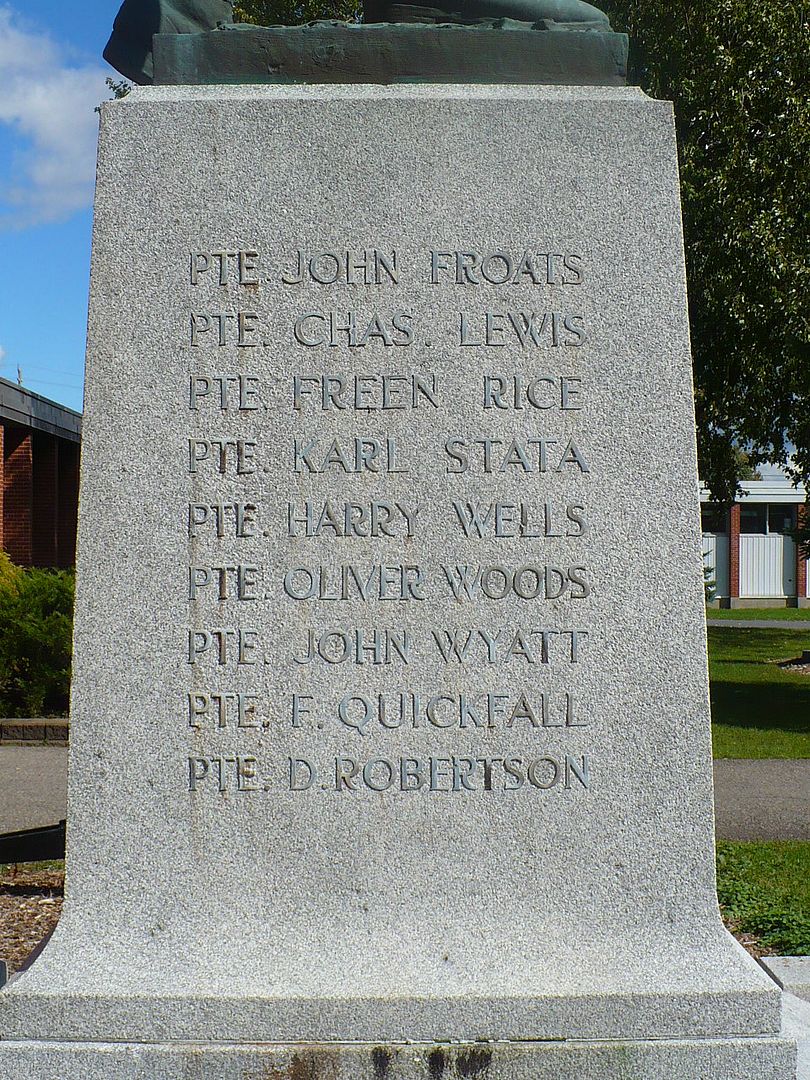 WWII Memorial:
THE ROYAL CANADIAN LEGION
AND LADIES AUXILIARY OF
BRANCH 48 MORRISBURG, COMMEMORATES
THE GALLANT MEN OF THIS COMMUNITY
WHO PAID THE SUPREME SACRIFICE
IN WORLD WAR II
1939 - 1945
DONALD CASSELMAN W.O. II AIR FORCE
WILLIS COONS P.O. AIR FORCE
REX CUMMINGS PTE. ARMY
J. ALEX JOHNSTON F/SGT. AIR FORCE
EDMUND JARVIS P.O. NAVY
FRED MASON F.SGT. AIR FORCE
JOHN McKOY L/CPL. ARMY
BEV. McGOUN P.O. AIR FORCE
LAWRENCE PRUNNER PTE. ARMY
JIM NEILD PTE. ARMY
JOHN RITCHIE MERCHANT NAVY
JACK ROBERTSON P.O. AIR FORCE
CARMAN REDDICK PTE. ARMY
ALEX SHAVER TPR. ARMY
ARTHUR TINDAL PTE. ARMY
KEITH UTMAN F.SGT. AIR FORCE
DWIGHT VANALLEN PTE. ARMY
AT THE GOING DOWN OF THE SUN AND IN
THE MORNING, WE WILL REMEMBER THEM
THEY SERVED TILL DEATH WHY NOT WE