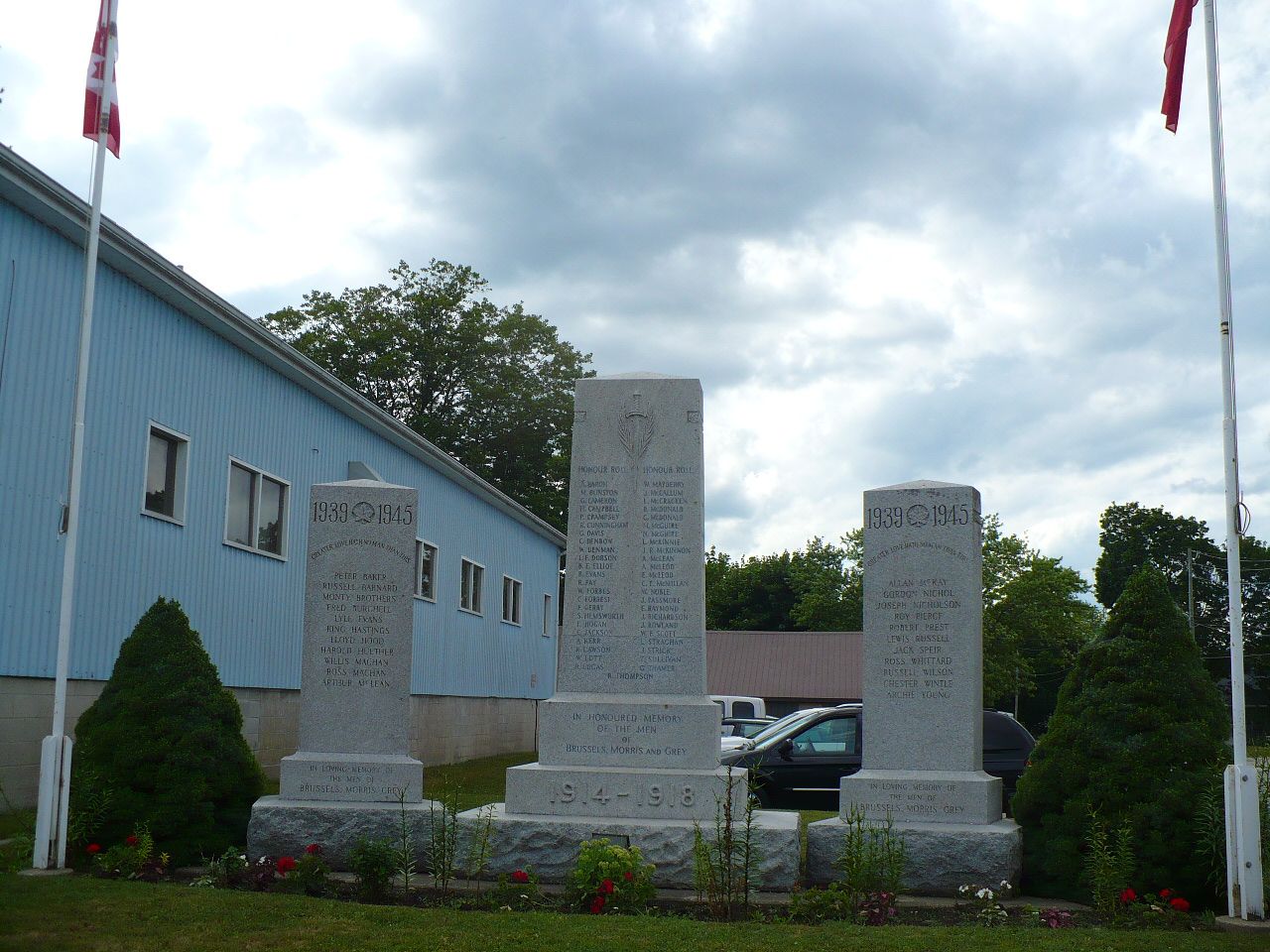 Location: Huron County N 43 44.530 W 081 15.093
On the west side of Turnberry Street, near the south end of town, beside the Legion.
The very nice memorial sits beside the Royal Canadian Legion Branch #218, and is dedicated to the men of Brussels, Morris and Grey. This is a small farming community, which was celebrating its 140th anniversary at the time of my visit.
The memorial consists of three granite shafts, the centre shaft in honour of those who died in World War I, the two outer shafts dedicated to World War II. I believe the memorial was erected at first after the Great War, and the second shafts added after the Second War.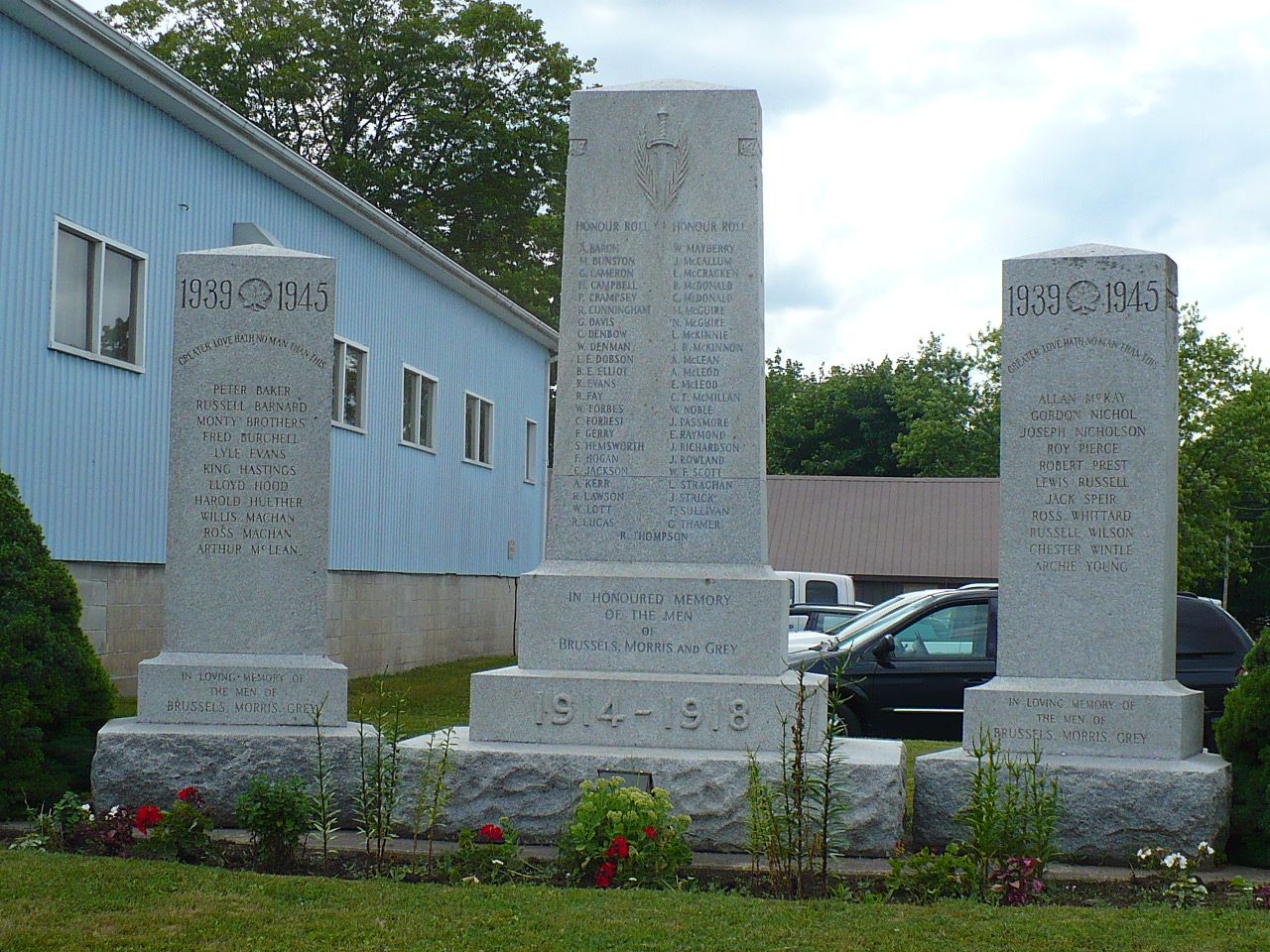 Marker text:
Centre front:
HONOUR ROLL
A. BARON
M. BUNSTON
G. CAMERON
H. CAMPBELL
P. CRAMPSEY
R. CUNNINGHAM
G. DAVIS
C. DENBOW
W. DENMAN
L.E. DOBSON
B.E. ELLIOT
R. EVANS
R. FAY
W. FORBES
C. FORREST
F. GERRY
S. HEMSWORTH
F. HOGAN
C. JACKSON
A. KERR
R. LAWSON
W. LOTT
R. LUCAS
W. MAYBERRY
J. McCALLUM
L. McCRACKEN
B. McDONALD
C. McDONALD
M. McGUIRE
N. McGUIRE
L. McKINNIE
J.R. McKINNON
A. McLEAN
A. McLEOD
E. McLEOD
C.I. McMILLAN
W. NOBLE
J. PASSMORE
E. RAYMOND
J. RICHARDSON
J. ROWLAND
W.F. SCOTT
L. STRACHAN
J. STRICK
T. SULLIVAN
G. THAMER
R. THOMPSON
IN HONOURED MEMORY
OF THE MEN
OF
BRUSSELS, MORRIS AND GREY
1914 - 1918
Centre Left:
YPRES
SOMME
BOURLON WOOD
AMIENS
ARRAS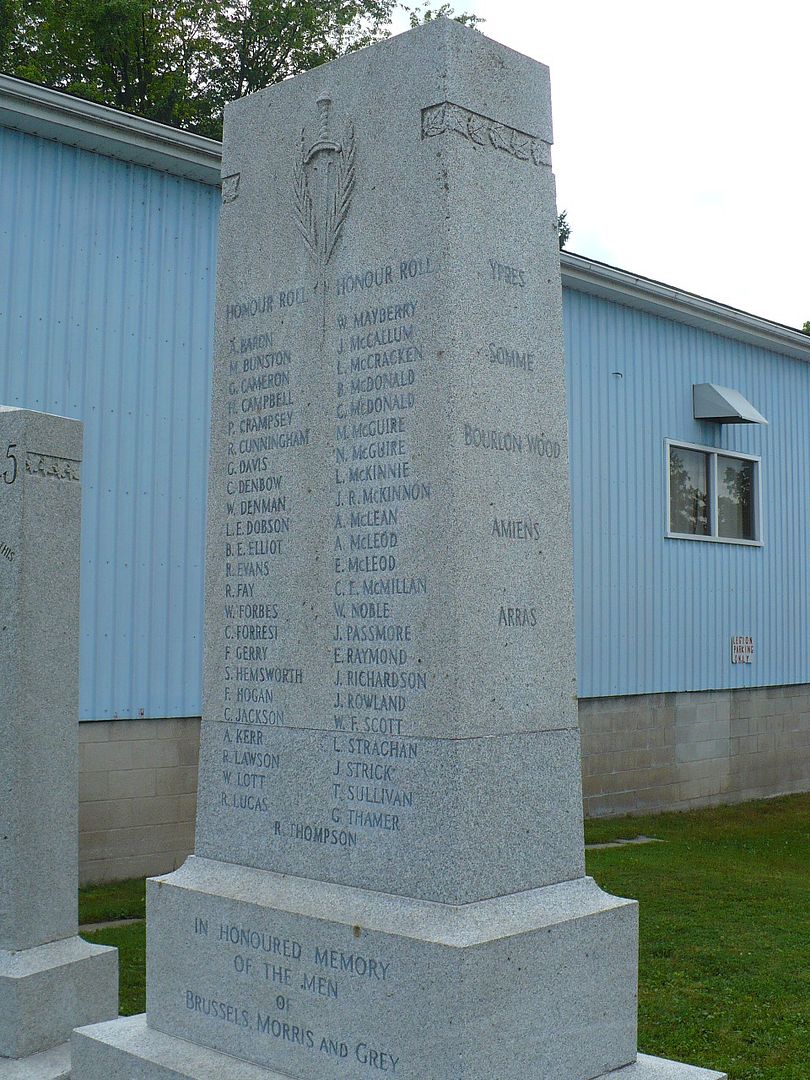 Centre Right:
MONS
ST. ELOI
PASSCHENDAELE
VIMY RIDGE
CAMBRAI
Right Shaft:
1939 - 1945
GREATER LOVE HATH NO MAN THAN THIS
PETER BAKER
RUSSELL BARNARD
MONTY BROTHERS
FRED BURCHELL
LYLE EVANS
KING HASTINGS
LLOYD HOOD
HAROLD HUETHER
WILLIS MACHAN
ROSS MACHAN
ARTHUR McLEAN
IN LOVING MEMORY OF
THE MEN OF
BRUSSELS, MORRIS AND GREY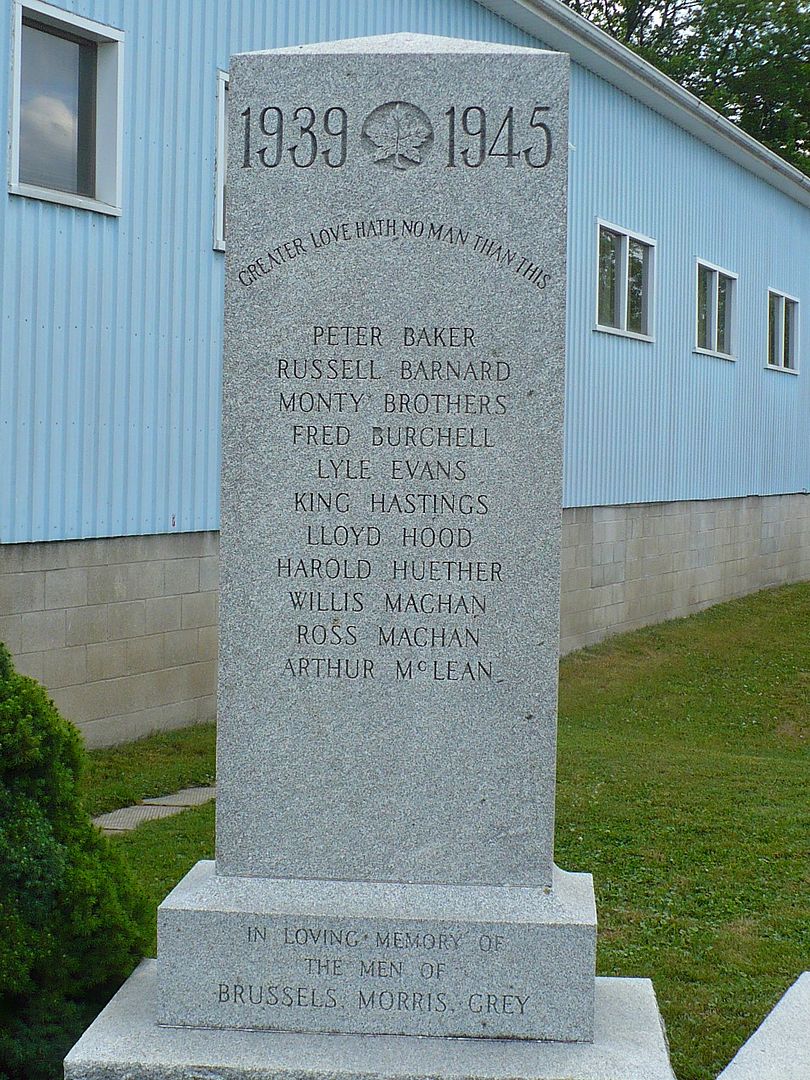 Left Shaft:
1939 - 1945
GREATER LOVE HATH NO MAN THAN THIS
ALLAN McKAY
GORDON NICHOL
JOSEPH NICHOLSON
ROY PIERCE
ROBERT PREST
LEWIS RUSSELL
JACK SPEIR
ROSS WHITTARD
RUSSELL WILSON
CHESTER WINTLE
ARCHIE YOUNG
IN LOVING MEMORY OF
THE MEN OF
BRUSSELS, MORRIS AND GREY