Location: Peterborough County N 44 09.009 W 078 26.919
On the south side of King Street, in front of the Nextcom Building, across the road from the Post Office.
A beautiful statue on top of a black granite shaft, this memorial rests in one my favourite small town locations. A visit to Millbrook's downtown area is like a step back in time, with wonderful small town charm. The memorial was erected soon after the Great War, by the municipalities of Millbrook and Cavan. Later the Second World War and Korea were acknowledged.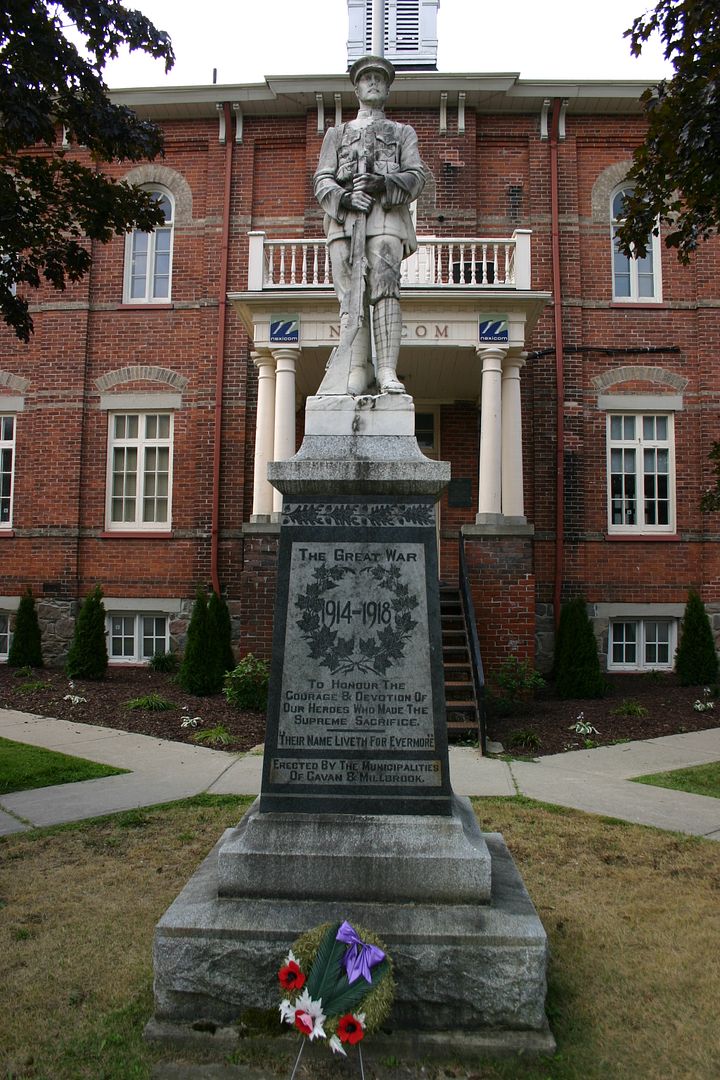 Marker text:
Front:
THE GREAT WAR
1914-1918
TO HONOUR THE
COURAGE & DEVOTION OF
OUR HEROES WHO MADE THE
SUPREME SACRIFICE
"THEIR NAME LIVETH FOR EVERMORE"
ERECTED BY THE MUNICIPALITIES
OF CAVAN AND MILLBROOK
Left:
CAVAN
C. BENNETT
A. BALL
T. DEE
W.B. ELLIOTT
N.M. FAIR
B. FISHER
W. GRIST
E. GUEST
A. HAWKINS
E.R. HODGES
A. HANN
J. HARDY
G. JENDIN
A. JARDINE
D. JAMES
G.F. McKNIGHT
F.A. NEWTON
J.A. SISSON
A.E. SHAW
T. WHALLEY
1939-1945
J. PARK
C. TURNER
M. McBAIN
K. HARKER
M. PERRIN
C. VEALS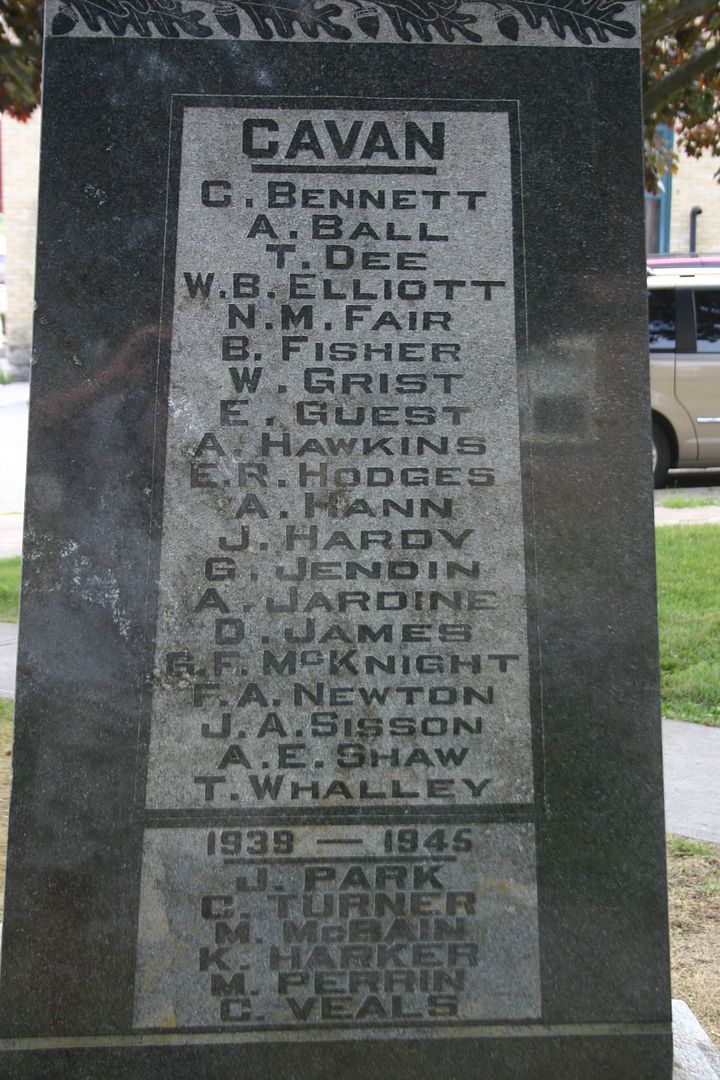 Back:
KOREA
R.L. GARDINER
Right:
MILLBROOK
T.W. ALLEN
H.E. BENNEWITH
W.L. CARVETH
R.J. COCHRANE
J.C. CAMPBELL
R.J. HUFFMAN
E.J. HOGAN
T.G. McCORRY
J.R. McBRIDE
W.H. ORR
J.P. SLOAN
1939-1945
A.T. ARMSTRONG
J.S. ARUNDEL
W.D. KERR
W.H. HOWSON
J.H. WHITTINGTON
E.O. MITCHELL