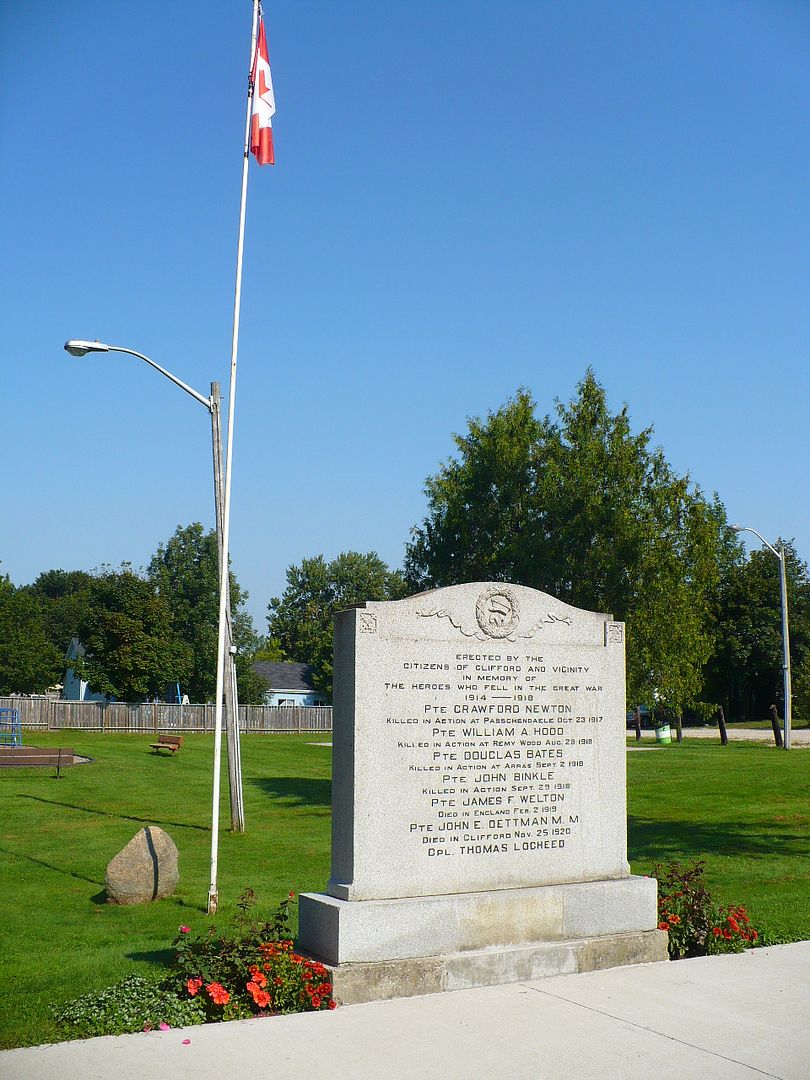 Location: Wellington County N 43 58.127 W 080 58.762
West of the main intersection of Allan Street and Veterans Way, in Memorial Park.
This memorial was erected by the citizens of the village of Clifford and Howick Township, to pay tribute to the seven local men who were lost in the Great War. After the Second World War, two more names were added of those lost in that war.
This area is now known as the Town of Minto, following the 1999 amalgamation with Palmerston and Harriston, although each village maintains its own historic roots and memorials.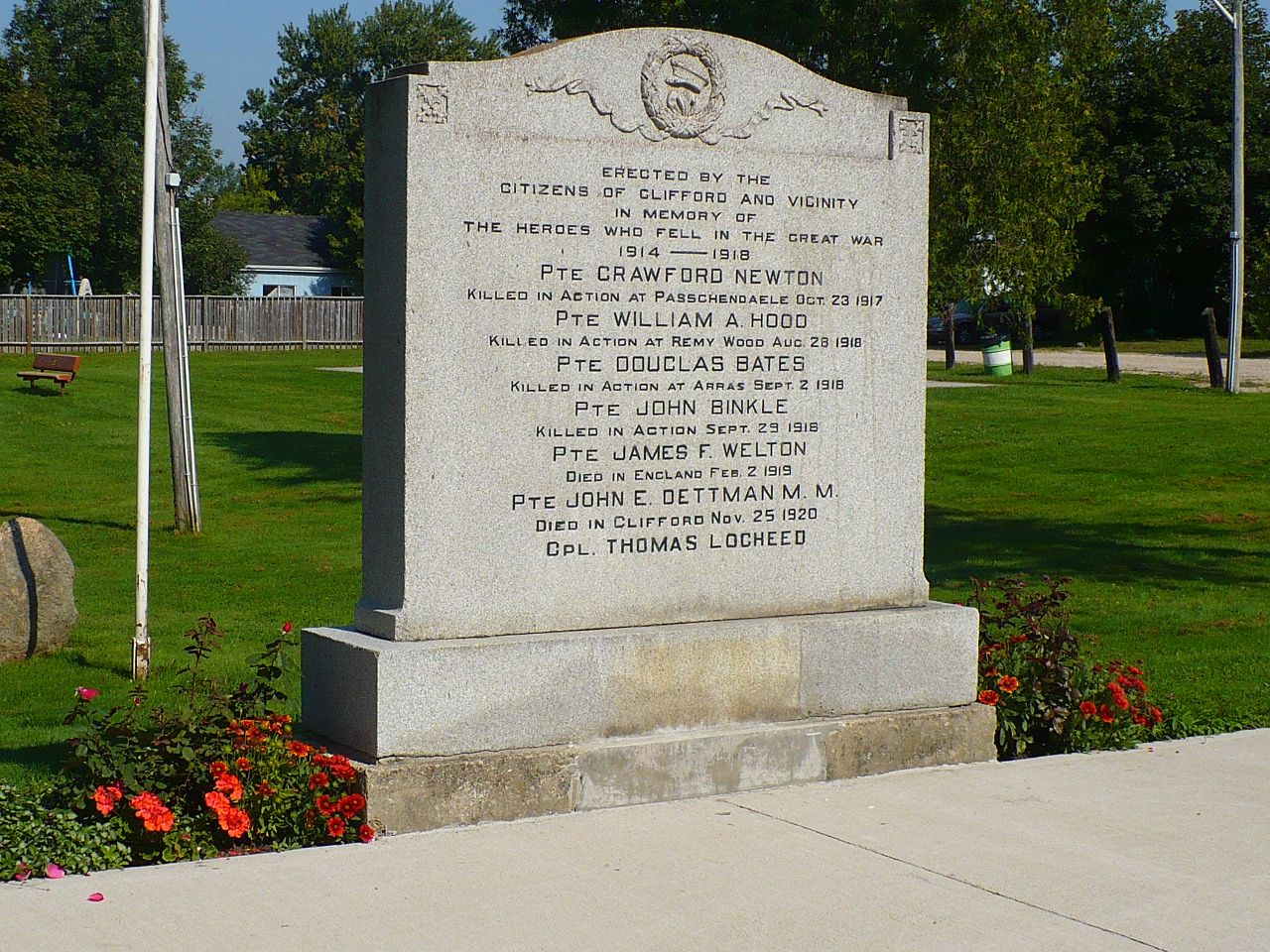 Marker text:
Front:
ERECTED BY THE
CITIZENS OF CLIFFORD AND VICINITY
IN MEMORY OF
THE HEROES WHO FELL IN THE GREAT WAR
1914-1918
PTE CRAWFORD NEWTON
KILLED IN ACTION AT PASSCHENDAELE OCT. 23 1917
PTE WILLIAM A. HOOD
KILLED IN ACTION AT REMY WOOD AUG. 28 1918
PTE DOUGLAS BATES
KILLED IN ACTION AT ARRAS SEPT. 2 1918
PTE JOHN BINKLE
KILLED IN ACTION SEPT. 29 1918
PTE JAMES F. WELTON
DIED IN ENGLAND FEB. 2 1919
PTE JOHN E. DETTMAN M.M.
DIED IN CLIFFORD NOV. 25, 1920
CPL THOMAS LOCHEED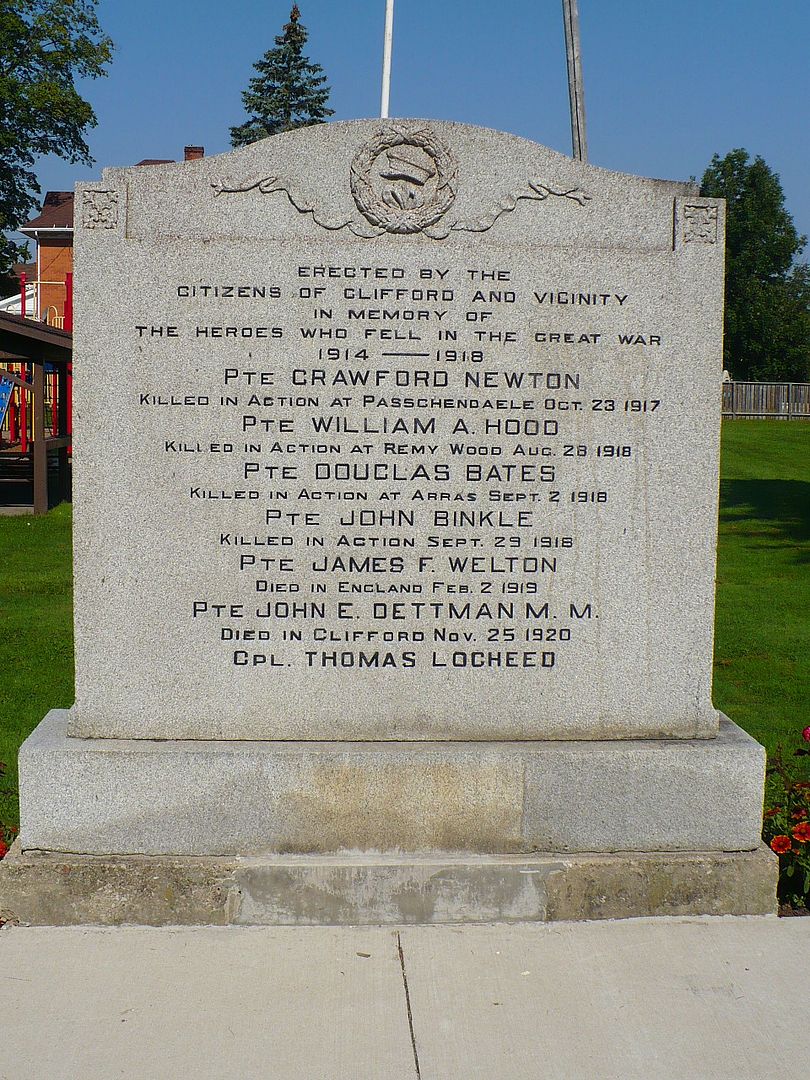 Rear:
WORLD WAR II
PTE IRVIN C. WILSON
1944
P.O. CLIFFORD A. HARDING
1943