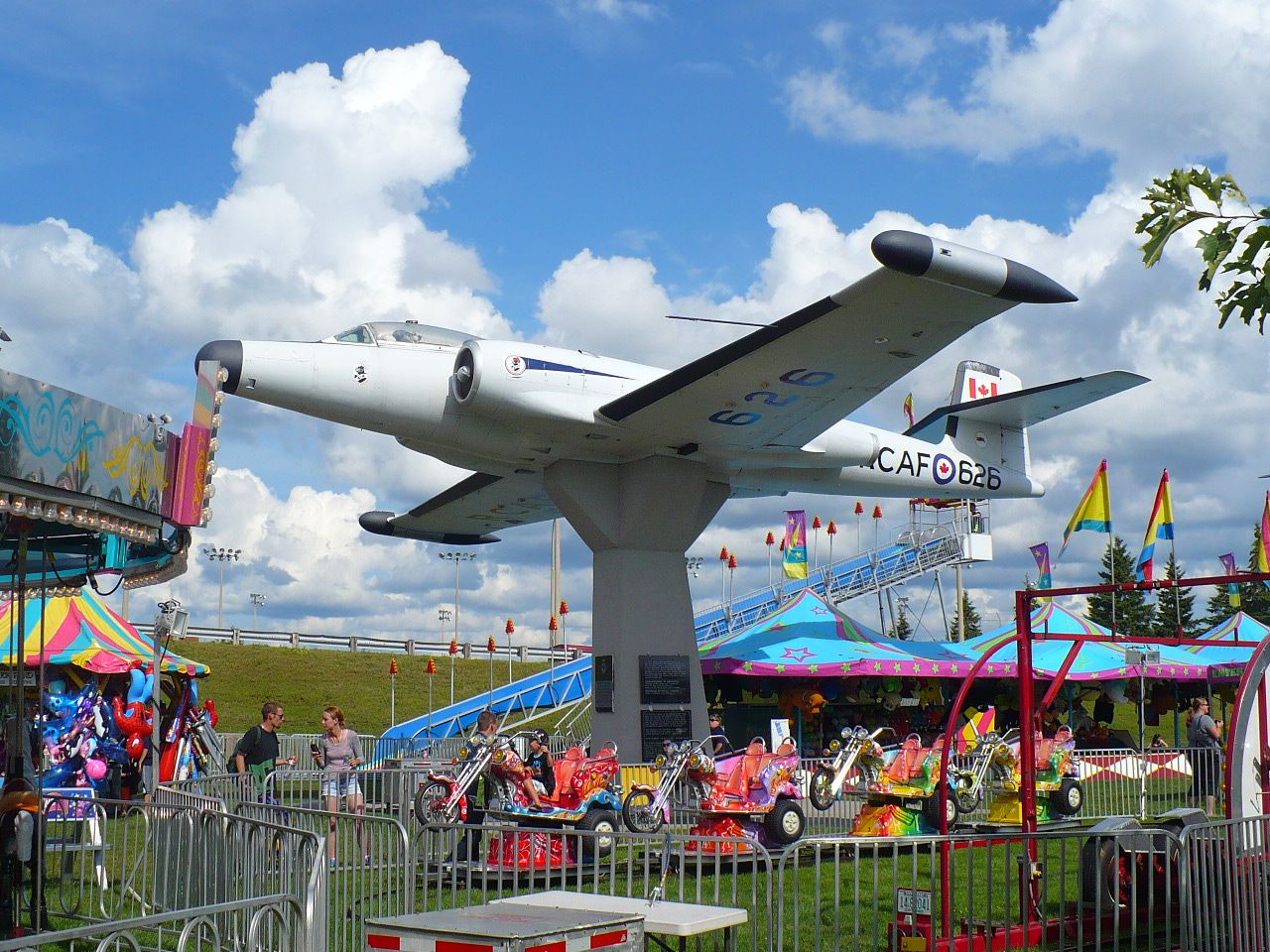 Location: City of North Bay N 46° 17.864 W 079° 27.403
On stone pedestal in Veterans Park, between Memorial Drive and Main Street.
North Bay is known as the Gateway to the North, and home to CFB North Bay. The memorial is a CF-100 Canuck mounted on a concrete pedestal. Plaques mounted on the concrete tell the story of the aircraft and give thanks to the men and women of 414 Squadron, 406 Wing, Royal Canadian Air Force and to the citizens of North Bay for their support. It was erected by 406 Wing, Royal Canadian Air Force Association in 1971.
The CF-100 "Canuck" was the last Canadian designed and built fighter flown by the Royal Canadian Air Force. It first entered service in 1950 and the last retired from service in 1981, having been used in reconnaissance, training, and electronic warfare roles. The unit insignia on this aircraft is that of 414 'Black Knight' Squadron, which was based at CFB North Bay from 1957 to 1964 and again from 1972 to 1992. During the Squadron's first stay in North Bay, it flew CF-100s.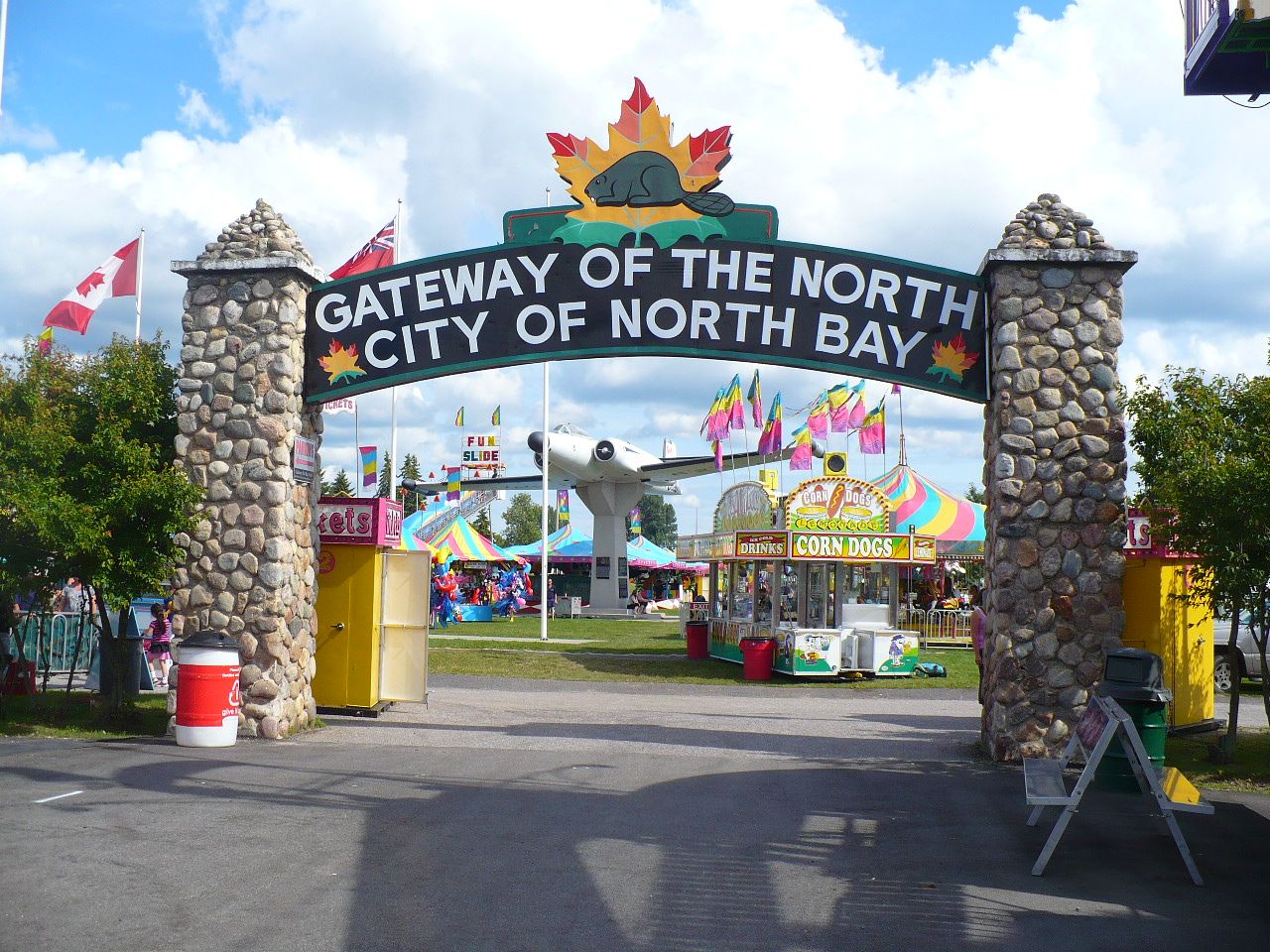 Marker text:
Front:
ERECTED BY 406 WING,
ROYAL CANADIAN AIR
FORCE ASSOCIATION AND
DEDICATED TO THE MEMORY
OF THEIR CONRADES WHO
GAVE THEIR LIVES IN THE
SERVICE OF THEIR COUNTRY
SEPTEMBER 19TH, 1971
Left Side:
THE CF100 "CANUCK" WAS CONCEIVED TO MEET THE
DEMANDING REQUIREMENTS OF DEFENDING A COUNTRY AS
VAST AS CANADA. IT WAS A TWO PLACE, ALL WEATHER HIGH
ALTITUDE LONG RANGE INTERCEPTOR BUILT IN CANADA.
IT FIRST FLEW ON 19 JAN. 1950 AND THE FIRST WERE
DELIVERED TO THE RCAF OPERATIONAL TRAINING UNIT NORTH
BAY IN JULY 1952. THERE WERE 9 SQDNS BASED IN CANADA,
4 BASED IN EURPOPE AND 3 BASED IN BELGIUM. A TOTAL OF
692 CF100s WERE BUILT.
(other plaque of no consequence)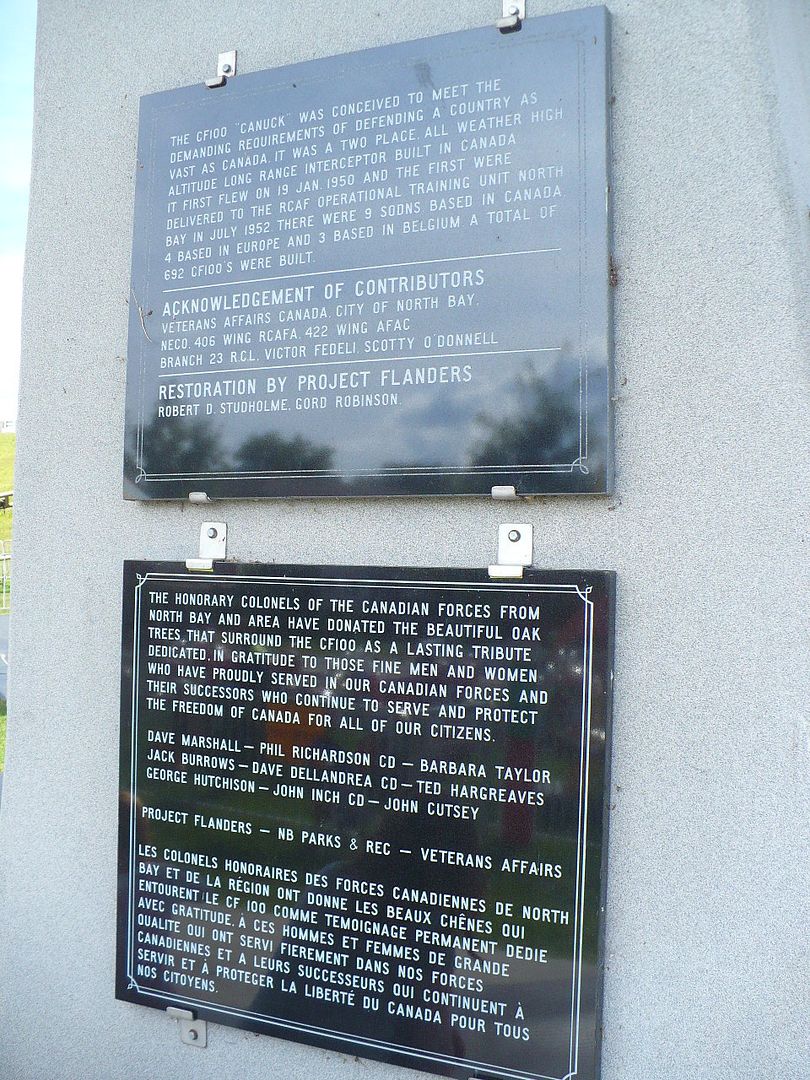 Rear:
414 (E W) SQUADRON
DEDICATED TO THE MEN AND WOMEN WHO HAVE
SERVED WITH 414 SQUADRON OVER THE PAST
50 YEARS, AND TO THE CITIZENS OF NORTH BAY
FOR THEIR UNENDING SUPPORT.
DEDIEE A TOUS LES HOMMES ET LES FEMMES QUI
ONT SERVI L'ESCADRILLE 414, DEPUIS LES 50
DERNIERES ANNEES, ET A TOUS LES CITOYENS
DE NORTH BAY POUR LEUR APPUI CONSTANT.
1941 1991