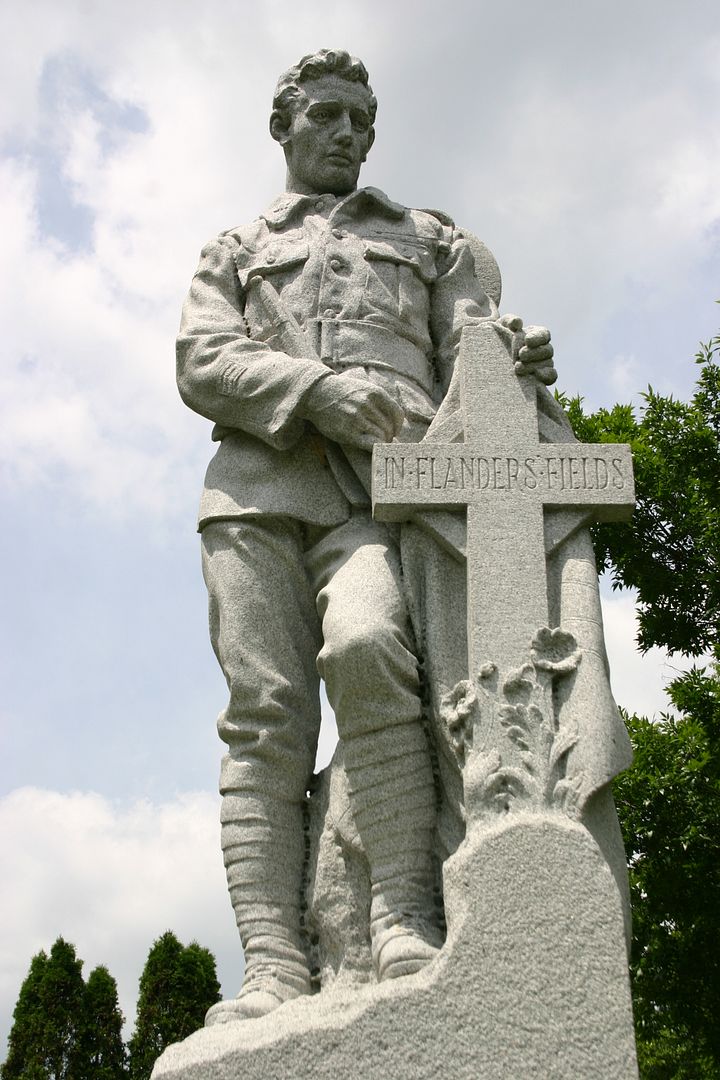 Location: Peel Region
N 43 52.964 W 079 44.596
On the east side of Centennial Drive, at the entrance to the cemetery.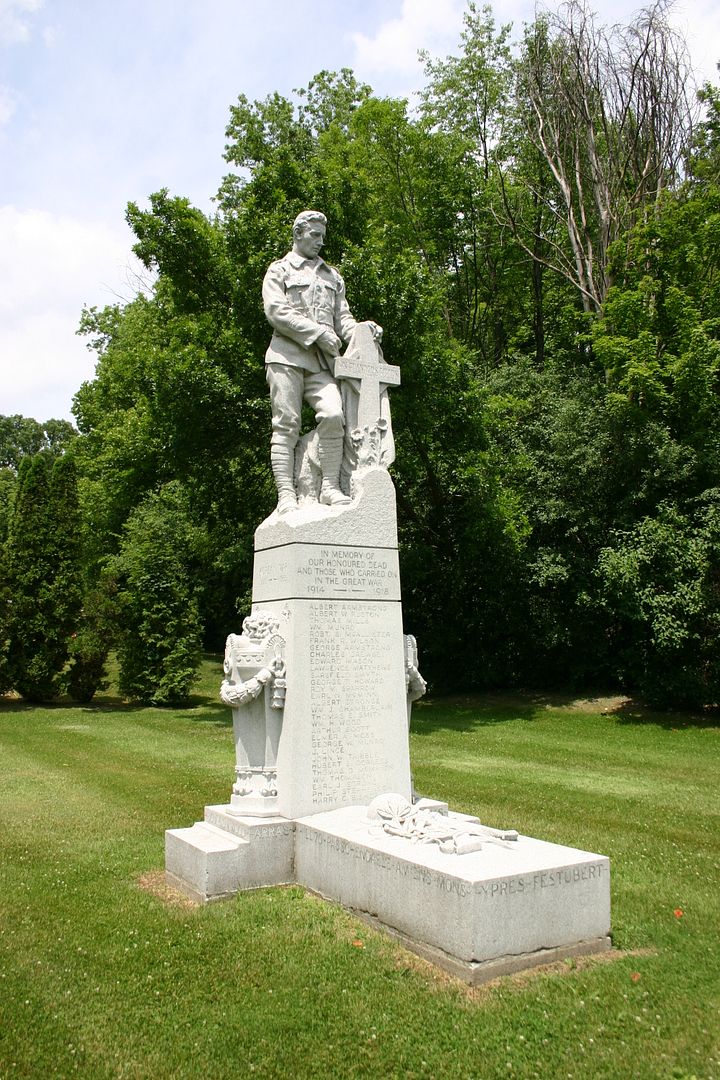 This beautiful monument to fallen heroes was first unveiled in a large ceremony on October 21, 1921. At the time this was the largest and most important event ever held in the region. Family members, political dignitaries, school children and thankful citizens all came out to honour those who paid the supreme sacrifice for freedom, all leaving flowers or wreaths as their thanks.
Originally, the cenotaph was located just inside the entrance to Laurel Hill Cemetery, but was moved to its present location in 1969, on the east side of Centennial Drive, near the cemetery entrance.
The memorial is beautifully carved from Canadian granite, adorned with several decorations and topped by a solemn soldier resting on a Flanders Cross. The names of those lost in the First World War are engraved in the stone, while a brass plaque was added after the Second World War to include those from the later conflict. The names are arranged by the date of death and no rank is included, as all men are equal in the end. The Korean War is also recognized, although no names from this war are included. The names of several battles from the Great War are also engraved around the base of the memorial, unfortunately I have failed to capture these in my photographs, so at this time I cannot publish these unforgetful battles.
At the time of my visit, the two flagpoles which flank the memorial were sadly without colours. I would hope this has been rectified by the powers that be, for in their trust was left the responsibility to care for the cenotaph and perpetuate the memory of the brave men who gave their lives for their country. Lest We Forget.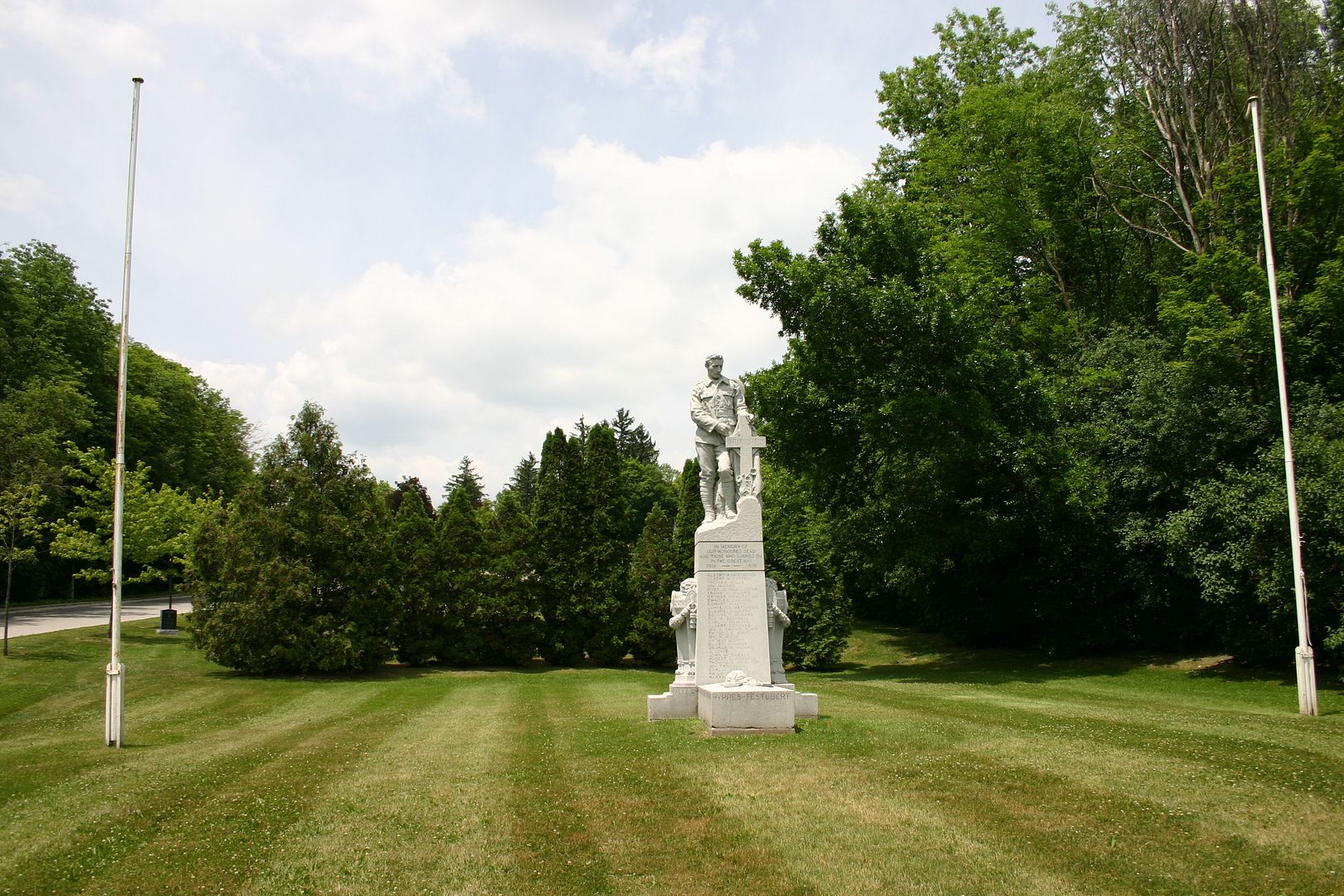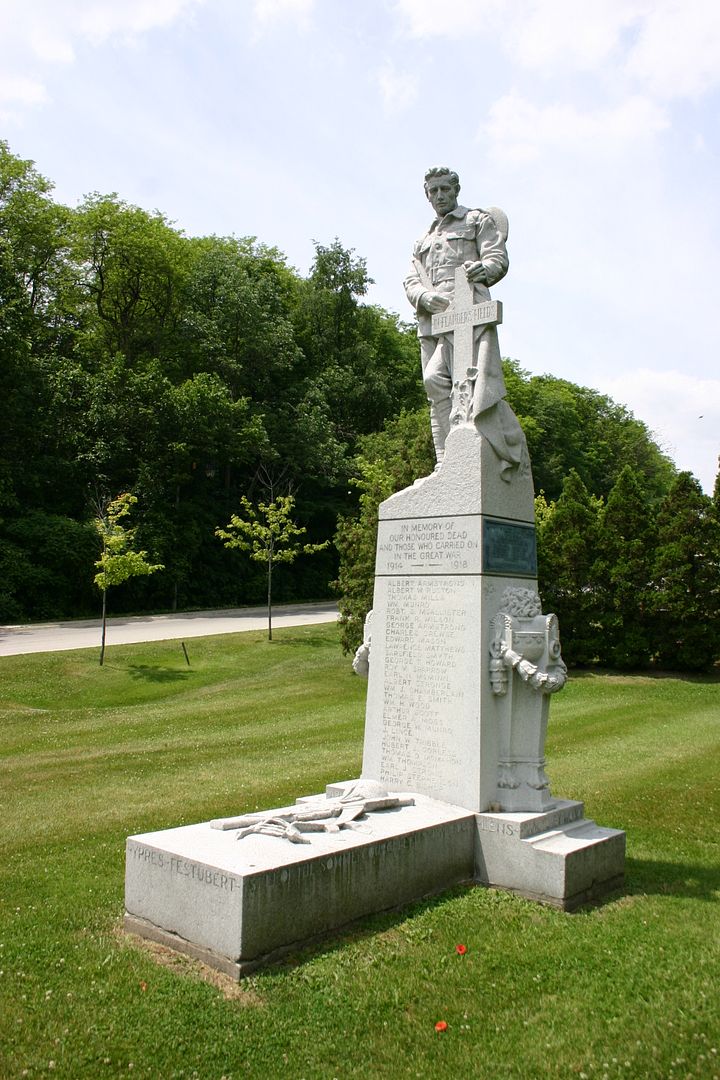 Marker text:
Front:
IN MEMORY OF
OUR HONOURED DEAD
AND THOSE WHO CARRIED ON
IN THE GREAT WAR
1914 - 1918
ALBERT ARMSTRONG
ALBERT W. RUSTON
WM. MUNRO
ROBT. S. McALLISTER
FRANK R. WILSON
GEORGE ARMSTRONG
CHARLES CREWSE
EDWARD MASON
LAWRENCE MATTHEWS
SARSFIELD SMYTH
GEORGE T. HOWARD
ROY M. SPARROW
EARL N. McMINN
ALBERT STRONGE
WM. J. CHAMBERLAIN
THOMAS E. SMITH
WM. H. WOOD
ARTHUR SCOTT
ELMER A. MOSS
GEORGE W. MUNRO
J. LINCE
JOHN W. TRIBBLE
HUBERT S. CORLESS
THOMAS D. McMAHON
WM. THOMPSON
EARL J. STRONG
PHILIP STEPHENSON
HARRY C. BISHOP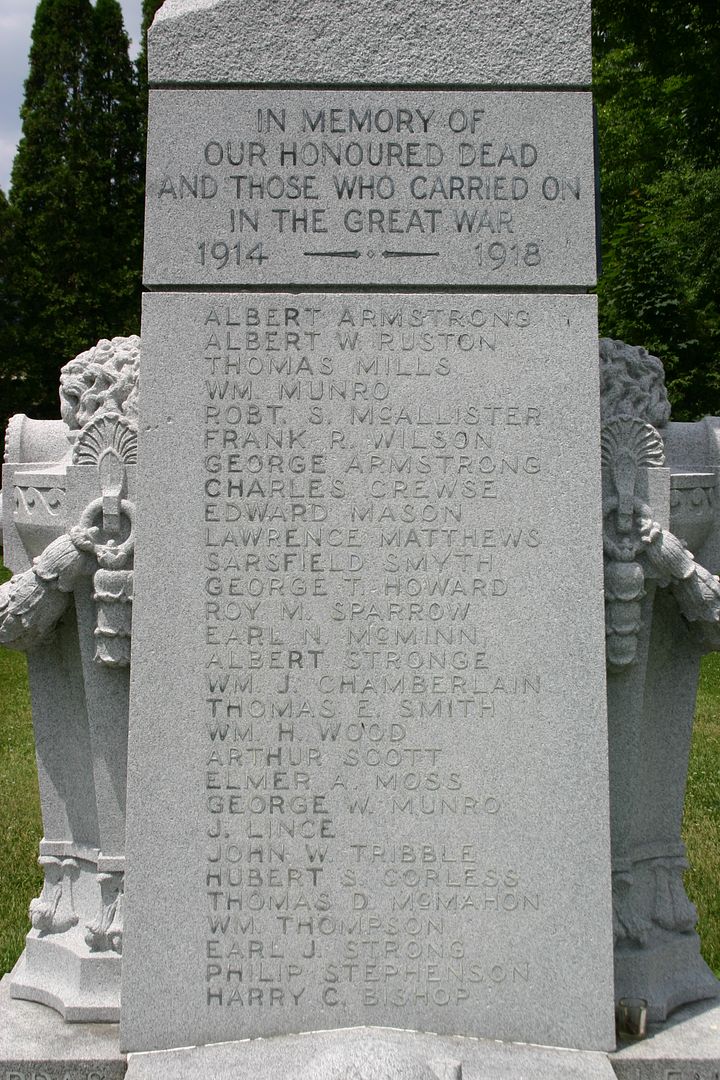 Rear:
IN MEMORY OF
OUR HONOURED DEAD
AND THOSE WHO CARRIED ON
IN THE GREAT WAR
1914 - 1918
GEORGE MILLS
ERNEST G. JACKSON
ALBERT WALKER
EDWARD E. ELLIOTT
JOHN A. McCALLUM
CUTHBERT PITCHFORD
CHARLES CLOW
WILBERT McCAFF
REY
RICHARD CLIFTON
HARRY HICKEY
MORLEY ATTWOOD
JOHN BASS
CHARLES HASKELL
WM. C. LITTLE
JOHN MORGAN
HERBERT MILLER
HILLIARD PERDUE
LEONARD SEARLE
EDWARD MORGAN
SYDNEY SHAW
J. WEBSTER
JOHN GROGAN
ARTHUR LONG
WILFRED BANKS
BASIL LEPPER
STANLEY A. WALKER
CHARLES H. WATSON
WALTER McBRIDE
WM. McNAIR
NEIL McKAY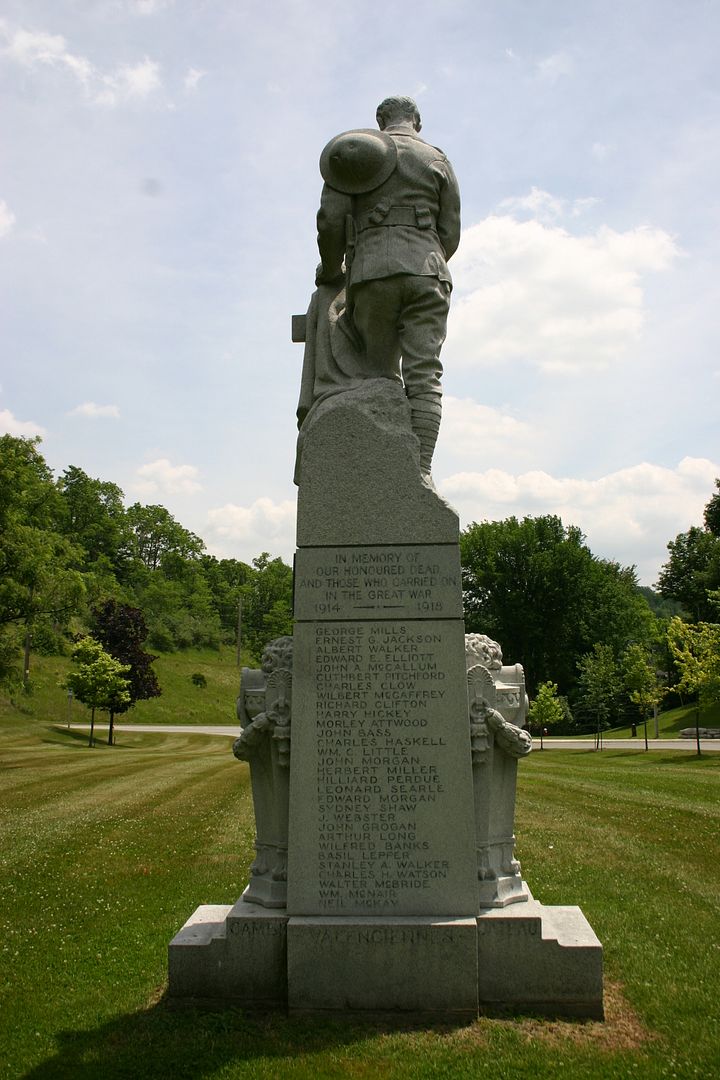 Right side plaque:
1939 - 1945
IN GRATEFUL MEMORY
OF THE MEN OF
BOLTON AND VICINITY
WHO GAVE THEIR LIVES IN WORLD WAR II
ARMSTRONG, JOHN
CONNELL, WILLIAM P.
CROCKER, ALBERT
CRONIN, T. MICHAEL
ELLWOOD, JAMES B.
ELLWOOD, WILLIAM R.
EDWARDS, A. GORDON
GROGAN, EDWARD
MOORE, W. ROBERT
SANFORD, NORMAN E.
WOOD, STANLEY A.
"GREATER LOVE HATH NO MAN THAN THIS THAT A
MAN LAY DOWN HIS LIFE FOR HIS FRIENDS."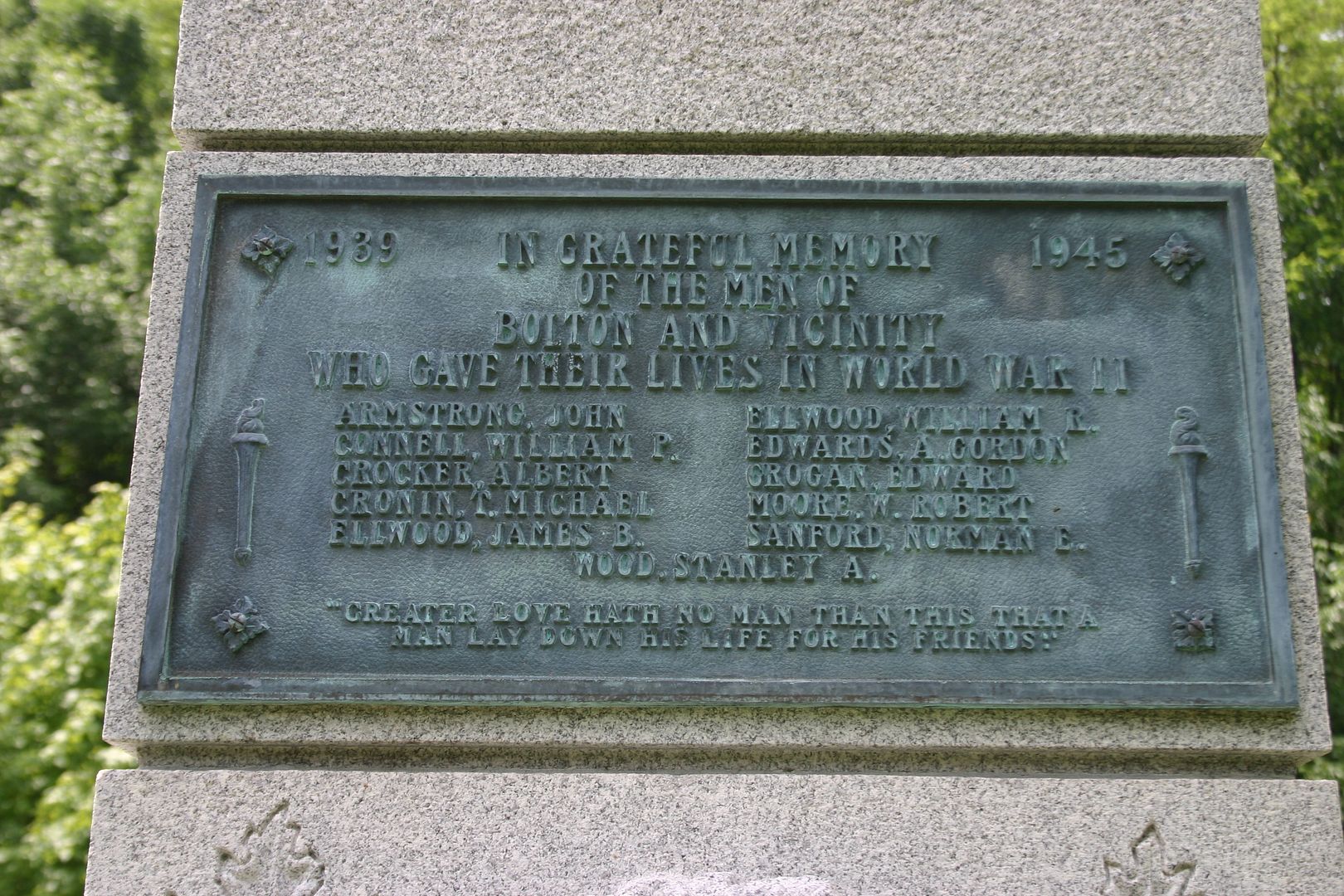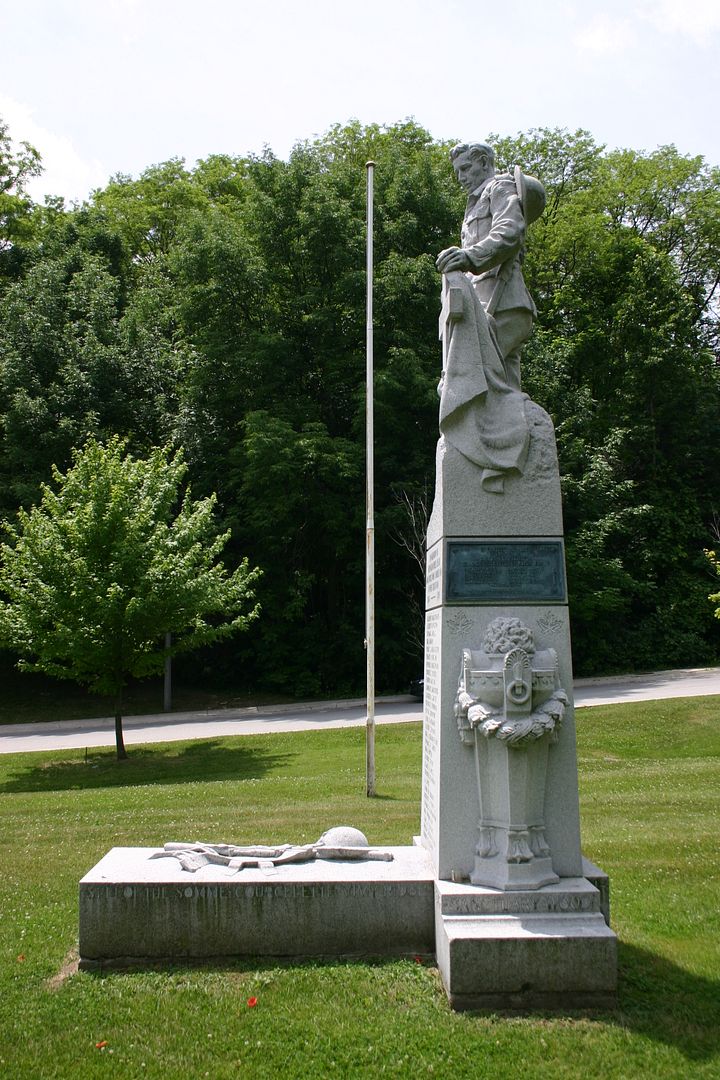 Left side:
KOREAN WAR
1950 - 1953