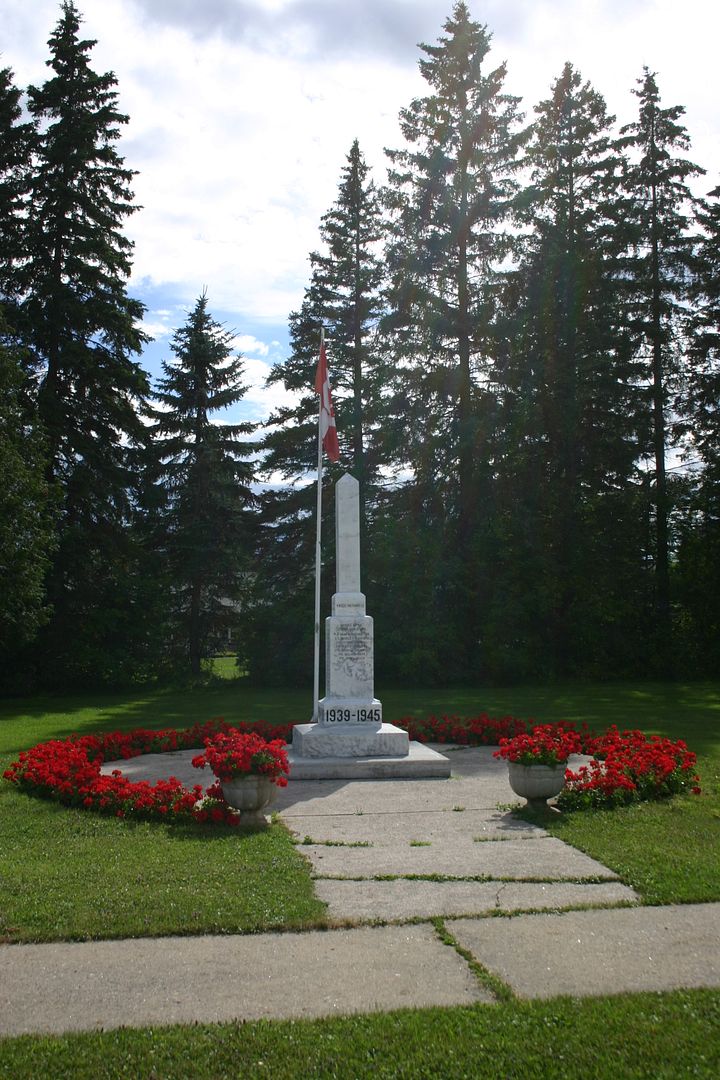 Location: Parry Sound District N 45 46.370 W 079 23.175
On the west side of Main Street, in a small park.
A beautifully kept and maintained cenotaph, looks like it may have been recently refurbished, with the engravings on the white marble highlighted with black paint. Set in a horseshoe shaped walkway with gardens around the outside, this is a striking memorial to the brave men of Joly and Strong Townships and the village of Sundridge, who served in the 162nd Overseas Battalion of the Great War, and the men who followed in their footsteps in the Second World War. The names of battles from the the First World War are also featured on the memorial.
Sundridge is on the west shore of Lake Bernard, the largest freshwater lake in the world with no island. Just a bit of trivia for those who enjoy knowing these things.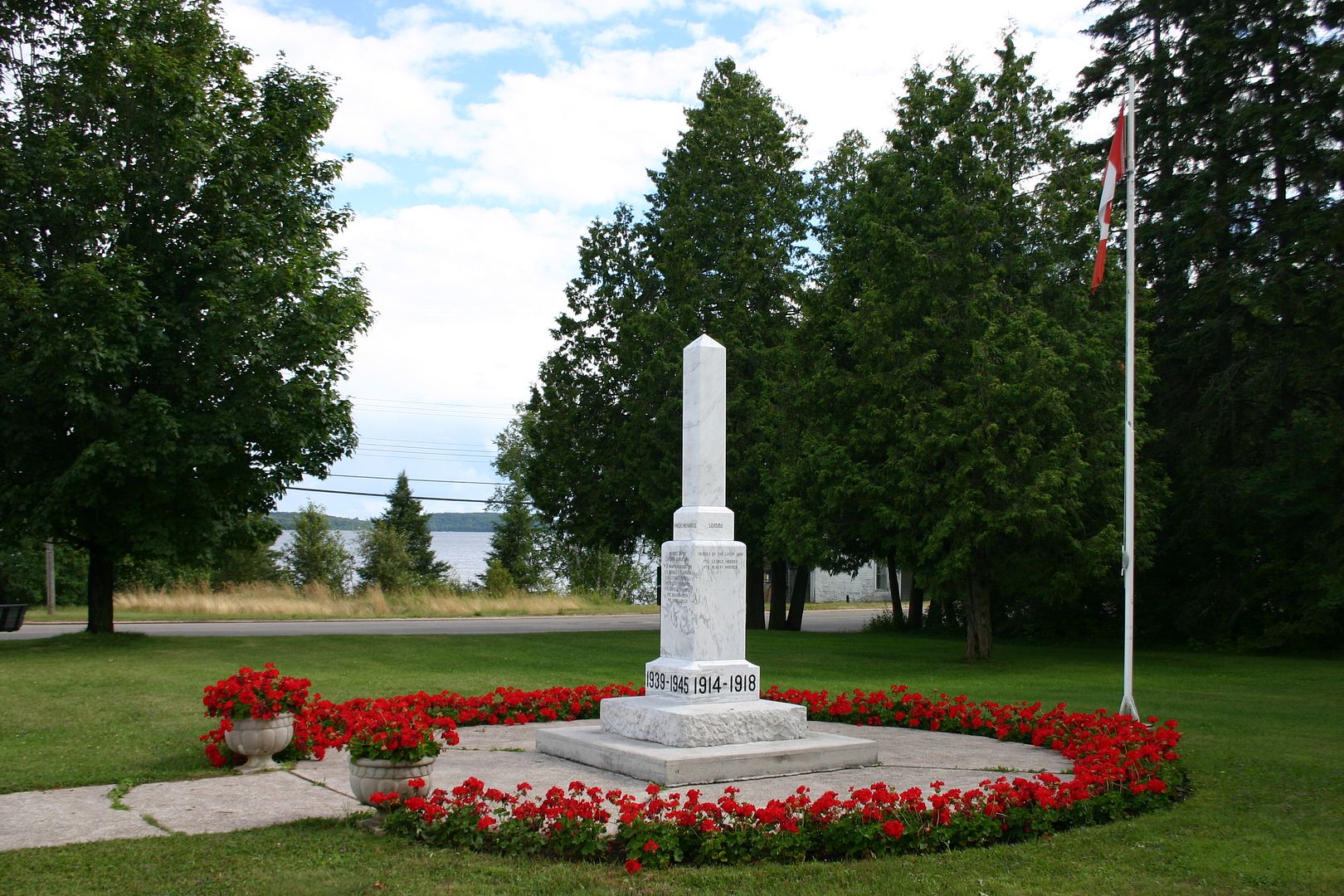 Marker text:
Front:
162
BATT.
ST. JULIEN
VIMY RIDGE
HEROES OF THE GREAT WAR
PTE. EARL DAKE
PTE. HENRY OSBORNE
SERGT. JA'S MINORGAN
PTE. J.E. HORNIBROOK
LEUT. N.J. HARKNESS
SERGT. W.D. STEWART
PTE. DAN ASTLEY
PTE. R. PINKERTON
PTE. A BOSSART
PTE. LEVI ROBBINS
PTE. A. CUTHBERTSON
PTE. HEZEKIAH TOWLE
CORP. CLAUDE DUKE
PTE. T.R. BURTCH
PTE. JOHN O. JAMES
PTE. C. BURNES
1914 - 1918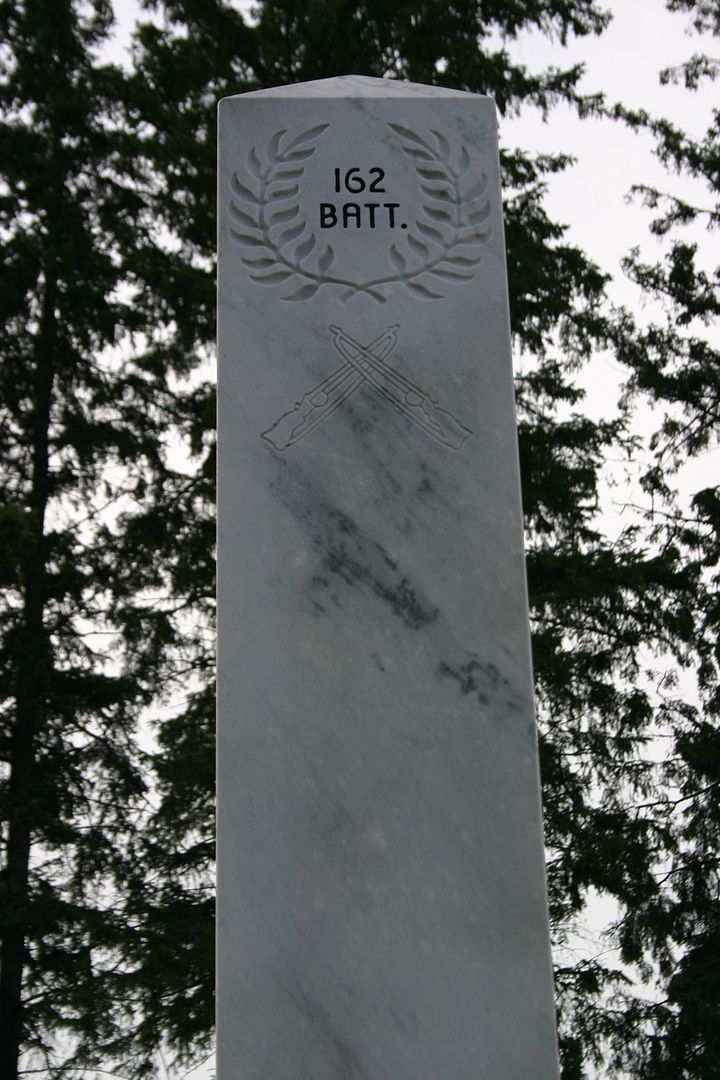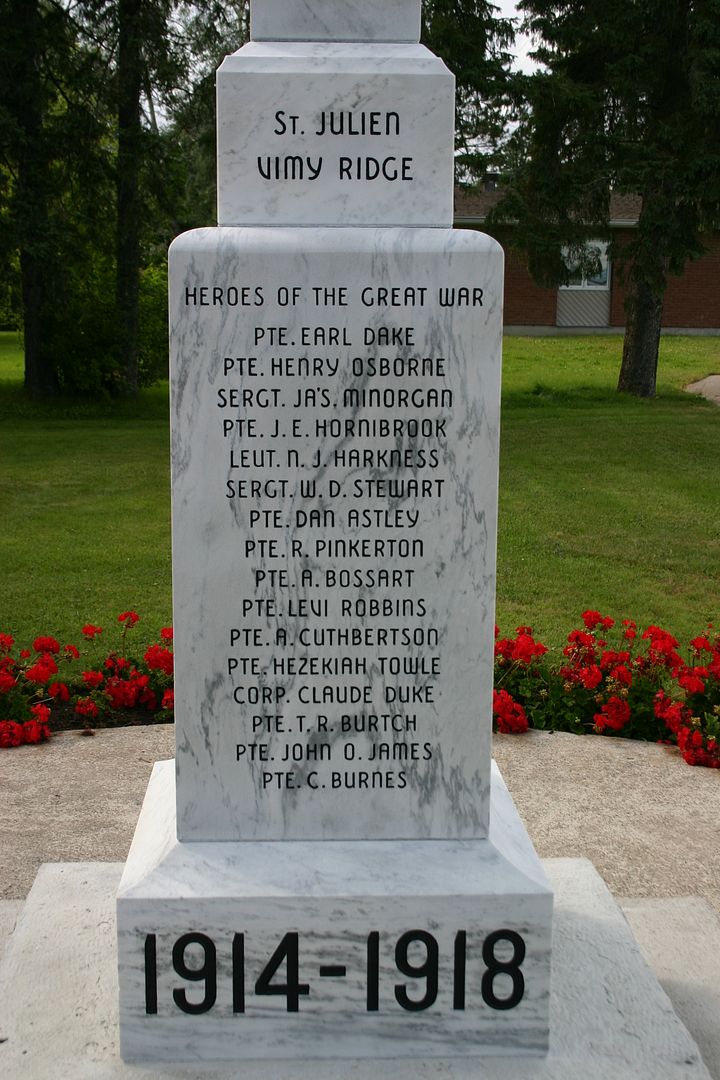 Left:
PASSCHENDAELE
HEROES OF THE
SECOND WORLD WAR
P.O. ALVA A. RHEUBOTTOM
F/S GEORGE I.H. DUNBAR
CPL. LENARD CALDWELL
PTE. VICTOR HUBACHEK
PTE. CHARLES SHEFFIELD
PTE. WILLIAM SMITH
PTE. JAMES WELCH
1939 - 1945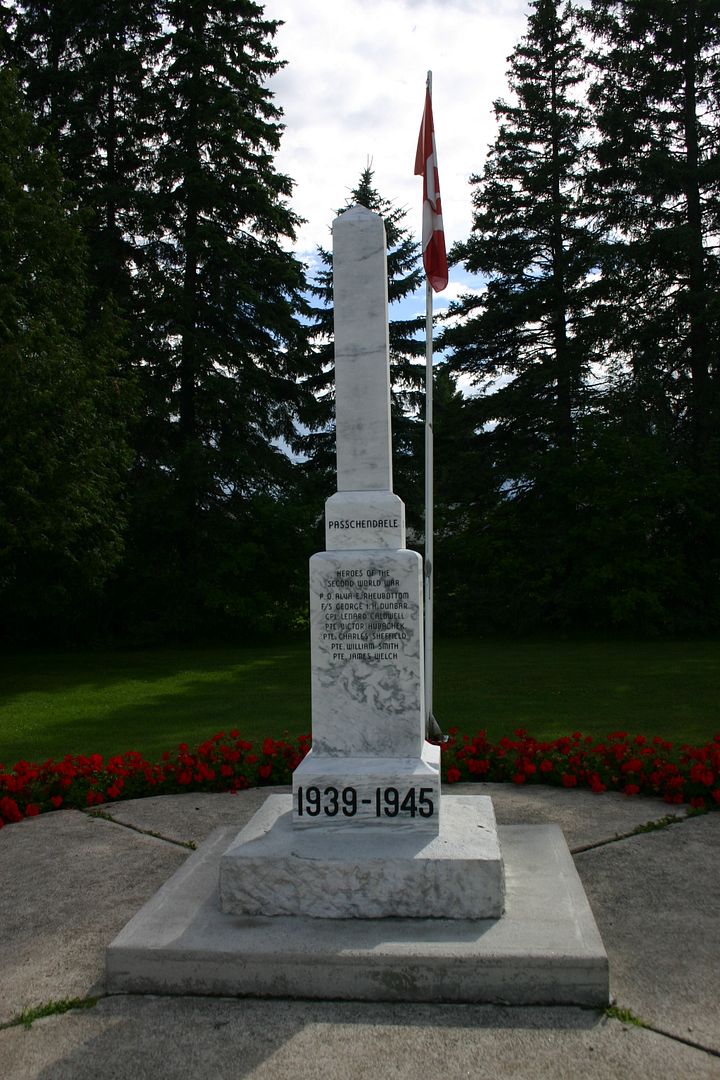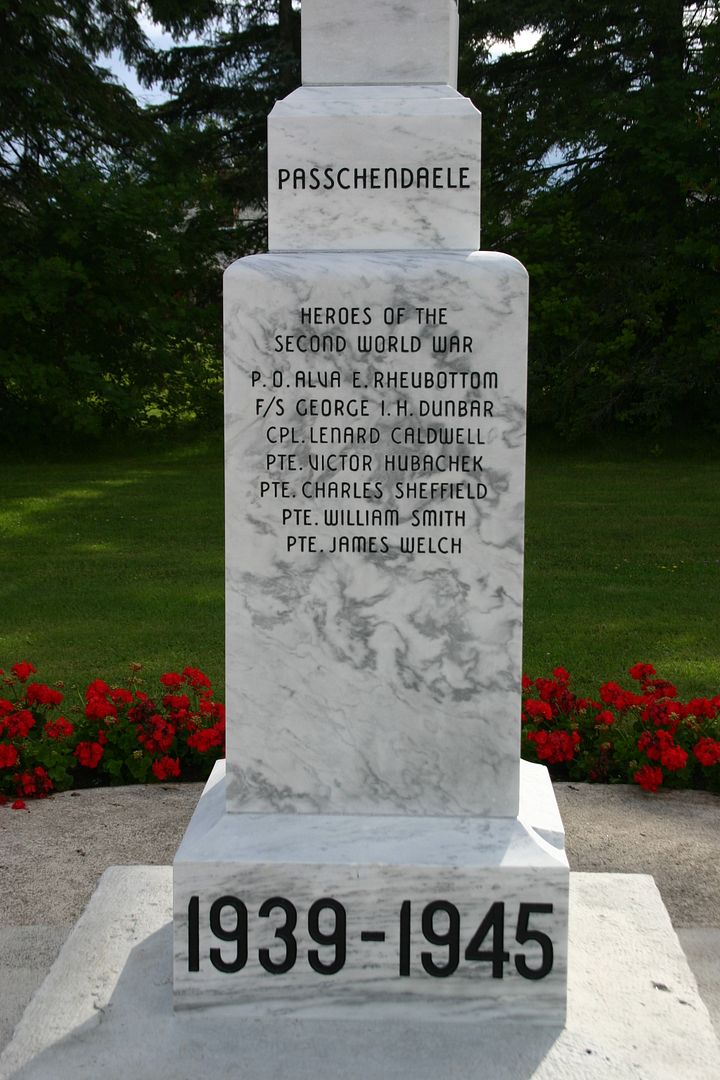 Rear:
SOMME
HEROES OF THE GREAT WAR
PTE. GEORGE HARMER
PTE. ALBERT HARMER
1914 - 1918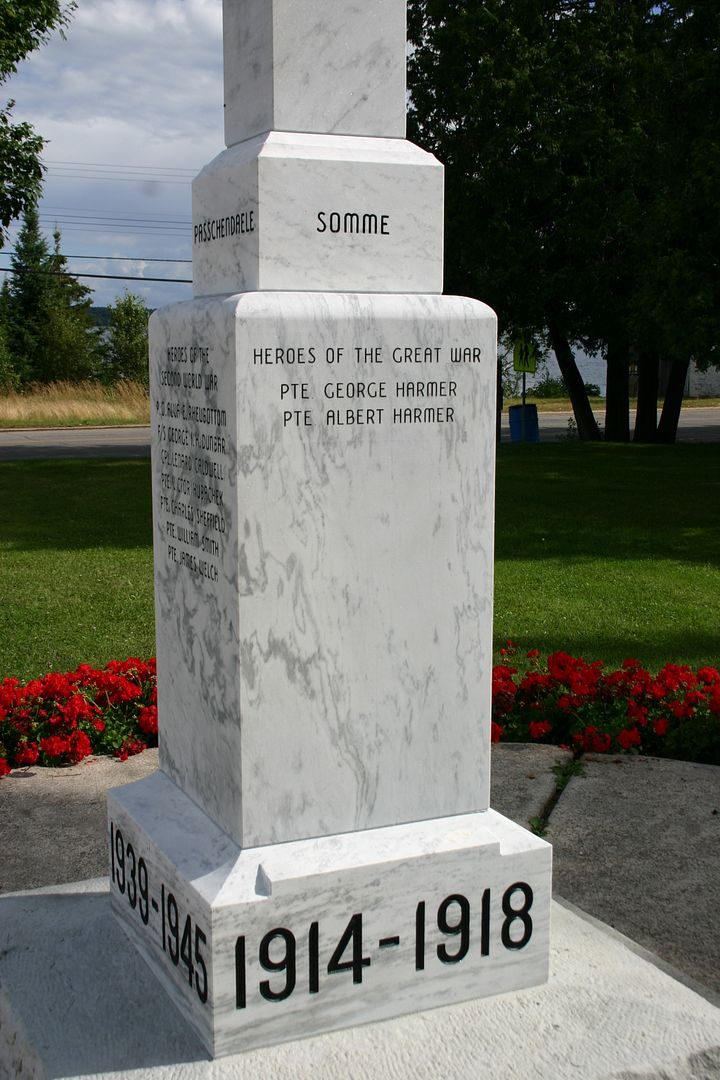 Right:
CAMBRAI
ERECTED BY THE
TOWNSHIPS OF
JOLY AND STRONG
AND THE VILLAGE
OF SUNDRIDGE