Location: Niagara Region N 42 57.841 W 079 15.377
At the top of the hill in H.H. Knoll Lakeside Park, 160 Sugarloaf Street.
This tall granite cenotaph was re-dedicated in 1952, by Major G. Smith Macdonald, and the Royal Canadian Legion Branch 56. Originally the memorial was erected as a monument to those killed in World War I, but at the 1952 ceremony a new brass plaque was unveiled to include the names of those lost subsequently in World War II. Since that time, further smaller plaques have been added to acknowledge the sacrifices of Korea and Afghanistan. On the front of the memorial is also a plaque to acknowledge that during the time of the World Wars, a portion of the present town was originally known as Humberstone. A beautiful and serene memorial that overlooks Port Colborne's largest park and Lake Erie waterfront.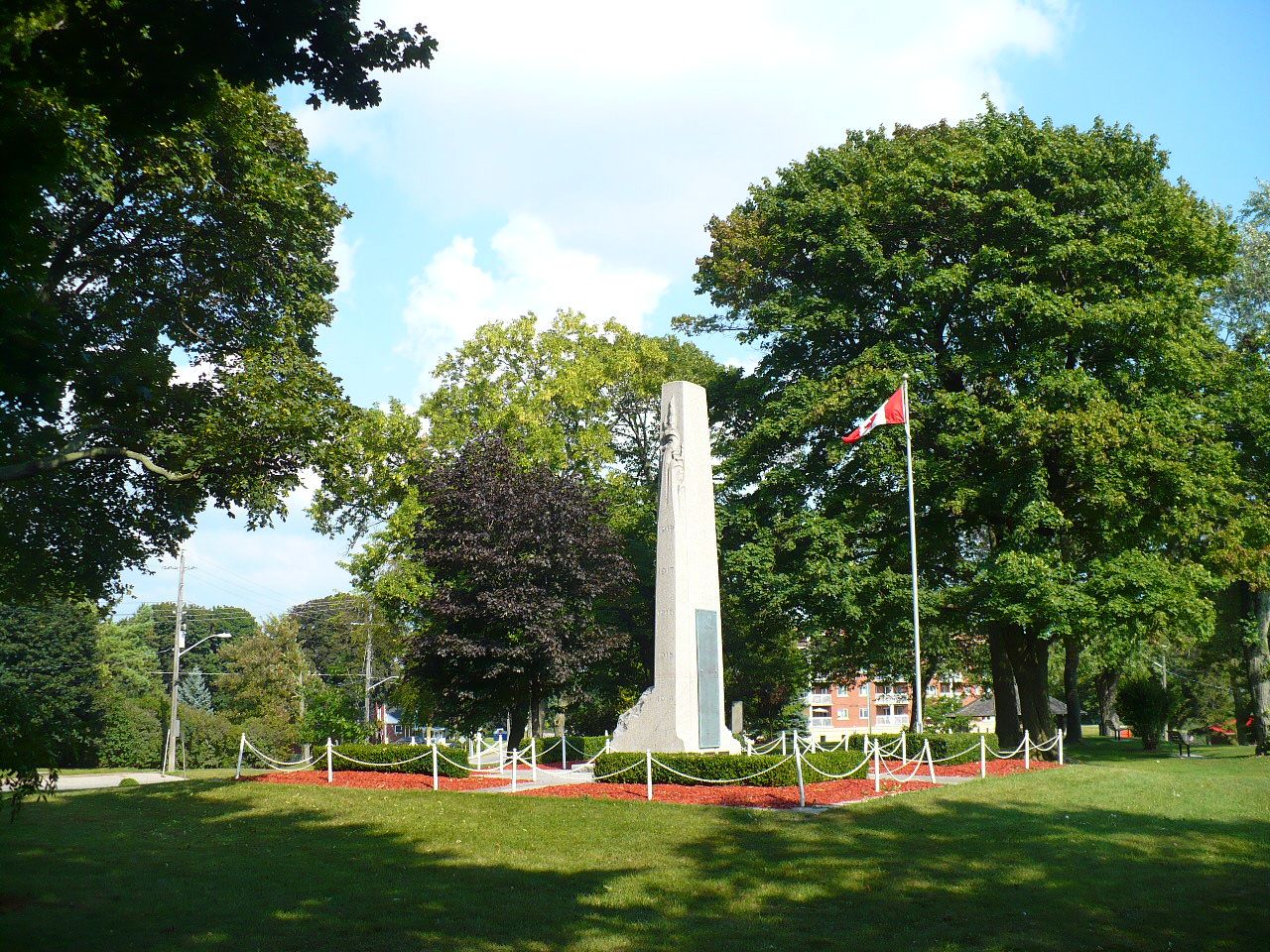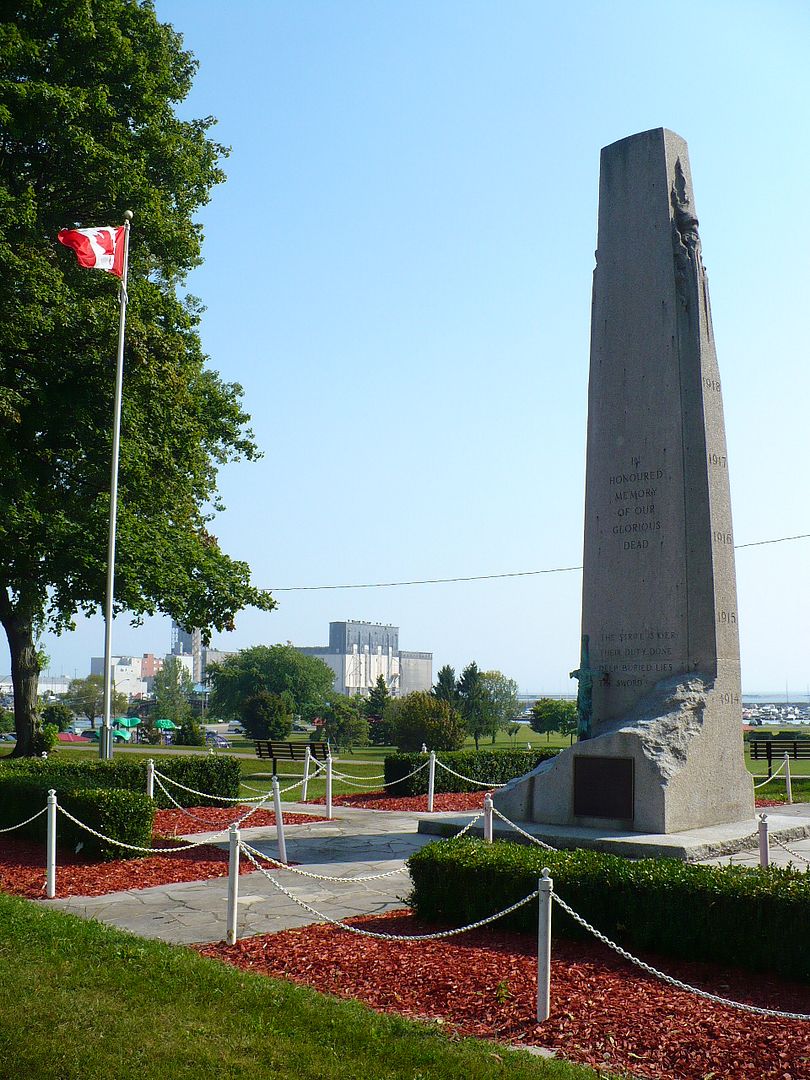 Marker text:
Front:
IN
HONOURED
MEMORY
OF OUR
GLORIOUS
DEAD
THE STRIFE IS O'ER
THEIR DUTY DONE
DEEP BURIED LIES
THE SWORD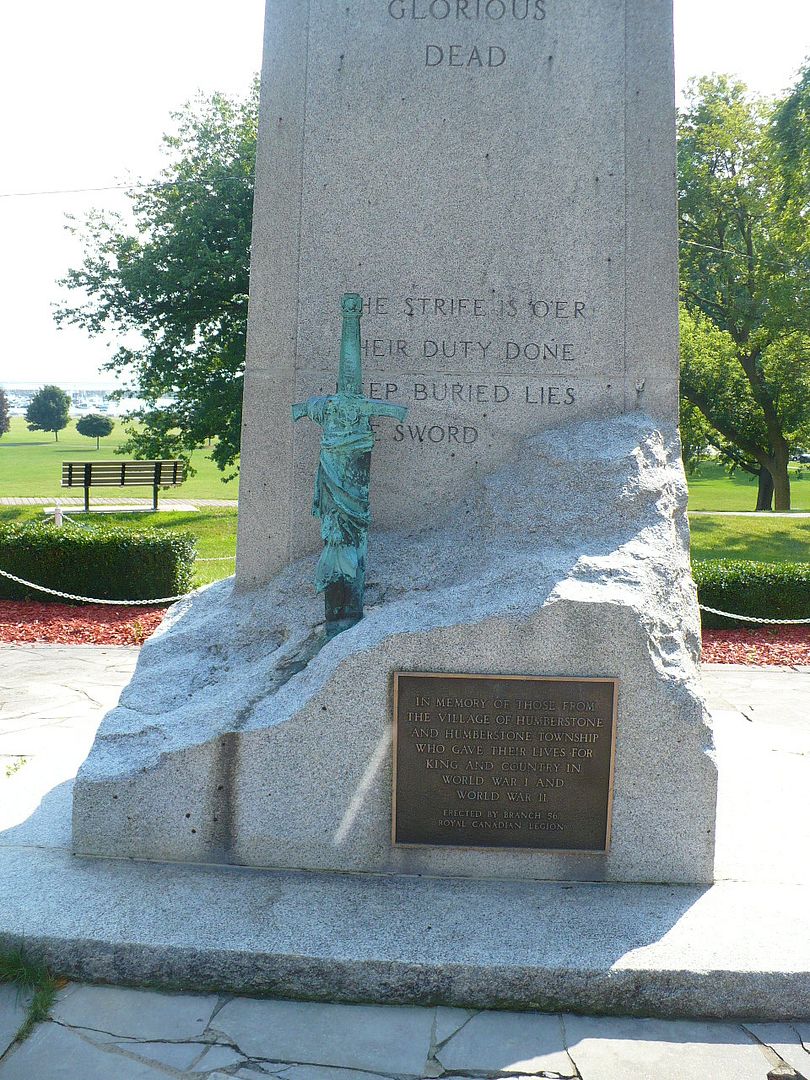 (plaque)
IN MEMORY OF THOSE FROM
THE VILLAGE OF HUMBERSTONE
AND HUMBERSTONE TOWNSHIP
WHO GAVE THEIR LIVES FOR
KING AND COUNTRY IN
WORLD WAR I AND
WORLD WAR II.
ERECTED BY BRANCH 56
ROYAL CANADIAN LEGION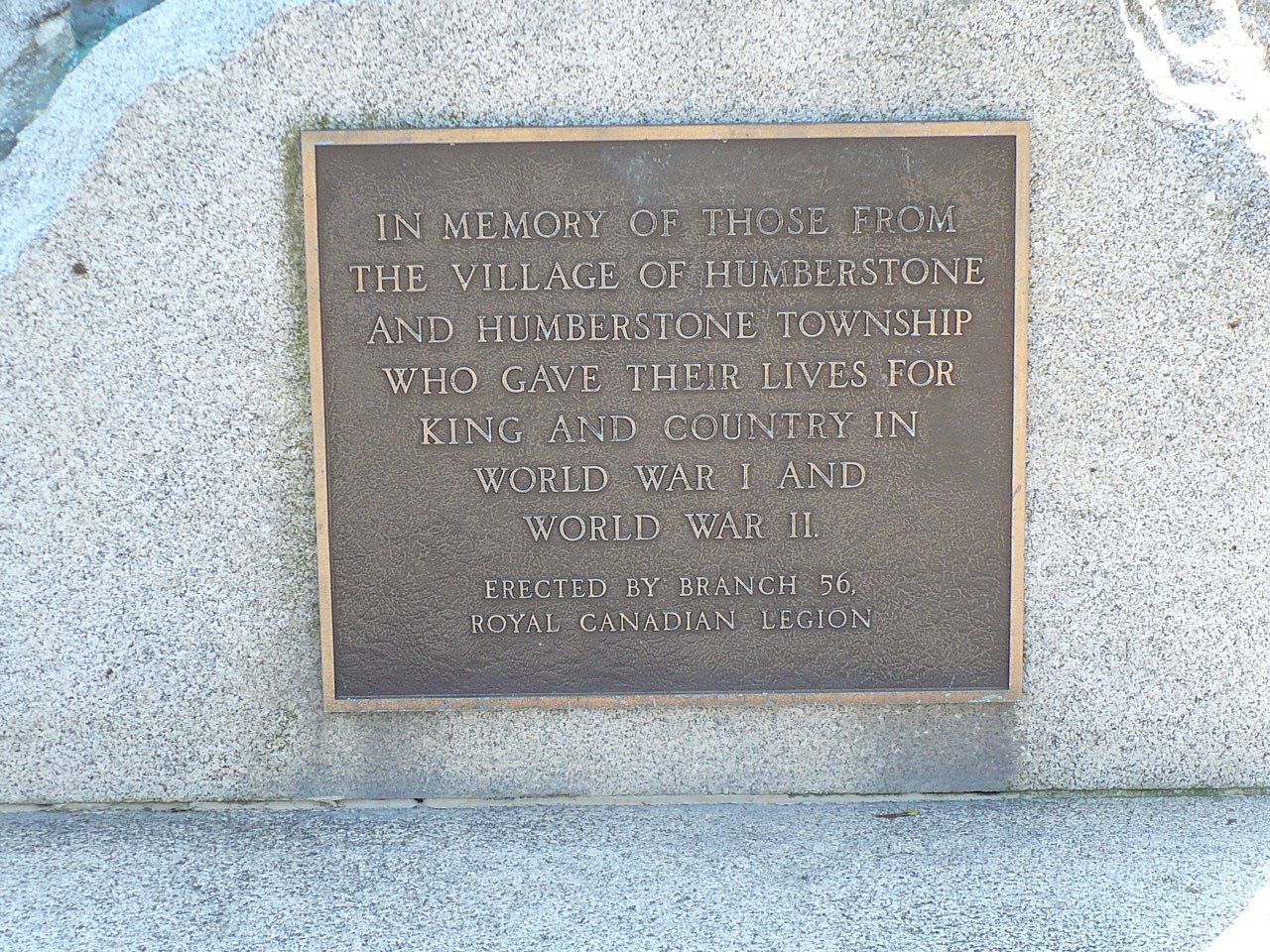 Left and Right sides:
1918
1917
1916
1915
1914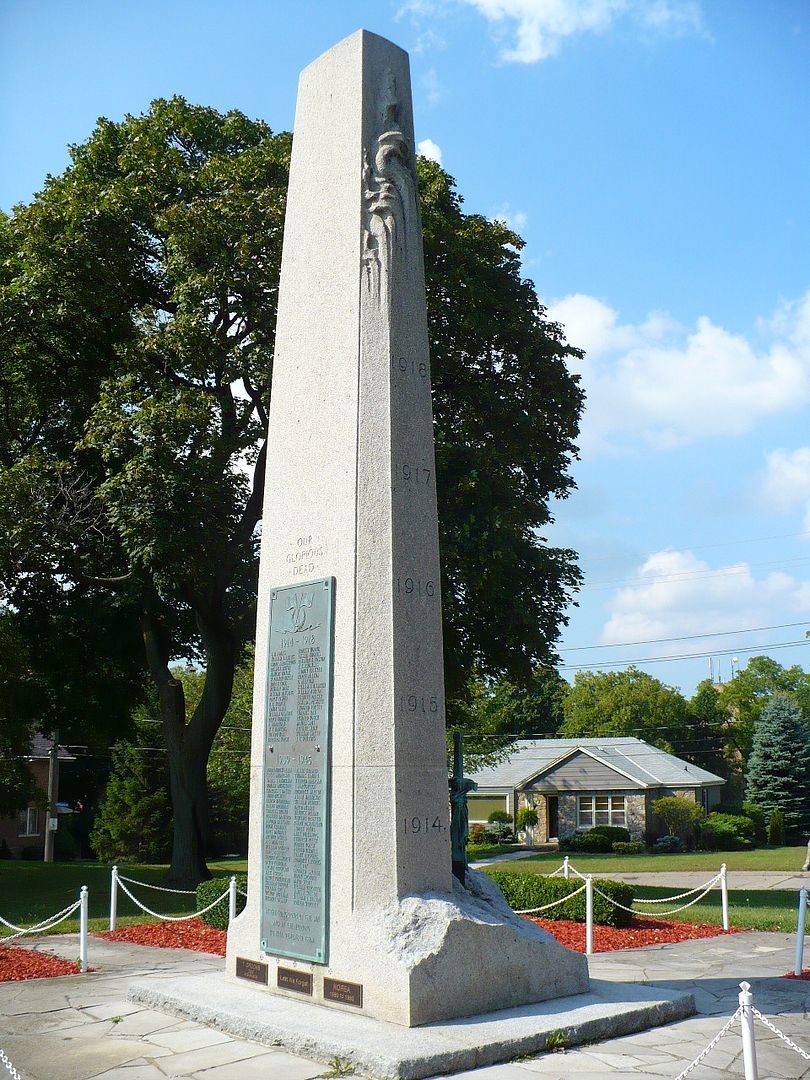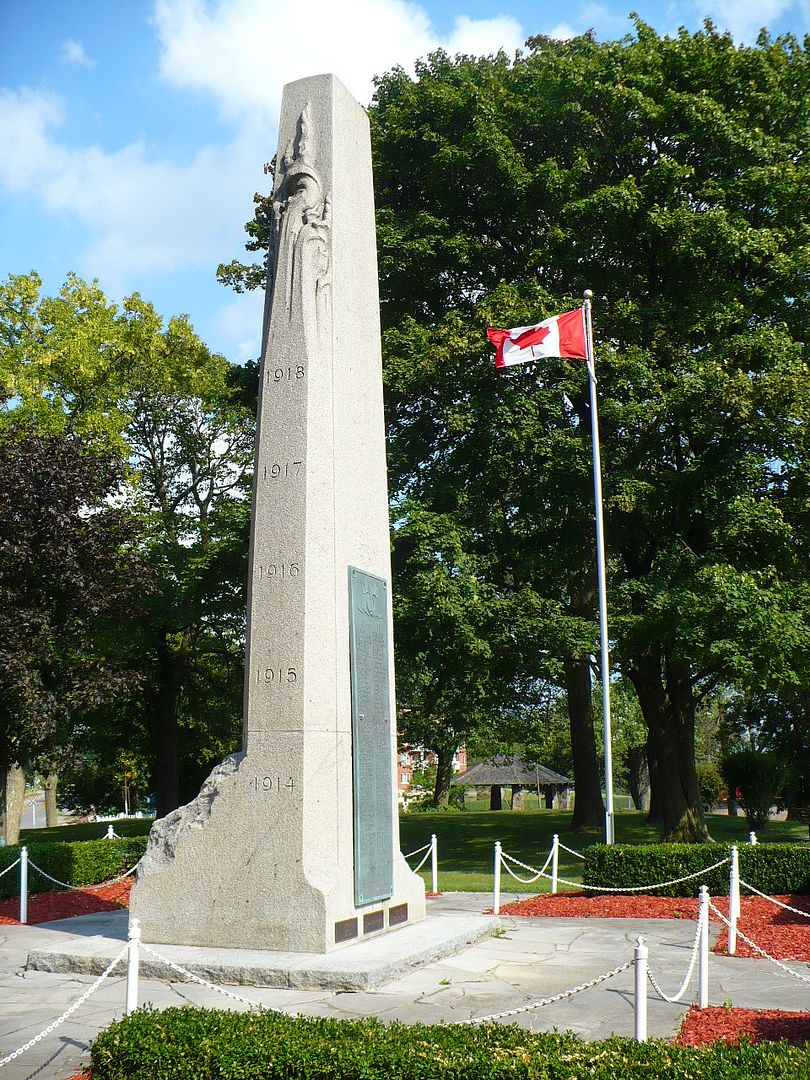 Back:
OUR
GLORIOUS
DEAD
(plaque)
1914 - 1918
L.B. ADAMS
WILLIAM J. ALKINS
LORNE J. ARMSTRONG
RUSSELL BOYLE
MAHLON BOYLE
W. PALMER BOYLE
JOHN E. COLE
NEWMAN DALE
WILLIAM DeYOUNG
PERCY FISHER
H.R. FRENCH
EDWIN GAMM
WILLIAM GILMORE
PERCY GOODWIN
A. HANNIGAN
W.T. HAWKINS
JOSEPH HILL
BERNARD HINCH
ERNEST HORNE
LESLIE HUGHES
RAYBURN KINGSTON
H.E. KNOWLES
SIDNEY LOCKYER
LORNE McLEOD
G. MALCOLM
WILLIAM B. MILLIKEN
WILLIAM NORTON
KENNETH PARKER
EDWARD S. PESKETT
LEONARD PORTER
CHARLES RAE
RICHARD ROOTH
DANIAL SAUL
ARTHUR SLOW
WILLIAM SMYTH
J.F. WHITING
1939 - 1945
JOHN ANDREW ALLEN
CECIL ANDERSON
JAMES J. ANDERSON
DONALD AUGUSTINE
CHARLES T. BAKER
JOHN BECJETT
LLOYD BIEDERMAN
RALPH BRENNAN
CHARLES BROWN
ROSILYN BANFORD
ALFRED BALCOMB
HUGH CLEMENT
EARL DAUBNEY
ARTHUR DIWELL
A.G. DENAULT
WILLIAM DOWNER
LOUIS ELLIOTT
GORDON ELLSWORTH
DAVID FEHRMAN
ARCHIE FERGUSON
JACK FORBES
HARVEY FUNKHOUSER
WILLIAM GORDON
WILLIAM GRIST
VICTOR HUFFMAN
HERBERT JASMIN
LESLIE KRAMER
THOMAS LANNAN
WILFRED MAHAGAN
J. MARKOVITCH
FREDERICK MARTYN
ALLAN MATHESON
WILLIAM MEINERS
DAVID MILLER
MAURICE McLEAR
VINCENT PAGETTO
RALPH PASQUATINO
SIDNEY PAYNE
ALEX PHILLIPPS
KENNETH PIETZ
ROBERT ROACH
ALFRED RIEDELL
FRANK E. ROGERS
FREDERICK L. ROGERS
ALEX ROY
LEONARD SAVILLE
HENRY SPONDER
DAVID SCOTT
WILLIAM VERGETTE
JAMES A. WILSON
WILLIAM J. WILSON
DONALD WINCOTT
AT THE GOING DOWN OF THE SUN
AND IN THE MORNING
WE WILL REMEMBER THEM
(3 plaques)
T. CROOKS
2009
AFGHANISTAN
Lest We Forget
KOREA
1950 TO 1953