Location: Huron County N 43 53.160 W 081 18.770
On the east side of London Road, on the corner of John Street and Diagonal Road.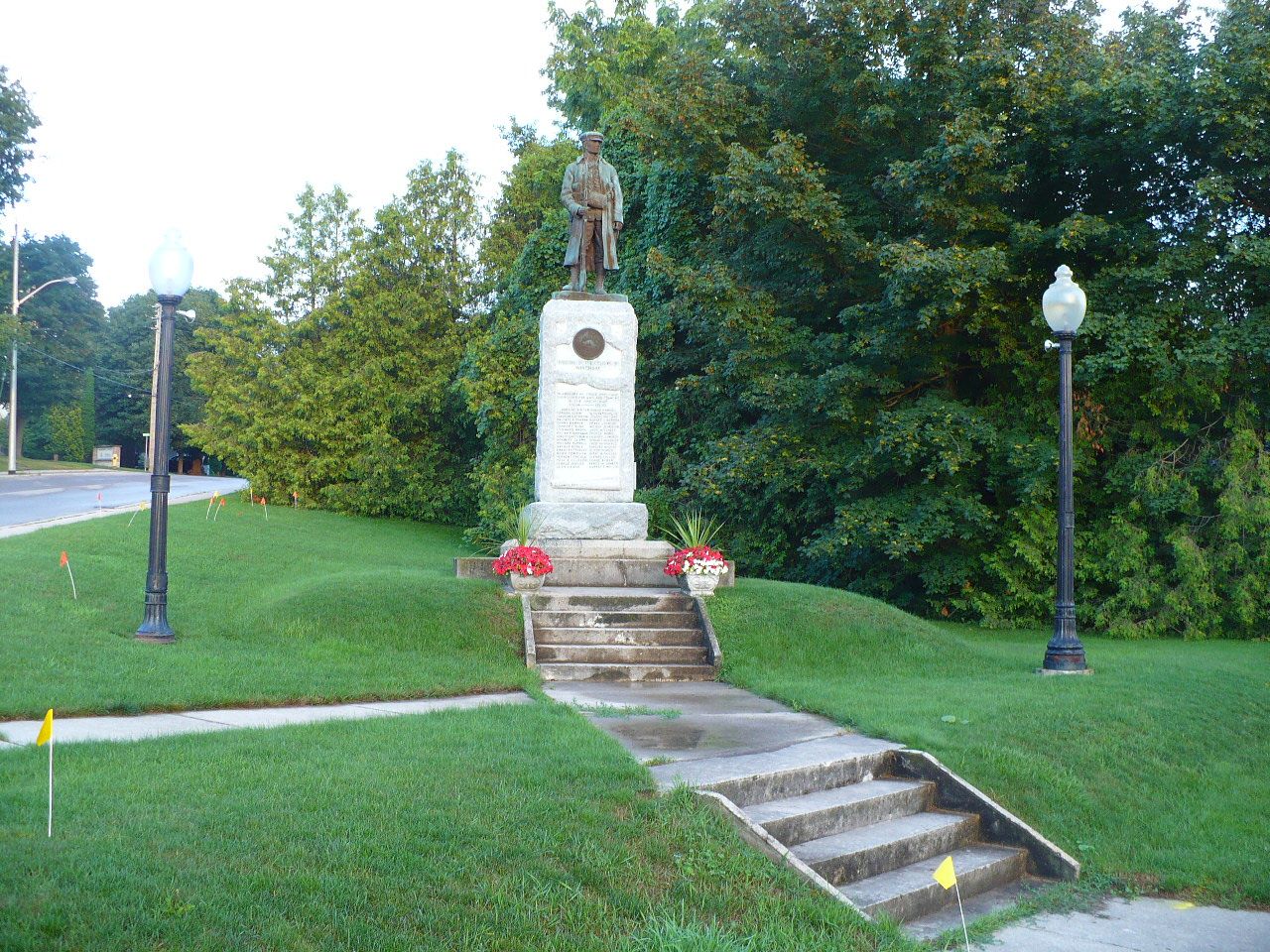 This has to be one of my favourite memorials I have found during my travels around Ontario. The statue at the top of the cenotaph is different than any other I have seen, very unique and attractive in the distinguished bronze form of a Great War soldier.
The memorial was unveiled in August 1924, by none other than retired General Sir Arthur Currie, one of the greatest military leaders Canada has ever produced. The memorial is dedicated the the dead of the First World War, the names engraved in stone for all to remember. Plaques were later added to represent those lost in World War II, Korea and Afghanistan.
The town of Wingham has become much more famous since the talented author and local resident Alice Munro was graciously awarded the Nobel Prize in Literature for her beautiful stories of this area.
A more detailed list of the names is available at the Canadian Forces website, which details what happened to each person whose name appears on this memorial and whose life was lost in service of our country.
http://www.cmp-cpm.forces.gc.ca/dhh-dhp/nic-inm/sm-rm/mdsr-rdr-eng.asp?PID=4757
http://www.honourthem.ca/masterDetail.cfm?ID=45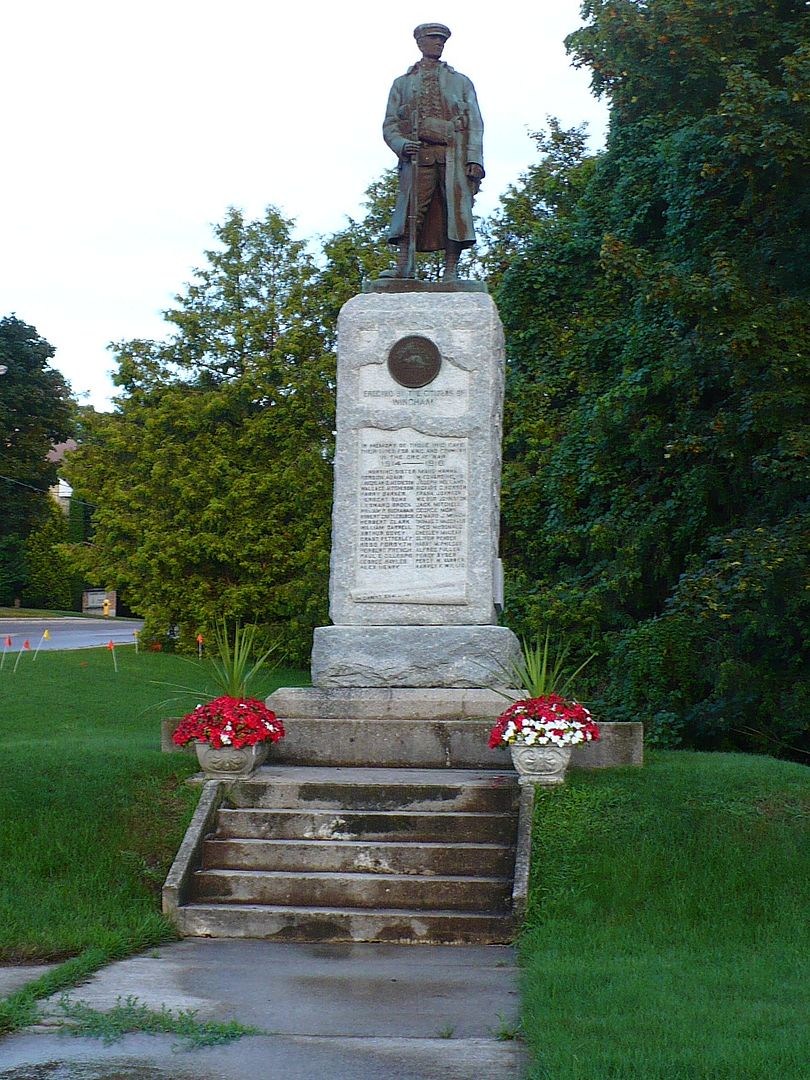 Marker test:
Front:
(Town of Wingham Crest)
ERECTED BY THE CITIZENS OF
WINGHAM
IN MEMORY OF THOSE WHO GAVE
THEIR LIVES FOR KING AND COUNTRY
IN THE GREAT WAR
1914--1918
NURSING SISTER MAUD HANNA
GORDON ADAIR
LAUGHLAN D. AITCHESON
WALLACE AITCHESON
HARRY BARKER
HERBERT BOND
LEONARD BROCK
WILLIAM P. BUCHANAN
ROBERT CHITTLEBURCH
HERBERT CLARK
WILLIAM DARNELL
ARTHUR DOVEY
GRANT FETTERLEY
ROSS FORSYTH
HERBERT FRENCH
PAUL E. GILLESPIE
GEORGE HAYLES
ALEX HENRY
W. EDWARD HELPS
JOSEPH HOLLAND
RICHARD C. HOWSON
FRANK JOHNSON
WILBUR JOHNSTON
JACK MITCHELL
GEORGE MONK
EDWARD J. MURCH
THOMAS T. McDONALD
THEO McDONALD
CHESLEY McLEAN
OLIVER PENDER
HARRY M. PHILCOX
ALFRED PULLEN
PERCY SYDER
PERCY W. VANNER
HARVEY F. WILLIS
THEIR NAMES LIVETH FOR EVERMORE
IN CHRIST SHALL BE MADE ALIVE
Left:
MONS
GIVENCHY
YPRES
BOURLON WOOD
VIMY RIDGE
LENS
FESTUBERT
DOUAI
LANGEMARK
KOREA
1950-1953
Back:
SINCE DIED
FRED ALDINGTON
NORMAN E. NICHOLLS
ARTHUR SHROPSHALL
AFGHANISTAN
MATTHEW DINNING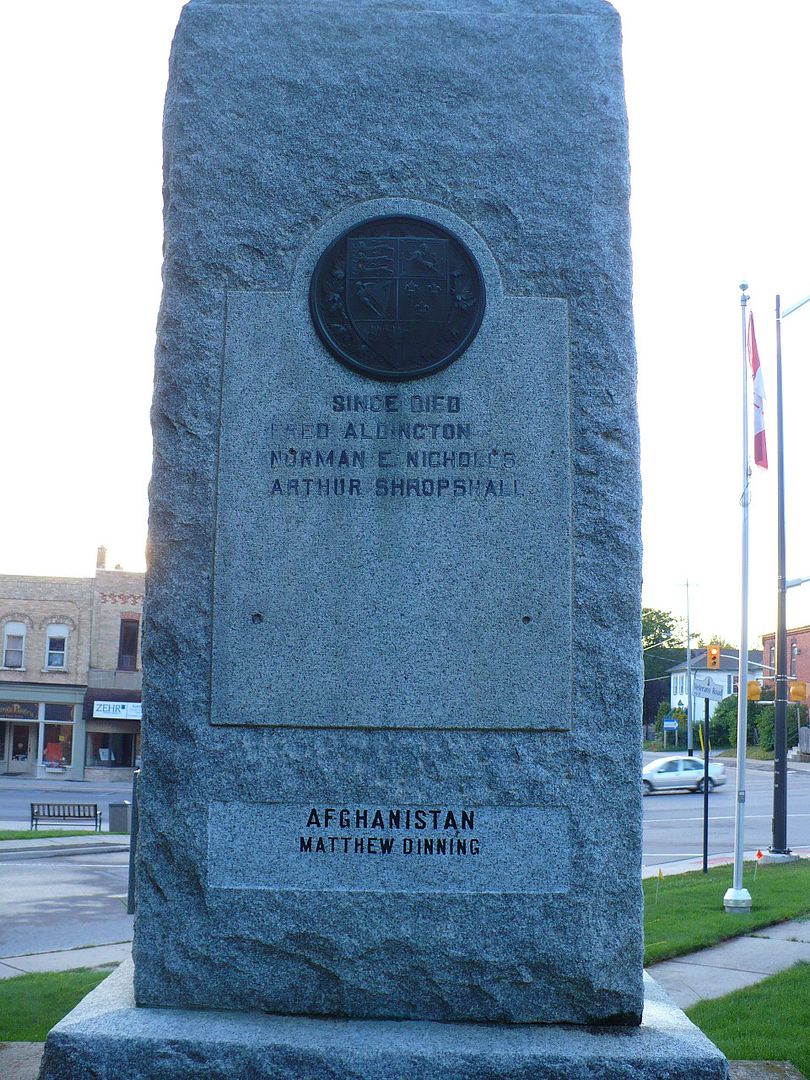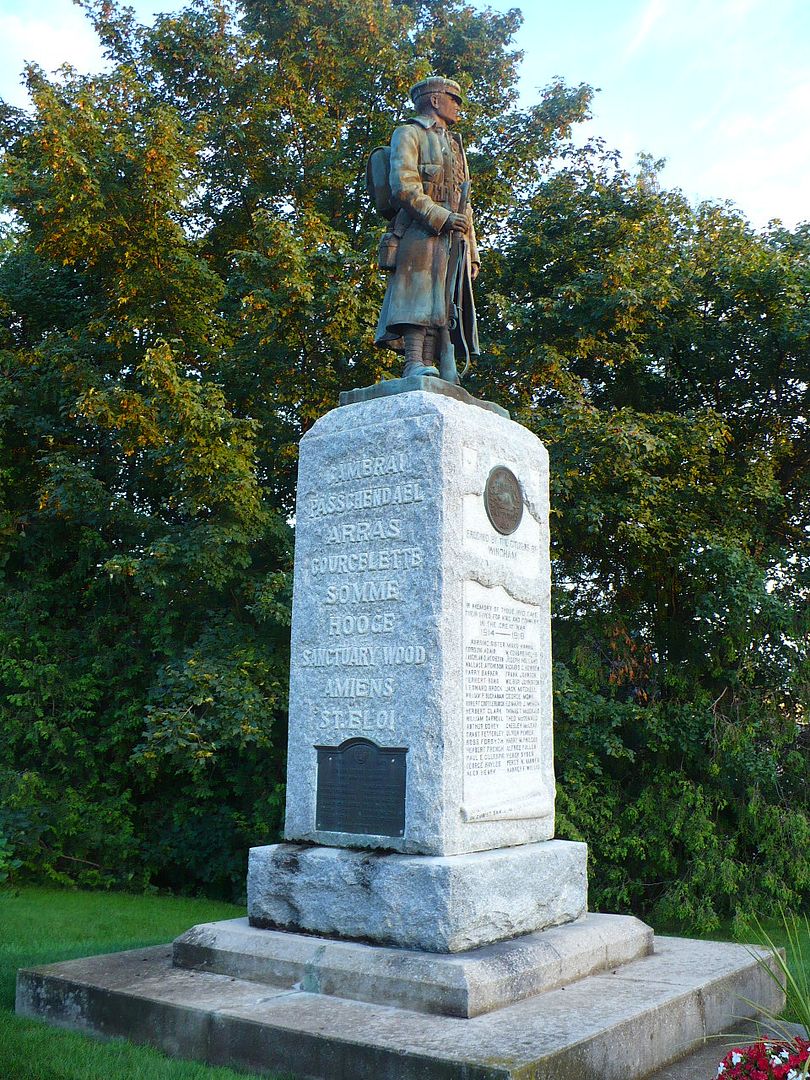 Right:
CAMBRAI
PASSCHENDAEL
ARRAS
COURCELETTE
SOMME
HOOGE
SANCTUARY WOOD
AMIENS
ST. ELOI
1939 - 1945
IN GRATEFUL TRIBUTE
THEY DIED FOR FREEDOM
LESLIE J. ADAIR
F. PERCIVAL BIGGS
T. WILLIAM GROVES
R. MacKENZIE HABKIRK
WILLIAM E. KEW
GEORGE T. KING
PRESTON LEDIETT
GEORGE H. LLOYD
JAMES M. McKAGUE
WILLIAM H. PYM
CLIFFORD A. TAMAN
GEORGE WHEELER
"WE SHALL REMEMBER THEM"