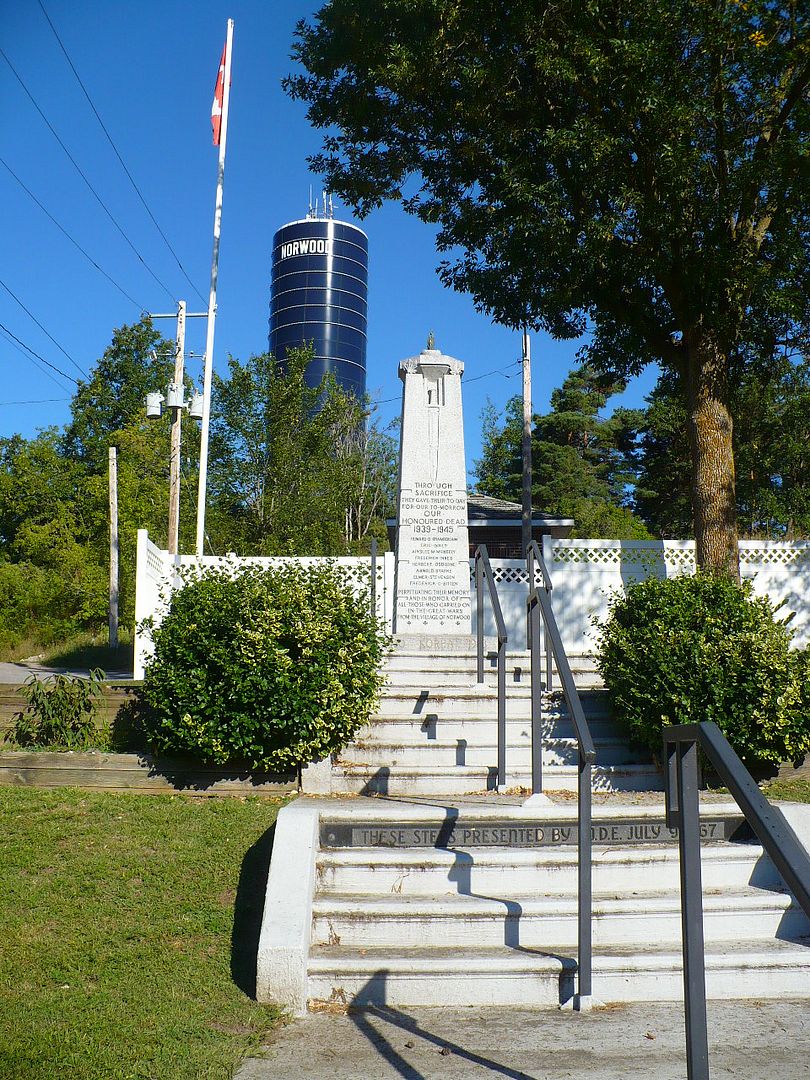 Location: Peterborough County N 44 22.974 W 077 58.863
At the junction of Colborne Street and Ridge Street, on the hill below the water tower.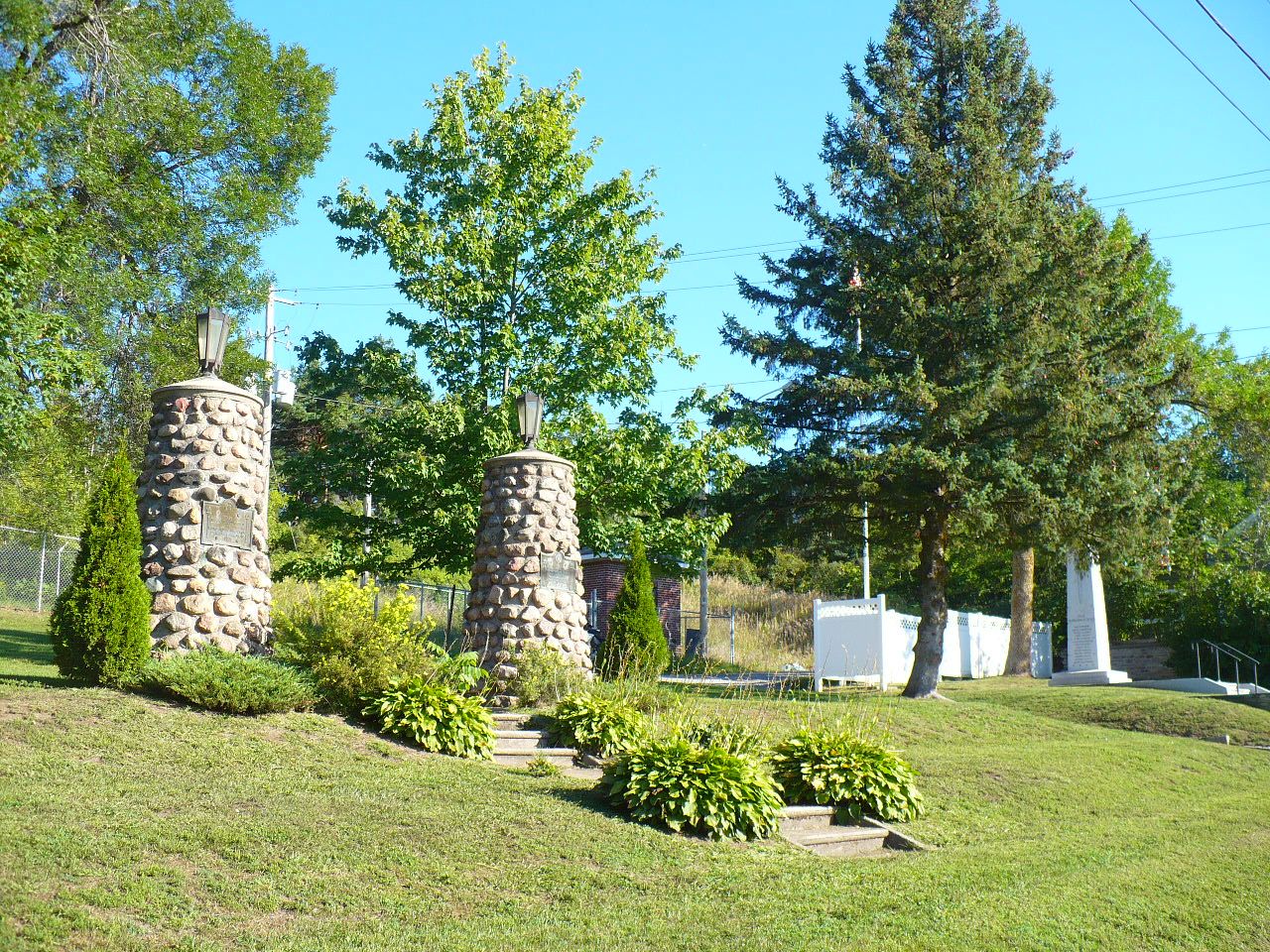 The wonderful cenotaph in the village of Norwood was unveiled to the largest service ever held in the village, on the day of July 6, 1924. The memorial was spearheaded by the Imperial Order of the Daughters of the Empire (I.O.D.E.), who organized the fundraising and the elegant ceremony which included an invitation to all veterans of all wars. Uniforms where provided to any men that did not have their own.
For some time after the unveiling ceremony, a large captured mortar stood at the face of cenotaph, now since removed. The steps where donated by the I.O.D.E. in 1967.
A second memorial can be found adjacent to the main cenotaph. The lot directly to the west was purchased in 1927 by a wealthy Toronto hotel owner, Mrs. J.W. Davidson, for the purpose of a Memorial Park, in memory of Lieut. Walter T. Robus who enlisted at Norwood at the outbreak of the Great War and after a most distinguished career, returned to Canada and was a valued employee of Mrs. Davidson at her Toronto hotel for some years prior to his death. The Council on July 26, 1927 approved the placing of the proposed plaques on the two cobblestone cairns at the memorial park and assumed the expense of looking after the caretaking of the memorial lot.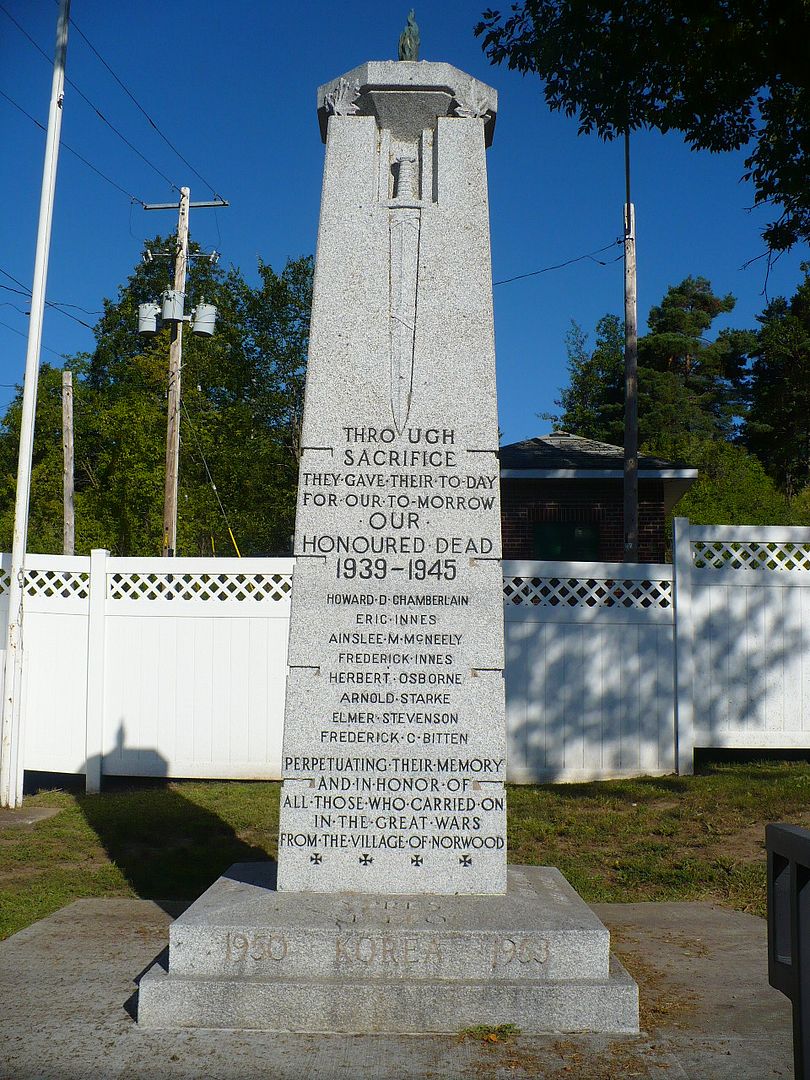 Marker text:
Cenotaph Front:
THROUGH
SACRIFICE
THEY GAVE THEIR TODAY
FOR OUR TO MORROW
OUR
HONOURED DEAD
1939-1945
HOWARD D. CHAMBERLAIN
ERIC INNES
AINSLEE M. McNEELY
FREDERICK INNES
HERBERT OSBORNE
ARNOLD STARKE
ELMER STEVENSON
FREDERICK C. BITTEN
PERPETUATING THEIR MEMORY
AND IN HONOUR OF
ALL THOSE WHO CARRIED ON
IN THE GREAT WARS
FROM THE VILLAGE OF NORWOOD
YPRES
ST. ELOI
1950 KOREA 1953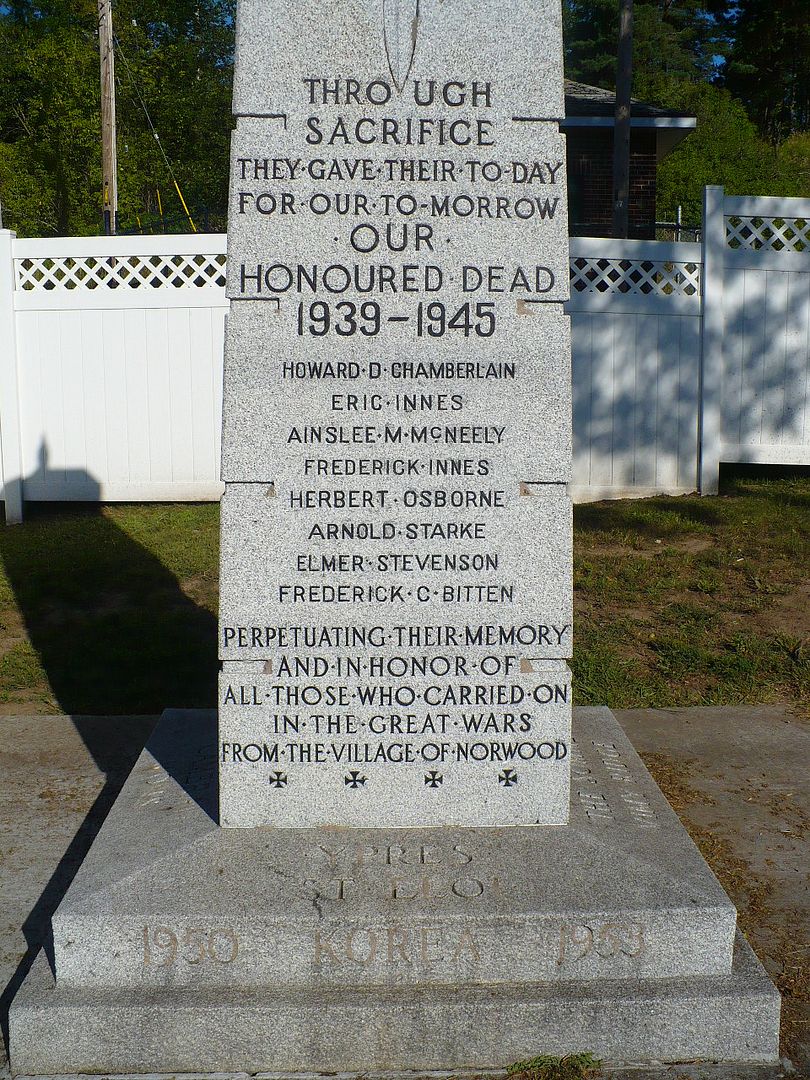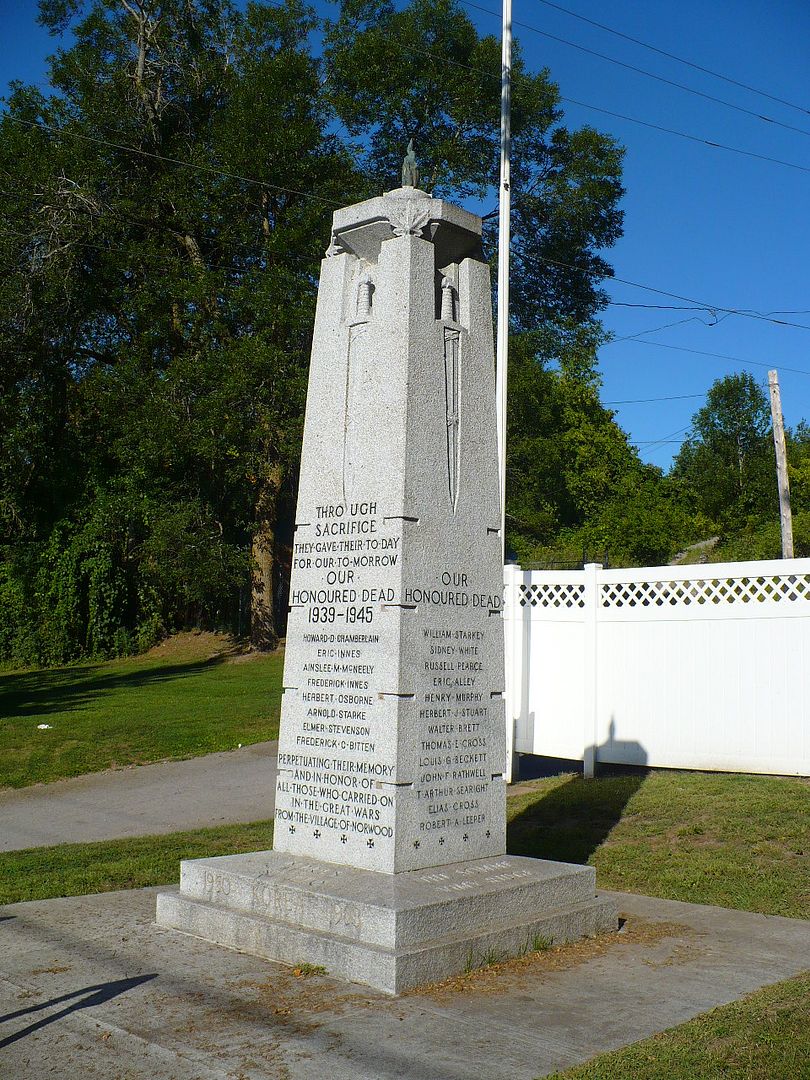 Left:
OUR
HONOURED DEAD
WILLIAM STARKEY
SIDNEY WHITE
RUSSELL PEARCE
ERIC ALLEY
HENRY MURPHY
HERBERT J. STUART
WALTER BRETT
THOMAS E. CROSS
LOUIS G. BECKETT
JOHN F. RATHWELL
T. ARTHUR SEARIGHT
ELIAS CROSS
ROBERT A. LEEPER
THE SOMME
VIMY RIDGE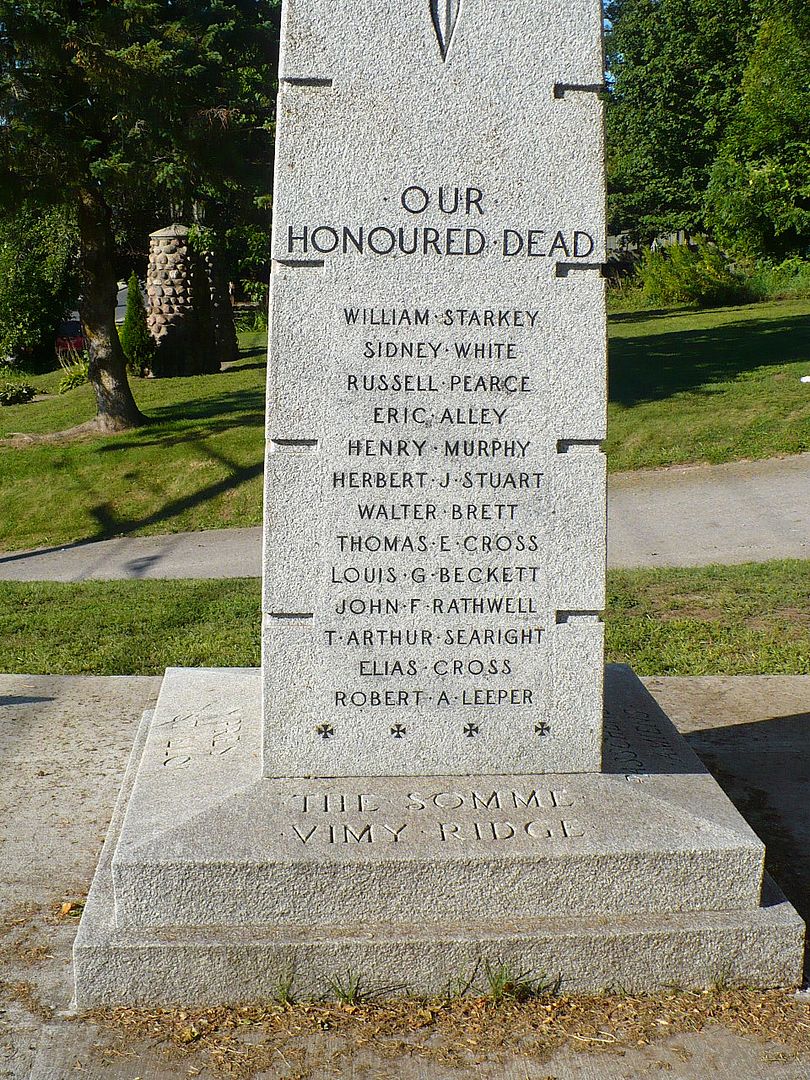 Rear:
1914
1915
1916
1917
1918
PASSCHENDAELE
AMIENS
Right:
OUR
HONOURED DEAD
GEO TOWNSEND
ROBERT CHAMBERLAIN
RUSSELL SCRIVER
EZERIC ABOUD
KARN HENDREN
A. THEODORE BURGESS
DAVID BROOKS
JOSEPH KELLY
ARTHUR PARCELS
WILLIAM J. WHYTE
EDWARD GROUT
MICHAEL NOYES
JACOB QUACKENBUSH
CAMBRAI
MONS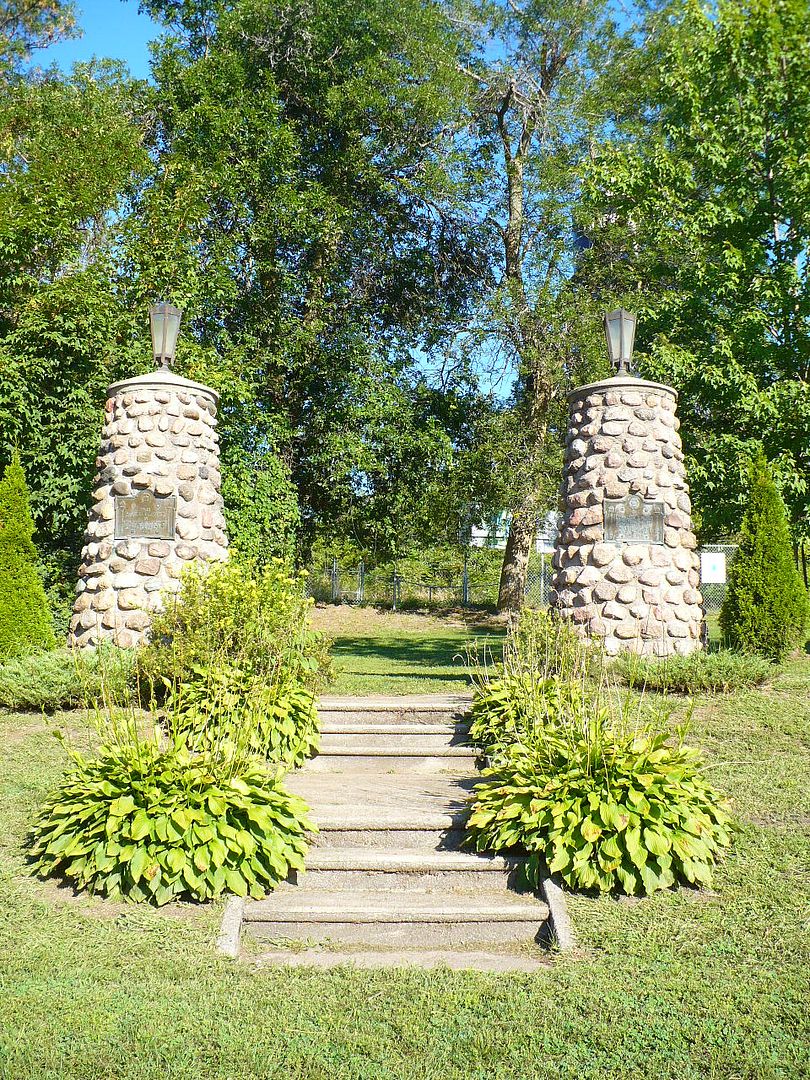 Memorial Park:
Left cairn:
THIS
PARK IS DEDICATED
IN
HONOURED MEMORY OF
LT. WALTER T. ROBUS
1927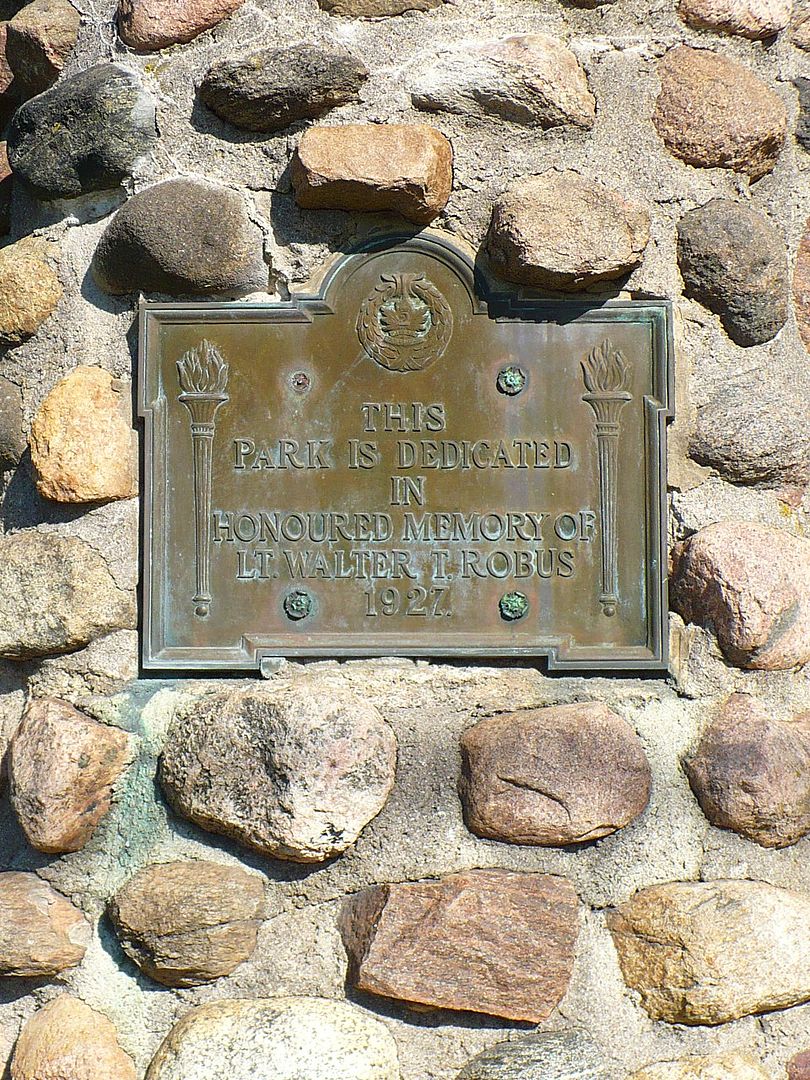 Right cairn:
LT. WALTER T. ROBUS
SERVED WITH THE 2nd BATT.
FROM 1914-1919
DIED IN TORONTO IN
HIS 32nd YEAR 1926