Location: Bruce County N 44 07.783 W 081 08.985
At the corner of Jane Street and Colborne Street.
Another beautiful monument dedicated to the men who gave their lives in the Great War. The seventeen foot high memorial was dedicated by the town of Walkerton in November 1921, with all the pomp and pageantry of worthy of the day. All citizens young and old came out to pay tribute to the men who would not return, and to those battered souls who did.
The memorial built by the McIntosh Memorial Company of Toronto, featured a gray granite base with the names and dedications inscribed in the stone, and topped by a Canadian soldier standing at ease after a hard fought war.
Later a brass plaque honouring those lost in the Second World War was added to the back of the memorial, but as it covered some of the original inscription(you can still the the mounting holes), this now sits at ground level for all to see.
A stone walkway arches in front of the memorial, with the names of individual soldiers carved into the stones, and two large granite slabs with the names of those who fought and returned from the Great War, along with their brave nursing sisters. A pair of more modern plaques also explain the memorial.
Walkerton should be proud of this wonderful memorial, with the impressive statue and well landscaped gardens and tributes, this is how all towns should honour their heroes.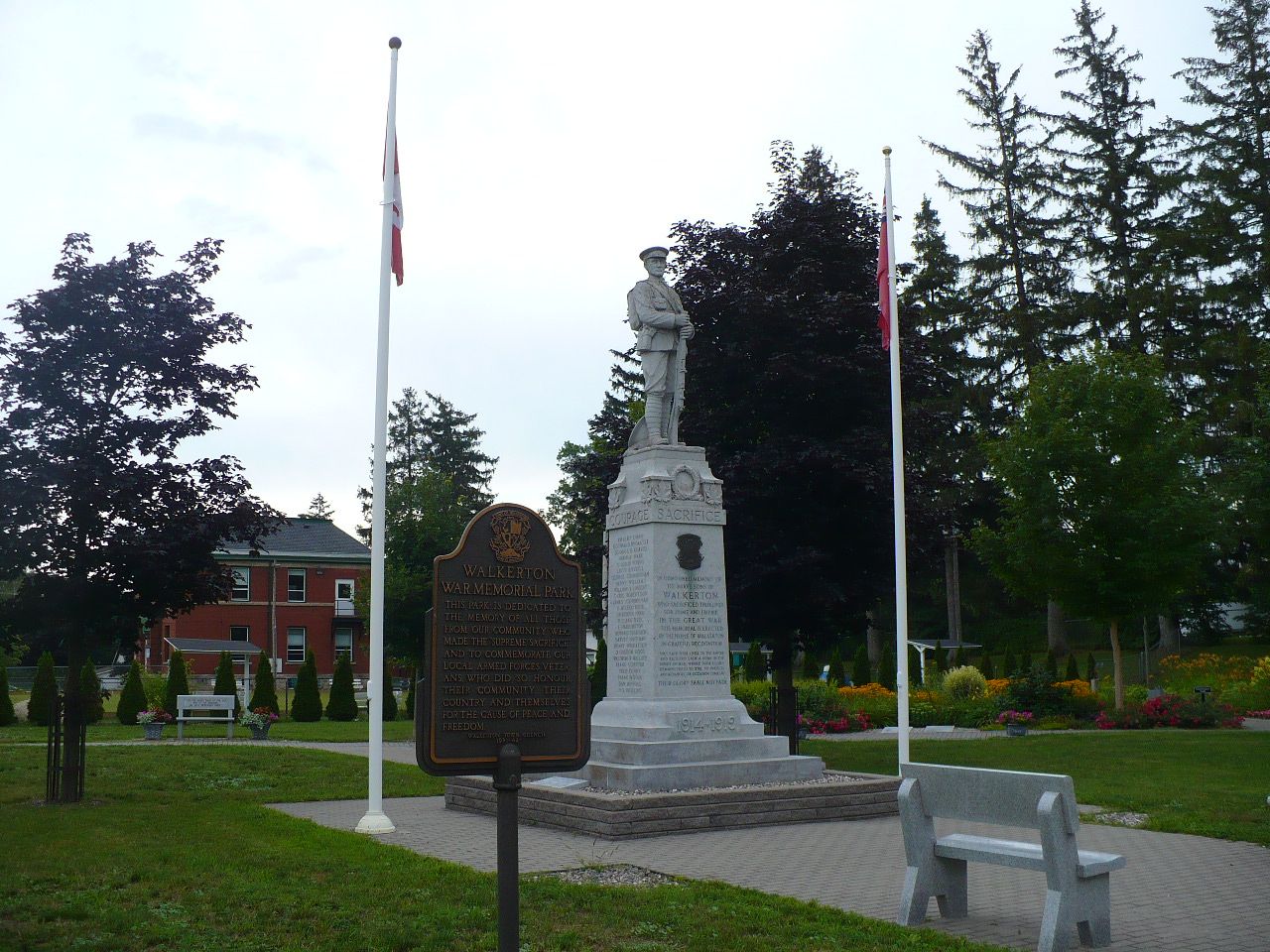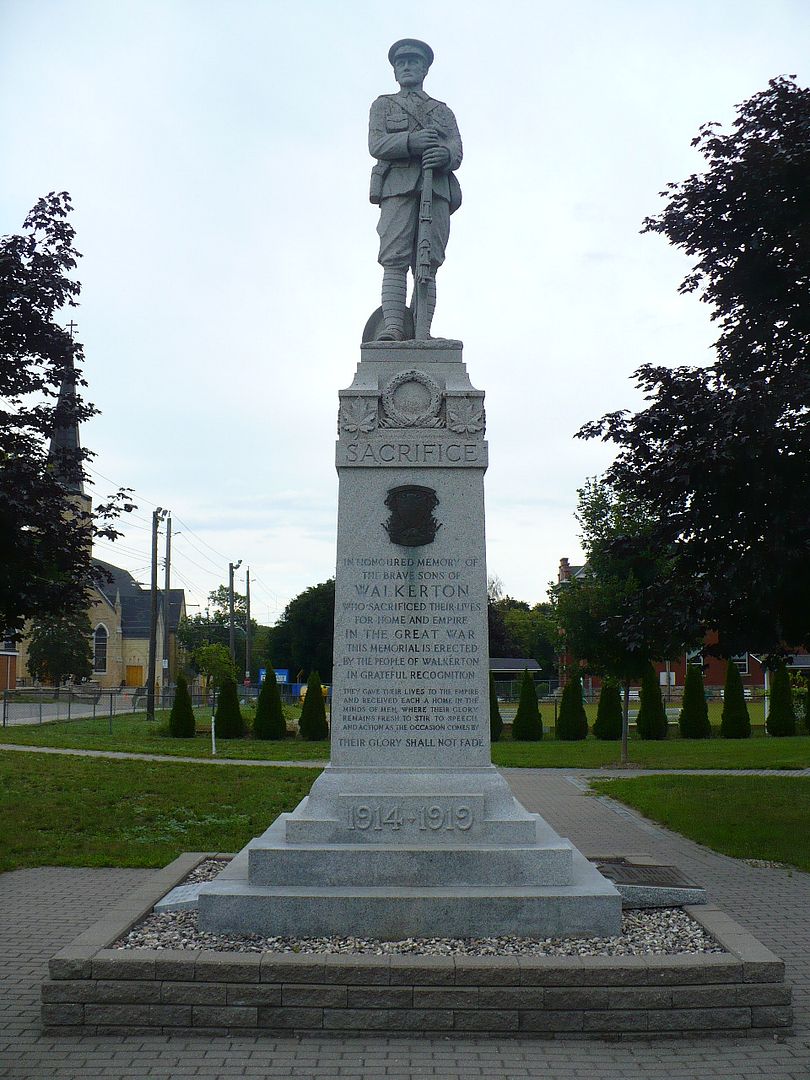 Marker text:
Front:
SACRIFICE
(Town of Walkerton crest in brass)
IN HONOURED MEMORY OF
THE BRAVE SONS OF
WALKERTON
WHO SACRIFICED THEIR LIVES
FOR HOME AND EMPIRE
IN THE GREAT WAR
THIS MEMORIAL IS ERECTED
BY THE PEOPLE OF WALKERTON
IN GRATEFUL RECOGNITION.
THEY GAVE THEIR LIVES TO THE EMPIRE
AND RECEIVED EACH A HOME IN THE
MINDS OF MEN WHERE THEIR GLORY
REMAINS FRESH TO STIR TO SPEECH
AND ACTION AS THE OCCASION COMES BY
THEIR GLORY SHALL NOT FADE
1914 - 1919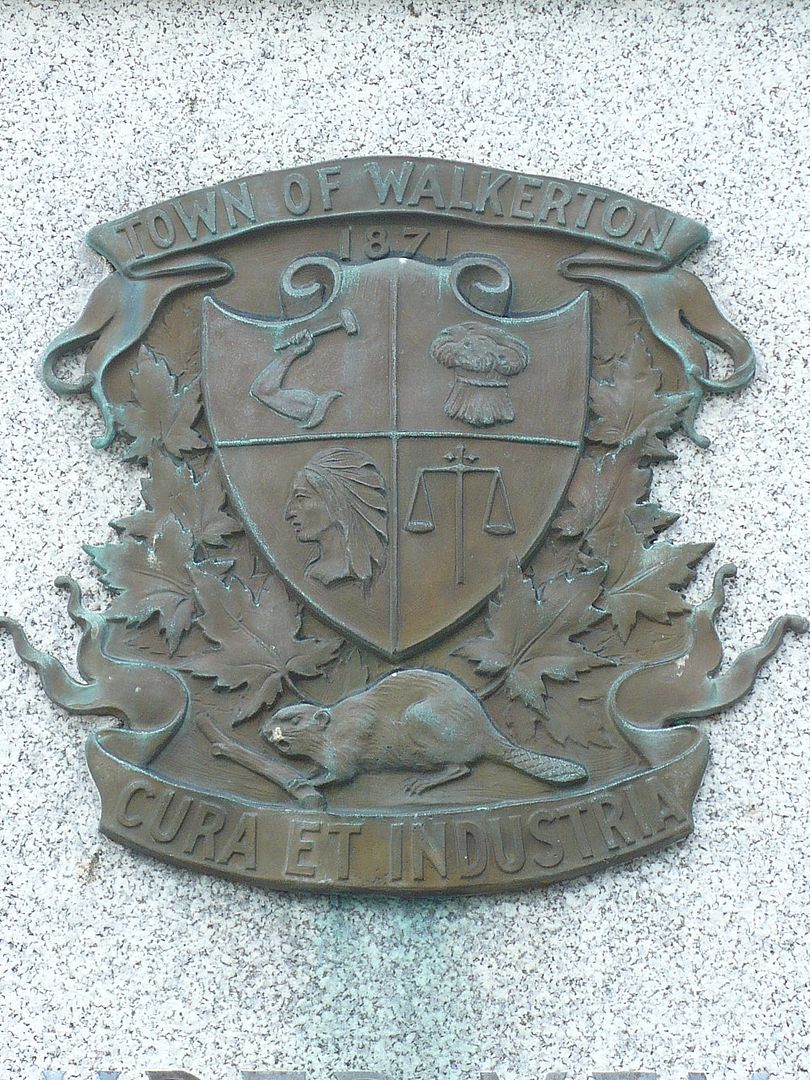 Left Side:
ENDURANCE
F.W. ROBINSON
RAY HYSLOP
JOSEPH BEST
WILLIAM HANLEY
E.G. OLDRIEVE
HERBERT JARVIS
ALVIN WILTON
EVERETT TRUAX
E. REICHEN BACH
MICHAEL J. McNAB
WILLIAM WOLFE
GABRIEL HAAS
WM. J. SWANSTON
C.A. CUNNINGHAM
MALCOLM McKECHNIE
J.C. AM MANN
URBAN ZETTEL
JOHN CROZIER
COURTNEY KNEPFLAR
WILLIAM CRAIG
WILBER HISLOP
J. ROY KAIN
FRED C. MOORE
P.K. SHANNON
WWII Plaque:
TO THE GLORIOUS MEMORY
OF
THE FOLLOWING MEN WHO
GAVE THEIR LIVES IN THE
SECOND WORLD WAR
DAVID CROZIER
FLOYD FENNELL
LORNE GRAFF
CARL GRUBB
WALTER JONES
LLOYD KIRSTINE
ROBERT KRAMPP
WALTER LINES
JOHN O'BRIEN
WILFRED O'BRIEN
VERNON O'BRIGHT
JAMES RENNIE
JAMES ROSS
EARL ROYCE
THEIR MISSION ACCOMPLISHED, OURS BUT BEGUN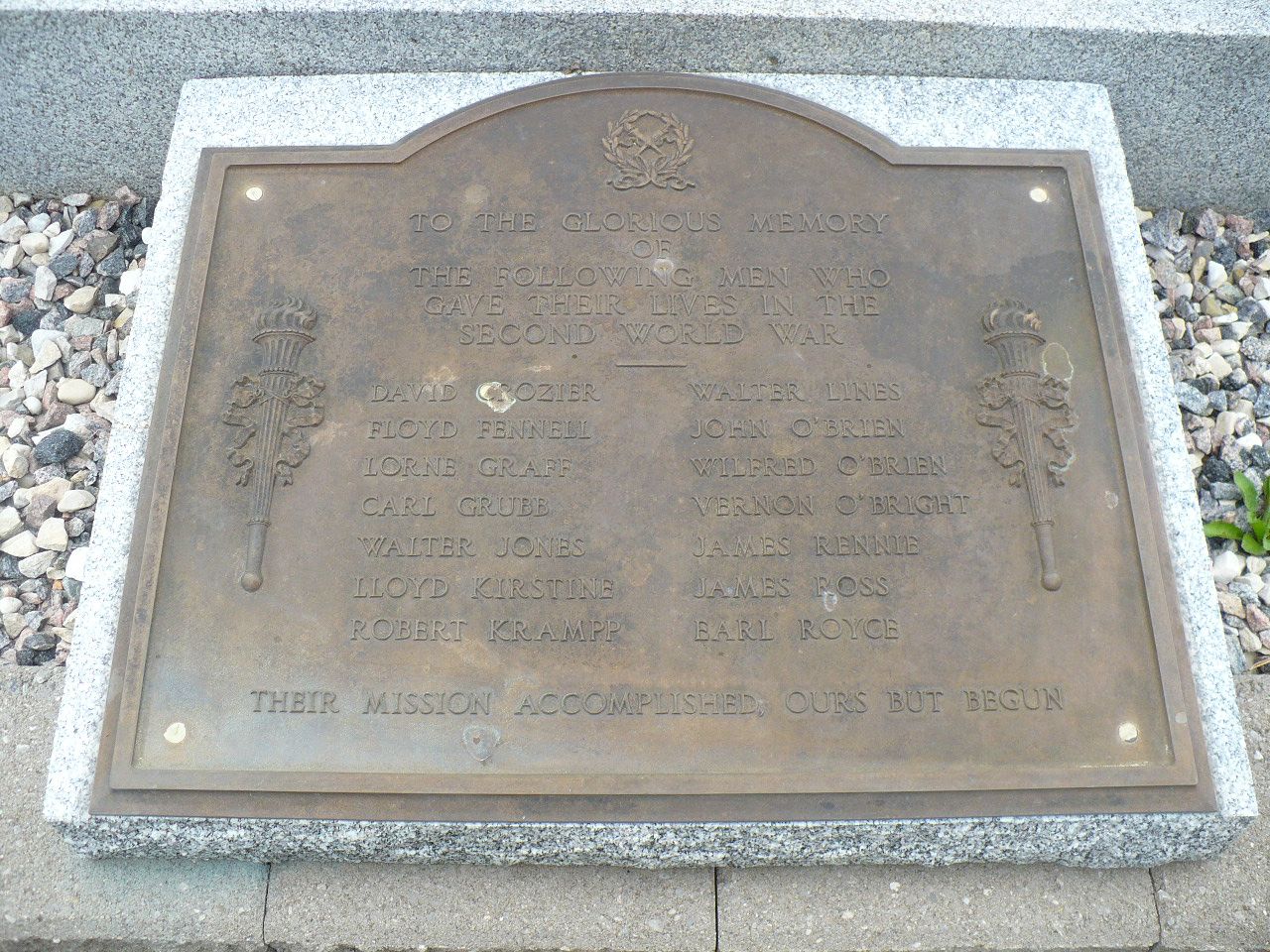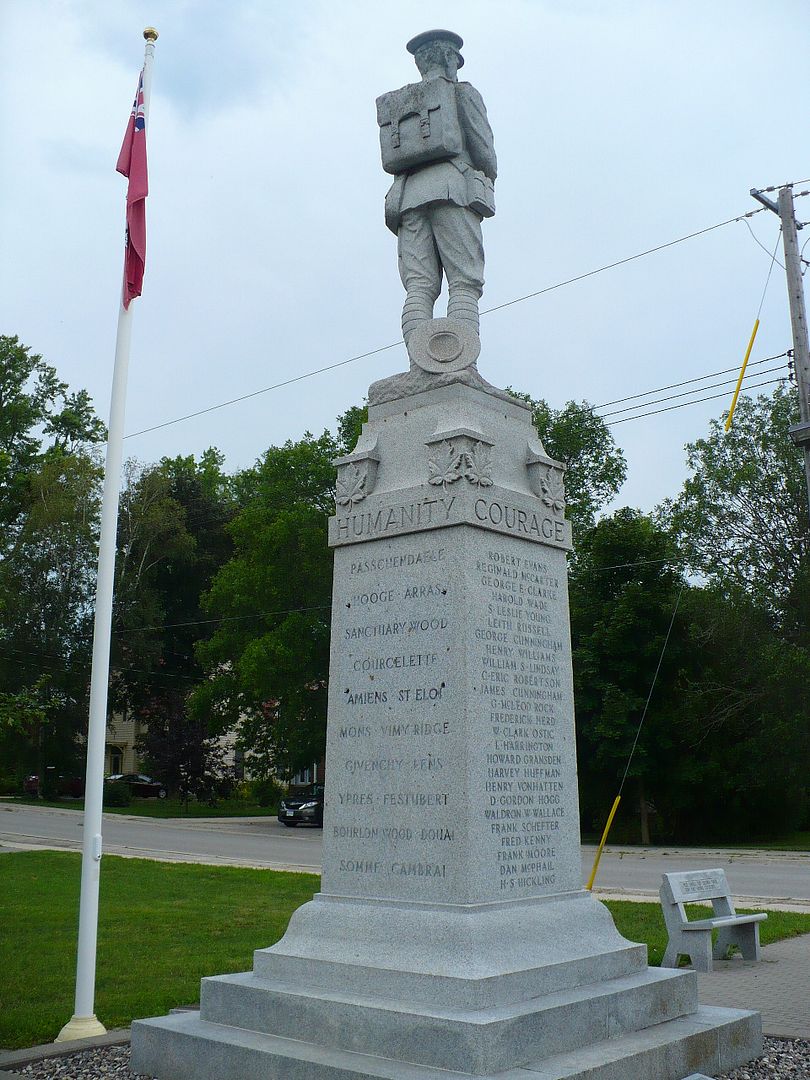 Right Side:
COURAGE
ROBERT EVANS
REGINALD McCARTER
GEORGE E. CLARKE
HAROLD WADE
S. LESLIE YOUNG
LEITH RUSSELL
GEORGE CUNNINGHAM
HENRY WILLIAMS
WILLIAM S. LINDSAY
C-ERIC ROBERTSON
JAMES CUNNINGHAM
G. McLEOD ROCK
FREDERICK HERD
W. CLARK OSTIC
L. HARRINGTON
HOWARD GRANSDEN
HARVEY HUFFMAN
HENRY VONHATTEN
D. GORDON HOGG
WALDRON W. WALLACE
FRANK SCHEFTER
FRED KENNY
FRANK MOORE
DAN McPHAIL
H.S. HICKLING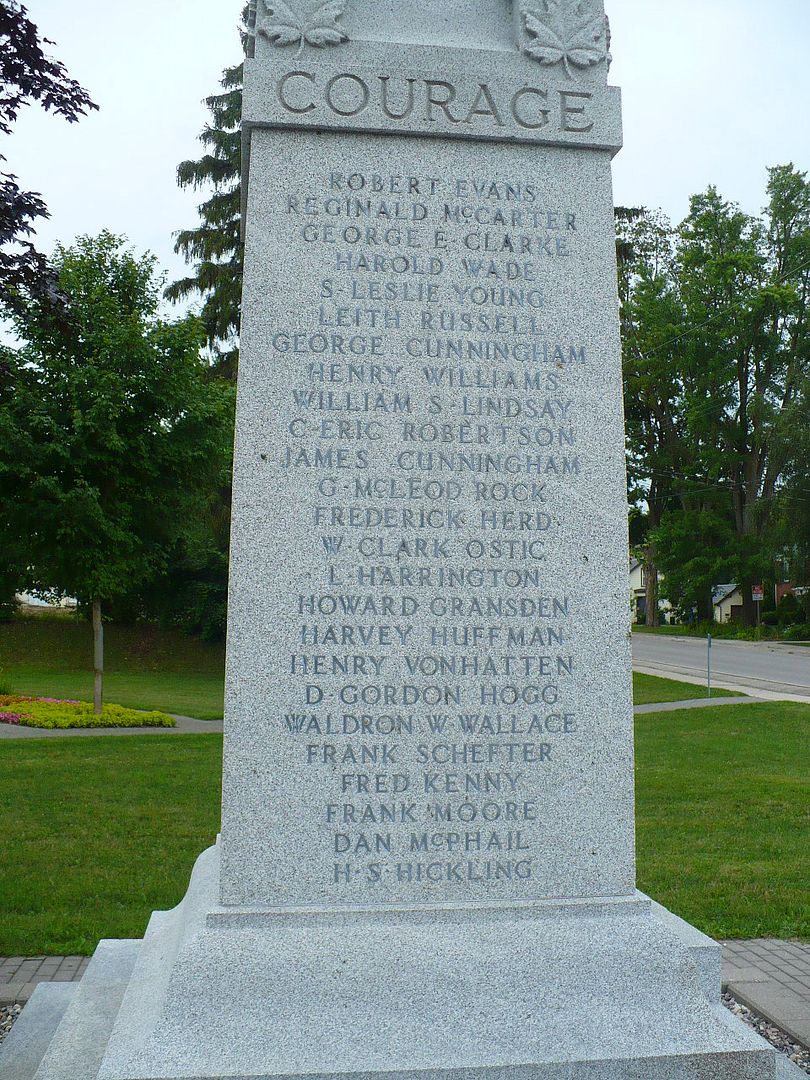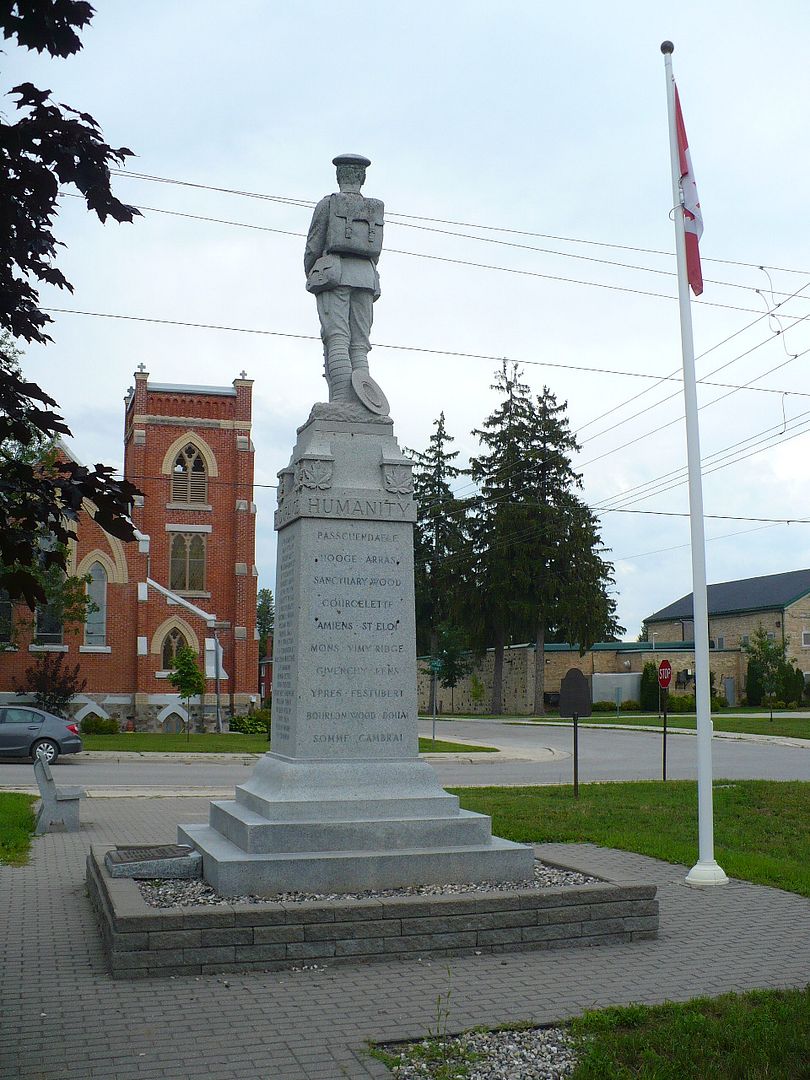 Rear:
HUMANITY
PASSCHENDAELE
HOOGE ARRAS
SANCTUARY WOOD
COURCELETTE
AMIENS ST. ELOI
MONS VIMY RIDGE
GIVENCHY LENS
YPRES FESTUBERT
BOURLON WOOD DOUAI
SOMME CAMBRAI