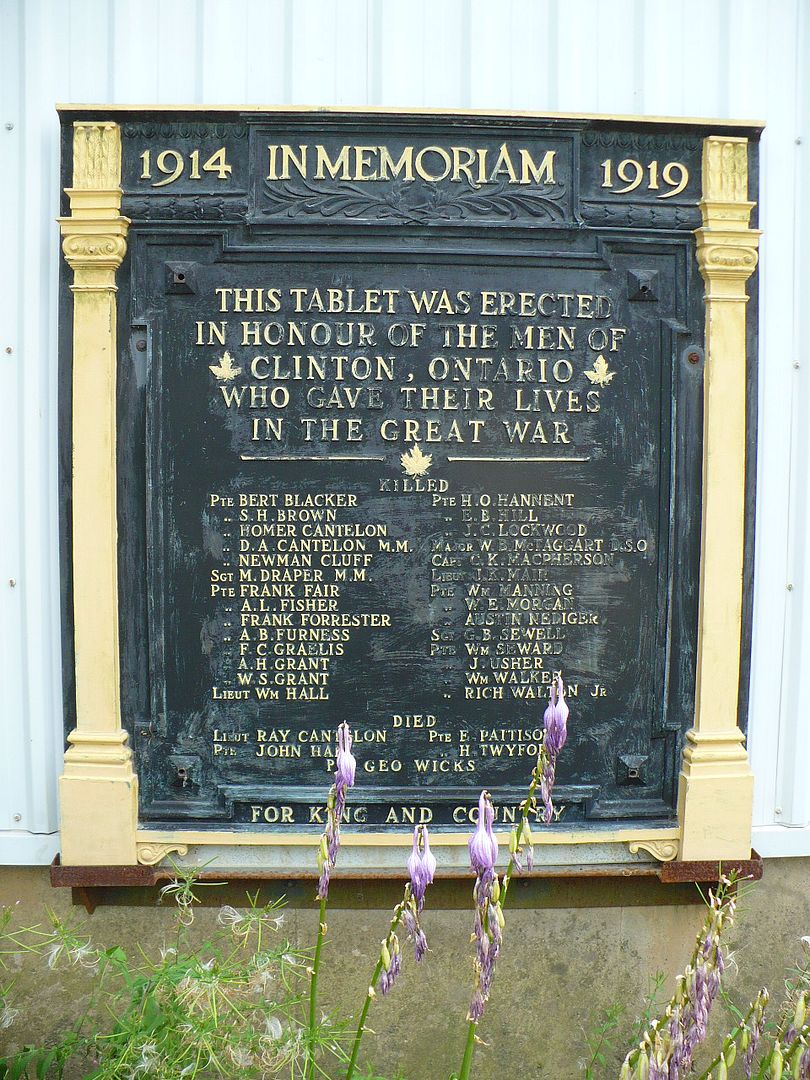 Location: Huron County N 43 36.758 W 081 32.186
On the outside wall of the Legion, at 95 Kirk Street.
This memorial on the wall outside the Royal Canadian Legion Branch 140, consists of two plaques, each dedicated to the First and Second World Wars. The plaques list the names of the men of Clinton who gave their lives in each of the World Wars.
Once again as with many small town memorials, the long list of names far exceeds expectations given the size of the town. Clinton also played a key role in the Second World War as home of the first training school for the new technology of Radar.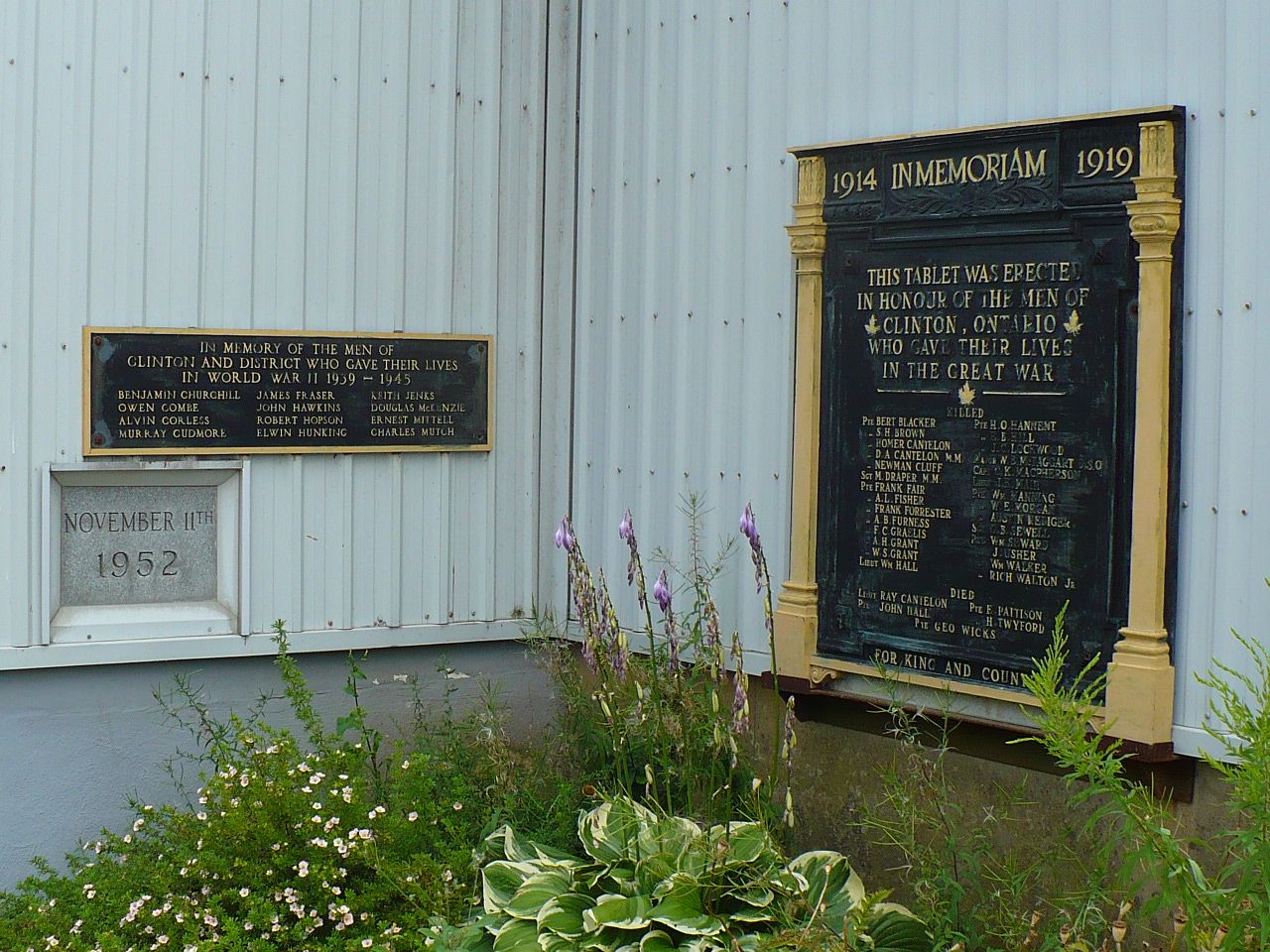 Marker text:
Plaque 1:
IN MEMORIAM
1914 1919
THIS TABLET WAS ERECTED
IN HONOUR OF THE MEN OF
CLINTON, ONTARIO
WHO GAVE THEIR LIVES
IN THE GREAT WAR
KILLED
PTE BERT BLACKER
" S.H. BROWN
" HOMER CANTELON
" D.A. CANTELON M.M.
" NEWMAN CLUFF
SGT M. DRAPER M.M.
PTE FRANK FAIR
" A.L FISHER
" FRANK FORRESTER
" A.B. FURNESS
" F.C. GREALIS
" A.H. GRANT
" W.S. GRANT
LIEUT WM. HALL
PTE H.O. HANNENT
" E.B. HILL
" J.C. LOCKWOOD
MAJOR W.B. McTAGGART D.S.O.
CAPT J.K. MAIR
PTE Wm MANNING
" W.E. MORGAN
" AUSTIN NEDIGER
SGT G.B. SEWELL
PTE Wm SEWARD
" J. USHER
" Wm. WALKER
" RICH WALTON Jr
DIED
LIEUT RAY CANTELON
PTE JOHN HALL
PTE E. PATTISON
" H. TWYFORD
PTE GEO HICKS
FOR KING AND COUNTRY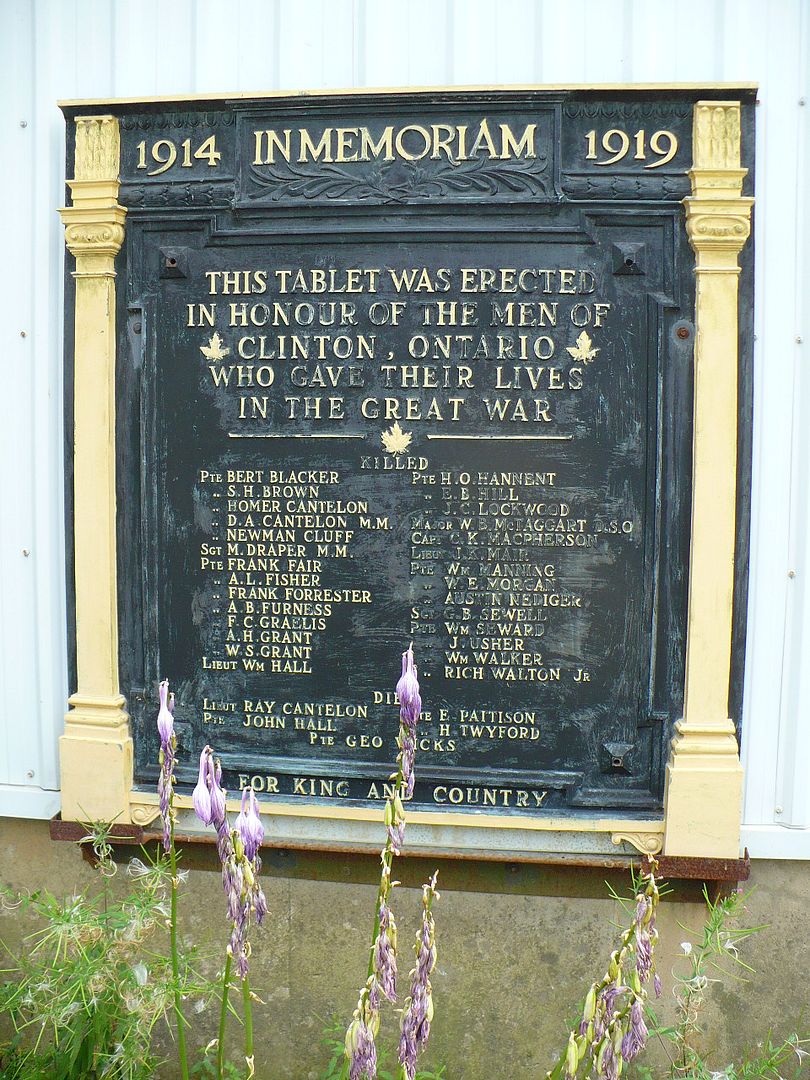 Plaque 2:
IN MEMORY OF THE MEN OF
CLINTON AND DISTRICT WHO GAVE THEIR LIVES
IN WORLD WAR II 1939 - 1945
BENJAMIN CHURCHILL
OWEN COMBE
ALVIN CORLESS
MURRAY CUDMORE
JAMES FRASER
JOHN HAWKINS
ROBERT HOPSON
ELWIN HUNKING
KEITH JENKS
DOUGLAS McKENZIE
ERNEST MITTELL
CHARLES MUTCH