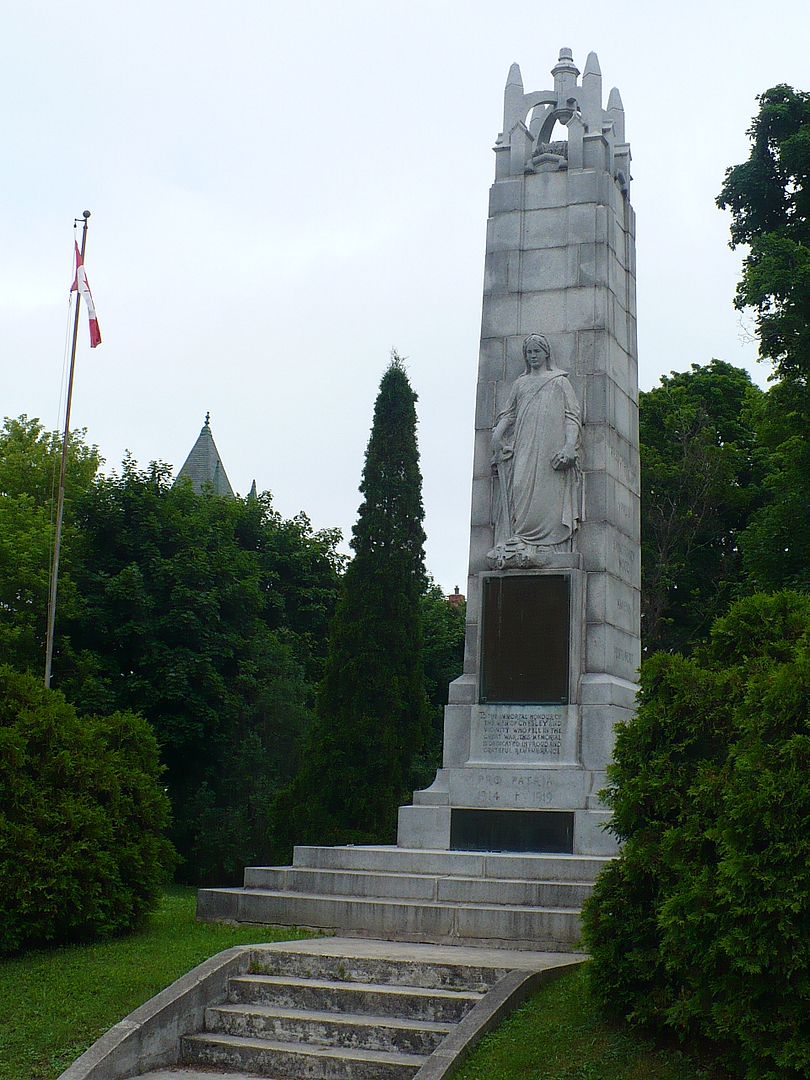 Location: Bruce County N 44 17.812 W 81 05.689
On the east side of 1st Avenue S., across the road from the Post Office.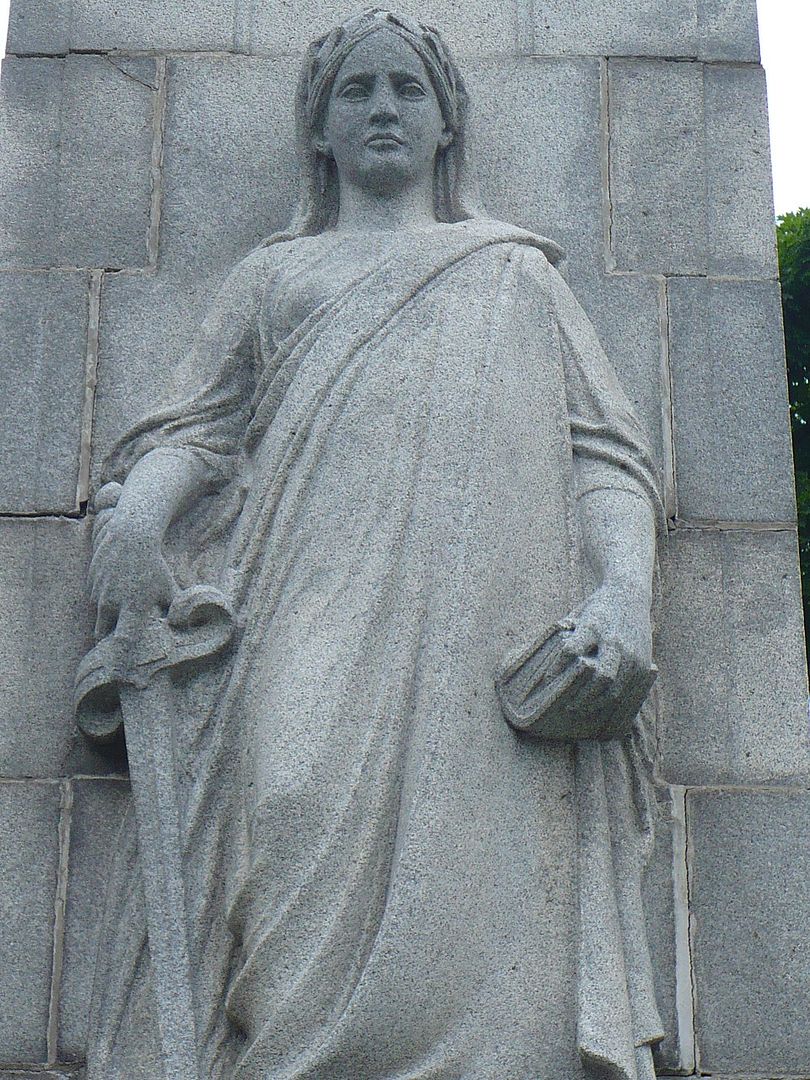 A very impressive memorial from the citizens of Chesley and vicinity, dedicated to the men who gave their lives in the First World War. The Roll of Honour is forever remembered on a brass plaque, while the names of the great battles are listed on the each of the tall sides.
A plaque honouring the names of the dead from the Second World War was later added. It is the small town memorials like this, with their long lists of names, which really brings home the sacrifice and brutality of the World Wars. That such a peaceful and pleasant town suffered the wrath and destruction of a far off war resounds greatly as a remembrance of the peace we share today.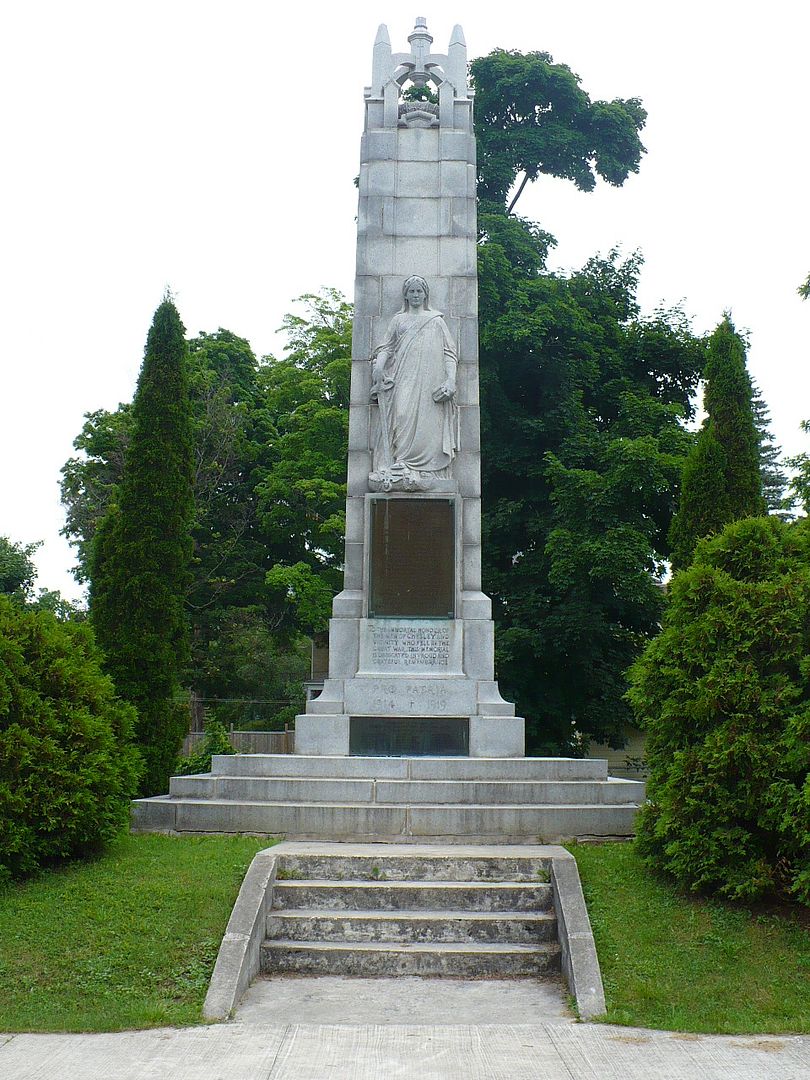 Marker text:
Front brass plaque:
ROLL OF HONOUR
DAVID SCOBIE
HAROLD GARDNER - JOSEPH HAROLD McNEEL
GORDON CRUIKSHANK McKELVIE - JOHN YOUNG
SIDNEY HOOEY - EDWARD BURDEN
ERNEST PARSONS - JOHN MALCOLM STEWART
HAROLD HARRISON - JOHN MILLER DOUGLAS
JAMES M. SMALL - DOUGLAS JAYE
HERBERT A. JOHNSTON - WILLIAM ANSTEAD
DAVID HETHERINGTON - JAMES AGNEW
WILLIAM McLAGGAN - WM. EARL FOSTER
ERNEST WRIGHT - THOMAS PERCY JOHNSTON
DANIEL COCKLIN - ARTHUR LINGE
ROBERT WELLINGTON FOSTER - JOHN WOODS
JOHN A. POUND - ROBERT JOHN GRAY
JOHN KINCAID - HERBERT WHITMAN
ALBERT KNAPP - WILLIAM W. HAMMOND
JOHN HERMAN BECKER - JOHN R. BLACKBURN
SAMUEL BALDWIN WOODBRIDGE
GEORGE GREEN - JAMES DOWNING STEWART
HERBERT STEWART FINN - SAMUEL MELVILLE DAVISON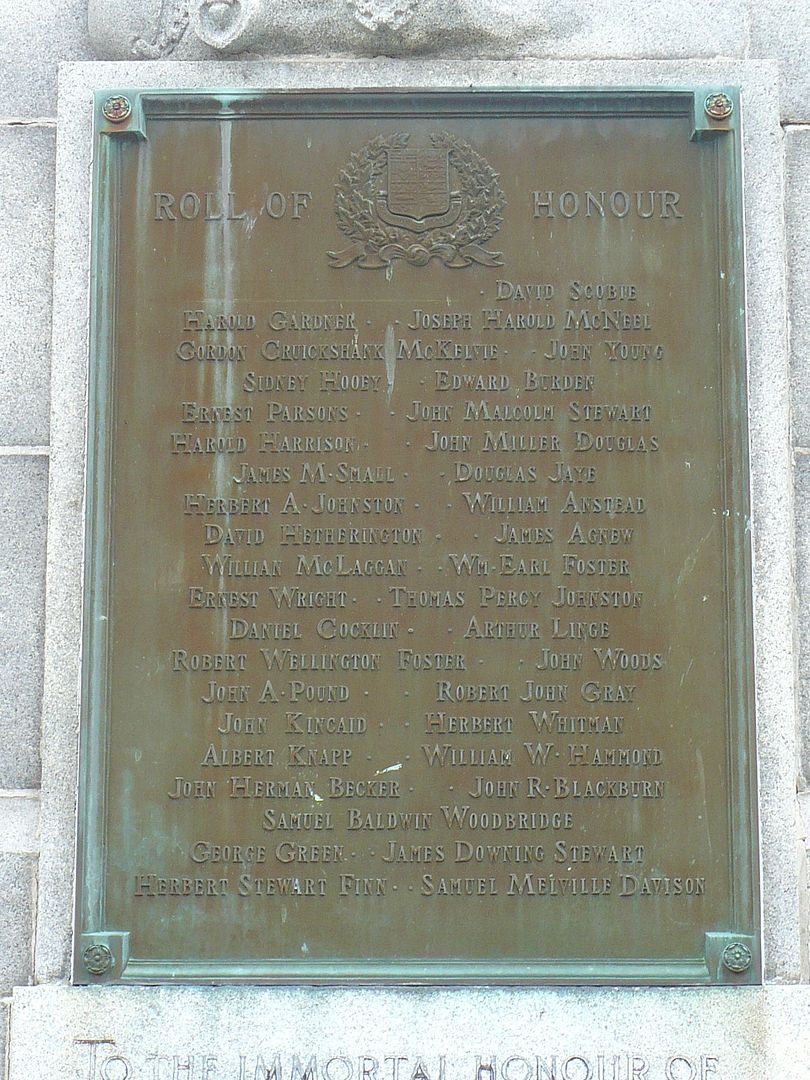 In stone:
TO THE IMMORTAL HONOUR OF
THE MEN OF CHESLEY AND
VICINITY WHO FELL IN THE
GREAT WAR. THIS MEMORIAL
IS DEDICATED IN PROUD AND
GRATEFUL REMEMBRANCE.
PRO PATRIA
1914 - 1918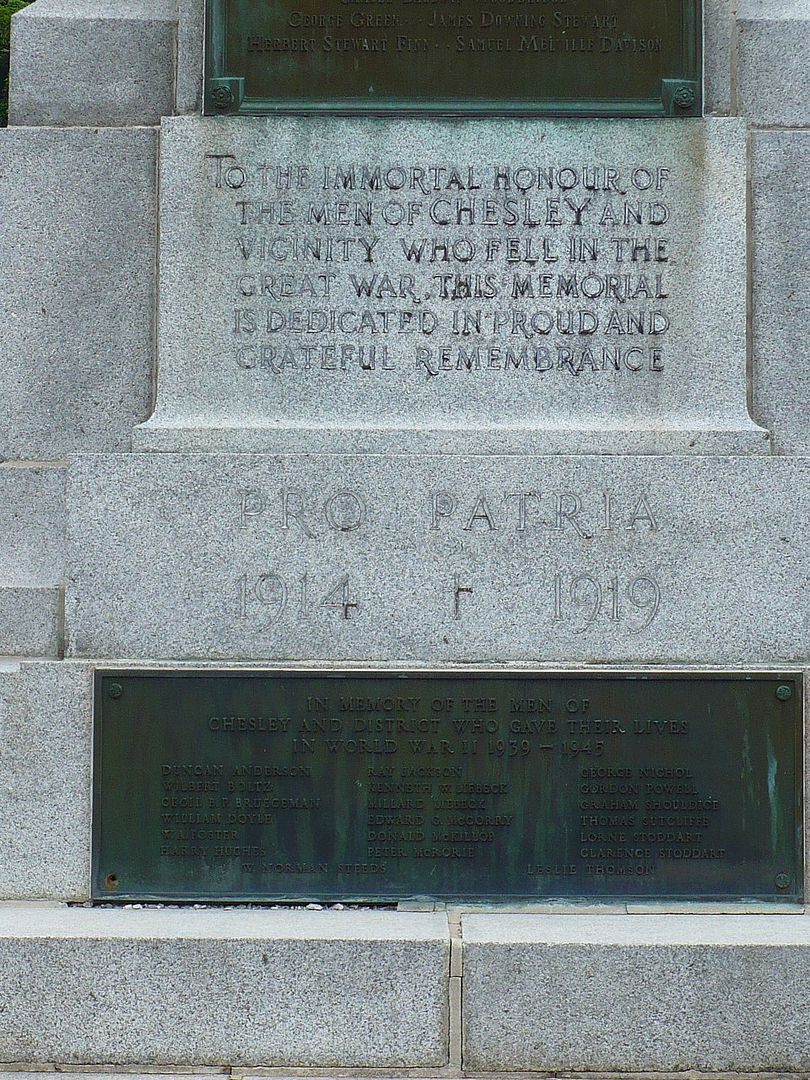 Second brass plaque:
IN MEMORY OF THE MEN OF
CHESLEY AND DISTRICT WHO GAVE THEIR LIVES
IN WORLD WAR II 1939 - 1945
DUNCAN ANDERSON
WILBERT BOLTZ
CECIL B.P. BRUEGEMAN
WILLIAM DOYLE
W.A. FOSTER
HARRY HUGHES
RAY JACKSON
KENNETH W. LIEBECK
MILLARD LIEBECK
EDWARD G. McCORRY
DONALD McKILLOP
PETER McRORIE
GEORGE NICHOL
GORDON POWELL
GRAHAM SHOULDICE
THOMAS SUTCLIFFE
LORNE STODDART
CLARENCE STODDART
W. NORMAN STEEDS
LESLIE THOMSON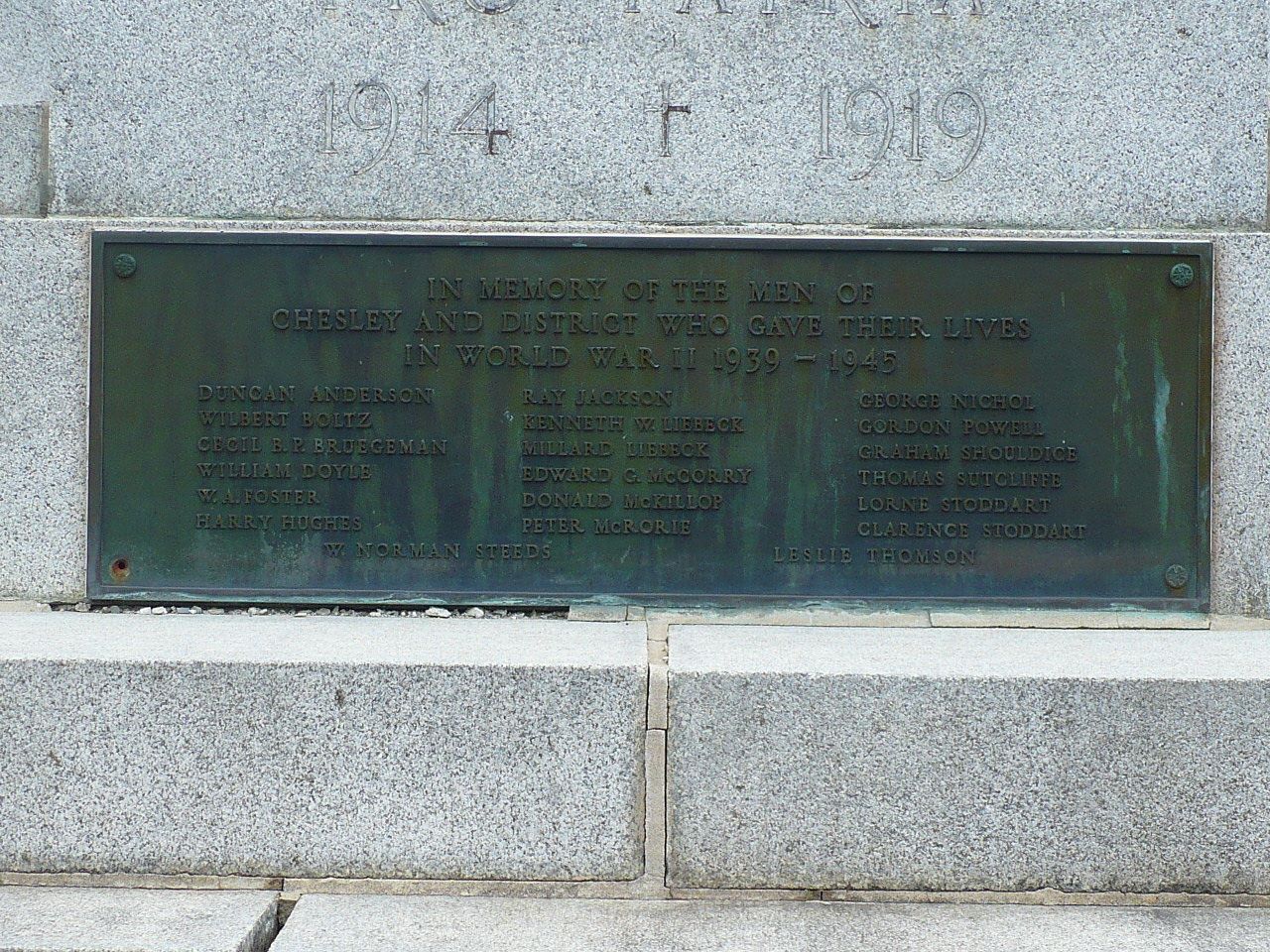 Left side:
PASSCHENDAELE
YPRES
SANCTUARY
WOOD
AMIENS
FESTUBERT
TO PERPETUATE
IN THE HEARTS OF PEOPLE
IDEALS OF JUSTICE, FREEDOM
SACRIFICE AND PEACE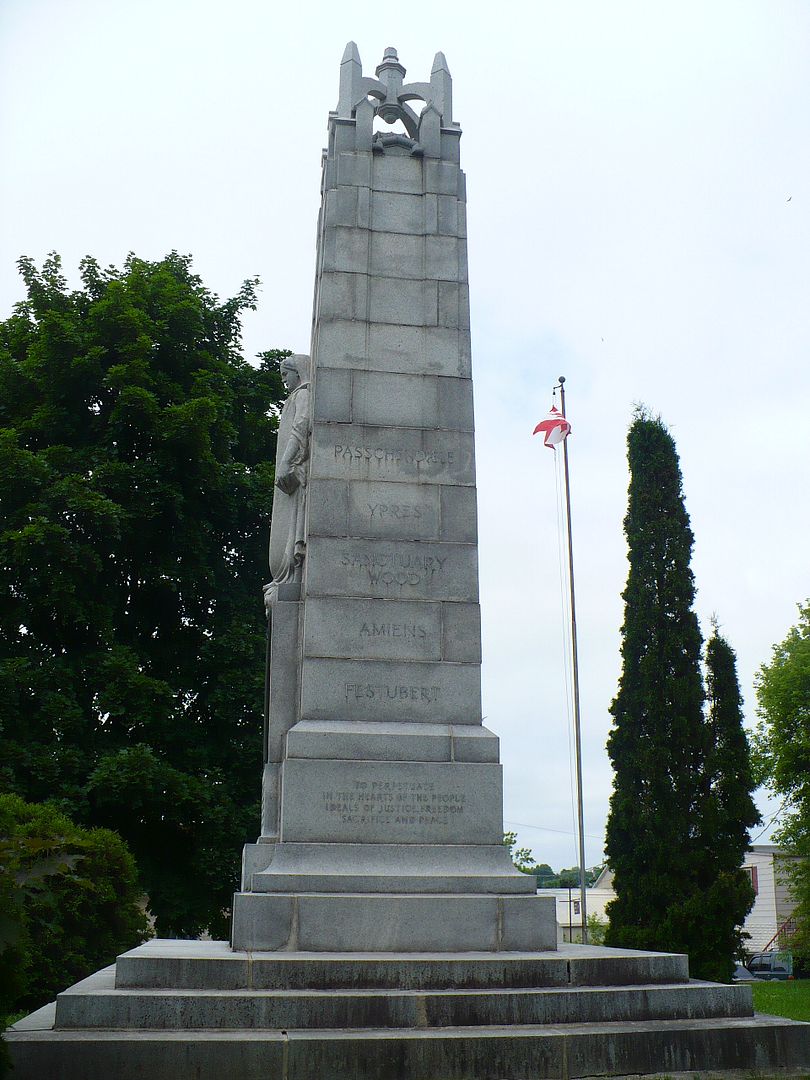 Rear:
THEY SHALL NOT GROW OLD
AS WE THAT ARE LEFT GROW OLD
AGE SHALL NOT WITHER THEM
NOR THE YEARS CONDEMN
AT THE GOING DOWN OF THE SUN
AND IN THE MORNING
WE WILL REMEMBER THEM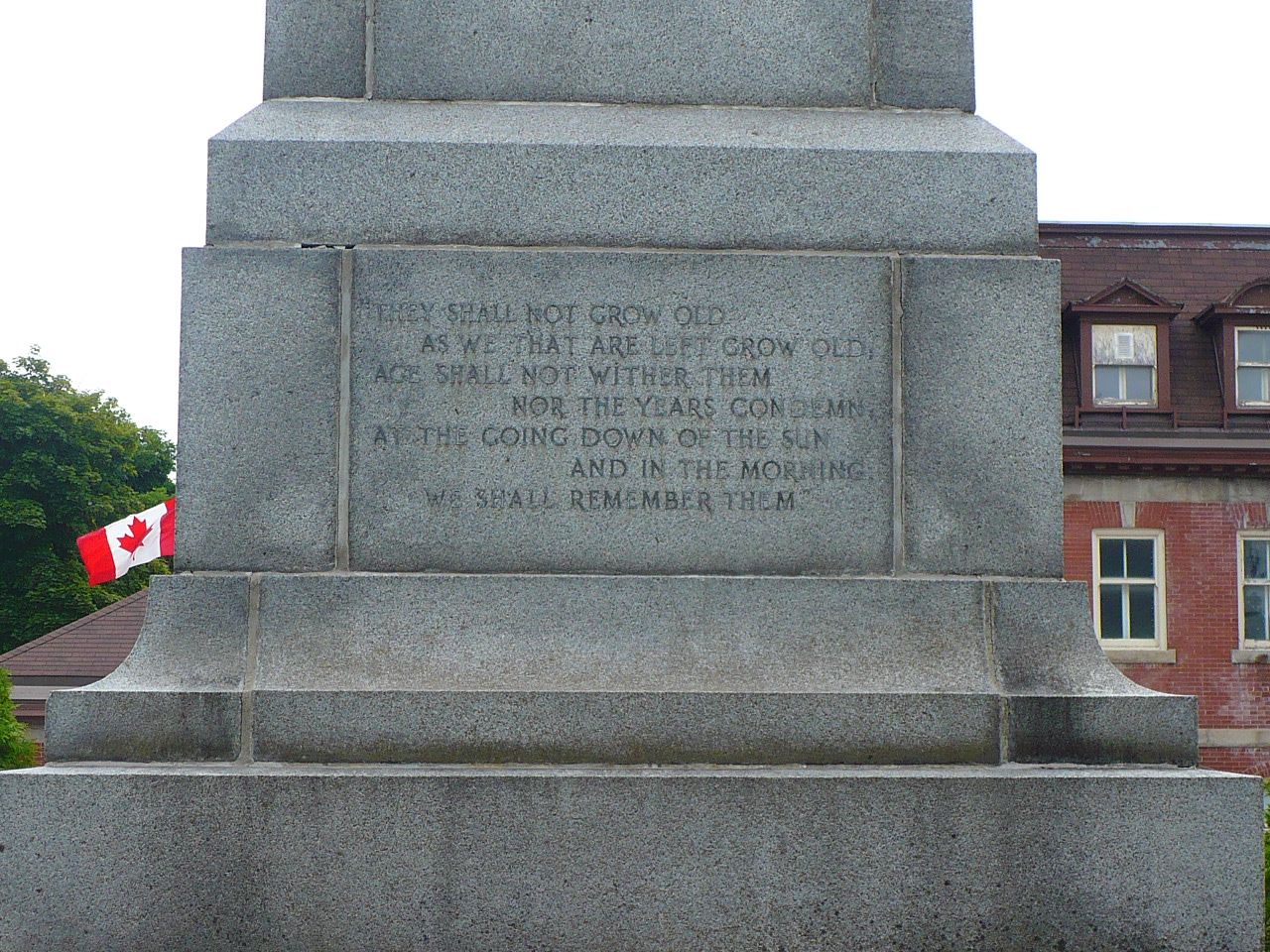 Right side:
VIMY RIDGE
MONS
THE SOMME
CAMBRAI
ARRAS
TO COMMEMORATE
THE UNCONQUERABLE VALOUR
OF THE CANADIANS WHO FOUGHT
IN THE GREAT WAR