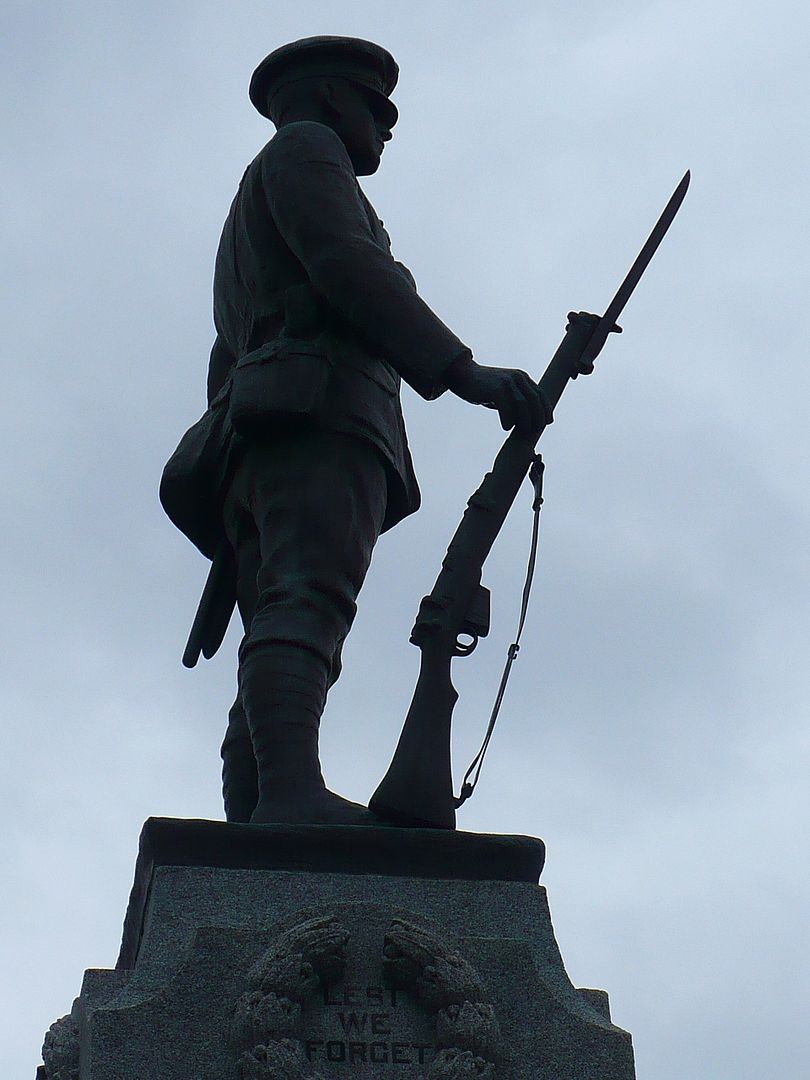 Location: Niagara Region N 43 10.204 W 79 03.441
At the intersection of Niagara Parkway and Queenston Street.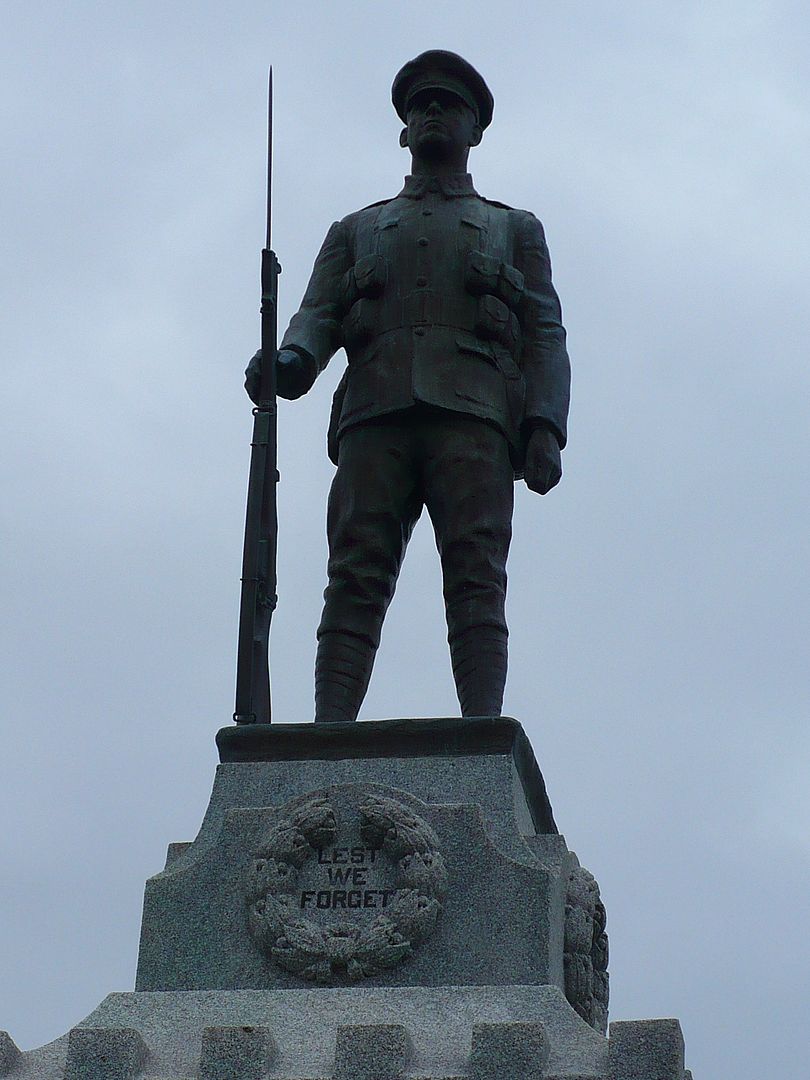 A beautiful memorial in one of the most historic towns in Ontario. This memorial is dedicated to those who fought in the World Wars and Korea. Featuring a statue of a young WWI soldier atop a granite shaft, with the names of those who died in the conflicts, and the names of the major battles they fought in during the 1914-1918 Great War.
Marker text:
Front:
LEST WE FORGET
THIS MONUMENT IS DEDICATED IN MEMORY OF
THE MEN OF NIAGARA TOWNSHIP WHO GAVE
THEIR LIVES FOR THE CAUSE OF FREEDOM IN THE
GREAT WAR
1914 - 1918
AND IN WORLD WAR II
1939 - 1945
WHOSE NAMES ARE RECORDED AND IN
HONOUR OF THOSE WHO SERVED
KOREA
1950 - 1953
TO YOU FROM FAILING HANDS WE THROW THE TORCH
BE YOURS TO LIFT IT HIGH
TOWNSHIP OF NIAGARA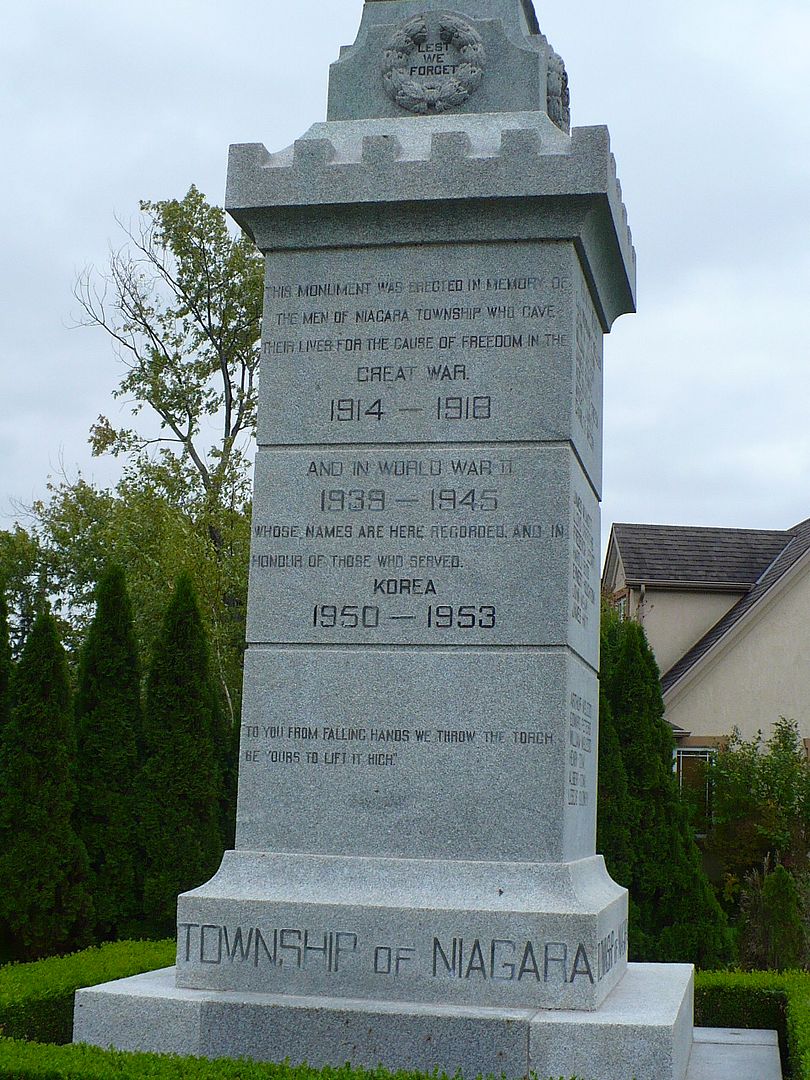 Left side:
1914 - 1918
LIEUT. NORMAN C. NELLES
JOHN M. KELSON
WILLIAM ARCHER
JAMES RENNIE
ADELBURT S. GREEN
WRIGHT LOWREY
CHARLES S. McCOY
JAMES WILMOTT
LLOYD GRIFFITHS
FREDERICK LEGATT
HAROLD BUDD
ERNEST HOUGHTON
JOHN McKAY
JAMES HATT
ARTHUR McLEOD
EDWARD PETERS
WILLIAM McLEOD
HENRY COWL
ALBERT COWL
LESLIE GUDNEY
TOWNSHIP OF NIAGARA
Rear:
2nd BATTLE YPRES
ST. JULIEN
FESTUBERT
GIVENCHY
SANCTUARY WOOD
ZILLIBECK
HOODGE
THE SOMME
COURCELETTE
VIMY
FRESNOY
HILL 70
PASSCHENDAELE
CAMBRAI
AMIENS
ARRAS
MONS
TOWNSHIP OF NIAGARA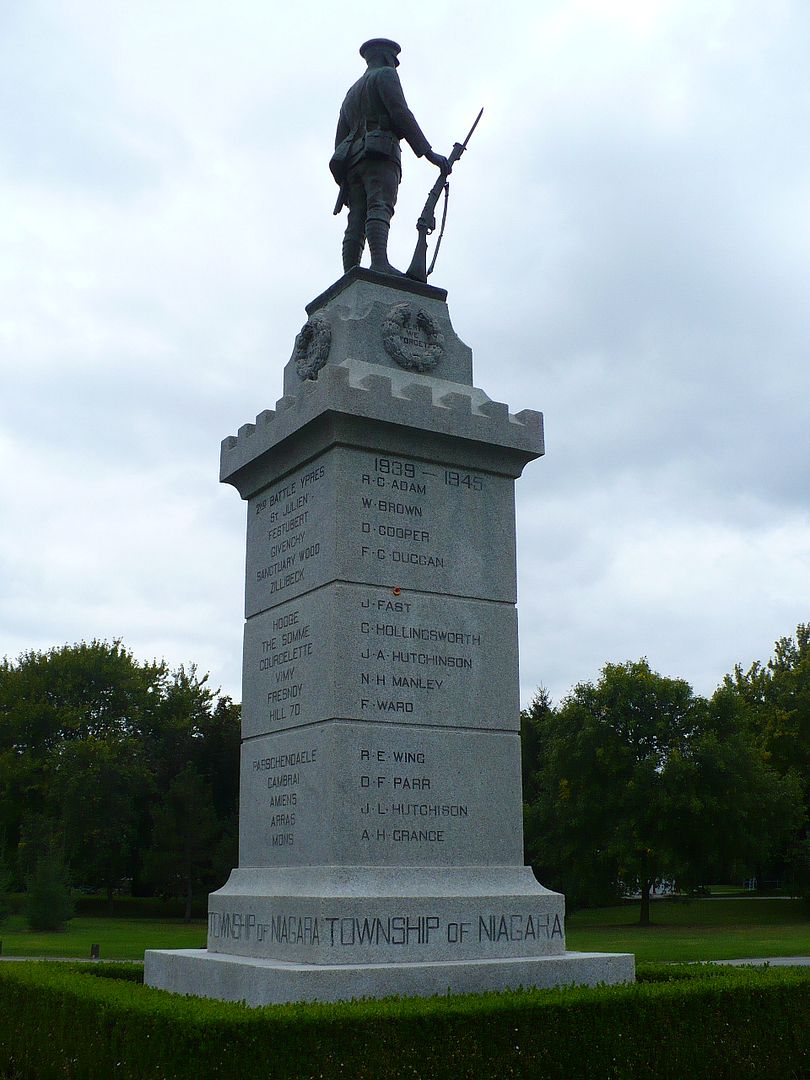 Right side:
1939 - 1945
R.C. ADAM
W. BROWN
D. COOPER
F.C. DUGGAN
J. FAST
C. HOLLINGSWORTH
J.A. HUTCHISON
N.H. MANLEY
F. WARD
R.E. WING
D.F. PARR
J.L. HUTCHISON
A.H. GRANGE
TOWNSHIP OF NIAGARA