Location: Hastings County
N 44° 06.024 W 077° 34.513
At the entrance to Fraser Park, just off Fraser Park Drive, near the Legion.
The gate at the entrance to Fraser Park was the original Great War memorial for Trenton. These beautiful gates sit across the road from the Royal Canadian Legion Branch 110, and beside the much larger, more impressive and newer cenotaph which was built in 1968.
These gates were built after the First World War, and list the names of those lost during that terrible conflict of 1914 to 1918. The names of those lost in the Second World War were later on the back of the gates. The Imperial Order of the Daughters of the Empire were the group responsible for creating this monument, as they did in many small towns across the nation. The gates acted as the main cenotaph for the town for many decades.
Marker text:
Front left:
IN MEMORIAM
PRIVATES
C. CONKRIGHT
J. ENTWHISTLE
T.C. MC WILLIAMS
J.W. MC MULLEN
C.W. MILLIGEN
C.F. QUACKENBUSH
M. WANNAMAKER
J.W. WOODACRE
H.H. BARNHAM
E.A. BISSELL
J.T. CARROLL
W.O. DISELEST
F.J. KEELER
J.W. HIBBERT
P.W. LAPOINTE
C. MOUNTEMAY
R.J. PEARSON
H.W. REDDICK
W. ROCHLEAU
W.J. SMITH
F. SPAFFORD
H.E. TAYLOR
T.E. ALLORE
J.E. BLAKLEY
B.P. CRONK
T. GUNYON
K. HICKS
W.A. MEATH
W. RYAL
R. WRIGHT
A.C. BILLINGS
C.A. BILLINGS
J.W. CLOONEY
L.J. FURNIER
J.A. KELLAR
R. MORRISON
B.A.R. LEACH
J.B. NEWTON
C.R. POTTER
J.F. REDDICK
F.J. SHONIKER
A.H. SNIDER
N.B. SPURLES
K. WILKINS
E. BARRAM
FF.J. BURTT
J. CALNA
C. HICKS
A. KELLY
P. VALIERE
W. WELLER
G.D. FRIEND
J.L. YOUNG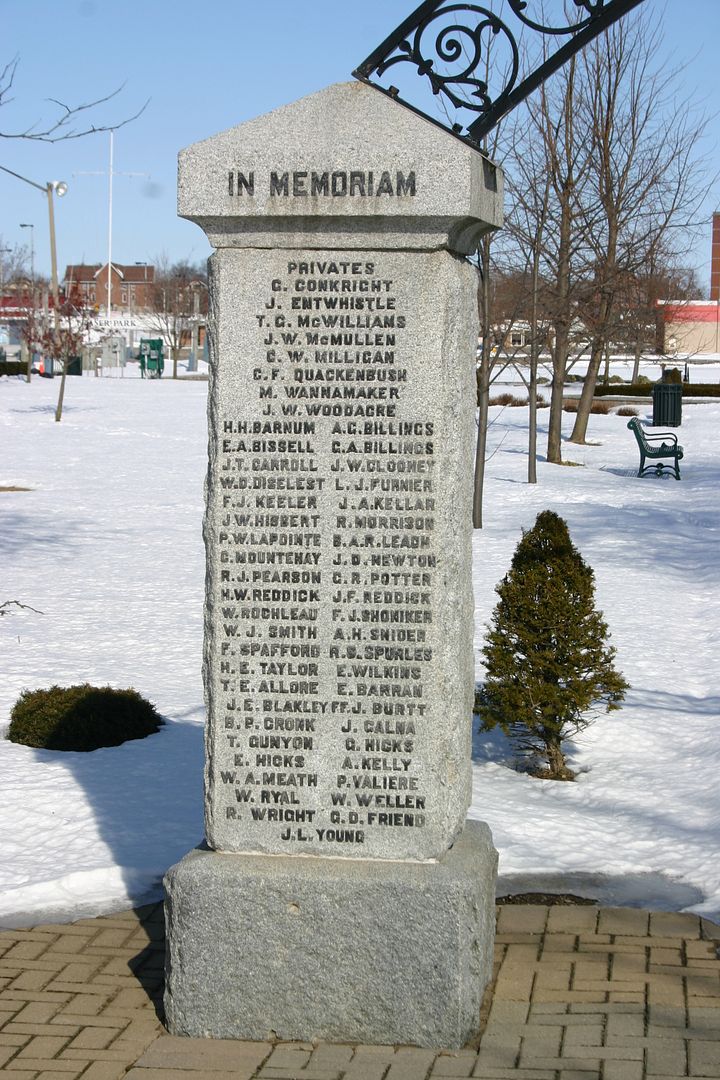 Front right:
1914 - 1919
CAPT. R.A. IRELAND C.A.M.D.
CAPT. H.H. LITTLE C.A.M.D.
FLT-LT. R.A. PHILLIPS R.A.F.
FLT-LT. K.V. TUNNEY R.A.F.
LIEUT. F.T.P. COND R.Y.N.R.
LIEUT. J.A. COLLINS
LIEUT. J.D. COLLINS
LIEUT. H. HAYES
SERGT. K. DELISLE
SERGT. A. PATCH
LANC-CORP. D. FULFORD
BDR. J.H. GALLAGHER
BDR. A. RUSSELL
"GREATER LOVE HATH NO MAN
THAN THIS, THAT A MAN LAY
DOWN HIS LIFE FOR HIS
FRIENDS."
ERECTED BY "THE GOVERNOR
SIMCOE CHAPTER" IMPERIAL
ORDER DAUGHTERS OF THE
EMPIRE.
TEALLIE WHITE
REGENT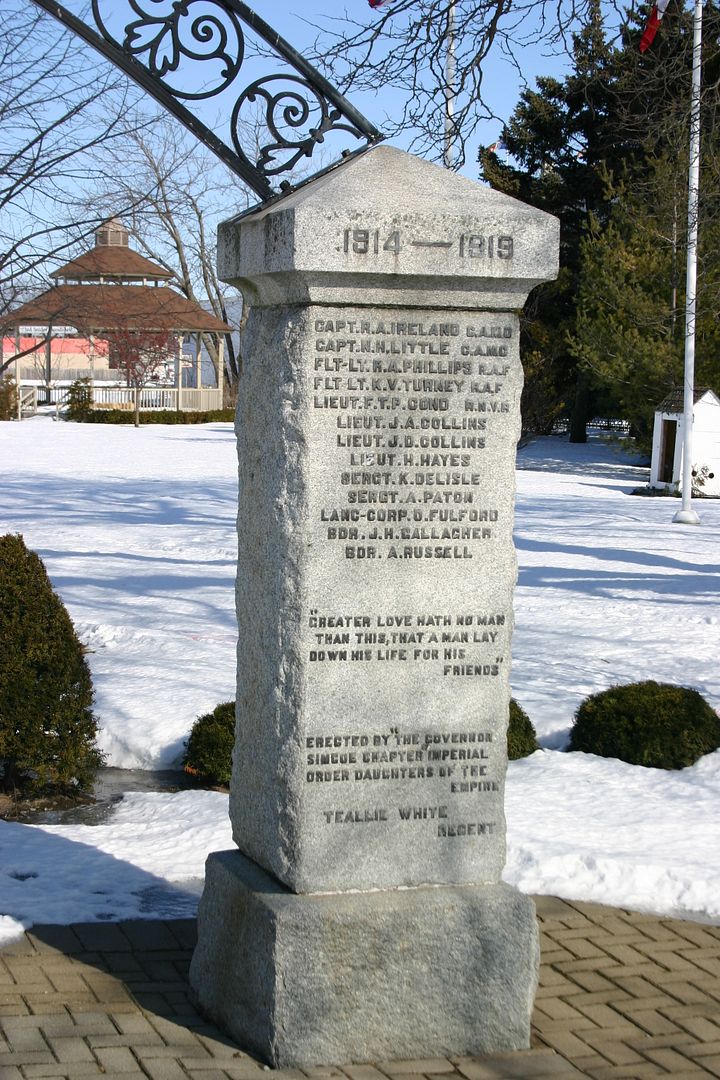 Rear left:
IN MEMORIAM
CHARLES ALLISON
GERALD ANDERSON
ARTHUR BILLINGS
ARCHIE BOWEN
JOHN CLARKE
ERIC COLP
PAUL COLTMAN
SIDNEY COTTRELL
MURRAY DIXON
RAYMOND DOLAN
ROY DRAKE
CLARENCE FRAUTTS
JOHN GENEREAUX
RALPH GONYEA
WILLIAM HAZELTON
FARLEY HILL
ACHIE HUNTER
CLARKE JACKSON
ARTHUR JOHNSON
RAY JOHNSON
A.H. JOHNSON
EDRIC S. NEIL
ROY NORTHROP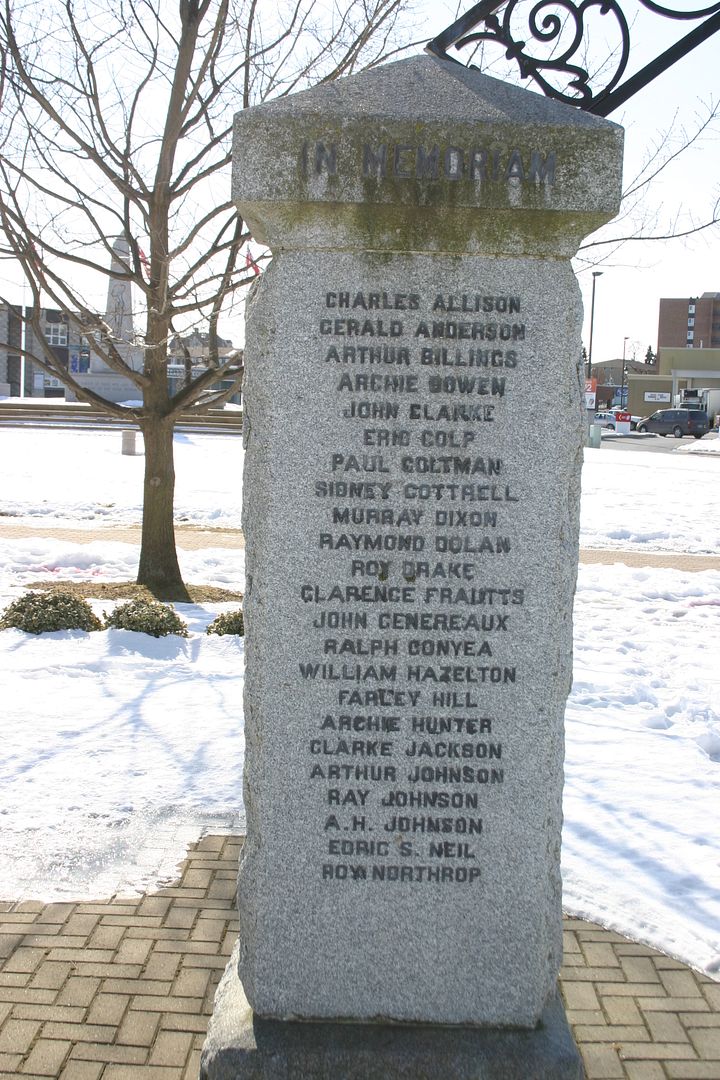 Rear right:
1938-1945
ARTHUR KEMP
JAMES KERR
GERALD LEVERIDGE
KENNETH MARTIN
CECIL MC CORMICK
J.F. MC DONALD
HARRY MC KENZIE
WALTER MORAN
CLARKE MC MURRAY
LESLIE MENZIE
ALLAN MYLES
BRIAN ORCHARD
EARL POTTS
ERNEST RUTTAN
CHESTER SHEPPARD
ELMER SILVERTHORNE
GERALD SIMPSON
ROSS SUCCEE
BRUCE SUTCLIFFE
REGINALD WEEKS
BRUCE WILSON
EARL D. PHILLIPS