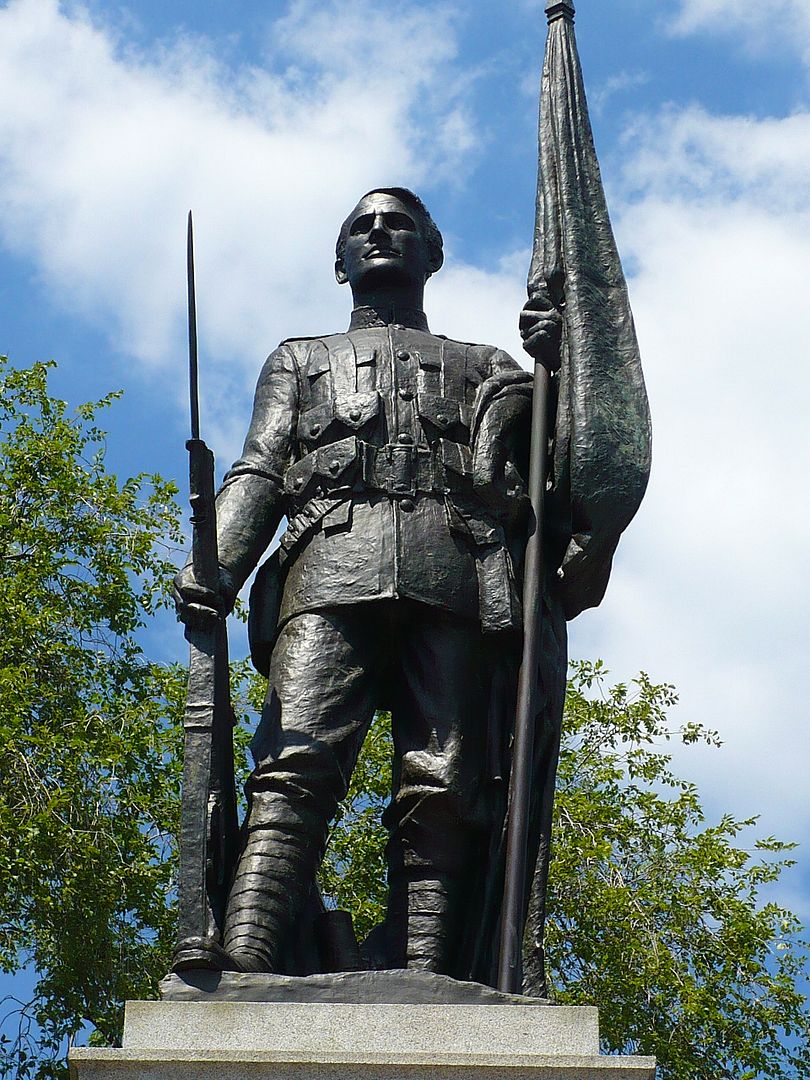 Location: City of Hamilton N 43. 13.173 W 079 43.778
On the south-west corner of King Street and Queenston Road (Highway 8).
This memorial cenotaph was constructed in 1922, in memory of the men of Saltfleet Township, who gave their lives in the First World War. The centoaph consists of a bronze statue, on top of a large granite shaft, with the names inscribed for eternity. Oddly, this is one of the few memorials which dates the war 1914-1919.
After the Second World War, a granite block was placed in front of the statue, with the names of those lost in World War II, and later a single name lost in Korea.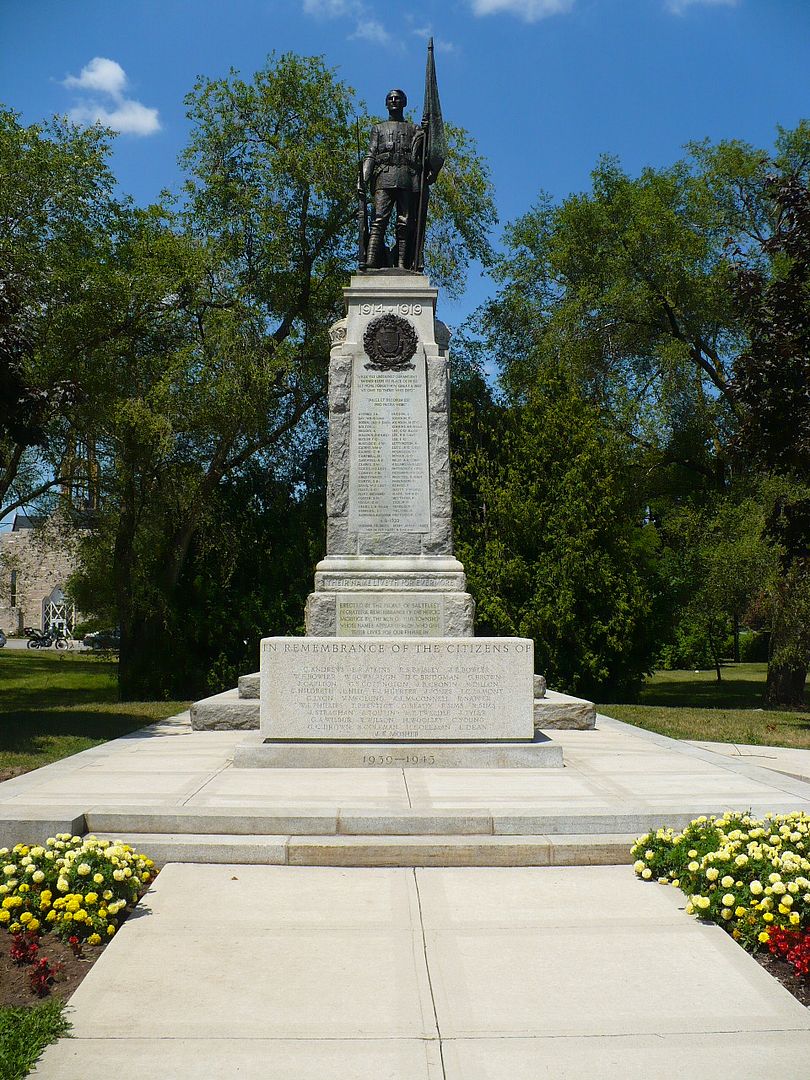 Marker text:
Cenotaph:
Front:
1914 - 1919
"WHILE YET UNSTAINED OUR ANCIENT
BANNER KEEPS ITS PLACE OF PRIDE
LET NONE FORGET HOW GREAT A DEED
WE OWE TO THOSE WHO DIED"
"DULCE ET DECORUM EST
PRO PATRIA MORI"
AXFORD, J.A.
BAY, WM. B. LIEUT.
BODEN, JAS E. SERGT.
BOLTON, L.
BROOKS, A.
BULLOCK, R.H. LIEUT.
BUTLER, F.C.
BLAYLOCK, J.W.
CAIRNS, WM. J.
CAIRNS, C.R.
CAMPBELL, D.
CASEWELL, A.E.
CLARKE, E.W.
COCKS, H.J. LIEUT.
CORMAN, F.M.
CROSTHWAITE, T.
CURTIS, S.B.
DAVIS, W.J. LIEUT.
FLINT, H.C.
FLINT, RICHARD
FOSTER, A.H.
FOYLE, G.H.
HENRY, L.B. MAJOR
HORNING, J.I.
MACDONALD, ALEXANDER
HUDSON, L.
JOHNSON, F.
JOHNSON, M.ST.C.
KIMMINS, A.E. MAJOR
LEE, G.D. MAJOR
LEE, H.E. LIEUT.
LEE, E.C.
LETTINGTON, A.
LUTZ, R.C. LIEUT.
McGREGOR, C.
McNAIR, G.O.
MILES, A.A. CORP.
MILLARD, WM. S. LIEUT.
PATTISON, C.E. LIEUT.
PICKERING, H.V. LIEUT.
PRENTICE, G. SERGT.
PARKINSON, H.
REAKES, V.
SCOTT, S.W. LIEUT.
SLADE, WM.A.D.
SMYTHERS, A.
TICE, P.W.
VANDUZEN, C.
WALTERS, H.
PATTERSON, C.V.
A. D. 1922
HUBBARD, FREDRICK
BERRY, JOSEPH JAMES
VAN DUZER, HARRY N. FLT. LIEUT.
THEIR NAME LIVETH FOR EVERMORE
ERECTED BY THE PEOPLE OF SALTFLEET
IN GRATEFUL REMEMBRANCE OF THE HEROIC
SACRIFICE BY THE MEN OF THIS TOWNSHIP
WHOSE NAMES APPEAR HEREON, WHO GAVE
THEIR LIVES FOR OUR EMPIRE IN
THE GREAT WAR 1914-1919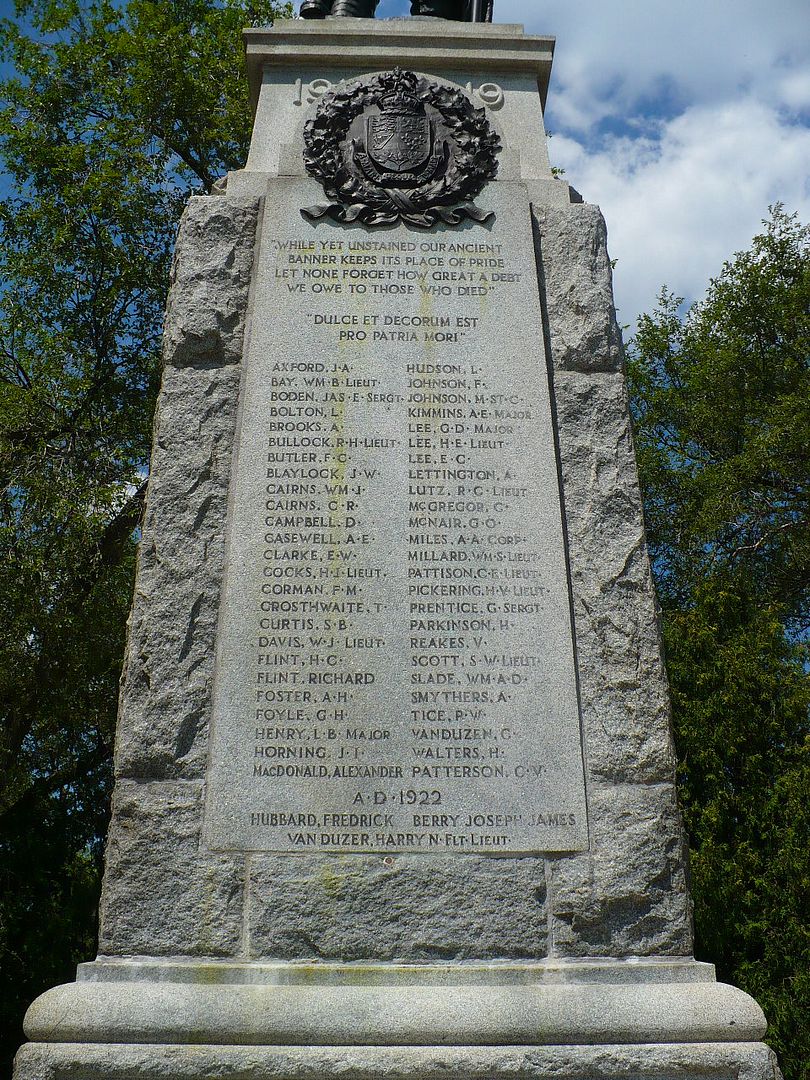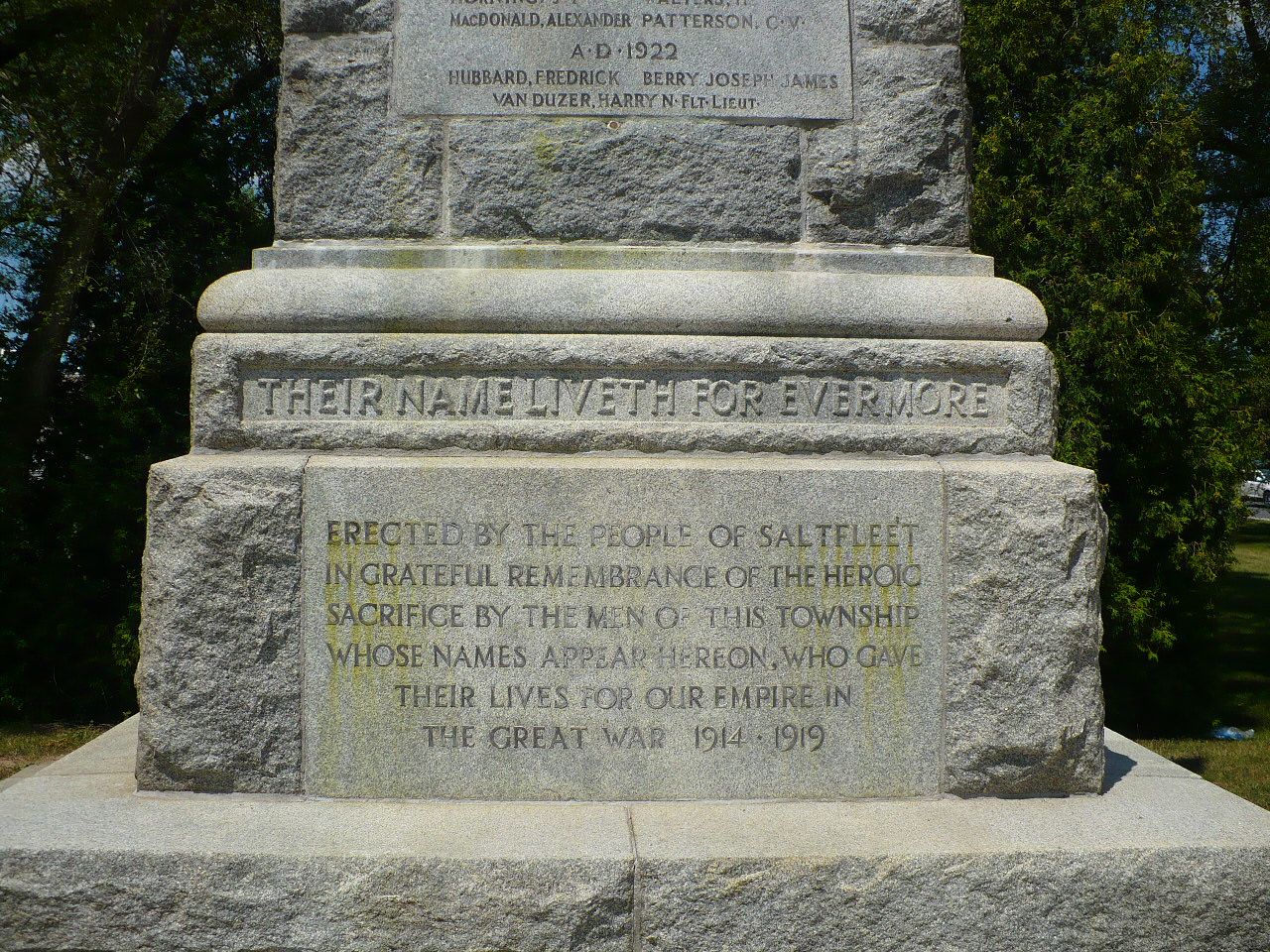 Rear:
1914 - 1919
YPRES
SOMME
FESTUBERT
GIVENCHY
PASSCHENDAELE
SANCTUARY WOOD
VIMY RIDGE
CAMBRAI
AMIENS
ARRAS
MONS
THEIR NAME LIVETH FOR EVERMORE
ERECTED A.D. 1922
Stone block:
IN REMEMBRANCE OF THE CITIZENS OF
SALTFEET TOWNSHIP
WHO MADE THE SUPREME SACRIFICE
IN WORLD WAR II.
C. ANDREWS
E.R. ATKINS
R.S. BALSLEY
J.E. BOWLER
W.F. BOWLER
W. BOWSLAUGH
D.C. BRIDGMAN
G. BROWN
J. CARLTON
G.S. COTTINGTON
J.B. CRONIN
P. DILLON
C. HILDRETH
L. HILL
F.J. HEURTER
J. JONES
F.C. LAMONT
C. LYON
V. McCLUNG
A.J. McCONNELL
R. NAPPER
W.J. PHILLIPS
T. PRENTICE
G. READY
F. SIMS
R. SIMS
J. STRACHAN
J. TOUTIN
W.E. TWEEDLE
J. TYLER
G.A. WILBUR
R. WILSON
H. WOOLLEY
C. YOUNG
G.C. BROWN
B. COLEMAN
H. COLEMAN
L. DEAN
J.E. MOSHER
1939-1945
1950-KOREA-1953
M.A. TRUTHWAITE