Location: City of Vaughan, York Region
N 43° 46.948 W 079° 35.620
80 Wallace Street, Woodbridge
The Woodbridge War Memorial Tower was constructed in 1924 by volunteer members of the community in honour of the supreme sacrifice made by the 26 men from the Woodbridge area killed in the First World War. The tower was unveiled by Colonel Harry Cockshutt, the Lieut-Governor of Ontario.
The site is designed in four stepped levels: the highest level is occupied by the tower and a pair of German field guns. The third level also hosts an artillery piece, along with the flagpoles and an area for wreaths and remembrance. The base level consists of a stone gateway and staircase, featuring an engraved marker and two plaques added later, one to commemorate Canada's 1967 Centennial Year, and the other erected by the politicians of the City of Vaughan in 1996 to congratulate themselves for agreeing to spend the funds to updated and landscape the park, something which they should be continually doing in any case.
This is one of the more impressive and beautiful Memorial parks I have visited. A true testament to the sacrifice of those who fought for our freedom.
Other links with more details of this site can be found at the following links:
https://www.cdli.ca/monuments/on/woodbrdg.htm
http://www.cmp-cpm.forces.gc.ca/dhh-dhp/nic-inm/sm-rm/mdsr-rdr-eng.asp?PID=5484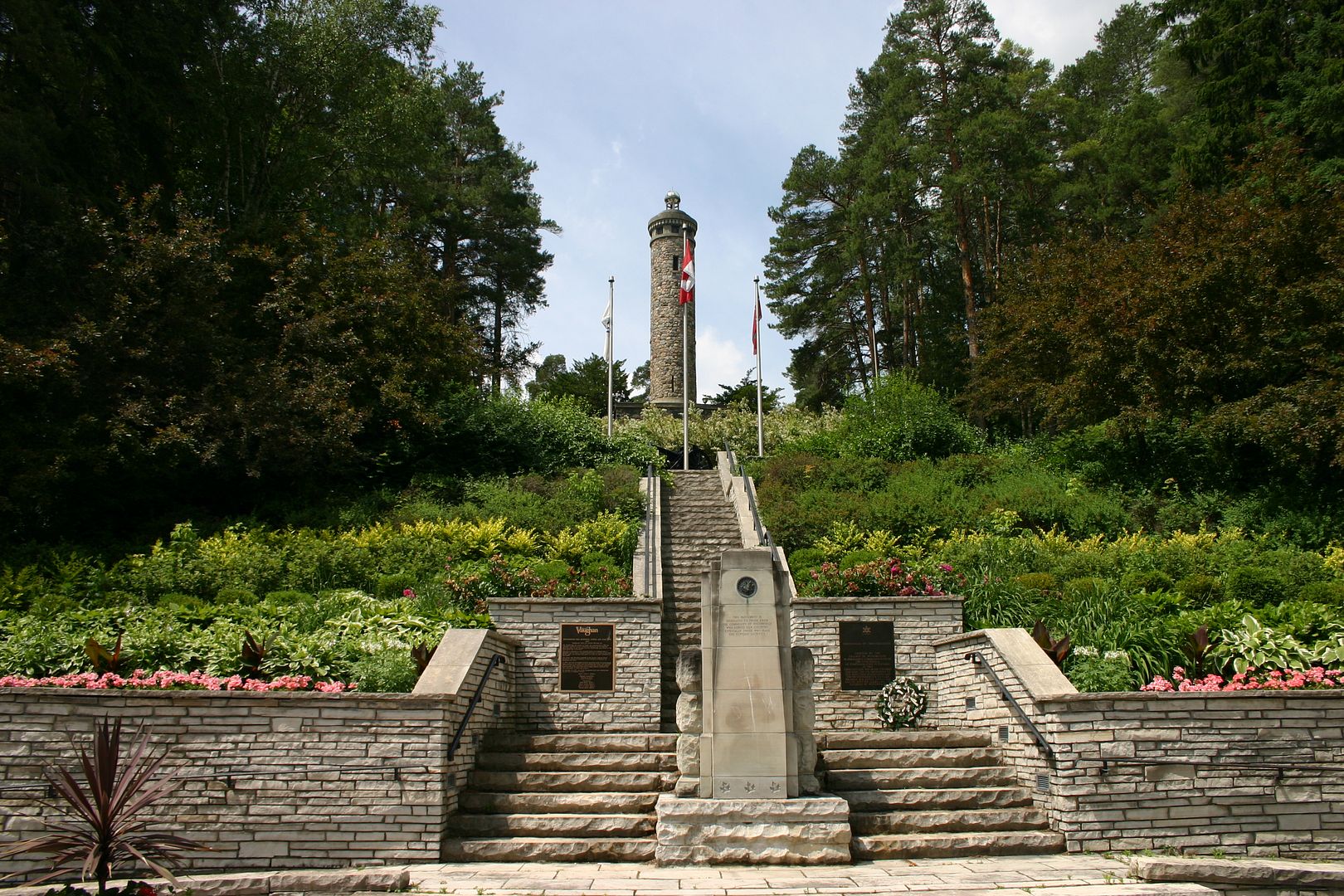 Marker text:
Lower level:
Front:
THIS MONUMENT IS
DEDICATED TO THOSE FROM
THE COMMUNITY OF WOODBRIDGE
WHO SERVED OUR COUNTRY.
ESPECIALLY THOSE WHO MADE
THE SUPREME SACRIFICE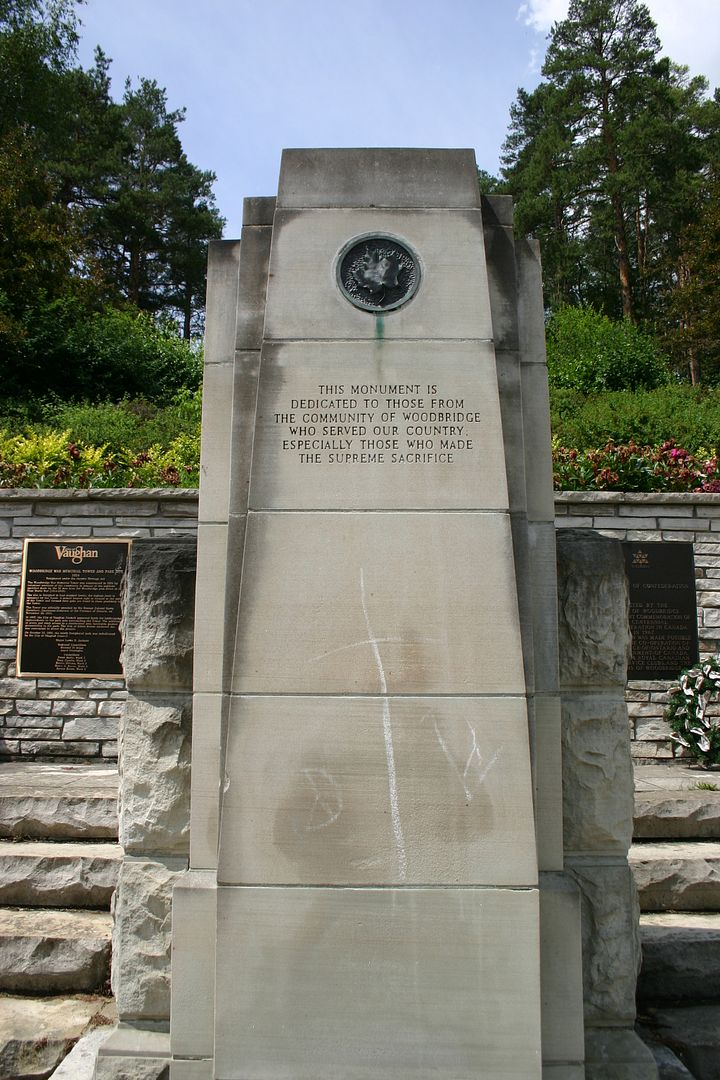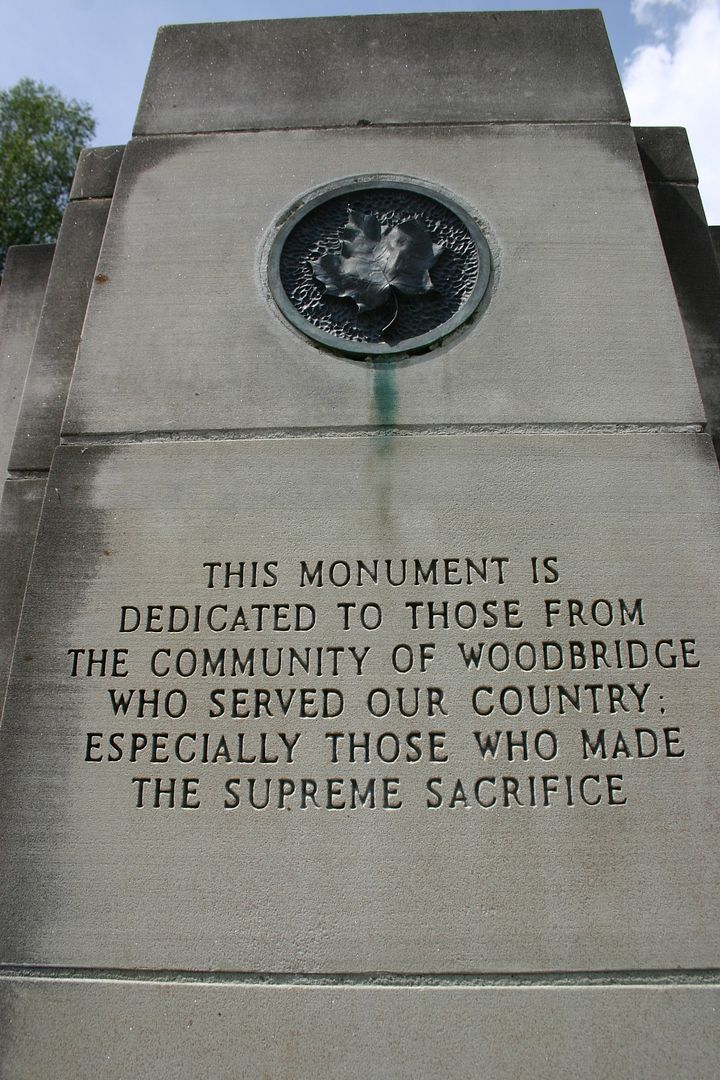 Back:
THEY SHALL NOT GROW OLD
AS WE THAT ARE LEFT GROW OLD
AGE SHALL NOT WEARY THEM
NOR THE YEARS CONDEMN
AND AT THE GOING DOWN OF THE SUN
AND IN THE MORNING
WE WILL REMEMBER THEM
Tower:
Front Plaque:
IN HONOUR OF
THE MEN OF THIS COMMUNITY
WHO LAID DOWN THEIR LIVES
FOR KING AND COUNTRY IN
1914- THE GREAT WAR -1918
FRANK BIRCH 127th.BN.
JAMES BORLAND 127th.BN.
FRED EVANS 226th.BN.
NORMAN FLEMING P.P.C.L.I.
GEORGE GRUMBLE 127th.BN.
H.S. HARRIS 220th.BN.
RICHARD HARRISON 1st. C.M.R.
WM. HASLAM 4th C.M.R.
D.R. MACKENZIE 127th.BN.
BEATON McGILLIVRAY P.P.C.L.I.
PERCY McKAY 2nd C.M.R.
HERBERT MILLER 14th.BN.
STANLEY ROBB 4th C.M.R.
EDWARD MORGAN 4th C.M.R.
JOHN MORGAN C.F.A.
ROBERT RAYSIDE 3rd.BN.
ERNEST SMITH 127th.BN.
ROY TAVERNER 3rd.BN.
REX TINKES C.F.A.
STANLEY WARREL 42nd.BN.
ROY WARREN 126th.BN.
CHRISTOPHER WATT M.T.
JOHN WILSON 4th C.M.R.
DAVID WITHERSPOON 5th C.M.R.
WALLACE WOOD, LT. 4th.BN.
J.A. WRIGHT 123rd.BN.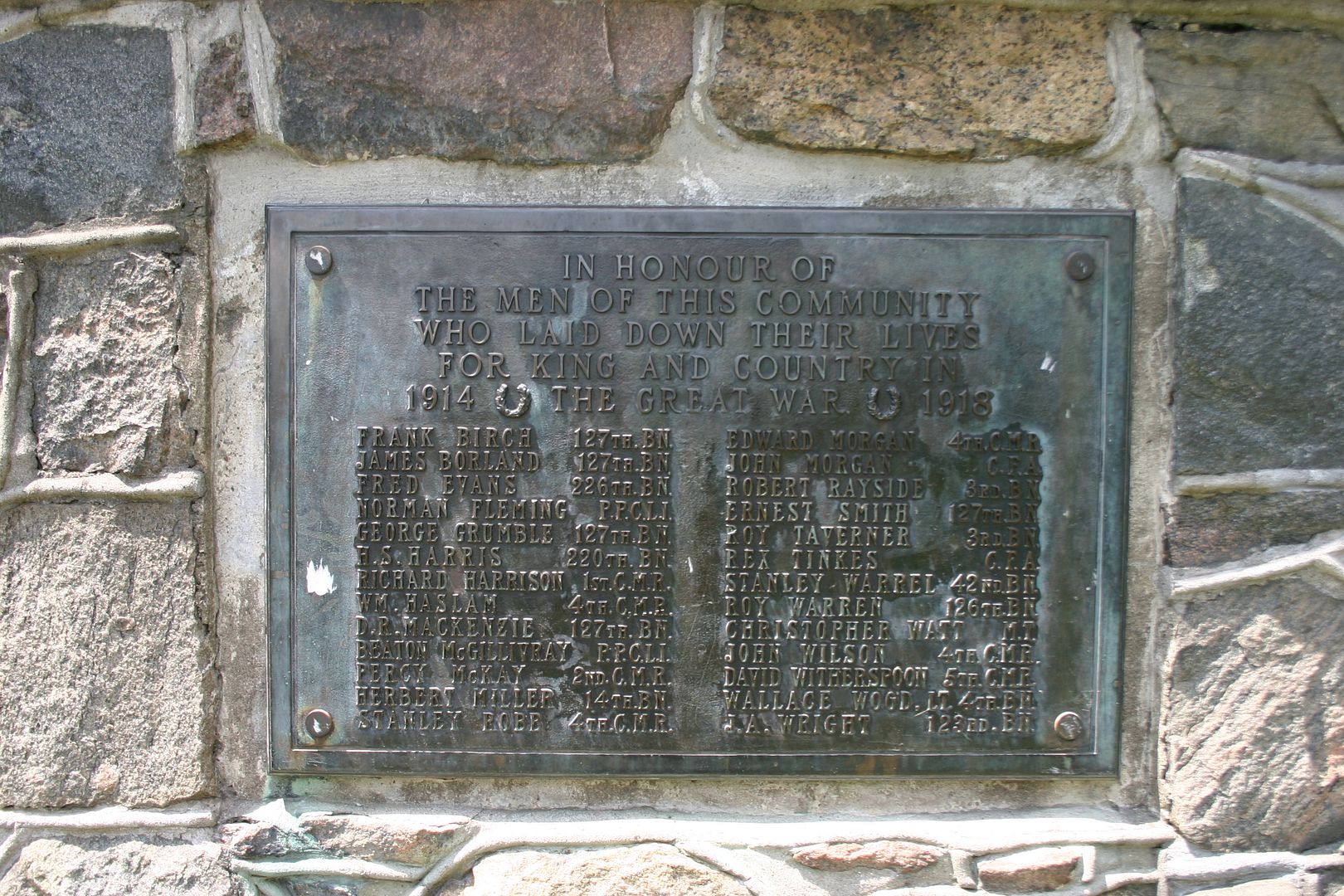 Rear:
THIS TOWER
WAS UNVEILED BY
HIS HONOR
COL. HARRY COCKSHUTT
LIEUT. GOV. PROVINCE
OF ONTARIO
NOV. 16, 1924