Location: Grey County N 44 15.705 W 080 33.114
In Memorial Park, 40 Syndenham Street (Highway 10), beside the library.
This limestone stele, was first erected to honour those who served and died in the Great War, with the names of those from the Second World War inscribed later. A nice setting, on a hill overlooking Memorial Park. The memorial is flanked by a German trench mortar and a machine gun.
Marker text:
Front:
VIMY SOMME
AMIENS YPRES
KILLED IN ACTION OR DIED IN TRAINING
MAX BANNON
CHAS. BUCHANAN
RUBEN CARCOE
WILLIAM DAVIS
D. EDWARD JAMIESON
ROBERT C. KERR
HAROLD A. MITCHELL
CHARLES MEGGITT
CHARLES McMULLEN
CLARENCE ORR
HAROLD PHILLIPS
IRA S. PERICOE
JOHN SHARP
ARNOLD M. THURSTON
CHAS. THISTLETHWAITE
WILLIAM WALKER
RICHARD WILCOCK
1939-1945
EDGAR DOUPE
EMERETTE J. FISHER
DAVID GRAHAM
JACKSON STEWART
LAWRENCE H. THOMPSON
ERECTED BY THE CITIZENS OF
FLESHERTON
TO THE MEMORY OF THOSE MEN
WHO FELL IN THE GREAT WAR
1914--1918
THEIR NAME LIVETH FOR EVERMORE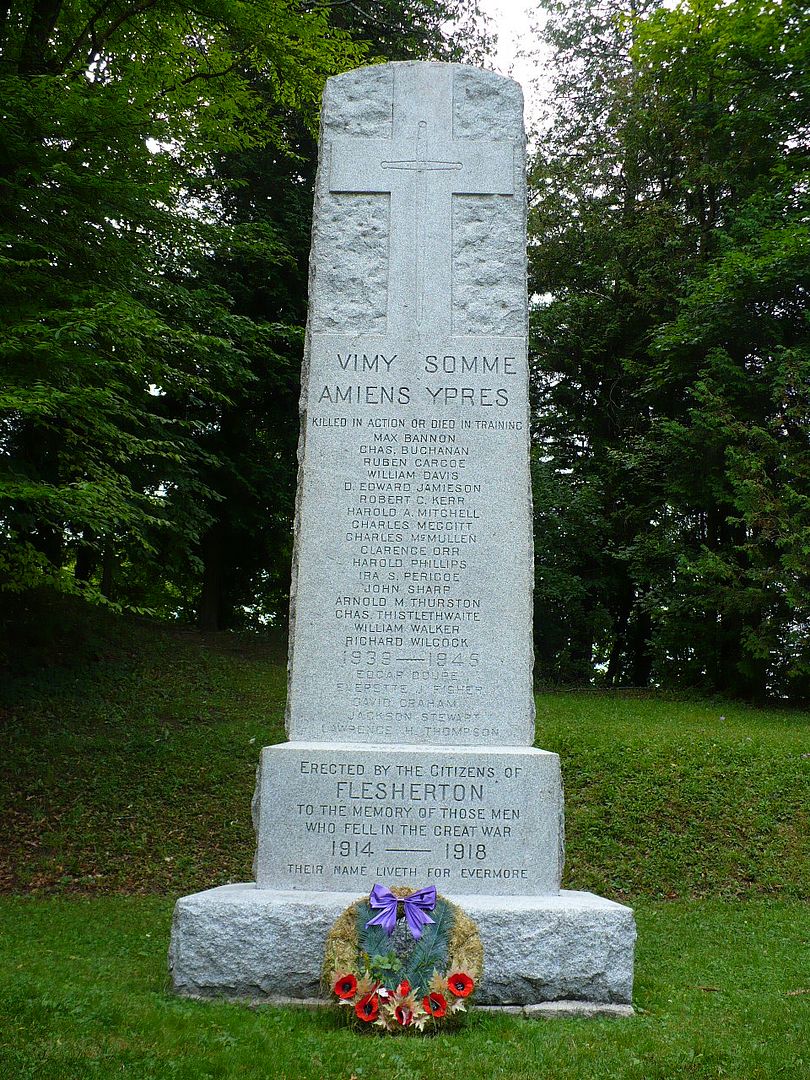 Left:
DALTON POCOCK WWII
Rear:
ENLISTED FOR ACTIVE SERVICE
C. McLEAN, C. ADAMS, E.F. ARMSTRONG, A.E. BELLAMY*, R.P. BELLAMY*, F.H. BELLAMY, L. BROTHWELL*, C.T. BLAKELY, W. BUCHANAN*, W. CARCOE, T. CHARD, C.J. CROSSLEY, C. CHISLETT*, W.M. DAVIS, C. DUDGEON, W. FAIREY*, H. FELLOW*, W. FLYNN*, W. GOLDHAWK, W. GIBSON*, C.E. HENRY*, J.H. HALES, J. HEMPHILL*, R. IRWIN*, T.A. JAMIESON*, E.N. JAMIESON*, MAE E. JAMIESON, F.C. KARSTEDT, J.A. LEGARD*, H.J. LEGARD, W.F. LEVER, E.R. LEVER, W.T. LITTLE*
A. McMULLEN, C. McMULLEN*, J.W. McMULLEN, G. McMULLEN, M.S. McLEOD, N. McLEOD*, H. McLEOD*, H.A. McCAULEY, R.E. McCAULEY*, F.D. McTAVISH, T. McARTHUR*, A.G. McMILLAN*, J.J. MEADS, H. PATTON*, F. PATTON*, G. PATTON*, J.J. PATTISON, A. RICHARDSON, C.B. RICHARDSON, W. RUTLEDGE*, M. RUTLEDGE*, W.J. RADLEY, F.R. SPROULE*, H. SULLIVAN, T. SPICER, R. WALLACE, W. WILCOCK*, M. WALKER, D. WEESE, E. WRIGHT, M.J. WRIGHT, W. WHITTAKER
*SINCE DECEASED
CLARENCE BOYCE
EDISON BOYCE WWI