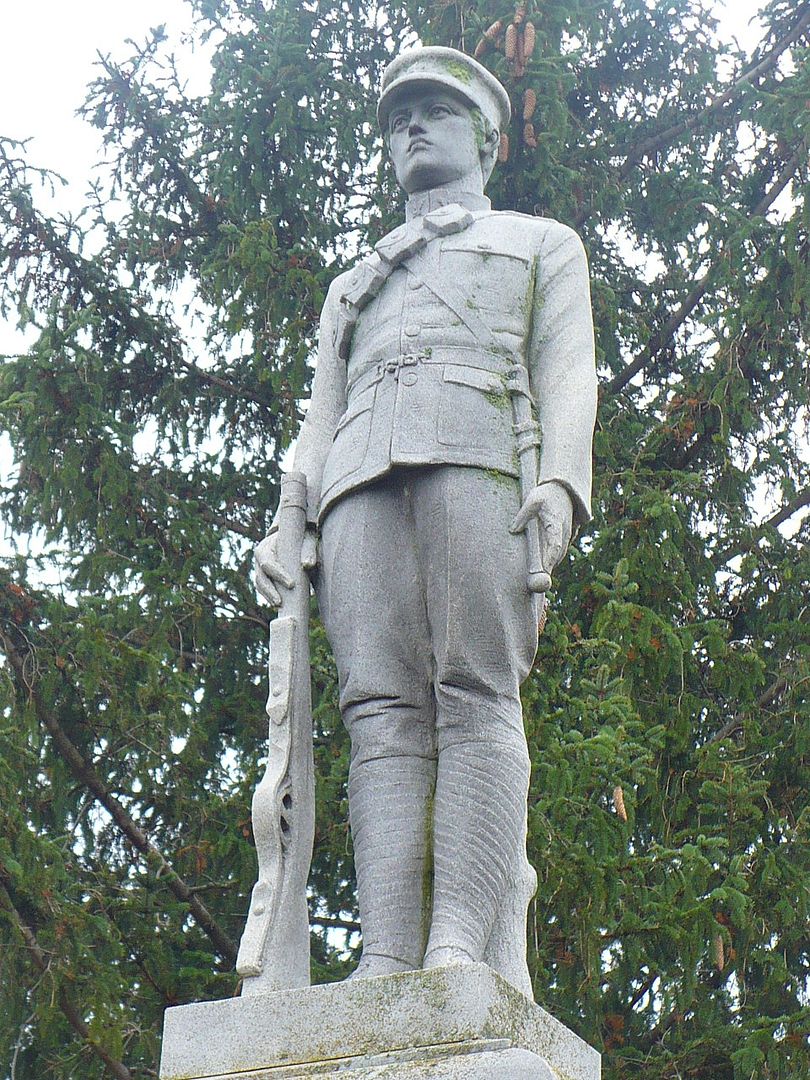 Location: Township of Puslinch, Wellington County
N 43 28.304 W 080 09.076
Found beside the Puslinch Community Centre, at 21 Brock Street S (Wellington Road 46).
A beautiful granite statue, with the names of dead from the Great War, was unveiled on June 3, 1920. After the Second World War, in 1949, the names of those who died in that war were inscribed and the memorial was once again the site of a grand memorial service. The memorial represents the Township of Puslinch, and is located in the village of Aberfoyle.
Marker text:
Front:
LANCE-CORP. ADAM A. HELLER, 1ST BATT.
LANCE CORP. SEPTIMUS HARRISON, 44TH BATT.
GR. ORMAN T. GIBBS, 16TH BATTY.
PTE. ROY A.M. SMITH, 14TH BATT.
PTE. ALEX J. MARTIN, 58TH BATT.
LANCE-CORP. WILLIAM G. GRAHAM-SHAW, 13TH BATT.
PTE. WALTER PENRICE, 87TH BATT.
PTE. LESLIE F. BAGLE, 3RD BATT.
PTE. WILLIAM G. MORRIS, 111TH BATT.
CORP. A.E. HERBERT, 8TH CANADIANS
GR. JAMES H. McINTYRE, 10TH BATTY.
FLIGHT-LT. JOHN MUNRO, CAN. F.C.
PTE. ALBERT H. CALVERT, 153RD BATT.
PTE. FRED FOLEY, 208TH BATT.
PTE. JAMES D. CLARK, 2ND BATT.
CORP. WILLIAM PALMER, 2ND TANK BATT.
PTE. ALFRED CROWHURST, 33RD M.G.S.H. BATTY
ERECTED TO THE MEMORY OF OUR HEROES 1914-1918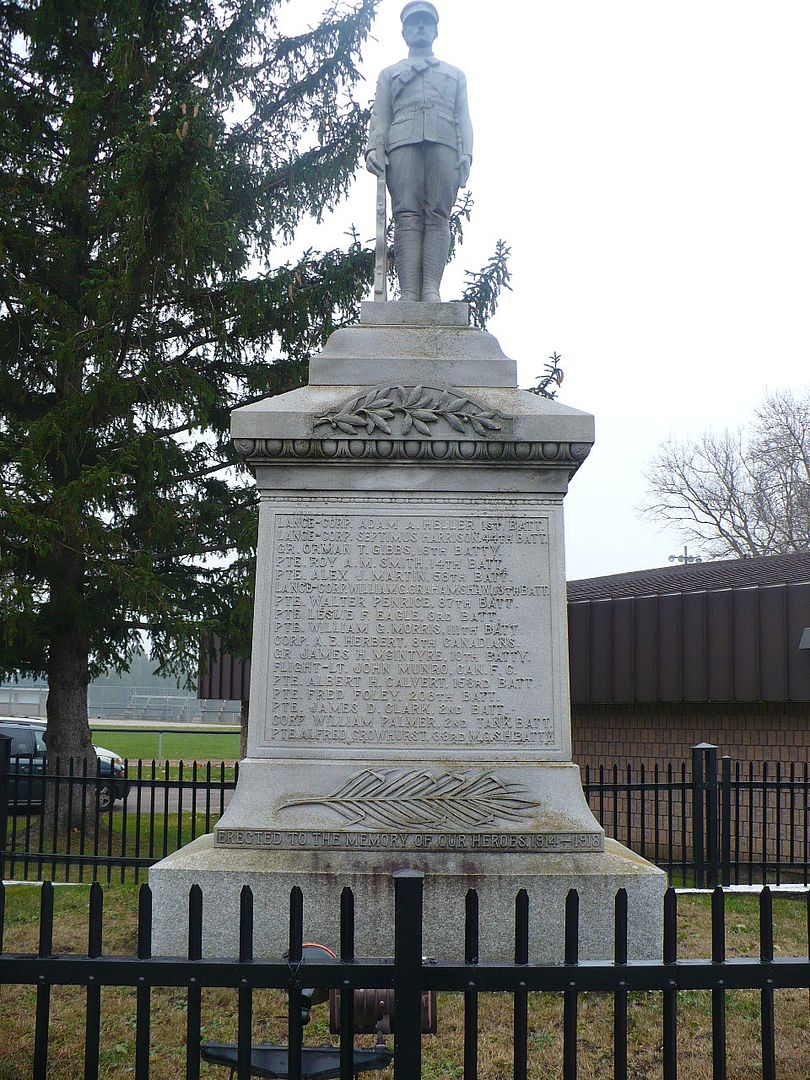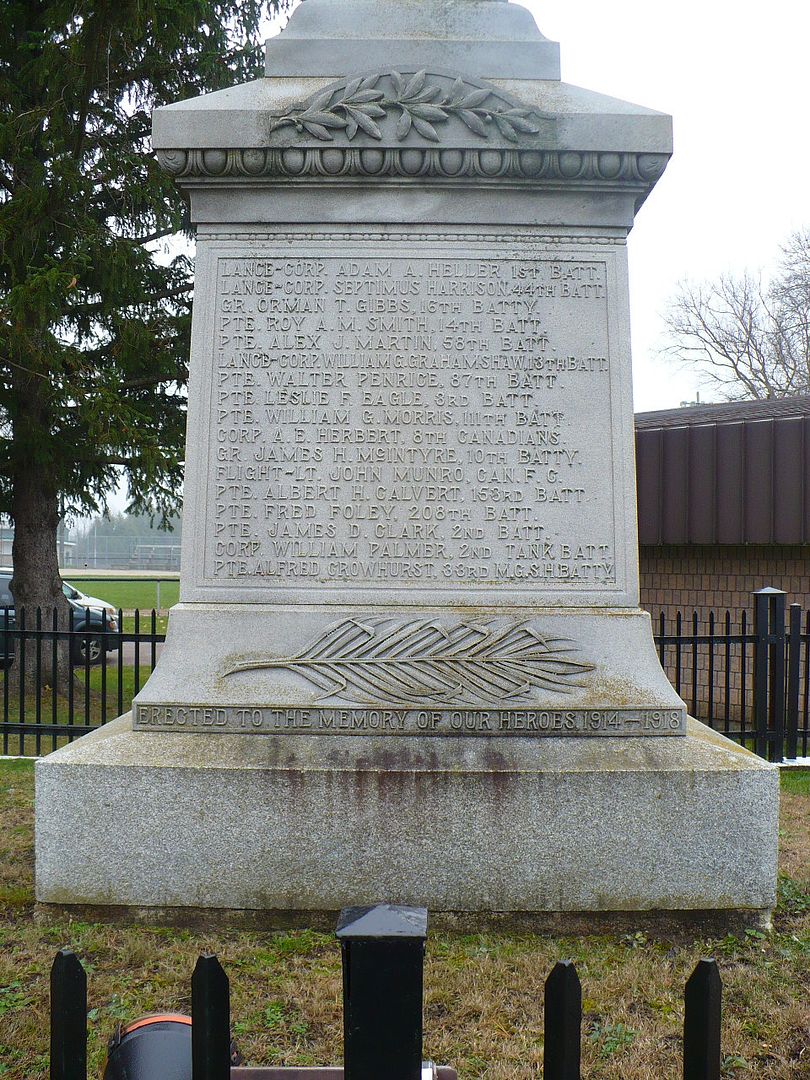 Rear:
PTE. L.W. MUNCH, 31ST BATT.
PTE. W. AMES, 71ST BATT.
SERGT. J.T. HERBERT, 153RD. BATT.
PTE. A. MACLEAN, 228TH BATT.
1939-1945
PATRICK McGARR
DAVID PRIEST
NORMAN FITTON
FRASER WEATHERALL
GERALD McEACHERN
GEORGE STEWART
W. ALEX McLEAN
KOREA
1950 - 1953