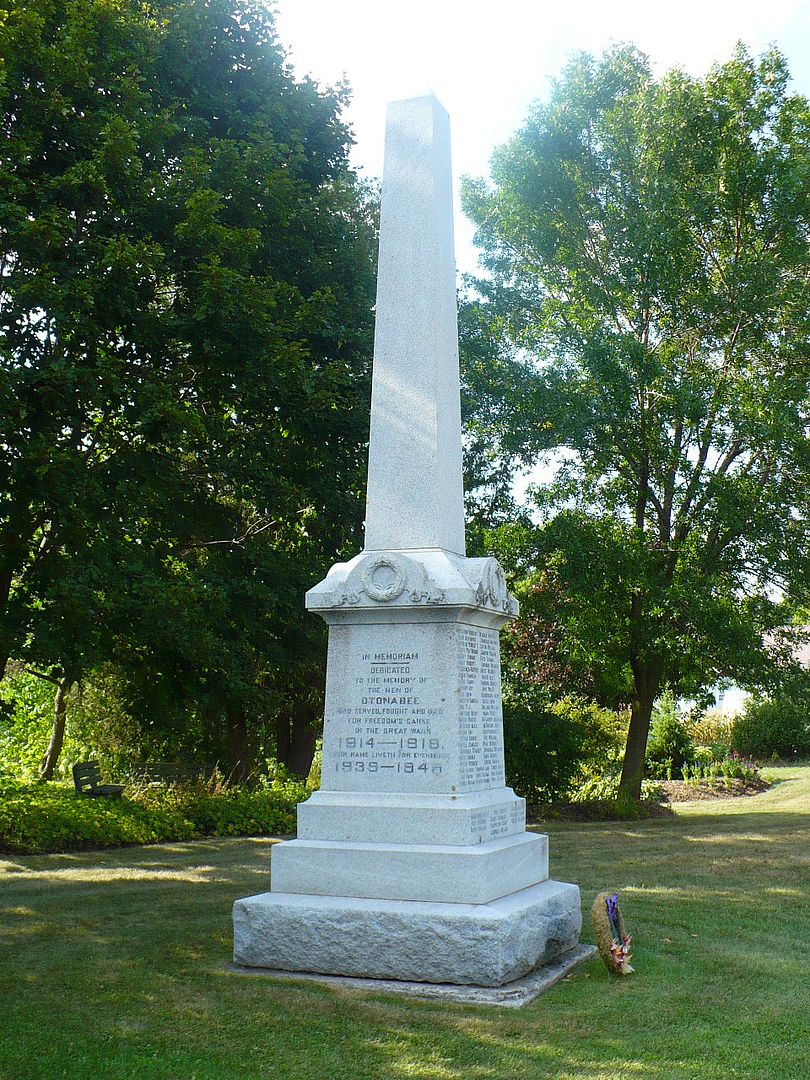 Location: Otonabee Township, Peterborough County
N 44 14.443 W 078 09.726
In a small park at the northwest corner of Heritage Line and County Road #2, in the village of Keene.
This tall memorial was erected in 1921, by the Township of Otonabee, to honour the dead of the First and later the Second World Wars. Each month a fresh wreath is placed at the base of the memorial each month. The grounds, bordered by a black metal fence, are maintained by the Royal Canadian Legion Otonabee Branch 607 and the North Shore Women's Institute, who ensure the landscaping and flowers are kept in good condition.
Marker text:
Front:
IN MEMORIAM
DEDICATED
TO THE MEMORY OF
THE MEN OF
OTONABEE
WHO SERVED, FOUGHT AND DIED
FOR FREEDOM'S CAUSE
IN THE GREAT WARS
1914-1918
THEIR NAME LIVETH FOR EVERMORE
1939-1945
Right:
1914-1918
Anderson, Robert
Bolin, Alphonse
Carpenter, Herbert E.
Curtis, Wm. Howard
Doherty, Thomas
Emery, Robert
Fitzgerald, Patrick
Girven, Franklin
Hastie, Harry
Hawkins, Roy
Head, John
Hatcher, Harold
Long, W.J.
Mathers, Henry
Mahood, Robert
McKenzie, Alex
Nelson, Ray
Peters, Ernest
Powell, Charles
Rippingale, Stanley
Smith, Harold
Sydes, Herbert
Shaw, Alfred
Tier, David
Wedlock Richard
Thompson, Lang
Toms, William
Wedlock, Richard
Weaver, Gordon
Blaker, Joshua
Corrigan, Edward
Curtin, William
Dainton, William
Dyer, Thomas
Edwards, William
Guest, Herbert
Hastie, Alex
Hawkins, Bruce
Hope, Wm. R.
Henderson, John
Keitle, John
Melling, William
Mann, Percy
McCarthy, Joseph D.
McGregor, John
Orde, Frederick
Pue, William
Read, George
Rippingale, Benjamin
Smith, George
Speirs, Harold
Tobico, Robert
Weir, Ormond
Whitt, Arthur
1939-1945
Ernest Alderson
Edward Gall
Roland Rennie
Ernest Bell
Gordon Heath
Henry Shepherd
William Campbell
Richard Eason
Elmer Paudash
Roland Walsh
Rear:
ERECTED
GRATEFUL REMEMBRANCE
BY THE
MUNICIPALITY OF
OTONABEE
A.D. 1921
THOSE WHO COME AFTER
SEE TO IT
THAT THEIR NAMES ARE
NOT FORGOTTEN.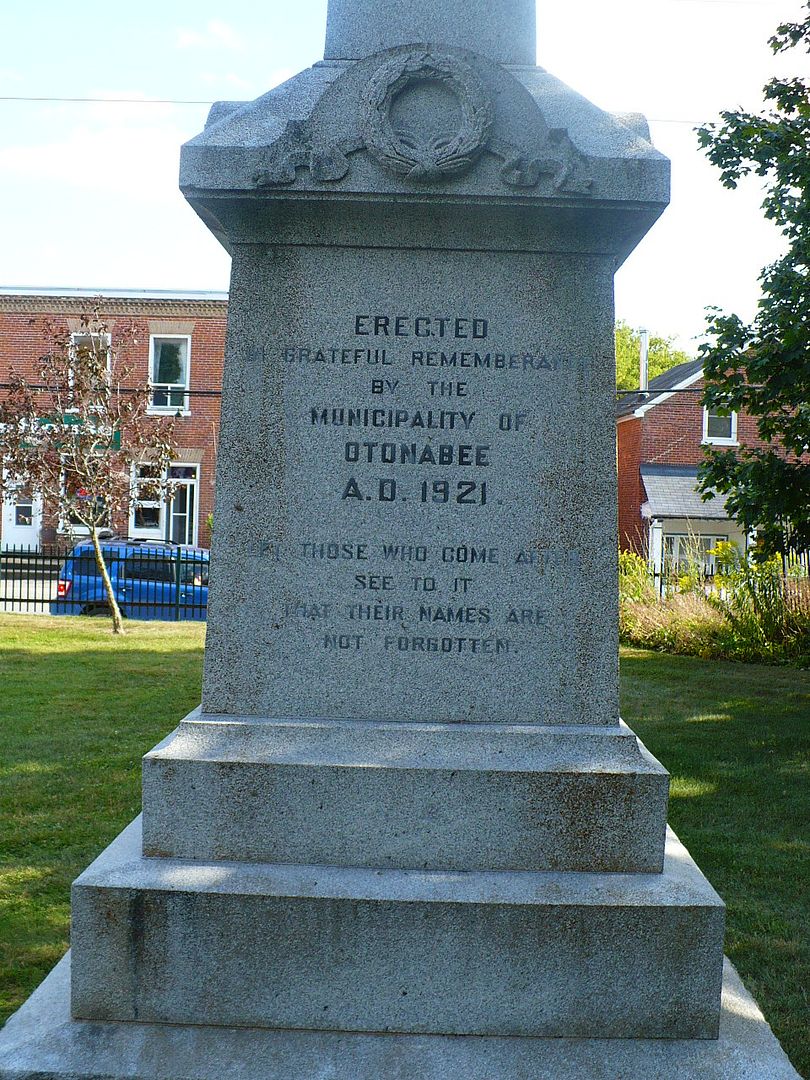 Left:
"WE ARE THE DEAD,
SHORT DAYS AGO WE LIVED,
FELT DAWN, SAW SUNSET GLOW,
LOVED, AND WERE LOVED,
AND NOW, WE LIE
IN FLANDERS FIELDS".