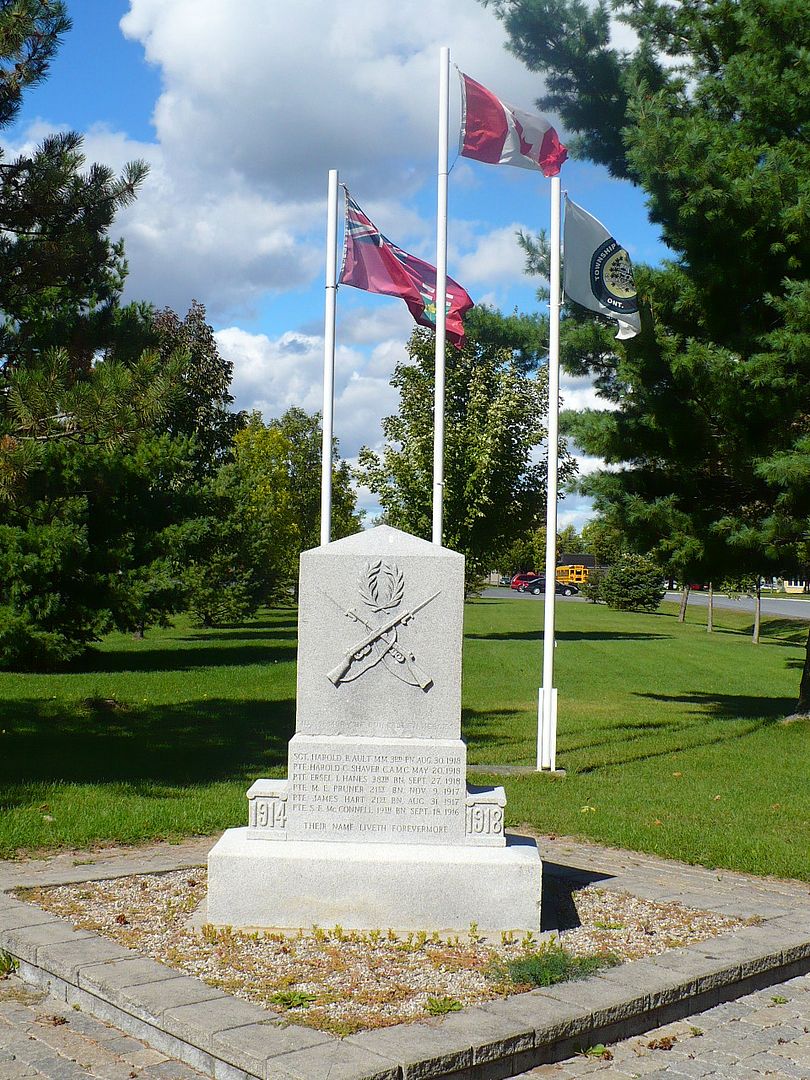 Location: County of Stormont, Dundas and Glengarry
N 44 59.860 W 074 59.442
On the north side on Maple Street N, at Memorial Square.
Located in a beautiful small park, this memorial is dedicated to those of the former Osnabruck Township, who gave their lives in the two World Wars, and Korea.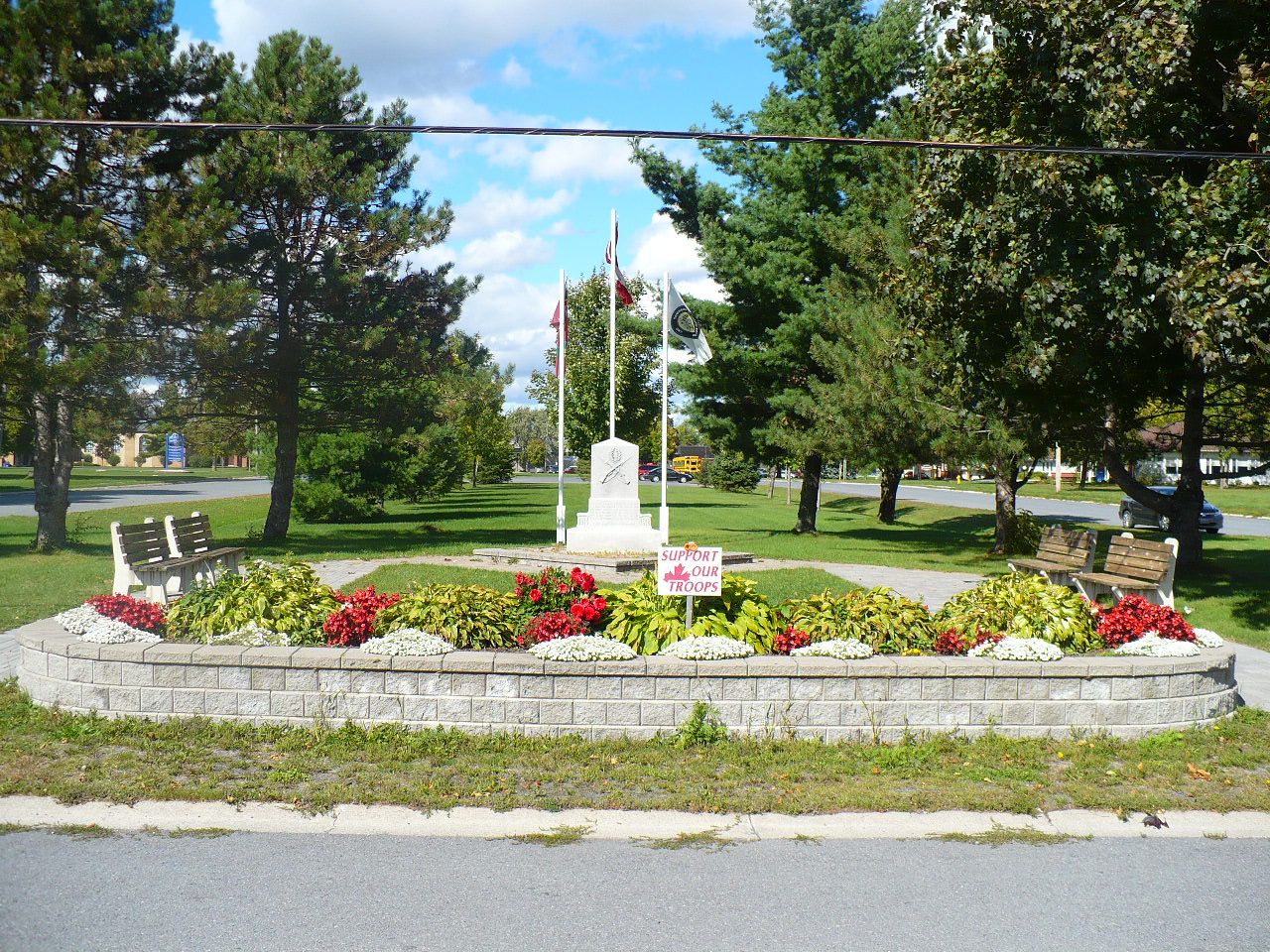 Marker text:
Front:
IN MEMORY OF OUR FALLEN HEROES
1914 - 1918
SGT. HAROLD B. AULT M.M. 3rd BN. AUG. 30, 1918
PTE. HAROLD C. SHAVER C.A.M.C. MAY 20, 1918
PTE. ERSEL I. HANES 38th BN. SEPT. 27, 1918
PT.E M.E. PRUNER 21st BN. NOV. 9, 1917
PTE. JAMES HART 21st BN. AUG. 31, 1917
PTE. S.E. McCONNELL 19th BN. SEPT. 18, 1916
THEIR NAME LIVETH FOREVERMORE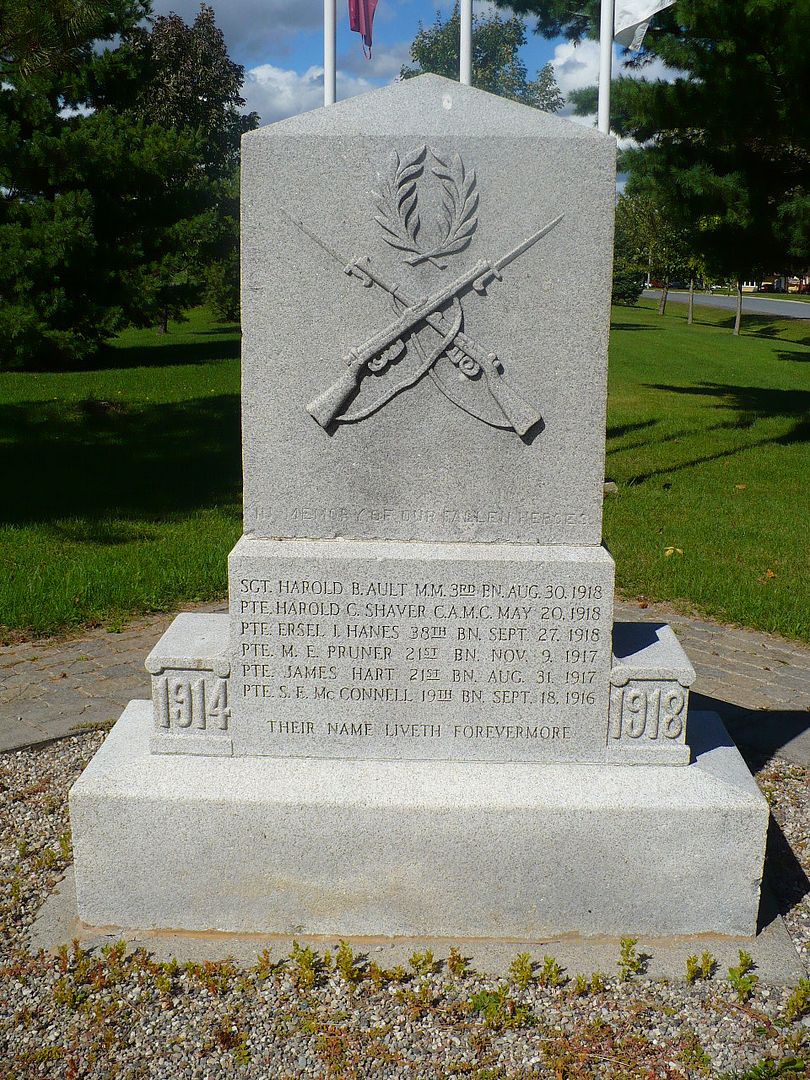 Back:
OSNABRUCK TWP. AREA VETERANS
WHO GAVE THEIR LIVES DURING
WORLD WAR II
1939 - 1945
ARMY
PERCY K. ARMSTRONG
WALTER S. CRYDERMAN
FREDERICK E. EAMON
WILLIAM L. FROATS
DONALD B. HAWN
HARRY A. McINTOSH
LAWRENCE PRUNER
BERTRAM R. SMITH
J. EDGAR WALDROF
LYLE J. ZERON
CECIL F. PESCOD
JAMES POAPST
MAHLON E. PRUNER
JAMES W. QUINN
LLOYD S. RUPERT
ALBERT J. SHAVER
HAROLD SHAVER
HAROLD C. SHAVER
EMERY R. STEEN
DEXTER A. WARNER
EARL M. WARNER
EARL W. WARNER
FREDERICK E. WARNER
WILLIAM WERELEY
WILLIAM R. WYLIE
DALTON ZERON
R.C.A.F.
H. MATTHIES LAFLAMME
WILLIAM T. SHAVER
ARNOLD SNETSINGER
WILLIAM J. SNYDER
A. ROBERT WEBSTER
DALTON E. VIPOND
KOREAN WAR
MILTON VIPOND
1939 - 1945
PTE. HARRY A. McINTOSH
S.D.&G. HIGHLANDERS SEPT. 5, 1944
PTE. LAWRENCE PRUNER
LINCOLN & WELLAND REG'T JAN. 26, 1945
PTE. BERTRAM R. SMITH
R.C.O.C. AUG. 22, 1944
THEIR NAME LIVETH FOREVERMORE