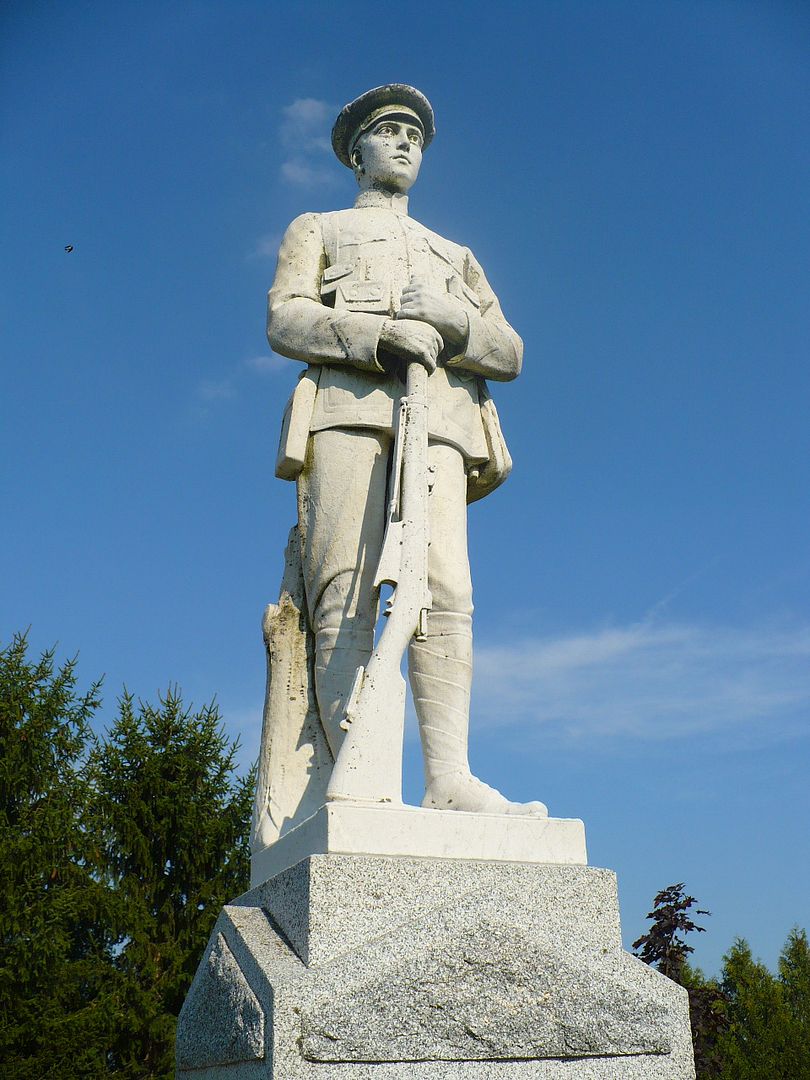 Location: Huron County N 43 25.055 W 081 28.817
Located in Hensall Union Cemetery, on the south side of Rodgerville Road, between Morrison Line and London Road.
This cemetery is home to two memorials, a small modern memorial dedicated in 1994 by the Royal Canadian Legion Branch 468. The second and larger memorial is reputed to be the first memorial erected in Ontario after the Great War. The memorial was first unveiled in March of 1919, in front of the SS#1 Hurondale Public School in Usborne Township, until this school closed in 1965. The memorial was then re-located to the Usborne Central Public School in 1967, as part of a Centennial Project. The Usborne Central School closed its doors for the last time in June of 2012, and the memorial was on the move again, this time to its current location in the Hensall Union Cemetery, in the former Usborne Township.
The memorial itself was a blueprint for other memorials to follow, featuring a soldier statue atop a granite shaft, with the names of the local dead inscribed in the stone.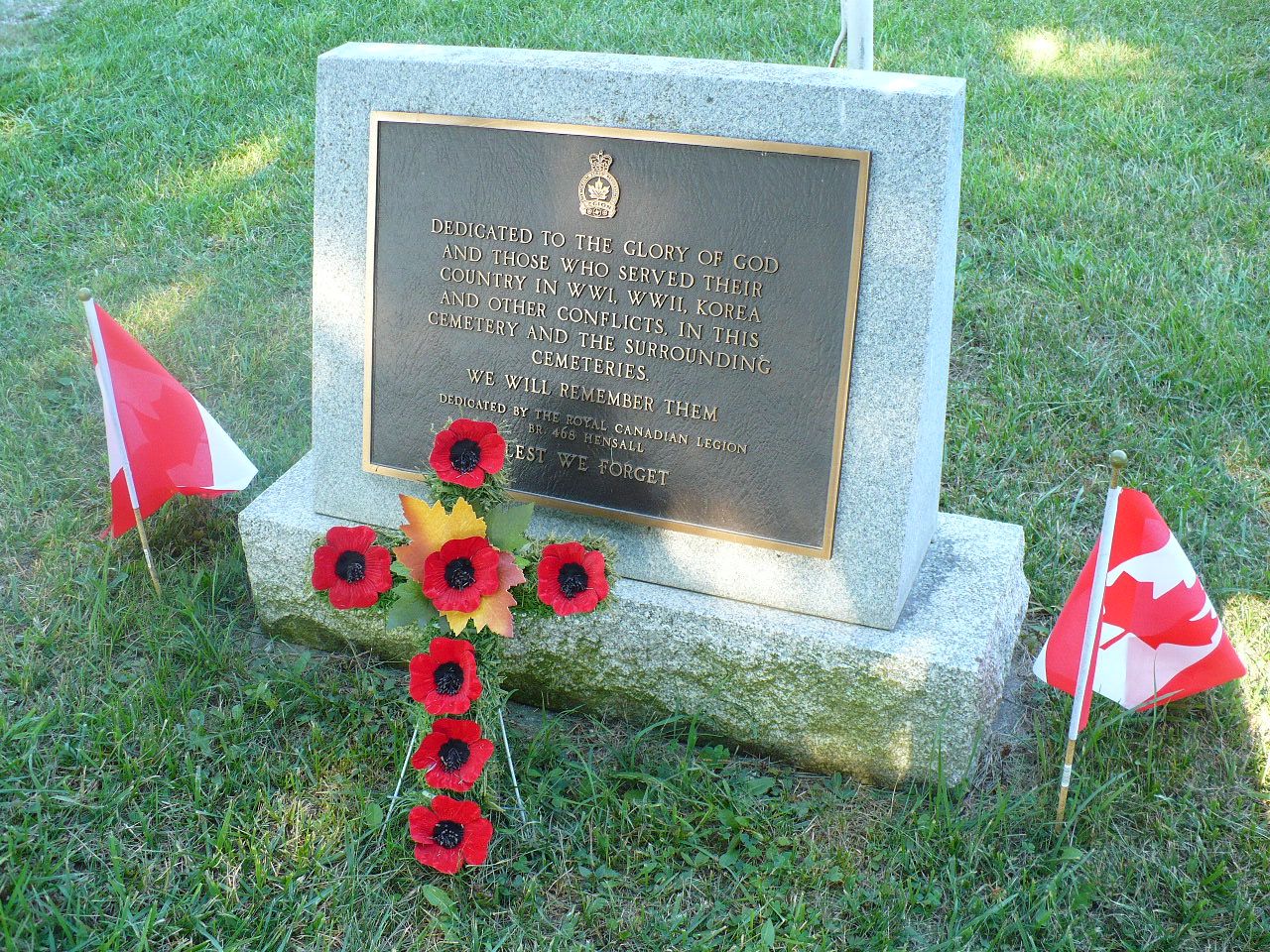 Marker text:
Legion marker:
DEDICATED TO THE GLORY OF GOD
AND THOSE WHO SERVED THEIR
COUNTRY IN WWI, WWII, KOREA
AND OTHER CONFLICTS, IN THIS
CEMETERY AND THE SURROUNDING
CEMETERIES.
WE WILL REMEMBER THEM.
DEDICATED BY THE ROYAL CANADIAN LEGION
BR. 468 HENSALL
LEST WE FORGET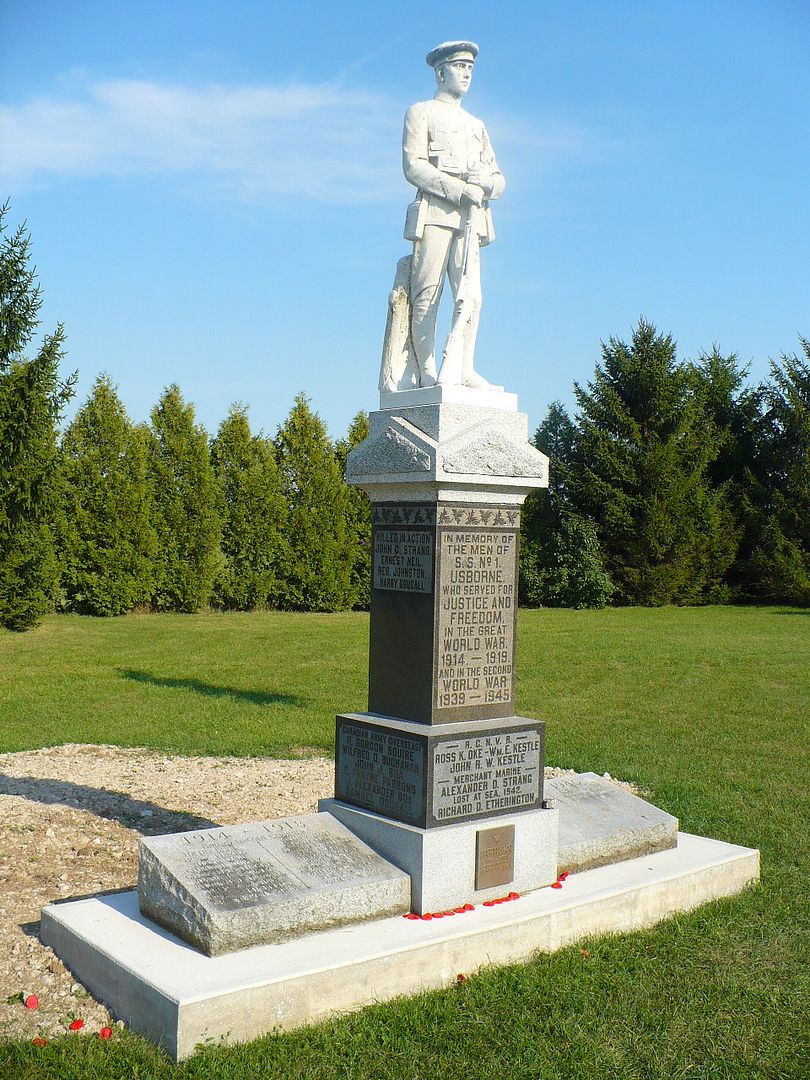 Usborne Cenotaph:
Front:
IN MEMORY OF
THE MEN OF
S.S. No. 1.
USBORNE
WHO SERVED FOR
JUSTICE AND
FREEDOM
IN THE GREAT
WORLD WAR
1914 - 1918
AND IN THE SECOND
WORLD WAR
1939 - 1945
--R.C.N.V.R.--
ROSS K. OKE - Wm. E. KESTLE
JOHN R.W. KESTLE
--MERCHANT MARINE--
ALEXANDER D. STRANG
LOST AT SEA, 1942
RICHARD D. ETHERINGTON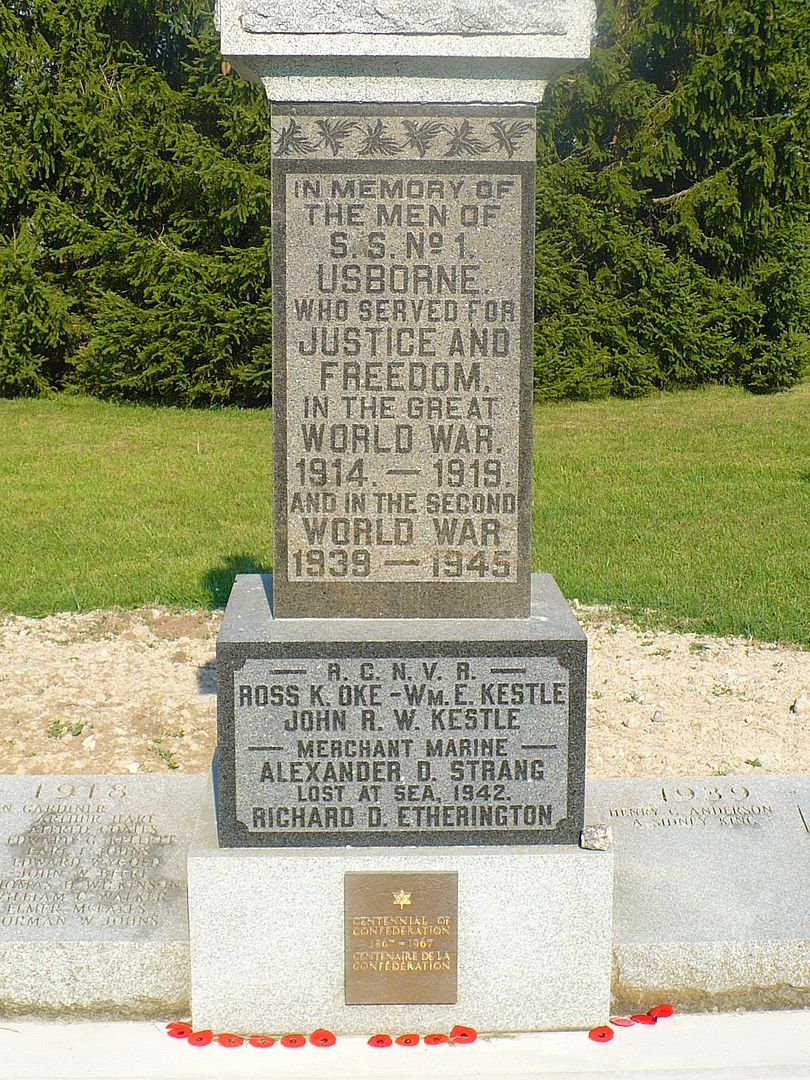 Left:
WOUNDED
EDWARD A. OKE
FRED J. CANN
ERNEST T. OKE
SAMUEL DOUGALL
ROSS DICK
GORDON HOLMAN
ENLISTED
N.R. BLATCHFORD
ROY F. WHITE
GORDON F. OKE
CECIL DOWN
Wm. HAWKINS
--R.C.A.F.--
LLOYD N. REYNOLDS
WILLIAM H. REYNOLDS
GORDON D. CUDMORE
J. ALLISON MORGAN
--MERCHANT MARINE--
JOHN WELSH MUIR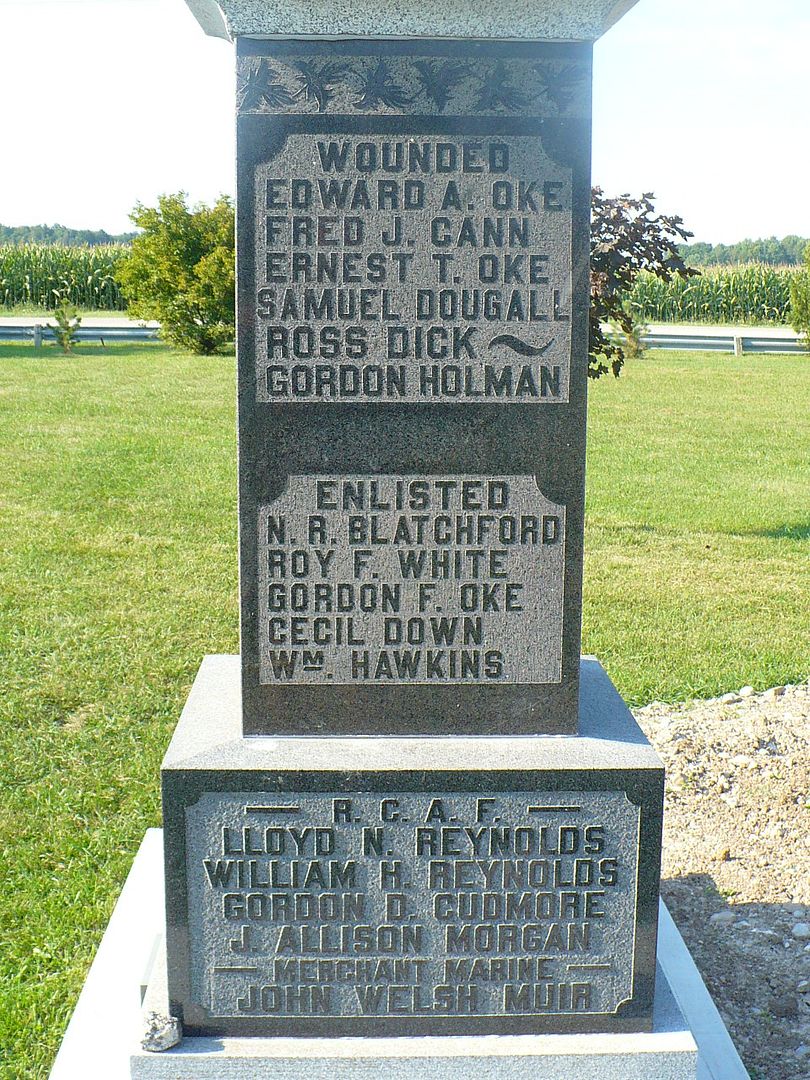 Rear:
RETURNED
CYRIL TUCKEY
EDGAR DOWN
JOHN MARCHMONT
GEORGE LOWE
WILMOT HOLMAN
REX DICK
ARCHIE MORGAN
BEN S. CASE
GARNET CASE
HERMAN DAYMAN
--CANADIAN ARMY--
WILLIAM JOHN HORTON
HAROLD A. WURM
J. EDGAR WILDMAN
ROBERT E. JEFFERY
EDGAR L. WURM
PAUL BOA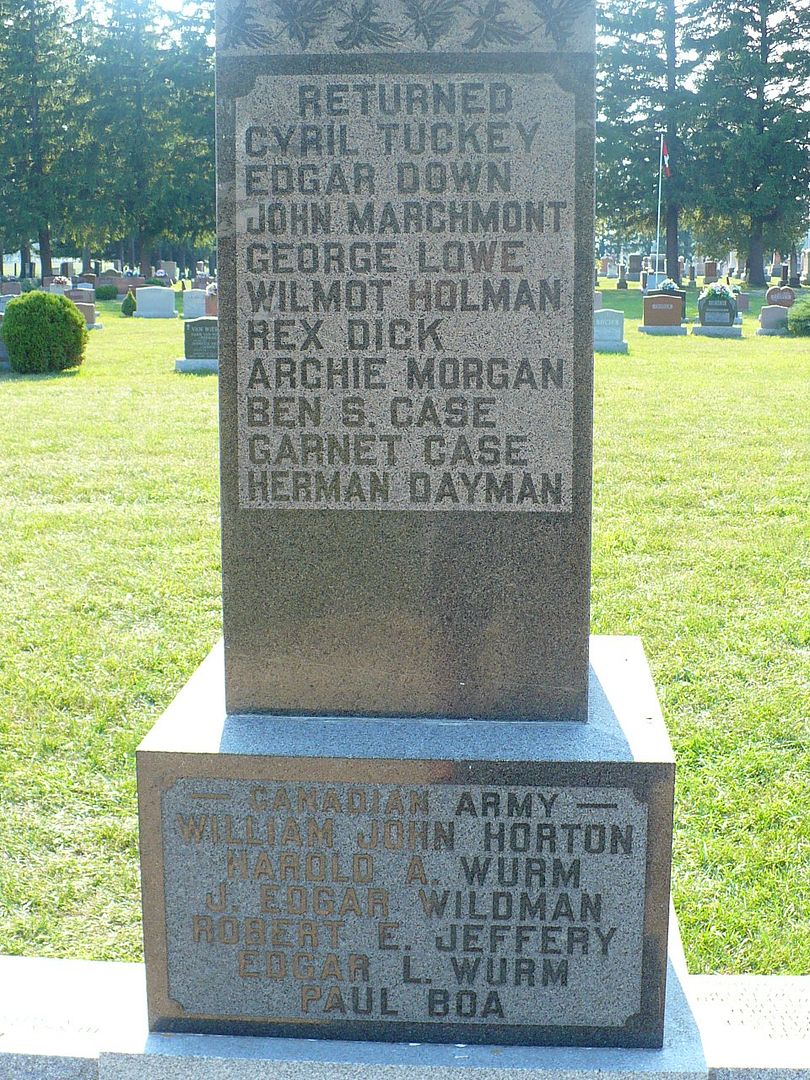 Right:
KILLED IN ACTION
JOHN C. STRANG.
ERNEST NEIL.
REG. JOHNSTON.
HARRY DOUGALL.
CANADIAN ARMY (OVERSEAS)
H. GORDON SQUIRE
WILFRED D. BUCHANAN
JOHN J. BOA
E. FRAYNE PARSONS
J. ALEXANDER BOA
SAMUEL DOUGALL
Lower Left:
1939 - 1945
HENRY G. ANDERSON
A. SIDNEY KING
A. JORDON LAING
DONALD S. WHITING
WILLIAM E. KESTLE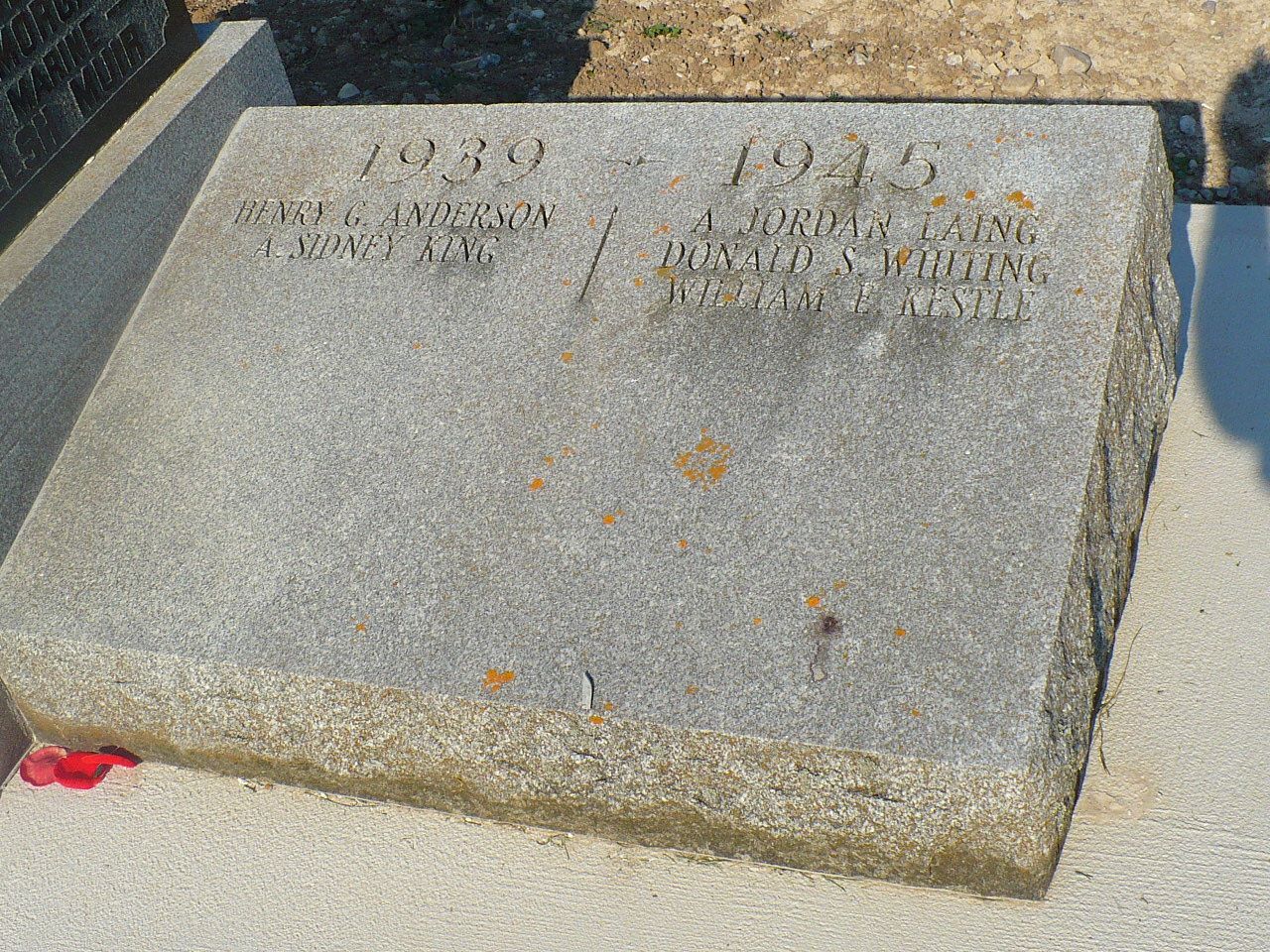 Lower Right:
1914 - 1918
EDWARD LINCOLN GARDINER
LOFTUS HERN
ERNEST PENRICE
JOSEPH LEIGH
GEORGE H. STURLEY
GLENN EDEN FLINTOFF
ROBERT H. PASSMORE
REGINALD D. TURNBULL
BRUCE M. MATTHEWS
JAMES E. ROADHOUSE
EARL ALBERT GARDINER
ARTHUR HART
ALFRED COATES
EDWARD G. KELLETT
EARL L. JOHNS
EDWARD WYGOLD
JOHN W. BEERE
THOMAS H. WILKINSON
WILLIAM G. WALKER
ELMER McFALLS
NORMAN W. JOHNS