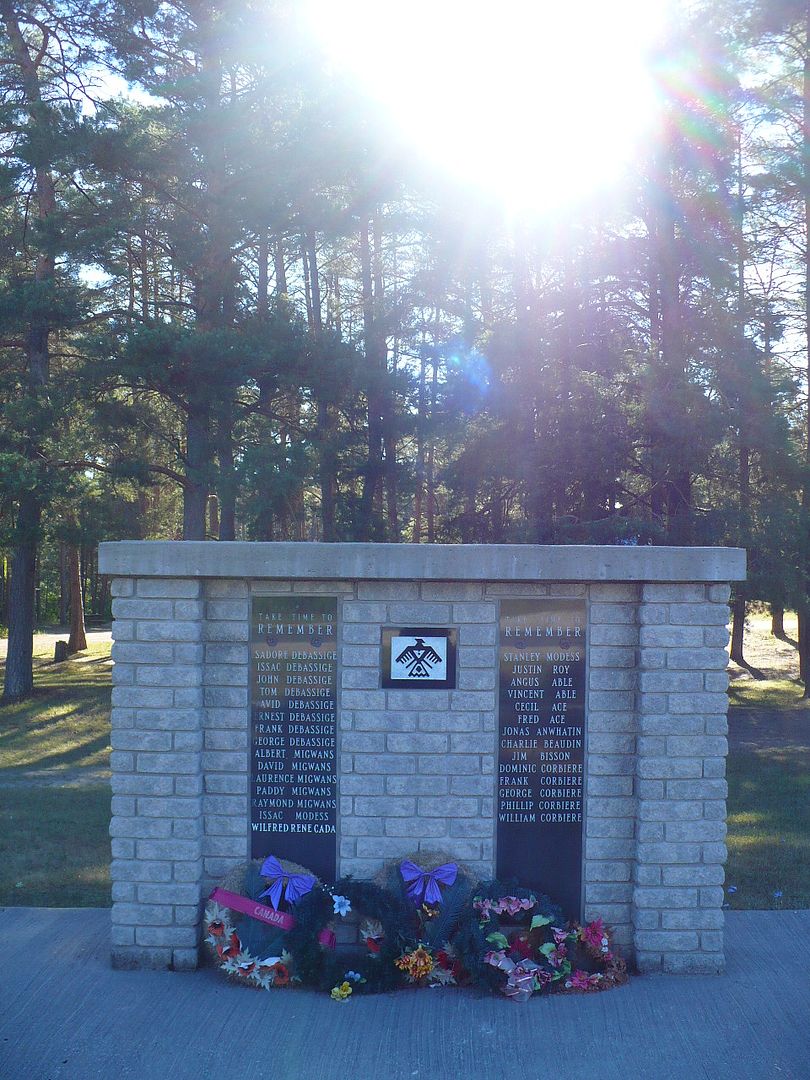 Location: Manitoulin Island N 45 49.542 W 082 09.663
On the east side of Highway 551, near the Administrative Offices.
The home of the M"Chigeeng First Nations band, also known as the village of West Bay, proudly displays a memorial to all those from this community who died in battle. No dates or wars are mentioned on the memorial, simply the words "Take time to Remember", the names of the dead, and a few decorative poppies. A tremendous sacrifice was made by our First Nations people in times of war, a story which needs to be told in greater detail.
Marker text:
TAKE TIME TO
R E M E M B E R
SADORE DEBASSIGE
ISSAC DEBASSIGE
JOHN DEBASSIGE
TOM DEBASSIGE
AVID DEBASSIGE
ERNEST DEBASSIGE
FRANK DEBASSIGE
GEORGE DEBASSIGE
ALBERT MIGWANS
DAVID MIGWANS
LAURENCE MIGWANS
PADDY MIGWANS
RAYMOND MIGWANS
ISSAC MODESS
WILDFRED RENE CADA
TAKE TIME TO
R E M E M B E R
STANLEY MODESS
JUSTIN ROY
ANGUS ABLE
VINCENT ABLE
CECIL ACE
FRED ACE
JONAS ANWHATIN
CHARLIE BEAUDIN
JIM BISSON
DOMINIC CORBIERE
FRANK CORBIERE
GEORGE CORBIERE
PHILLIP CORBIERE
WILLIAM CORBIERE