Location: Wellington County N 43 37.084 W 080 08.612
On the corner in front of St. John's Anglican Church, at 112 Main Street South.
Rockwood held a special half holiday for families on Thursday, August 28, 1919, beginning with an unveiling of the monument to honour soldiers who fought and fell in the Great War. The excitement was centred around a corner of the lot owned by St. John's Anglican Church. About 50 veterans marched from Waterside Park to the cenotaph, and two bands from Guelph came to provide the music. The attendees later walked to the Agricultural Park to enjoy a luncheon, baseball, and races, with speeches from local dignitaries. The two side additions were added to the memorial after the Second World War in 2000.
*taken from http://www.cmp-cpm.forces.gc.ca/dhh-dhp/nic-inm/sm-rm/mdsr-rdr-eng.asp?PID=807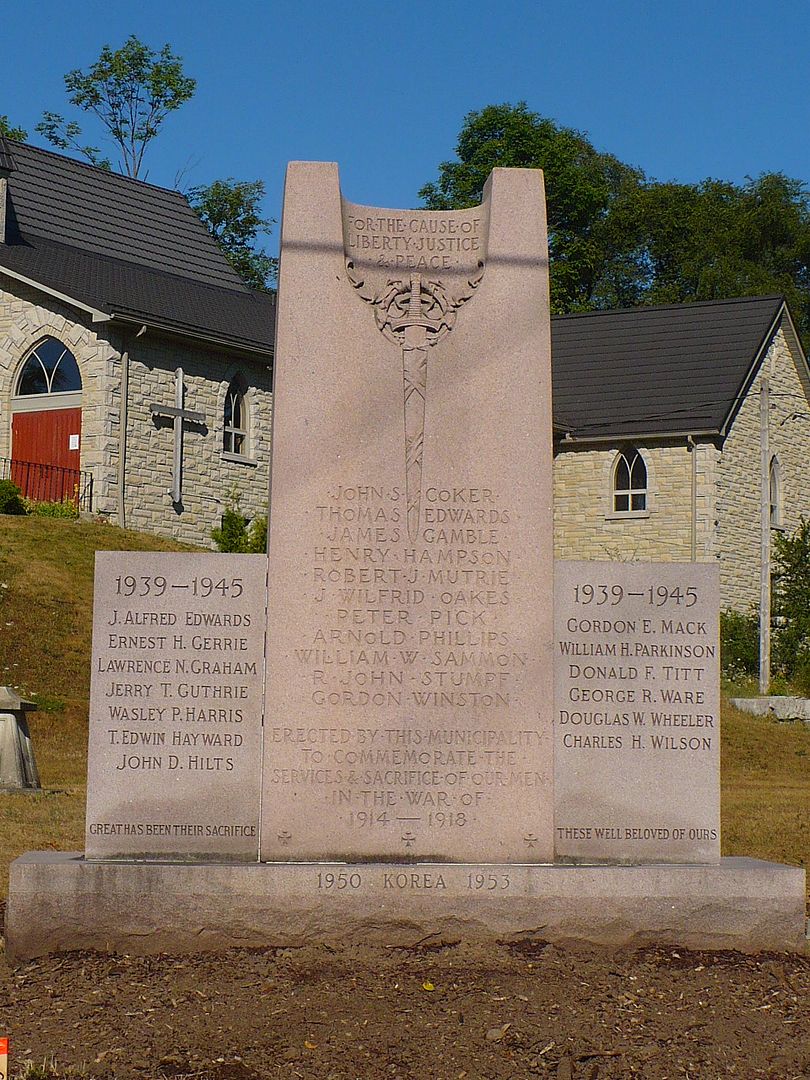 Marker text:
Centre:
FOR THE CAUSE OF
LIBERTY, JUSTICE
AND PEACE
JOHN S. COKER
THOMAS EDWARDS
JAMES GAMBLE
HENRY HAMPSON
ROBERT J. MUTRIE
J. WILFRED OAKES
PETER PICK
ARNOLD PHILLIPS
WILLIAM W. SAMMON
R. JOHN STUMPF
GORDON WINSTON
ERECTED BY THIS MUNICIPALITY
TO COMMEMORATE THE
SERVICES & SACRIFICES OF OUR MEN
IN THE WAR OF
1914-1918
Left:
1939-1945
J. ALFRED EDWARDS
ERNEST H. GERRIE
LAWRENCE N. GRAHAM
JERRY T. GUTHRIE
WASLEY P. HARRIS
T. EDWIN HAYWARD
JOHN D. HILTS
GREAT HAS BEEN THEIR SACRIFICE
Right:
1939-1945
GORDON E. MACK
WILLIAM H. PARKINSON
DONALD F. TITT
GEORGE R. WARE
DOUGLAS W. WHEELER
CHARLES H. WILSON
THESE WELL BELOVED OF OURS
Lower:
1950 KOREA 1953