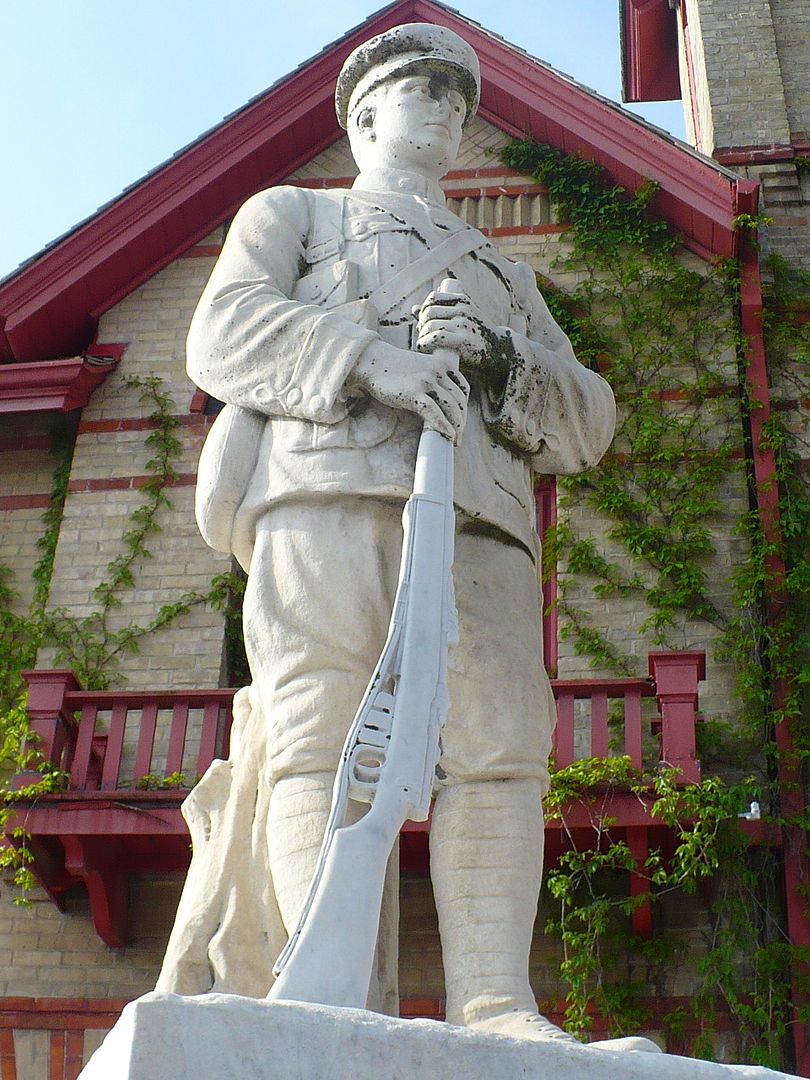 Location: Durham Region N 44 06.519 W 079 07.355
On the southeast corner of Brock Street and Toronto Street, in front of the library.
This memorial is proudly dedicated to those from Uxbridge and District who gave their lives in the First and Second World Wars and the Korean War. It was erected by the Imperial Order of the Daughters of the Empire (I.O.D.E.) and the citizens of Uxbridge. All the names on the cenotaph are from the Great War, along with the crests of the Canadian Expeditionary Forces, which they joined. A brass plaque on the front bears the names of the dead, and the back hosts the names of those who returned. A limestone statue of a soldier stands guard atop the memorial. It appears that the rifle he is holding was replaced in more recent times. A painted mural across the road also pays tribute to the warriors of the day.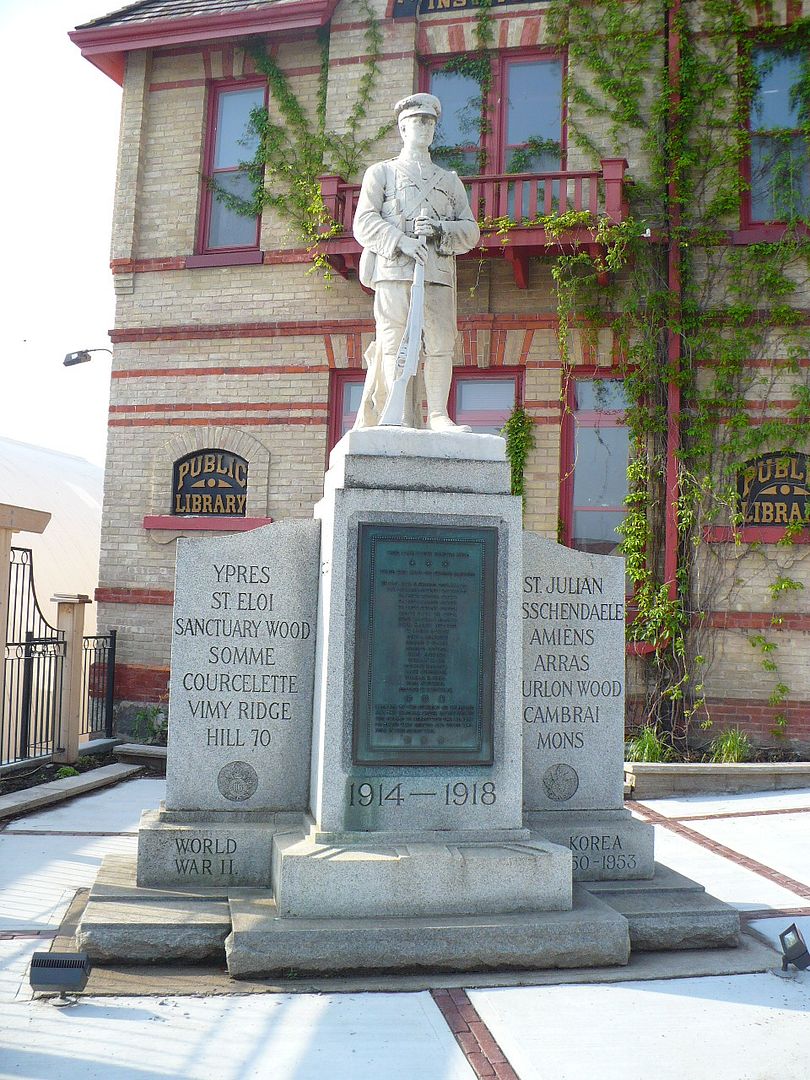 Marker text:
Front engraved on stone:
1914 - 1918
YPRES
ST. ELOI
SANCTUARY WOOD
SOMME
COURCELETTE
VIMY RIDGE
HILL 70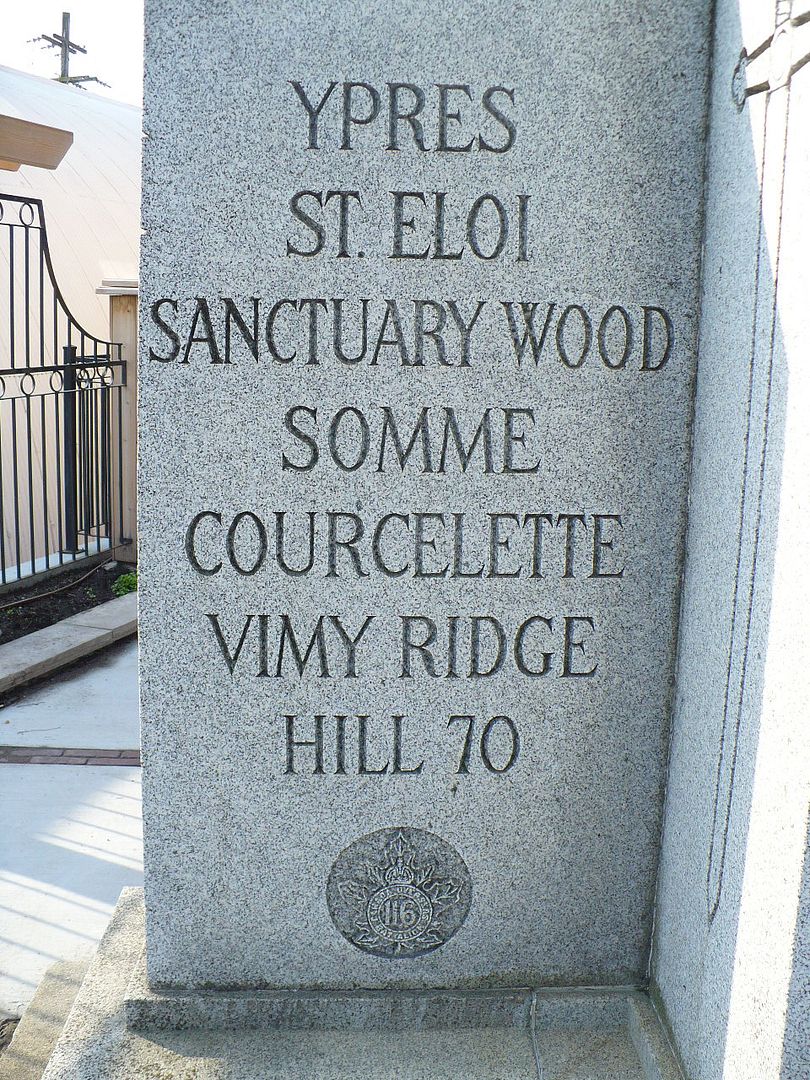 ST. JULIAN
PASSCHENDAELE
AMIENS
ARRAS
CAMBRAI
MONS
WORLD WAR II
KOREA
1950-1953
Front brass plaque:
THEIR NAME LIVETH FOR EVERMORE
THOSE WHO MADE THE SUPREME SACRIFICE
LT. COL. SAM S. SHARP DSO. MP. OC.
116 ONTARIO COUNTY BATTALION
FT. LIEUT. RUSSELL GOULD
FT. LIEUT. HAROLD CROSBY
FT. LIEUT. GORDON CROSBY
SERGT. CARL DE GEER
SERGT. MARSHALL GRAHAM
CORP. HARRY NEWTON
W.J. BELL BODDY
JOHN A. BEARDEN
GEORGE V. CLARK
GEORGE COOPER
KILBY HICKLING
NORMAN MAIRS
GORDON McCARTY
ALLIN OUDERKIRK
WILLIAM H. SHELL
FRED STEPHENS
GEORGE W. ROBINSON
ERECTED BY THE CITIZENS OF UXBRIDGE
AND THE IMPERIAL ORDER OF DAUGHTERS OF
THE EMPIRE TO PERPETUATE THE MEMORY
OF THOSE WHO SERVED AND THOSE WHO
FELL IN THE GREAT WAR.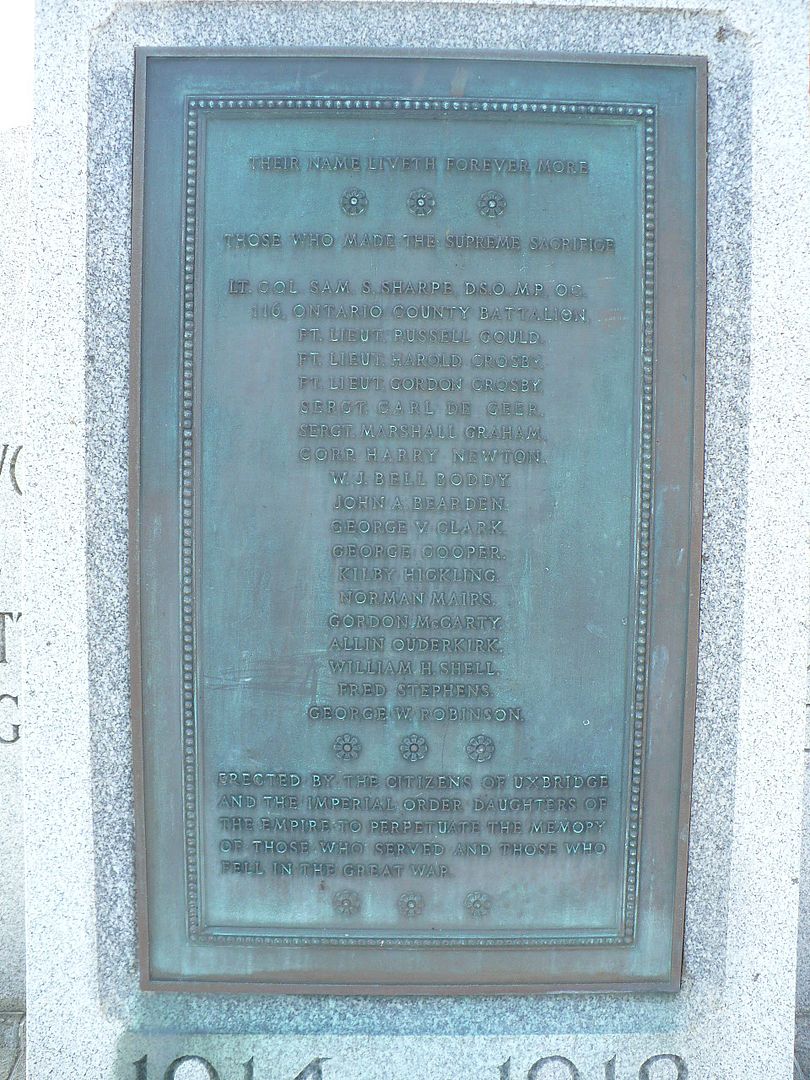 Rear:
UXBRIDGE HONOUR ROLL
THOSE WHO SERVED IN THE GREAT WAR
C.A. ADAMS, H.L. ADAMS, D.B. ARMSTRONG, J. ASHFIELD, R. BARKEY, G.M. BEARDEN, J.E. BELL BODDY, R.C. BESWICK, J.C. BLACK, A. BROWN, J.R. CLEMENCE, M. COLLERAN, H.P. COOK, J.C. CROSBY, C. DASH, W. DOBSON, W. DE GEER, O. EWEN, R.M. FERGUSON, N.E. GERROW, J. GRAHAM, W.D. GRAHAM, J.F. GRAHAM, P.V. GRAHAM, P. GORDON
H.V. GOULD, L.H. GOULD, R.C. GOULD, S.A. GOULD, L.A. GOULD, G.E. GILFILLIAN, H.P. HAMMILTON, R.W. HAMILTON, V.J. HARE, J.A. HARMON, R.W. HARMON, A.H. HARSELL, A.R. HART, G.M. HEARD, W.H. HENRY, M.E. HOUCK, A. JOBBITT, J. JOBBITT, W. JOBBITT, C.E. JONES, G.B. JOHNSTON, W.H. JOHNSTON, J.W. JOHNSTON, R. JOYCE, P.M. LOTT
J.M. LITTLEJOHN, A. MAIRS, B. MAYNARD, C. MAYNARD, F. MAYNARD, L. MAYNARD, J.G. McDONALD, F. McNEVIN, O.C. McPHAIL, F. MONTGOMERY, D. MONTGOMERY, S. MONTGOMERY, L.M. NICHOLLS, G. NOLAN, E.H. NUTTING, H. OUDERKIRK, A.C. OSBORNE, J.A. O'DELL, A. PENNOCK
G.E. RAINEY, W.J. ROBINSON, H.R. ROBINSON, G.R. SILVER, D. SILVER, H. STINER, W.R. ST. JOHN, D.N. THOMPSON, P. TITUS, C. TUNSTELL, H.E. VESEY, W.A. VESEY, G.J. VICARS, G.B. WAGG, S.R. WATSON, W. WRIGHT
NURSES. IRENE McNEVIN, ELIZABETH REID