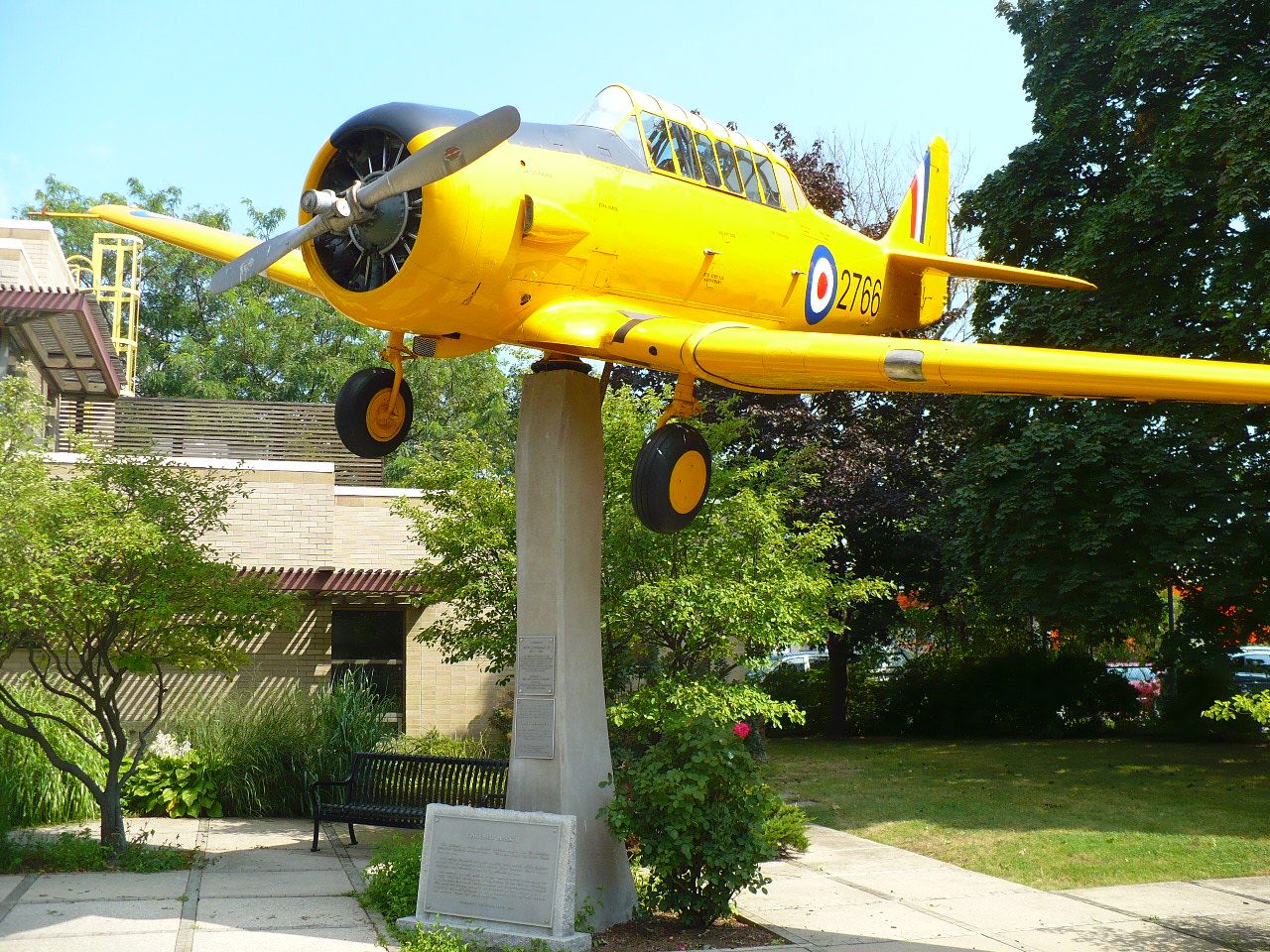 Location: Haldimand County N 42 54.256 W 079 37.000
On the east side of Chestnut Street, in front of the Public Library.
Dunnville was home to No. 6 Service Flying Training School during the Second World War. This Harvard Mark II was the primary trainer for thousands of airmen headed to Britain to fight in the skies over Europe. This memorial was dedicated in 1964, to those who fought, trained and serviced at SFS No. 6. In addition, two separate plaques were added later to thank two men who were key supporters in ensuring that the history and contribution of Dunnville to the war effort is not forgotten.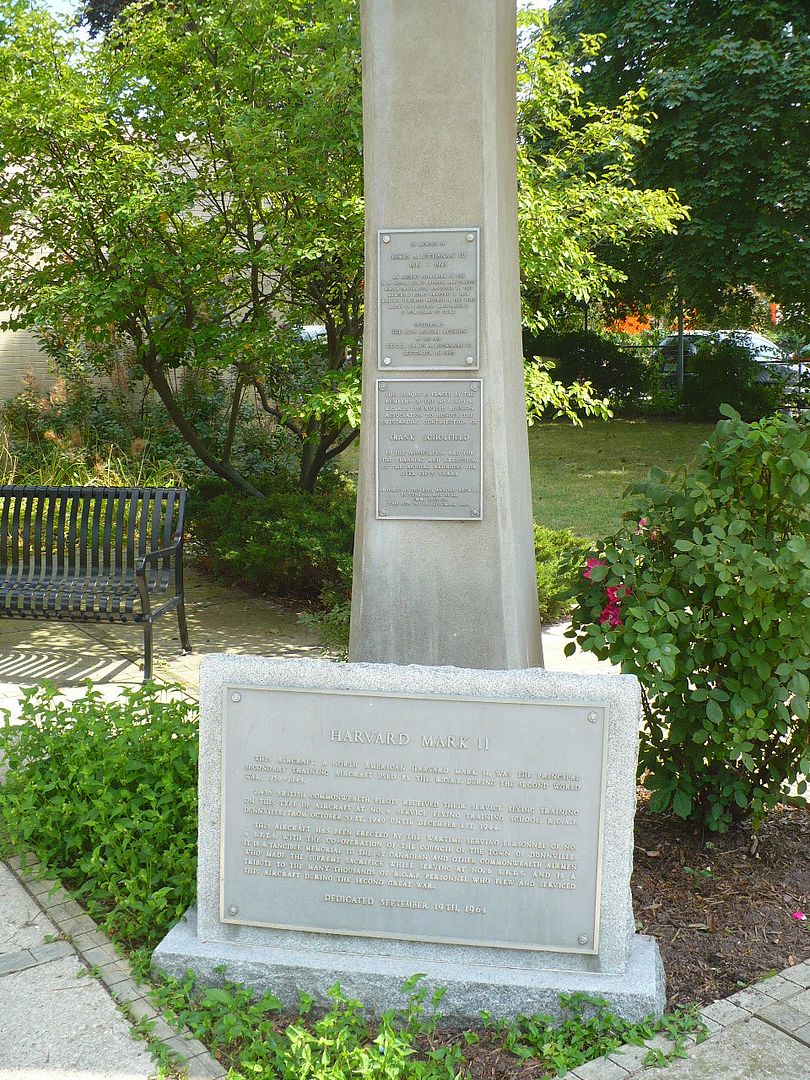 Marker text:
Main plaque:
HARVARD MARK II
THIS AIRCRAFT, A NORTH AMERICAN HARVARD MARK II, WAS THE PRINCIPAL
SECONDARY TRAINING AIRCRAFT USED BY THE R.C.A.F. DURING THE SECOND WORLD
WAR, 1939-1945.
2,436 BRITISH COMMONWEALTH PILOTS RECEIVED THEIR SERVICE FLYING TRAINING
ON THIS TYPE OF AIRCRAFT AT NO. 6 SERVICE FLYING TRAINING SCHOOL, R.C.A.F.
DUNNVILLE, FROM OCTOBER 31ST, 1940 UNTIL DECEMBER 1ST, 1944.
THIS AIRCRAFT HAS BEEN ERECTED BY THE WARTIME SERVICE PERSONNEL OF NO.
6 S.F.T.S. WITH THE CO-OPERATION OF THE COUNCIL IF THE TOWN OF DUNNVILLE.
IT IS A TANGIBLE MEMORIAL TO THE 47 CANADIAN AND OTHER COMMONWEALTH AIRMEN WHO MADE THE SUPREME SACRIFICE WHILE SERVING AT NO. 6 S.F.T.S. AND IS
A TRIBUTE TO THE MANY THOUSANDS OF R.C.A.F. PERSONNEL WHO FLEW AND SERVICED THIS AIRCRAFT DURING THE SECOND GREAT WAR.
DEDICATED SEPTEMBER 19TH, 1964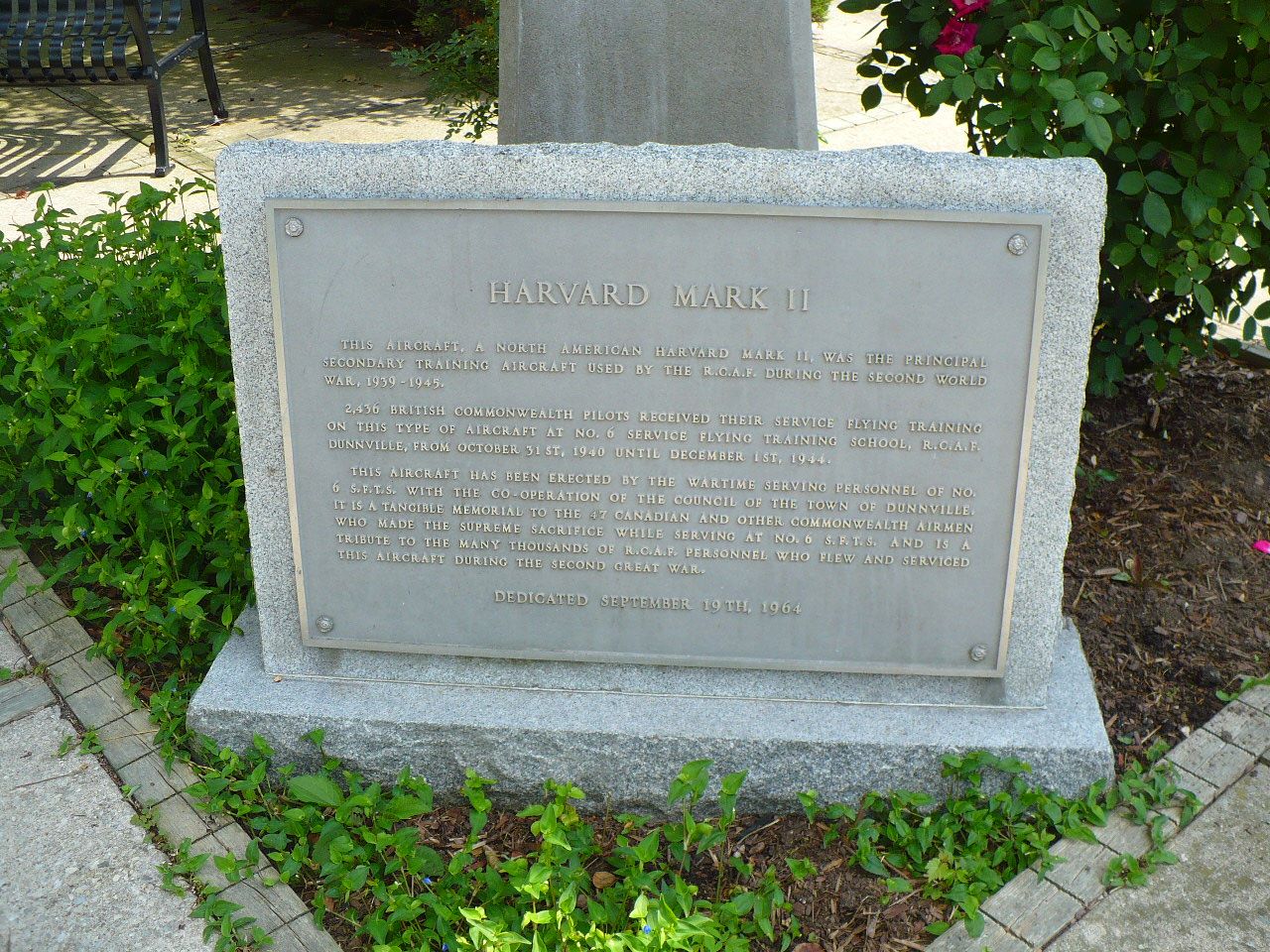 Top plaque:
IN MEMORY OF
JAMES A. BUCHANAN IV.
1918-1993
AN ARDENT SUPPORTER OF THE
NO. 6 S.F.T.S. R.C.A.F. REUNION ASSOCIATION
WHOSE INSPIRATION RESULTED IN THIS
MEMORIAL BEING ERECTED IN 1964
AND HIS GENEROUS BEQUEST IN 1993 WILL
ASSIST IN PROPERLY MAINTAINING
IT FOR YEARS TO COME.
UNVEILED AT
THE 50TH ANNUAL REUNION
BY HIS SON
LT/COL. JAMES A BUCHANAN V.
SEPTEMBER 16, 1995
Middle plaque:
THIS PLAQUE IS PLACED BY THE
MEMBERS OF THE NO. 6 S.F.T.S.
R.C.A.F., DUNNVILLE REUNION
ASSOCIATION TO HONOUR THE
OUTSTANDING CONTRIBUTION OF
FRANK SCHOLFIELD
TO THE ASSOCIATION AND FOR
THE PLANNING AND EXECUTION
OF THE ANNUAL REUNIONS FOR
OVER FIFTY YEARS
UNVEILED AT THE 55TH ANNUAL REUNION
BY GENERAL A.C. HULL,
CMM, DFC, CD,
THIS 16TH DAY OF SEPTEMBER 2000.