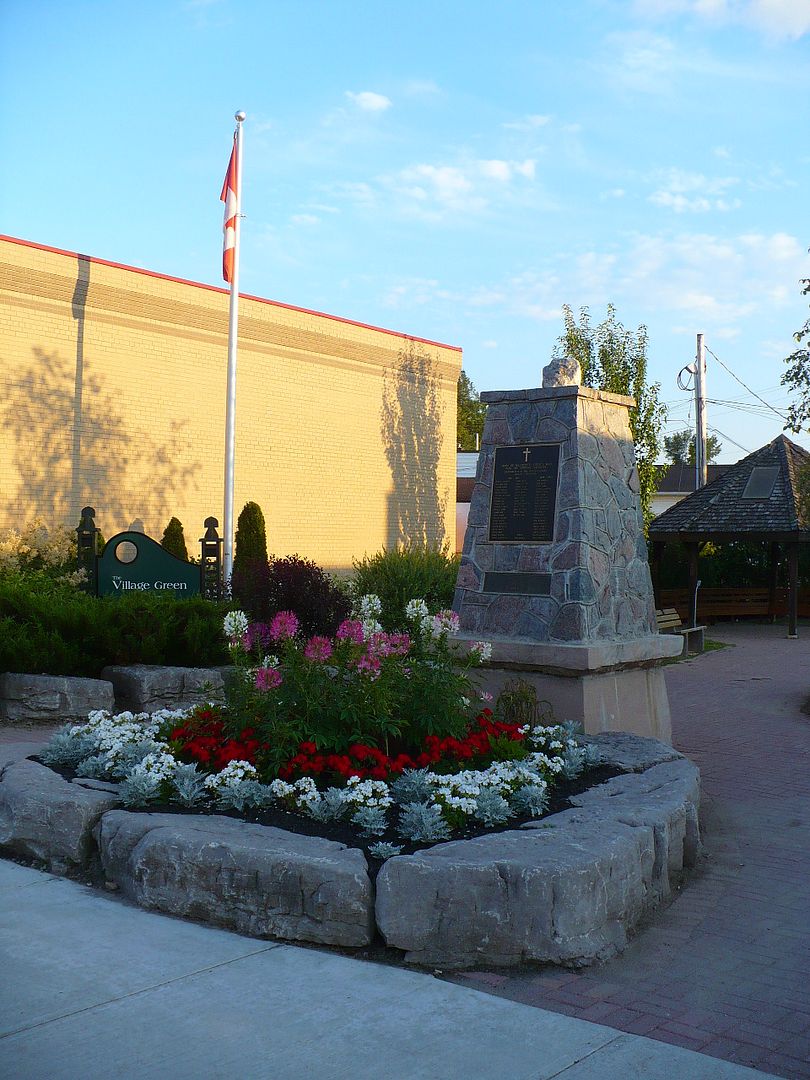 Location: Haliburton County N 44 55.495 W 078 43.454
On the south side of Bobcaygeon Road, west of Newcastle Street.
The stone cairn rests along the busy main street, in a small park called The Village Green. The cairn has two brass plaques, one which lists the names of those who paid the supreme sacrifice in the two World Wars and Korea, the other recognizing the dedication by the Royal Canadian Legion Branch #129.
Marker text:
Top plaque:
THOSE OF HALIBURTON COUNTY WHO
PAID THE SUPREME SACRIFICE
REMEMBERED AT THE MINDEN CAIRN
MINDEN, ONTARIO
1914-1918
DUNCAN ANDERSON
BENJAMIN BIRD
ARTHUR BISHOP
GEORGE BOWERS
WALTER BOWRON
WILLIAM CARNOCHAN
EDWARD COLE
EDWARD COX
HERBERT COX
FREDERICK CROFTS
RUSSELL DRURY
GEORGE DACK
PERCY GAINER
RICHARD GREGORY
ROBERT GROVES
ARTHUR HARRISON
JOSEPH HENDERSON
MILTON HOBDEN
JOSEPH HOWE
GEORGE HUNTER
GEORGE LEVRINGTON
JAMES LEWIS
SAMUEL LITTLE
GEORGE LOGAN
BRUCE McKNIGHT
ASTON MOORE
LESLIE REYNOLDS
MACK SCOTT
EDGAR STAMP
WILLIAM VALENTINE
DONALD WATT
CHARLES WELCH
HARRY WELCH
HILLIARD WOOD
1939-1945
JACK ANDERSON
LYLE BOICE
LESLIE BURK
ARTHUR CARNOCHAN
ELMER V. COVERT
VERN COWAN
ROSS DAVIDSON
RICHARD DAWSON
BURT FIELDING
MERVIN HARRISON
ALZIE HENDERSON
LYLE HORSLEY
IRWIN HOWE
RUSSELL LA RUE
MAX McCRACKEN
JAMES NICHOLLS
DONALD PASQUINO
JAMES REDNER
GEORGE SWANTON
WALTER ALBERT WINN
JAMES WRIGHT
1951
JOHN HARTLE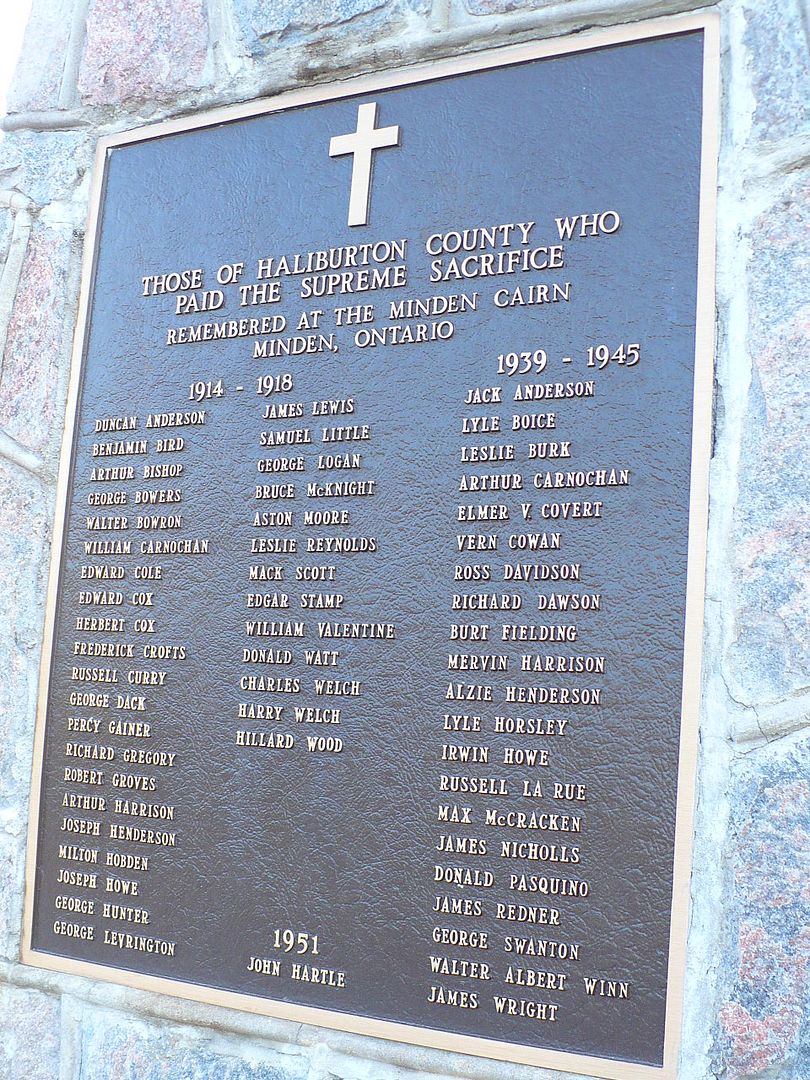 Lower plaque:
ERECTED BY
ROYAL CANADIAN LEGION MEMBERS
BRANCH 129