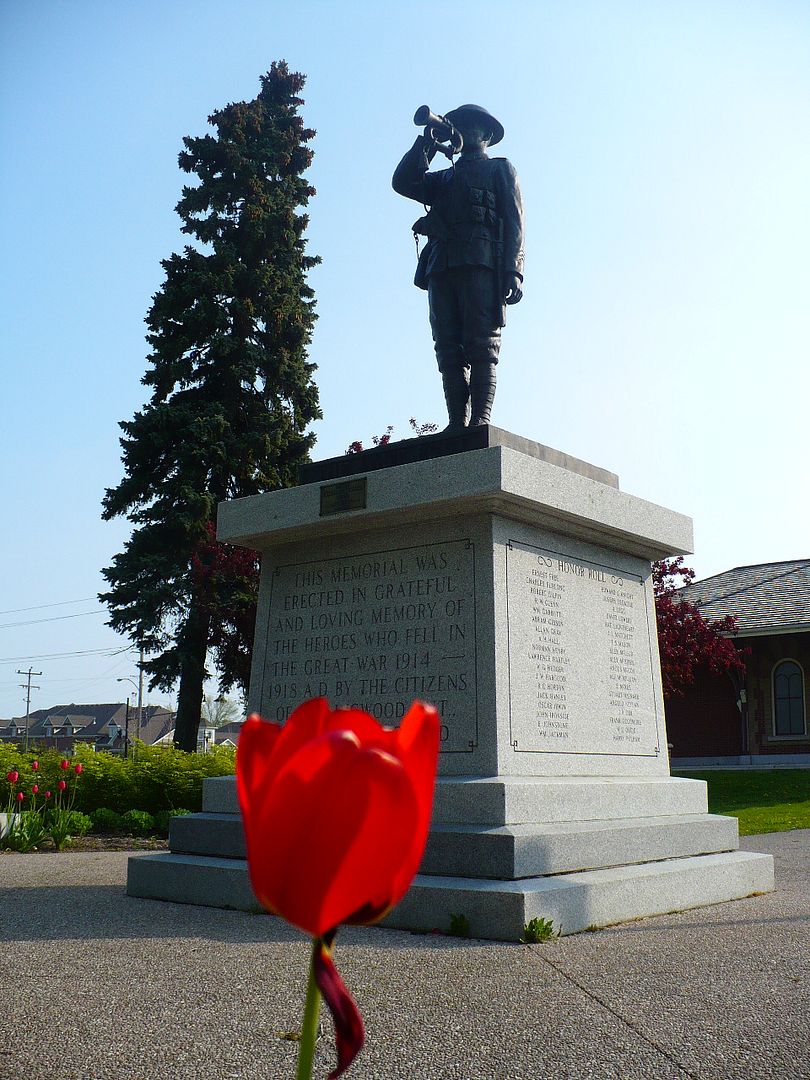 Location: Simcoe County N 44 30.153 W 80 12.855
In front of the town museum at 45 St. Paul Street.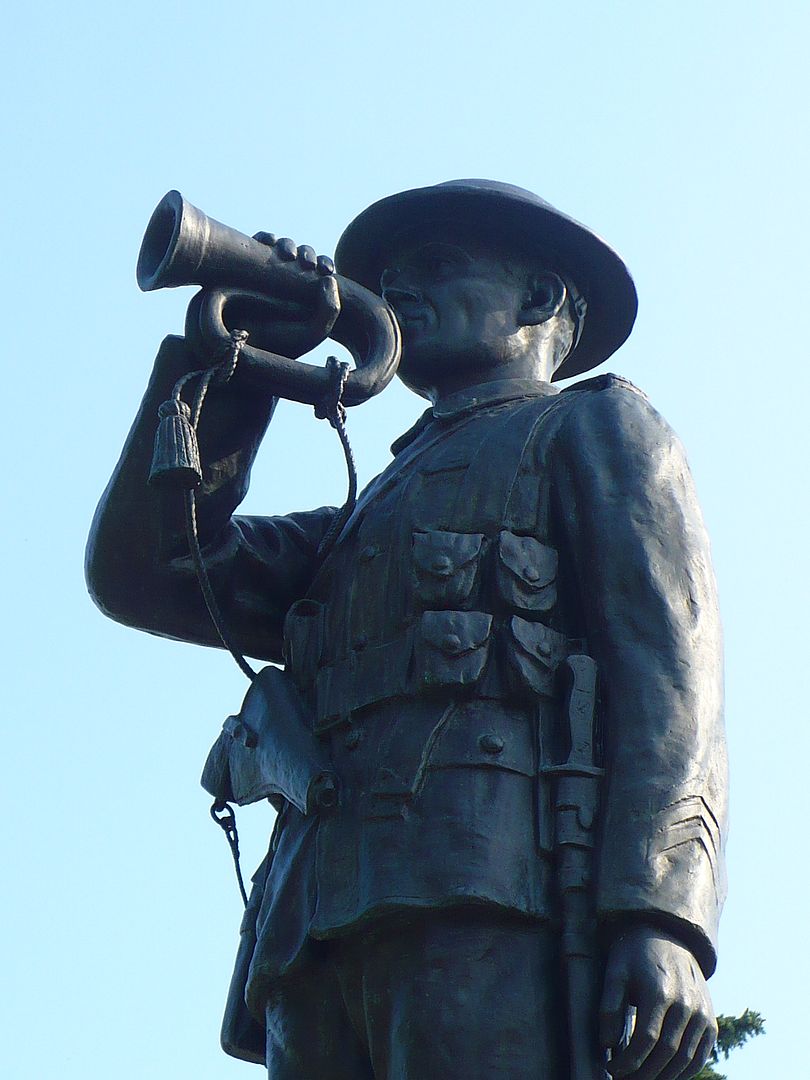 The Collingwood cenotaph is a beautiful example of the dedication of a small town to commemorate those who volunteered to serve their country and lay down their lives for the greater good. The memorial rests in front of the Collingwood Museum/Chamber of Commerce. Construction began in 1922, and the cenotaph was unveiled in a public dedication in August of 1923. The Cenotaph was designed by local contractor Charles Henry Lawrence MacDonald, who used his brother Fred as a model for the soldier. A concrete slab supports a granite base and stations a 16 foot bronze figure of a First World War Canadian soldier in uniform looking west to St. Paul Street. The soldier holds a bugle to his lips with his right hand, left arm at his side, prepared to play "The Last Post", which is inscribed immediately below the figure. In 1960 granite "wings" flanking the original Cenotaph were installed and commemorate 52 Collingwood men who died in the Second World War. It was in 1982, that the Korean War Veterans were acknowledged on the wings.
There is also a World War I artillery piece on the grounds of the park, as well as a plaque honouring the Merchant Marine service.
*notes from http://www.cmp-cpm.forces.gc.ca/dhh-dhp/nic-inm/sm-rm/mdsr-rdr-eng.asp?PID=5397.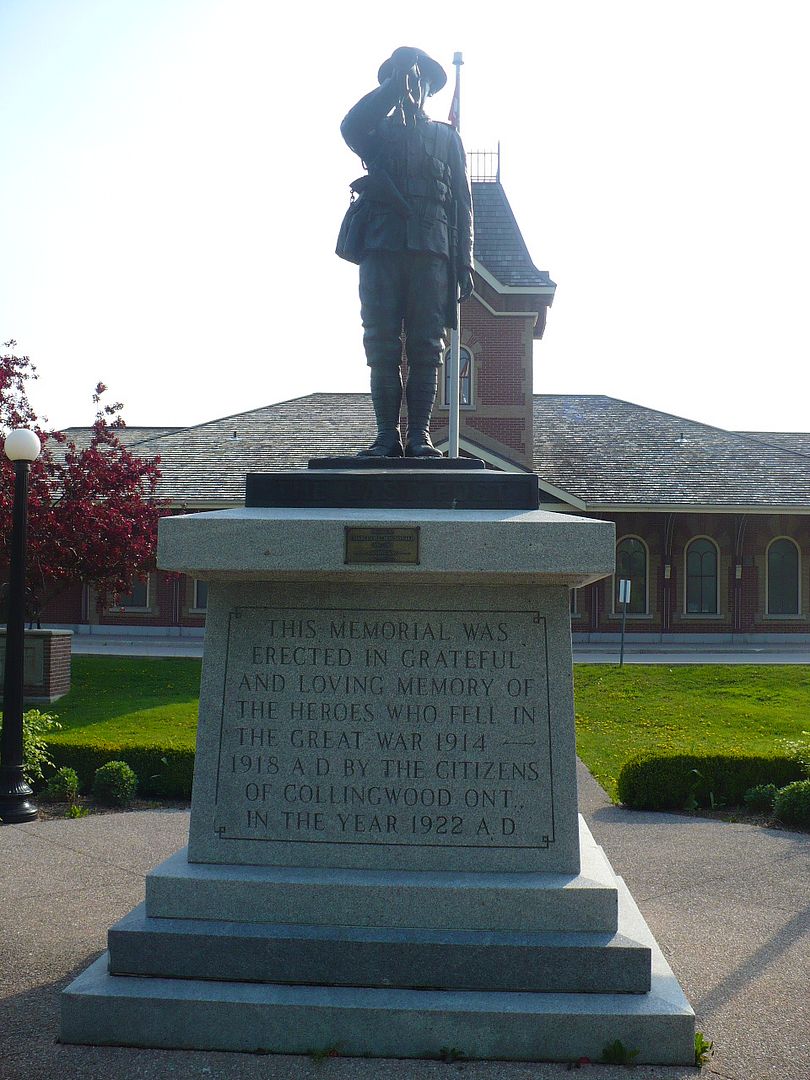 Marker text:
Front:
(below statue)
THE LAST POST
(granite base)
THIS MEMORIAL WAS
ERECTED IN GRATEFUL
AND LOVING MEMORY OF
THE HEROES WHO FELL IN
THE GREAT WAR OF 1914 -
1918 A.D. BY THE CITIZENS
OF COLLINGWOOD ONT.,
IN THE YEAR 1922 A.D.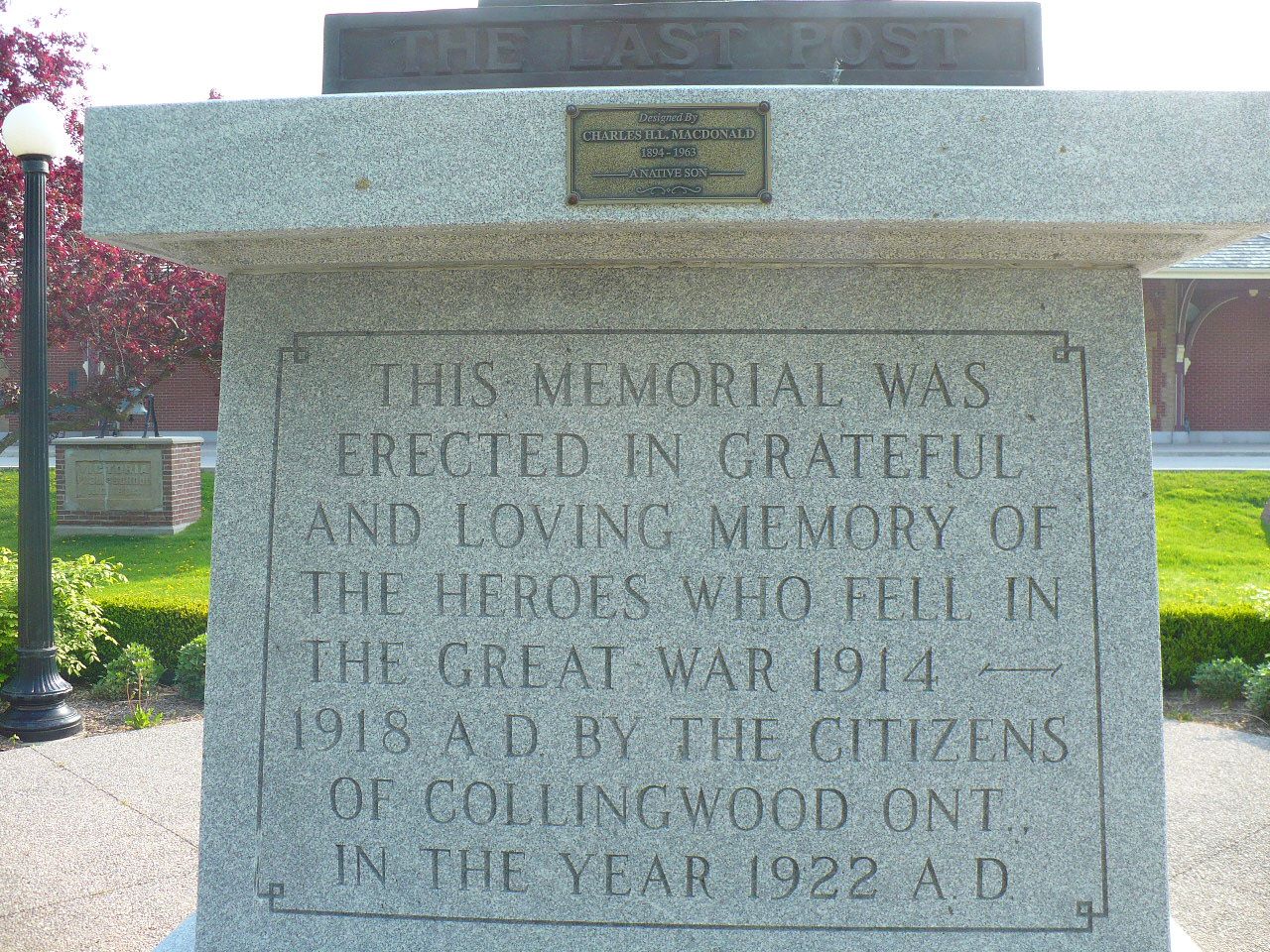 Right side:
HONOR ROLL
ERNEST FREE
CHARLES FURLONG
ROBERT GILPIN
R.W. GLENN
WM. GARBUTT
ABRAM GIBSON
ALLAN GRAY
A.H. HALL
NORMAN HENRY
LAWRENCE HARTLEY
W.G. HEDGER
J.W. HABGOOD
R.C. HORTON
JACK HANLEY
OSCAR IRWIN
JOHN IRONSIDE
E. JOHNSTONE
WM. JACKMAN
EDWARD L. KNIGHT
JOSEPH LEGASSIE
A. LEGG
DAVID LOWERY
MAT LIGHTHEART
J.L. MATCHETT
F.S. MASON
ALEX McLEOD
ALEX McBRIDE
ANGUS McCOY
ALF McMILLAN
F. McKEE
STUART McNABB
ANGELO NEYLAN
J.R. ORR
FRANK OCCOMORE
W.C. OSTIC
HARRY PULMAN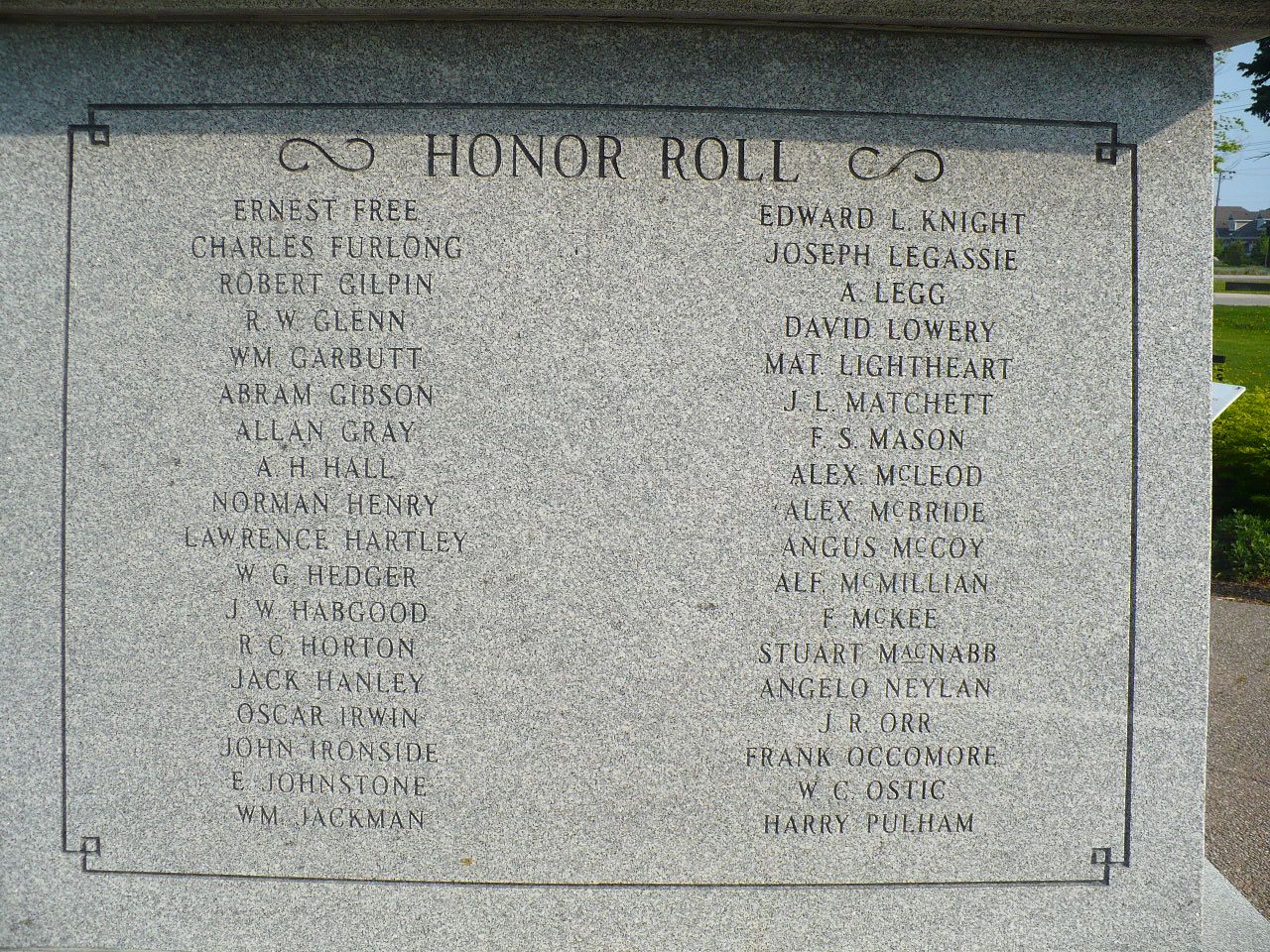 Rear:
HONOR ROLL
ERNEST PODMORE
CECIL PRATT
ROY PERRY
THOMAS PAGE
ANTHONY RENTNER
FRED STEPHENS
GORDON SUTER
R.A. SCOBIE
FRANK SHANNON
L.E. STORK
ROBERT SOULSBY
THOMAS SHEPHERD
L.H. CARMICHAEL
GERTRUDE ANDREWS
BERT CORBET
ROYAL SHERRICK
R. SHEFFIELD
WM. WENSLEY Jr.
ERNEST WILDE
H.R. SHARPE
T.L. SHARPE
JAMES SCOTT
STEWART TELFER
HOWARD TELFER
HERBERT THOMAS
HAROLD VARLEY
ARTHUR WILLISON
GEORGE WHITING
C.S. WILKERSON
R. WHITE
H. YATES
J.V. GUILFOYLE
ALEX JARDINE
LLOYD TAYLOR
LORNE CARMICHAEL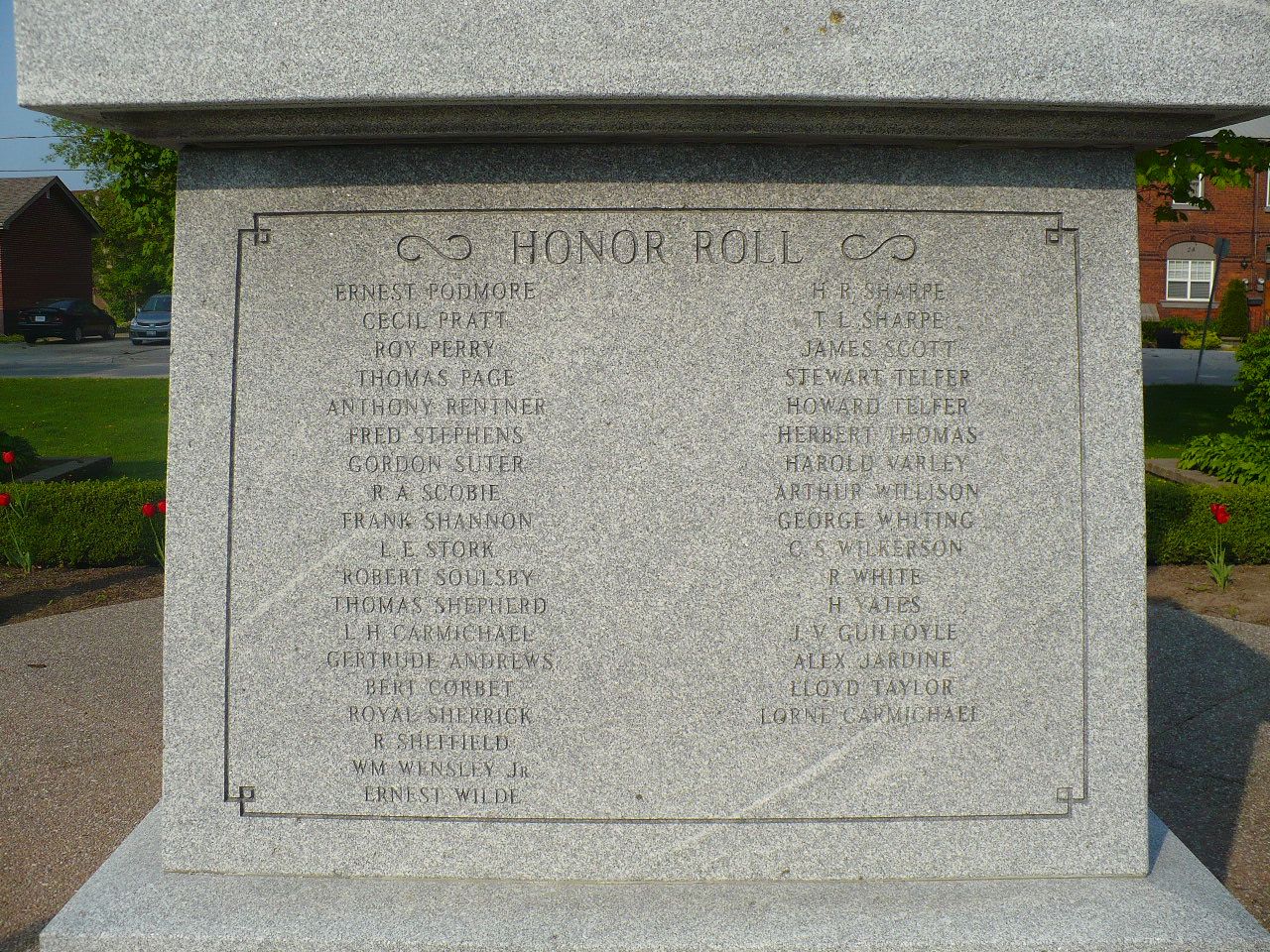 Left side:
HONOR ROLL
MAY SAMPSON
NEIL ARBUTHNOT
A. BROCK
ROBERT BOYCE
CHARLES BROWN
K. BURGESS
JOSEPH BRANDON
JAMES BEAVEN
DALTON BAILEY
ERNEST BROWN
GORDON BANTTEN
C. BOWES
ALEX CONNELL
WM. CAPEL
SIDNEY CAMP
ARTHUR CAVILL
H.J. CLARK
GEORGE COOK
JOHN CRICHTON
E.J. CLEMENT
JOHN CARMICHAEL
JAMES CARMICHAEL
COLIN CARMICHAEL
ROY CAMPBELL
WILFRED COPELAND
GORDON CAMERON
KENNETH DAWSON
THOMAS DARE
C. DEWSBURY
R. DUNBAR
H.A. DUNCAN
H.C. EATON
F.C. EARY
L. ELSLEY
BRUCE FISHER
S. FLOYD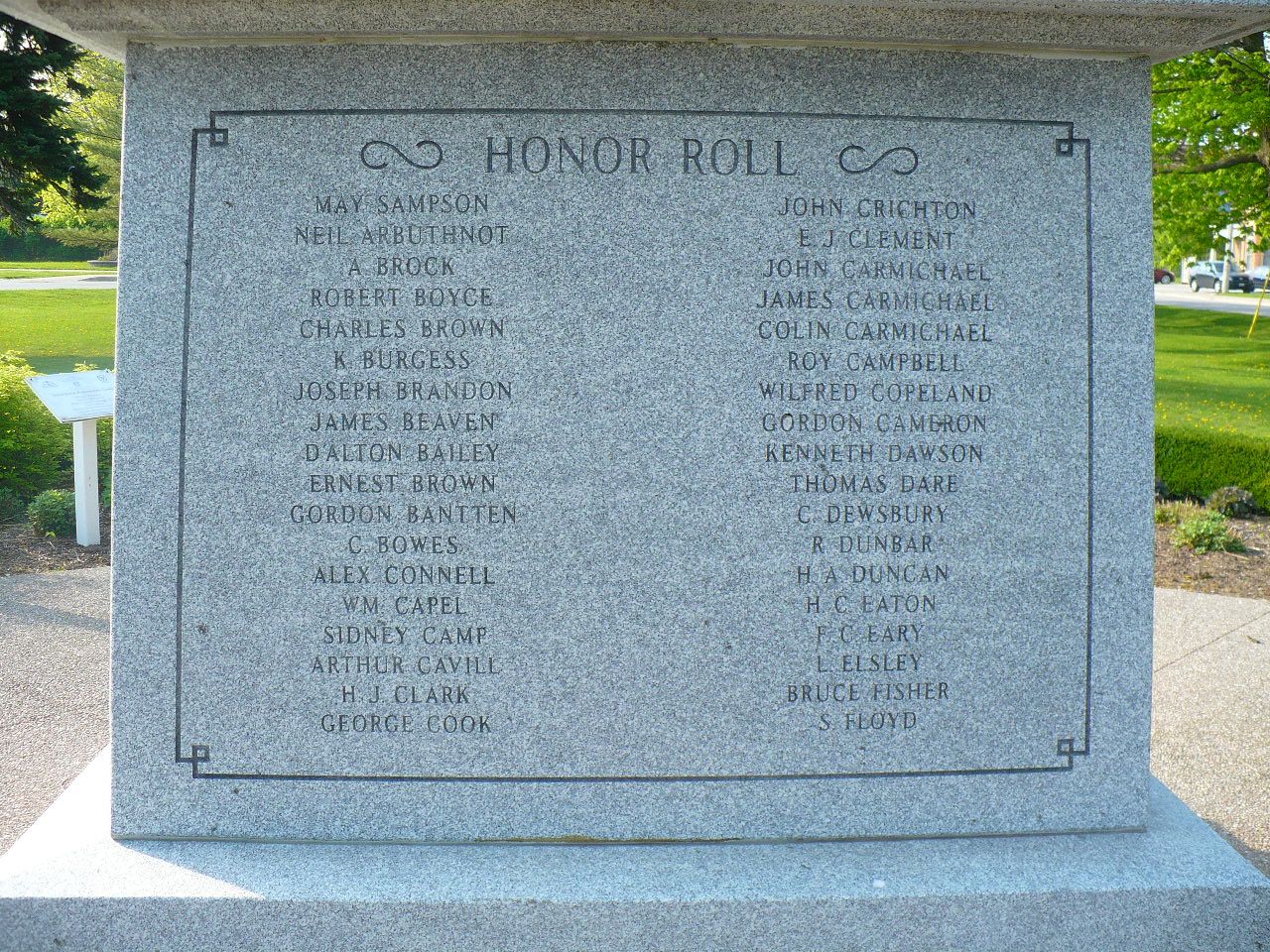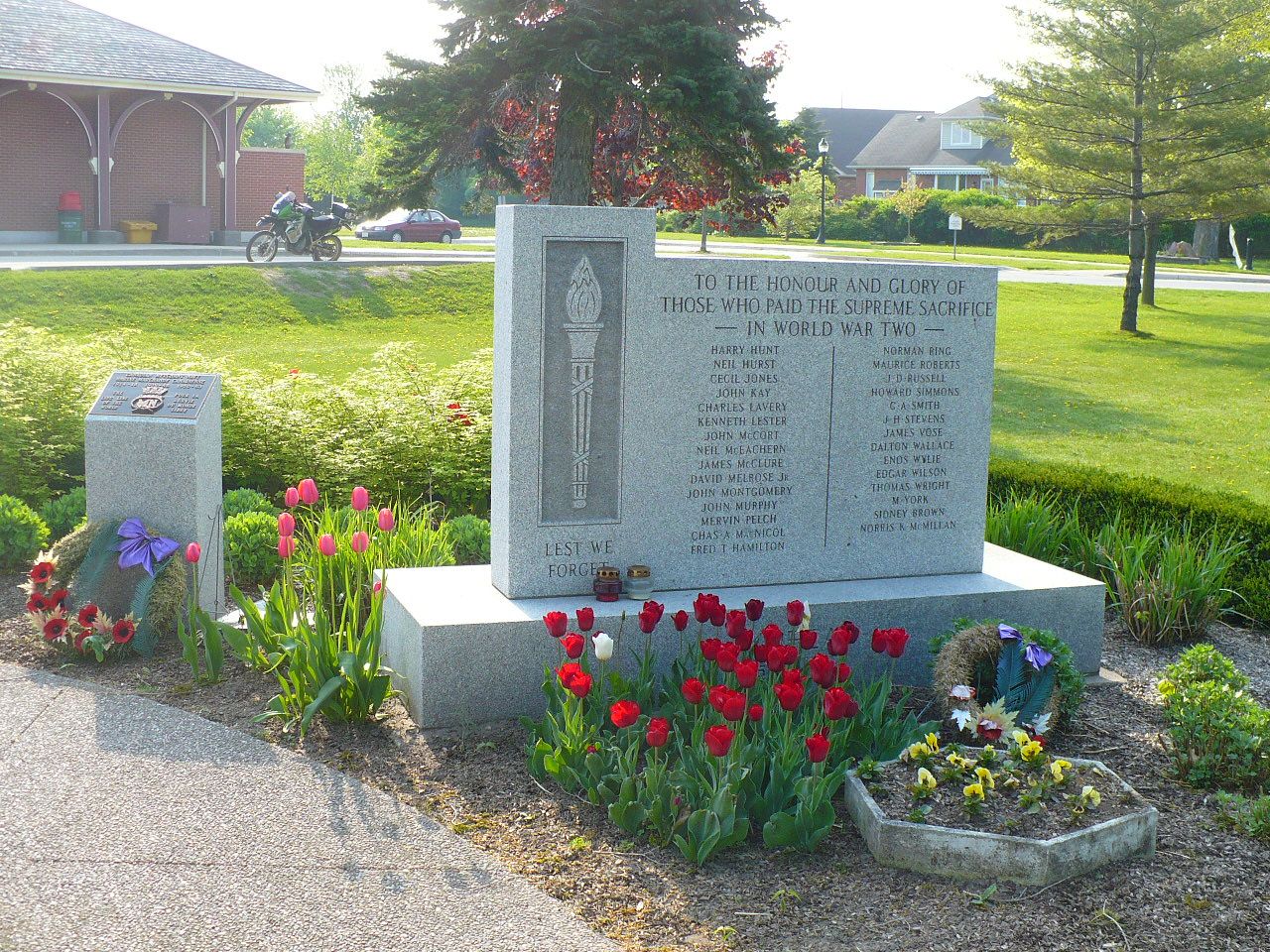 Right side wing:
TO THE HONOUR AND GLORY OF
THOSE WHO PAID THE SUPREME SACRIFICE
- IN WORLD WAR TWO -
HARRY HUNT
NEIL HURST
CECIL JONES
JOHN KAY
CHARLES LAVERY
KENNETH LESTER
JOHN McCORT
NEIL McEACHERN
JAMES McLURE
DAVID MELROSE Jr.
JOHN MONTGOMERY
JOHN MURPHY
MERVIN PELCH
CHAS. A. MacNICOL
FRED T. HAMILTON
NORMAN RING
MAURICE ROBERTS
J.D. RUSSELL
HOWARD SIMMONS
C.A. SMITH
J.H. STEVENS
JAMES VOSE
DALTON WALLACE
ENOS WYLIE
EDGAR WILSON
THOMAS WRIGHT
M. YORK
SIDNEY BROWN
NORRIS K. McMILLAN
LEST WE FORGET
KOREA
1950 - 1953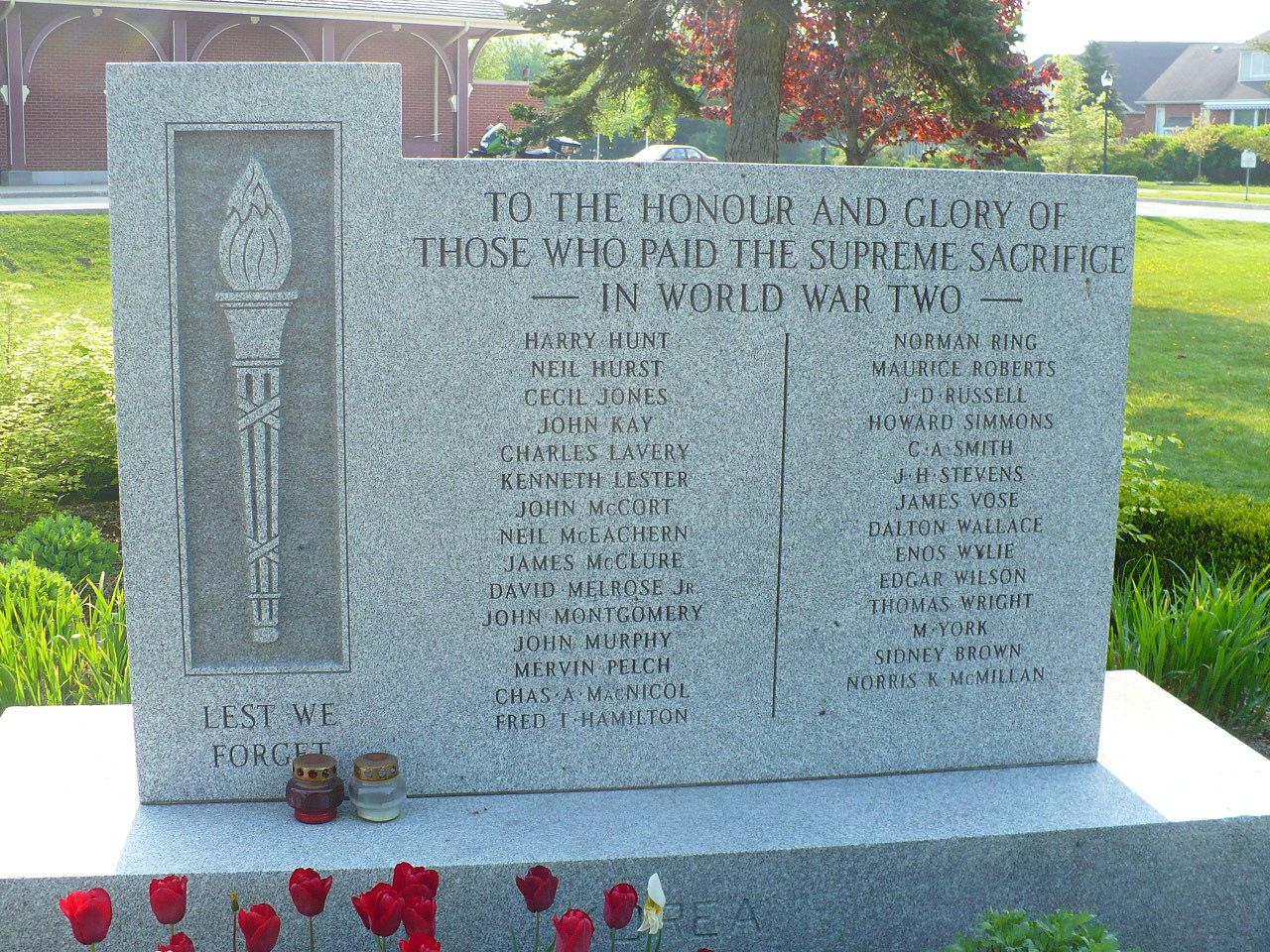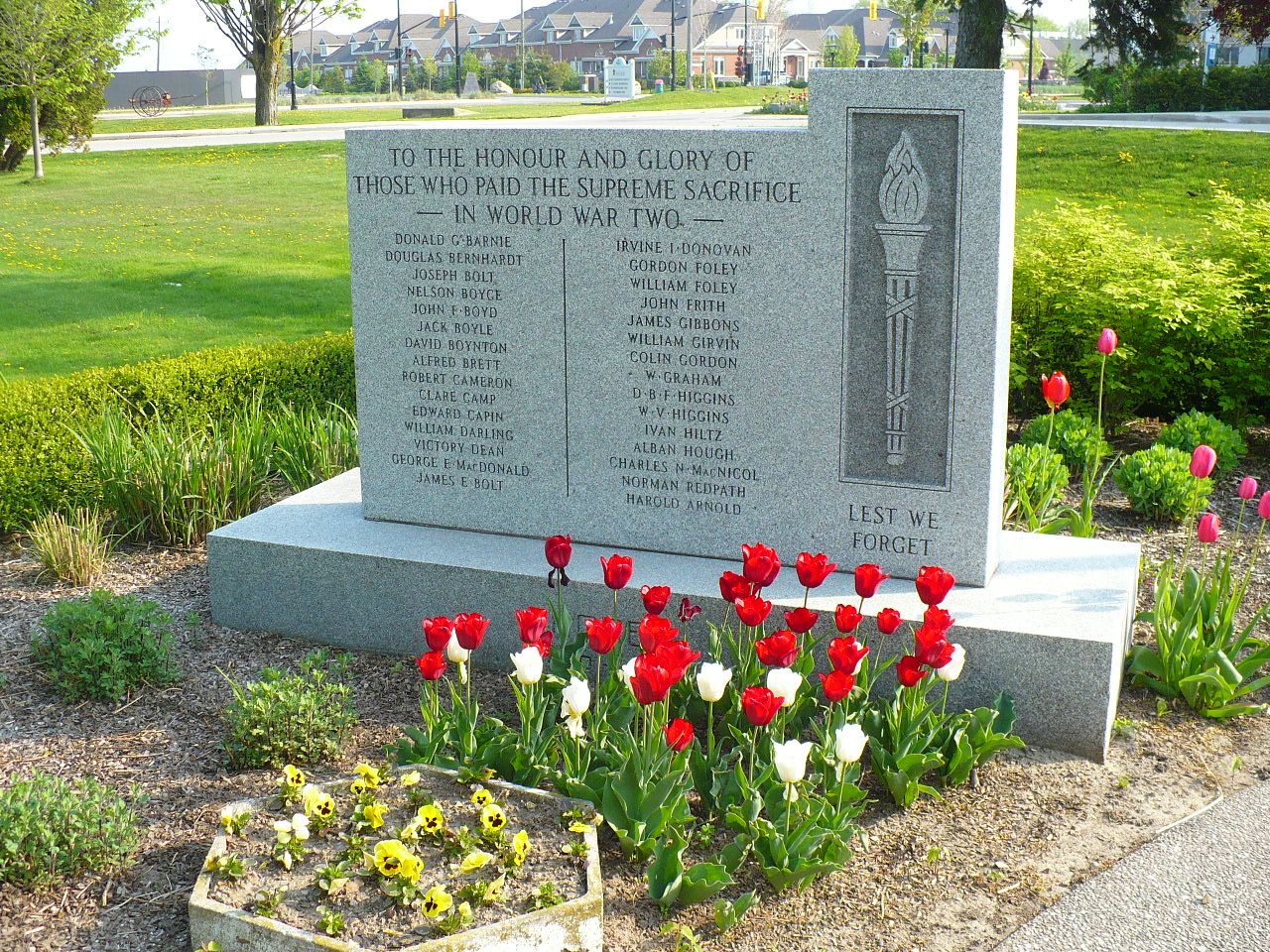 Left side wing:
TO THE HONOUR AND GLORY OF
THOSE WHO PAID THE SUPREME SACRIFICE
- IN WORLD WAR TWO -
DONALD G. BARNIE
DOUGLAS BERNHARDT
JOSEPH BOLT
NELSON BOYCE
JOHN F. BOYD
JACK BOYLE
DAVID BOYNTON
ALFRED BRETT
ROBERT CAMERON
CLARE CAMP
EDWARD CAPIN
WILLIAM DARLING
VICTORY DEAN
GEORGE E. McDONALD
JAMES E. BOLT
IRVINE I. DONOVAN
GORDON FOLEY
WILLIAM FOLEY
JOHN FRITH
JAMES GIBBONS
WILLIAM GIRVIN
COLIN GORDON
W. GRAHAM
D.B.F. HIGGINS
W.V. HIGGINS
IVAN HILTZ
ALBAN HOUGH
CHARLES N. MacNICOL
NORMAN REDPATH
HAROLD ARNOLD
LEST WE FORGET
KOREA
1950 - 1953