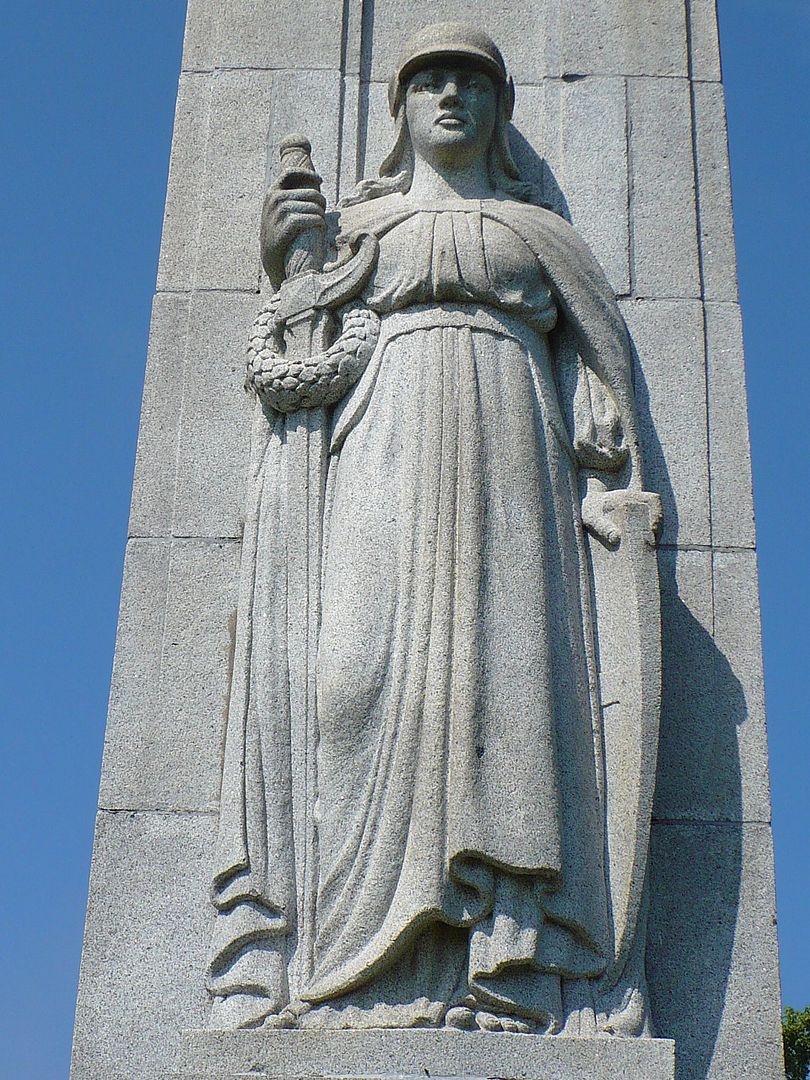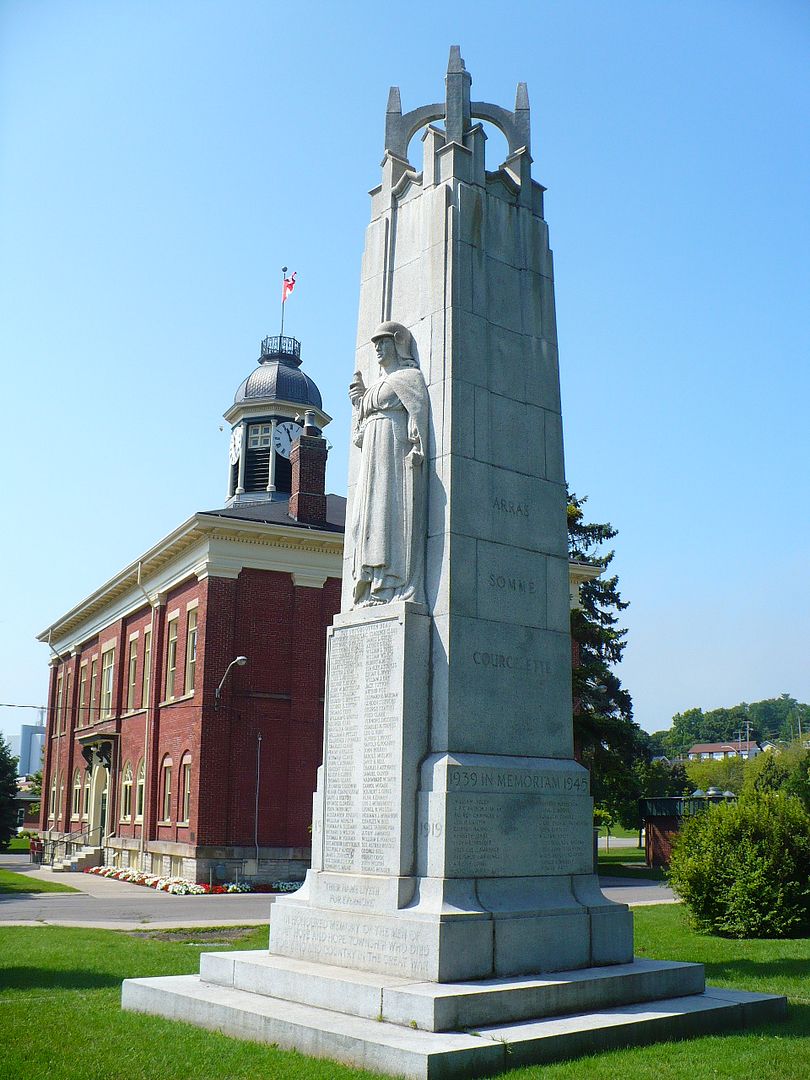 Location: Northumberland County N 43 56.541 W 78 17.568
On the corner of Queen Street and Augusta Street.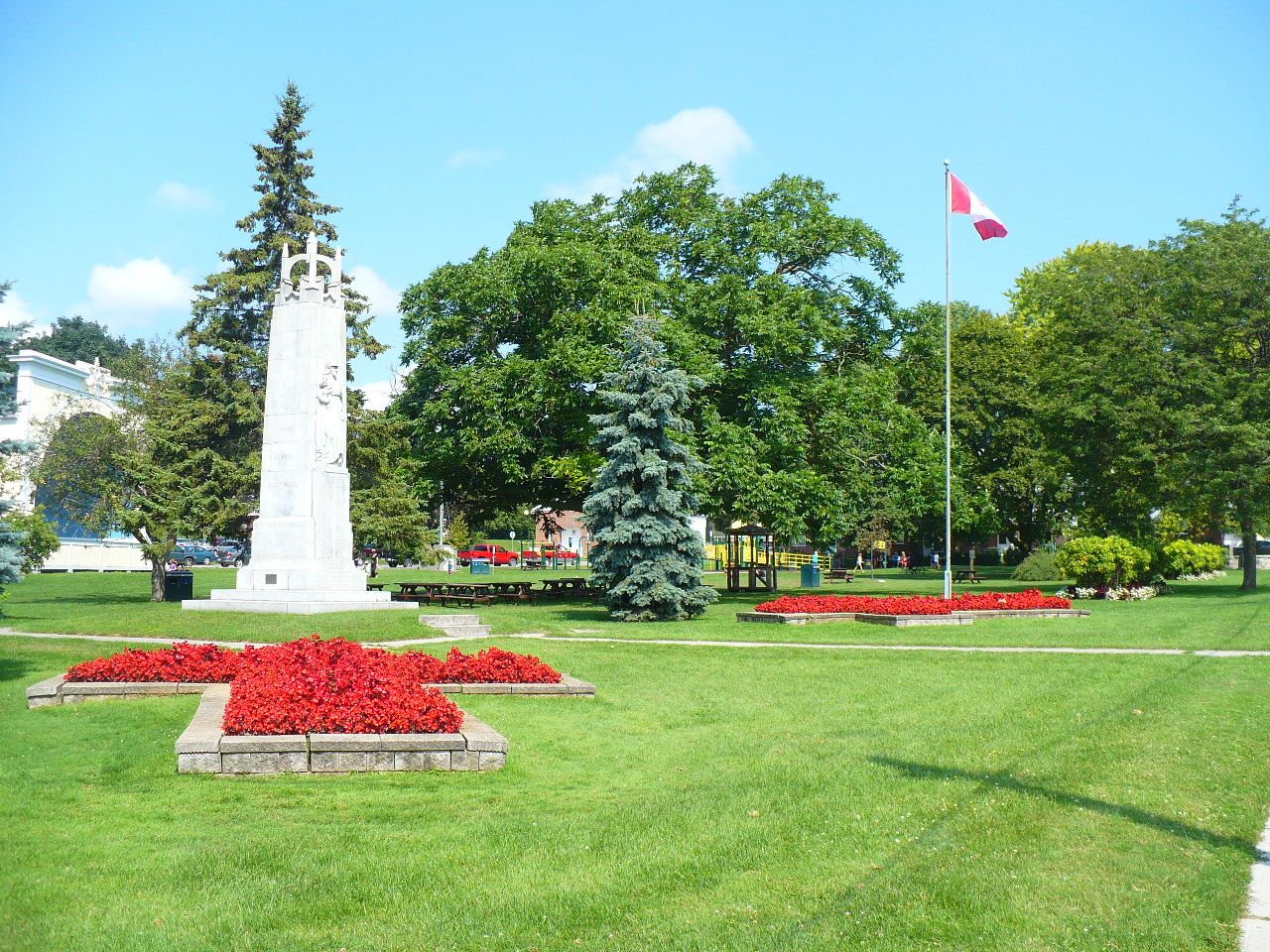 This tall and impressive granite cenotaph was originally erected in 1926 by the Col. Arthur Williams Chapter of the Imperial Order Daughters of the Empire (I.O.D.E.). On the front are inscribed the names of the local men who died in the Great War, and the names of the historic battles are carved in the shaft for all to remember. Statues of peace adorn the memorial, looking out for the souls lost in the horrific battles.
The names of those lost in World War II were added later, as was a small bronze plaque to acknowledge the Korean War.
I was taken by the beauty of this cenotaph and the surrounding landscaping, creating a wonderful area of remembrance and honour. This memorial would put to shame many of those found in much larger communities. Several other small memorials can also be found nearby, honouring the Dieppe raid, the North-West Rebellion, and a captured German artillery piece.
Marker text:
Front:
THE UNFORGOTTEN DEAD
CAPT. GILBERT EDWARDS M.C.
LIEUT. HARRY D. MASON
LIEUT. THOMAS M. WALSH
LIEUT. CHARLES H. WHITE
ALBERT N. CLOYNE
GRANT T. CARMICHAEL
CHESTER J. HAM
LOUIS S. PEVERELLE
GEORGE T. HERON
JOHN W. BATCHELOR
JAMES T. HALLIDAY
RUEBEN C. BENNETT
GEORGE H. TUTTON
THOMAS KERR
WILLIAM G. LIGHTLE
GEORGE KERR
HAROLD A. GARBUTT
WILLIAM R. PETLEY
CLARENCE F. POWERS
CHARLES CLARK
FRANK ARKLESS
NORMAN CLARK
JOHN C. ASHMAN
VINCENT COLLETT
ALGER R. CURRIE
THOMAS CLARK
LEONARD T. GODWIN
FRANK CUNNINGHAM
DAVID J. HINTON
GEORGE ELDRIDGE
JOHN FAIRHURST
ALEXANDER JENKINS
WILLIAM MERCER
NORMAN B. SLEEMAN
RICHARD B. WILSON
THOMAS W. YOUDEN
SGT. ARTHUR H. REYNOLDS
SGT. PERCY H. NIXON
JAMES JOHNSTON
SGT. CHARLES T. FOX
EDWARD G. MILNE
CLARENCE CLARK
JAMES L. GREEN
ARTHUR G. RABY
WILLIAM L. YATES
WILLIAM WILSON
ROBERT A. MICKS
STANLEY J. STAPLES
EDGAR E. IRWIN
WILLIAM J. HAW
JACK TUTTON
ARTHUR FOX
LEONARD R. BARHAM
GORDON C. GIFFORD
GEORGE KEATING
FRED CLARK
VERNON S. DICKINSON
CHARLES H. STAPLES
LEO G. BURT
ALFRED T. PROUT
HAROLD G. FOGARTY
JOHN HOLDEN
HAROLD McELROY
DAVID B. BELL
CHARLES F. AISTHORPE
SAMUEL OLIVER
WAINWRIGHT W. SMITH
CARROL McCABE
WILBERT S. GIBBS
ALVA KERMAN
LEO J. McDERMOTT
LIONEL B. WILSON
NORMAN J. McMAHON
CHARLES W. BELL
JAMES TARRINGTON
J. GUY AMBROSE
WILLIAM E. POMERET
SGT. ALFRED ROSSER
GEORGE BELL
ROBERT COOK
JOHN HILTON
THOMAS MOUSER
"THEIR NAME LIVETH
FOR EVERMORE"
IN HONOURED MEMORY OF THE MEN OF
PORT HOPE AND HOPE TOWNSHIP WHO DIED
FOR KING AND COUNTRY IN THE GREAT WAR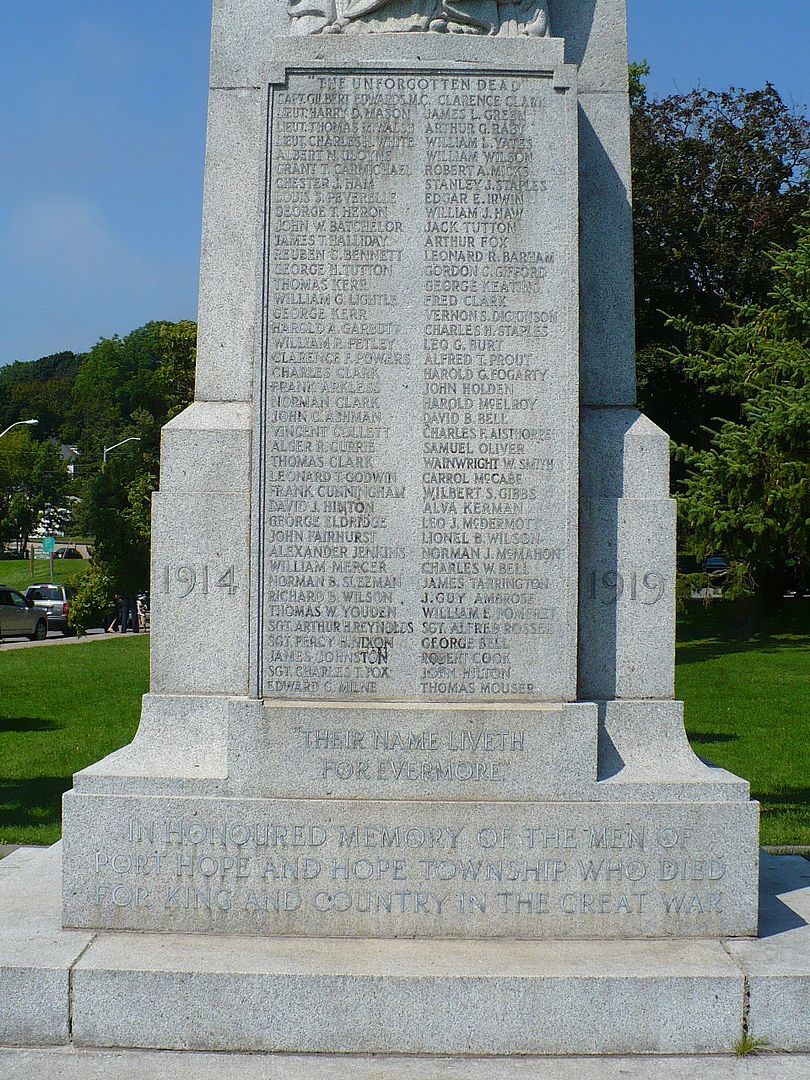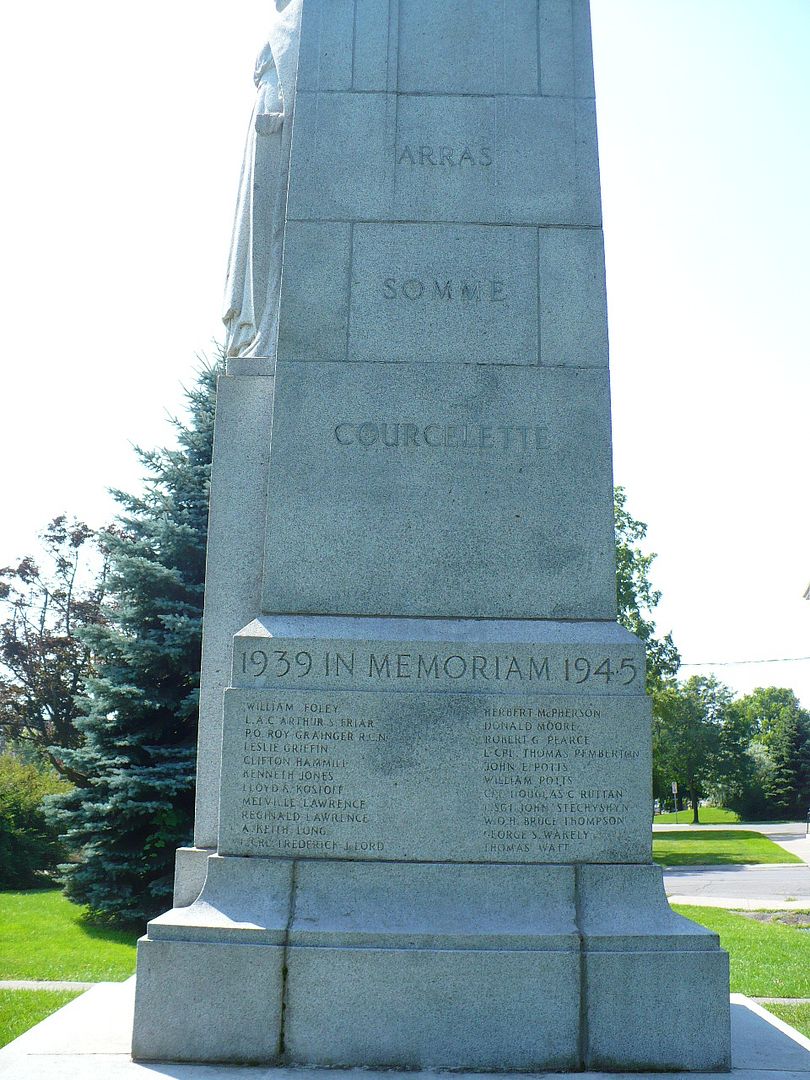 Left side:
ARRAS
SOMME
COURCELETTE
1939 IN MEMORIAM 1945
WILLIAM FOLEY
L.A.C. ARTHUR S. FRIAR
P.O. ROY GRAINGER R.C.N.
LESLIE GRIFFIN
CLIFTON HAMMILL
KENNETH JONES
LLOYD S. KOSTOFF
MELVILLE LAWRENCE
REGINALD LAWRENCE
A. KEITH LONG
L.CRL. FREDERICK J. LORD
HERBERT McPHERSON
DONALD MOORE
ROBERT G. PEARCE
L.CPL. THOMAS PEMBERTON
JOHN E. POTTS
CPL. DOUGLAS C. RUTTAN
L.SGT. JOHN STECHYSHYN
W.O.H. BRUCE THOMPSON
GEORGE S. WAKELY
THOMAS WATT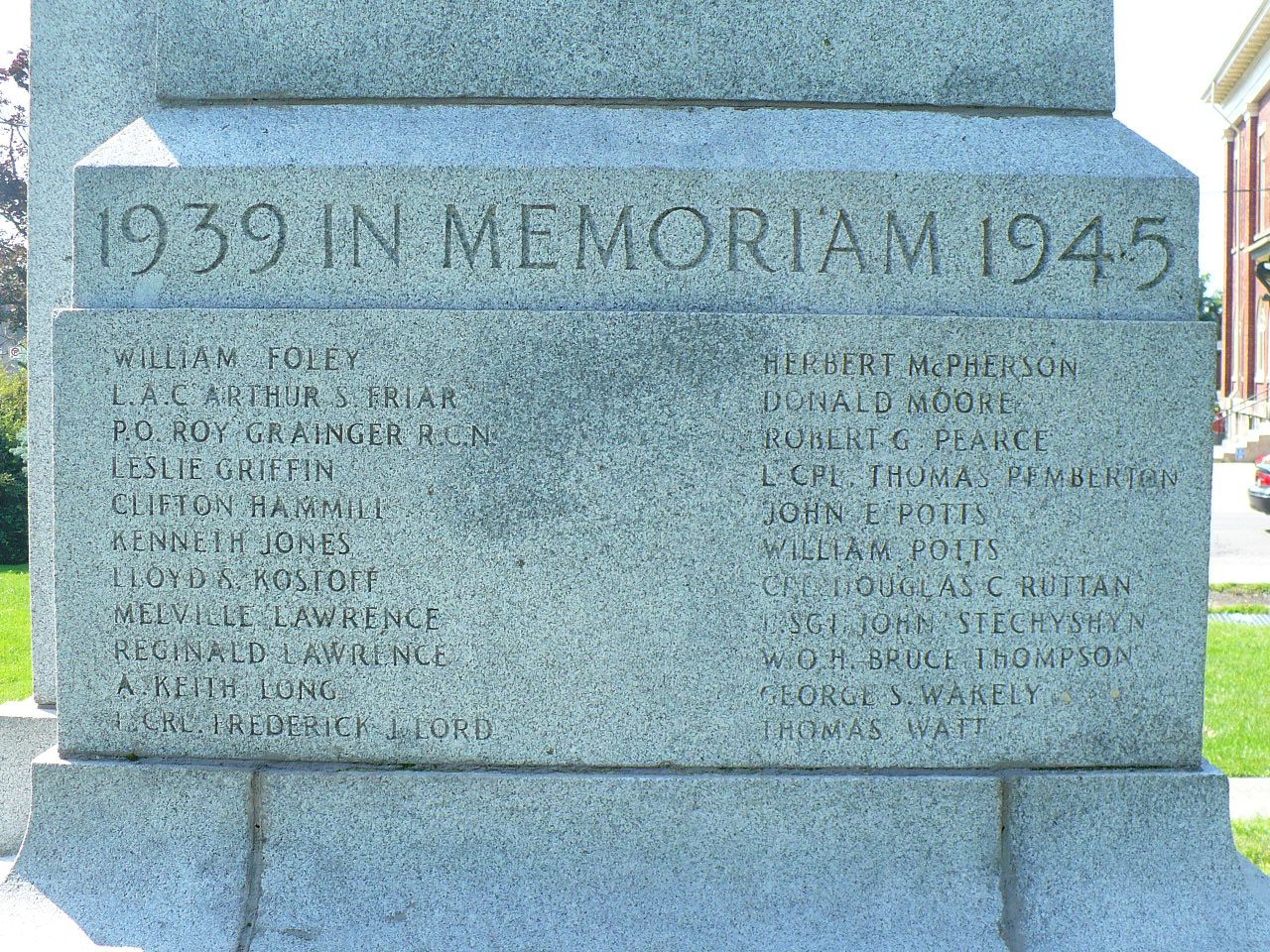 Rear:
VIMY
PASSCHENDAELE
AMIENS
ERECTED BY THE
COL. ARTHUR WILLIAMS CHAPTER
I.O.D.E.
A.D. 1926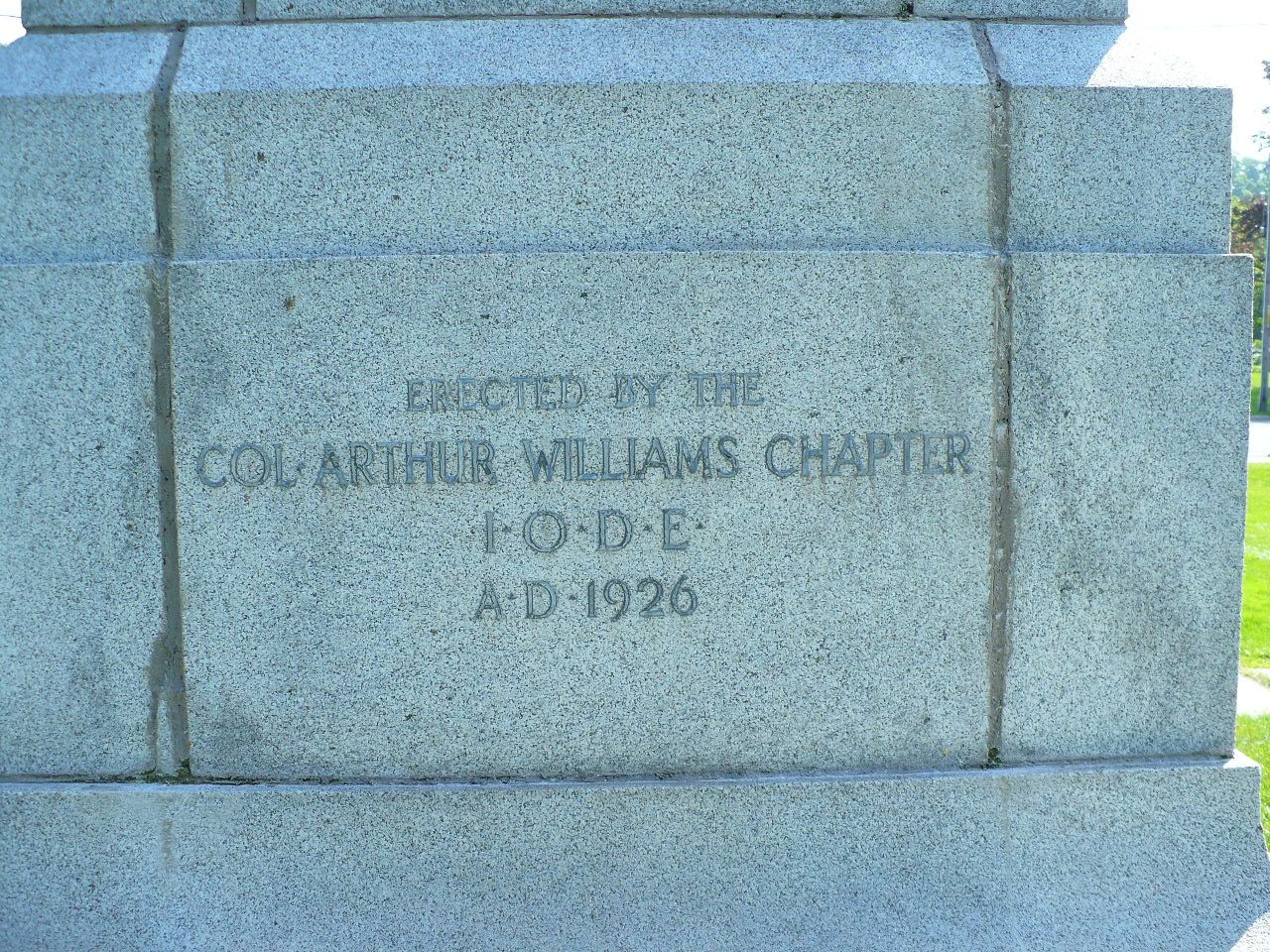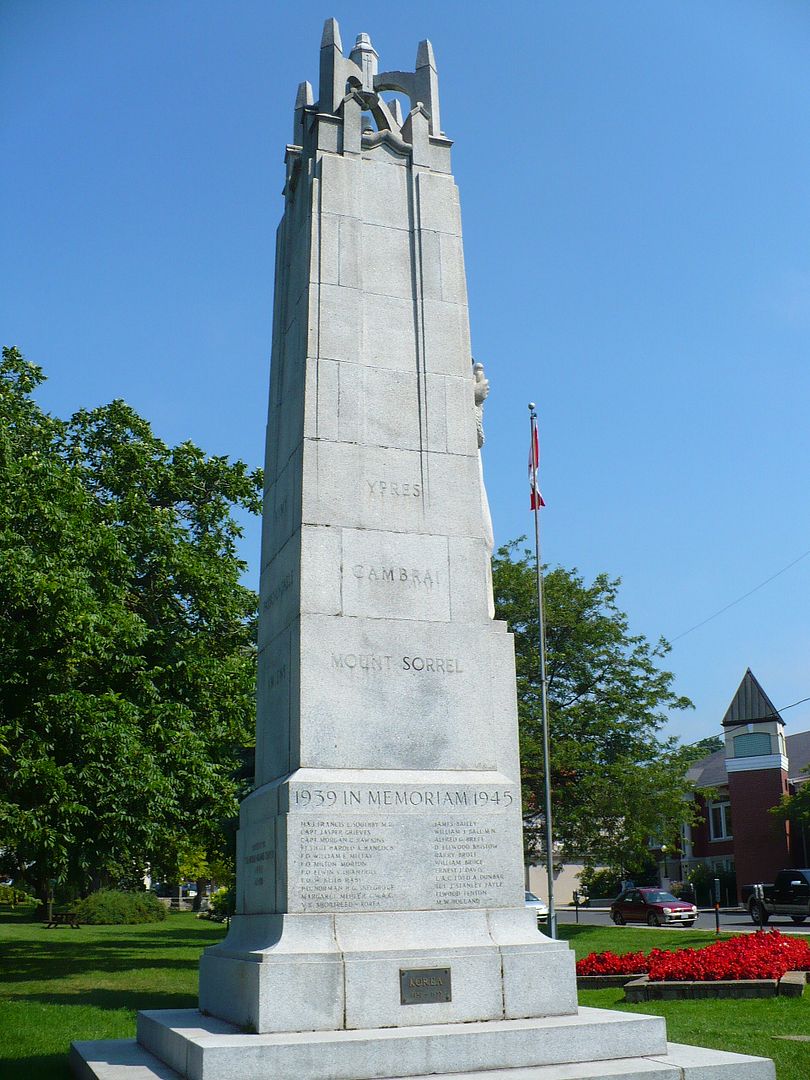 Right side:
YPRES
CAMBRAI
MOUNT SORREL
1939 IN MEMORIAM 1945
MAJ. FRANCIS E. SOUTHBY M.C.
CAPT. JASPER GRIEVES
CAPT. MORGAN C. HAWKINS
FT. LIEUT. HAROLD A. HANCOCK
F.O. WILLIAM E. MITTAY
F.O. MILTON MORTON
F.O. ELWIN S. QUANTRILL
F.O. W. KEITH RABY
P.O. NORMAN H.G. SNELGROVE
MARGARET MEDLER C.W.A.C.
V.K. SHORTREED - KOREA
JAMES BAILEY
WILLIAM J. BALL M.N.
ALFRED G. BRETT
D. ELLWOOD BRISTOW
HARRY BROTT
WILLIAM BRUCE
ERNEST J. DAVIS
L.A.C. LOYD A. DUNBAR
SGT. J. STANLEY FAYLE
ELWOOD FENTON
M.W. HOLLAND
KOREA
1950 - 1953